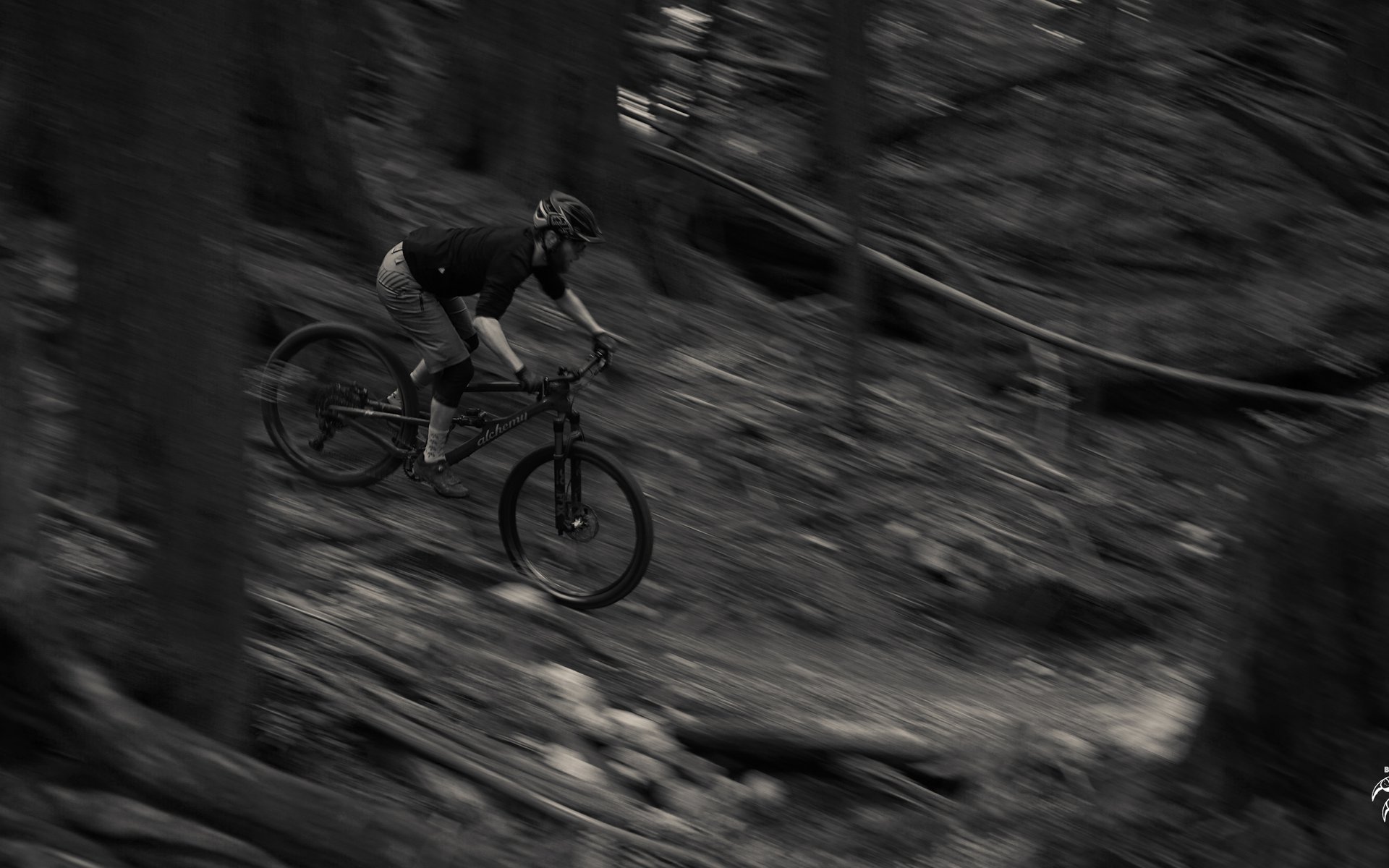 REVIEW
Alchemy Arktos 29 - Reviewed
There's a lot to be said for first impressions; its one of the reasons I try to avoid looking at geometry numbers, kinematics, or any kind of real info that might give me pre-conceived notions until I've got some time on a new review bike. First thoughts on the Alchemy Arktos 29er as it came out of a box?
"Whelp. It's definitely pretty."
Lets dive in.


The Parts that say Alchemy
From a distance, I'm a fan the organic design elements here; I think its almost a shame if designers don't take advantage of a material like carbon to add some curves and shapes. Alchemy was making these frames in-house, however they've been successful enough to move manufacturing overseas.
Its also visually apparent this bike isn't particularly long, low, or slack as is the rage these days but is certainly a well proportioned bike. Zooming in, the paint and finish are excellent; there are some other muted colorways on option, and they have a full service custom paint shop available for a charge if you simply have to have your frame match your Burnt Orange Tacoma. All cables/hoses are routed internally, through rather tiny ports (I did not change any cables or hoses on this bike, so don't have direct experience, but these look challenging. I much prefer some kind of door to open for ease of access, or tubes-in-tubes).
There's a small integrated top-mount chainguide just above a threaded (!) bottom bracket, and Alchemy has also jumped on the 157mm rear end train, so if Super Boost is a non-starter for you, look elsewhere. Of great importance to many people who aren't me, it does not fit a waterbottle inside the front triangle; there are some mounts below the downtube surrounded by a nice rubber frame protector. Unfortunately, this protector doesn't go high enough to cover potential tailgate/shuttle damage.
After a thorough bolt check, I threw it on a scale (30lbs, 6oz without pedals) set suspension pressures and knobs to some baseline guesstimates from Alchemy, squished some PSI into already-tubeless tires, slapped some pedals on and off we went to get acquainted.
Bits that don't say Alchemy on 'em
With a few exceptions we'll discuss later, the parts spec is a well executed mix of value and performance; high end suspension, good-but-not-bling drivetrain/brakes/wheels, with some value thrown in in places users might want to swap parts anyway. As Uncle Dave likes to point out, this isn't a Cam Spec build, at US$4,899, its on the lower end of "high performance" bikes (and probably more interesting that way; if a bike is US$10k all the parts on it better be f*&ing good!). In a nice touch, all builds come with high end suspension. The bike rolls on DT Swiss M1700 wheels. While I don't love centerlock, or straight pull, they're a decent spec choice at this price level offering reasonable engagement, reasonable weight, with a nice 30mm internal width that gives a nice profile to the Maxxis DH-F/DH-R combo. I managed to put a few sizeable dents in the rear rim in fairly short order.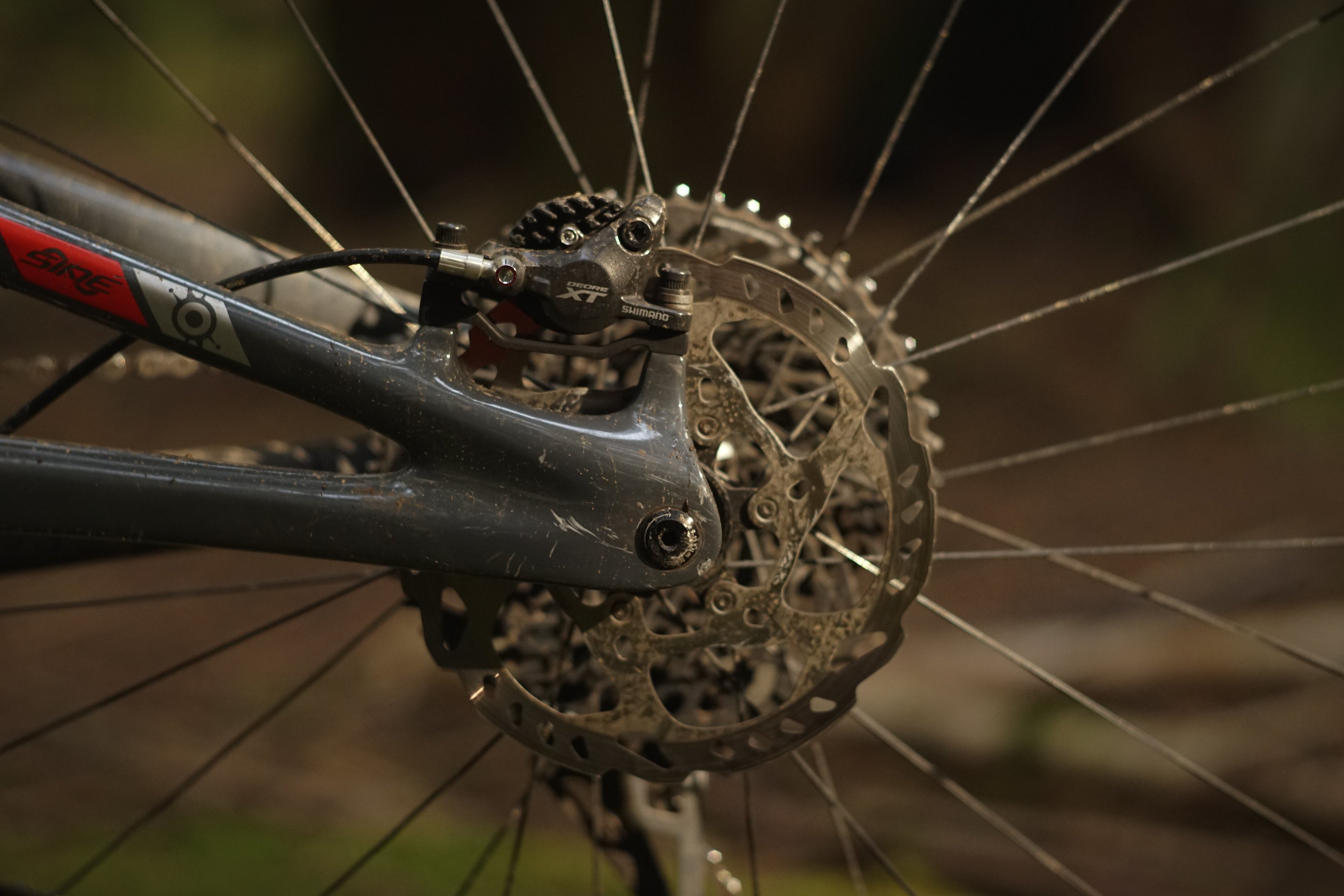 The air spring's connected to the…
This is a David Earle-designed, dual-link suspension. Up until the new more industrial looking SB130 and SB150, it would have been relatively easy to mistake this bike for a Yeti with a paintjob from a distance. And you wouldn't be far off base; David was the designer behind Switch suspension (precursor to Switch Infinity), and also penned Alchemy's "Sine" patented suspension design. Its quite similar in function as well. Instead of the purely vertical motion along the Switch Infinity's stanchions, or the small rotating cam of Switch, Sine has very short lower link that rotates basically inside the frame, which gives the desired kinematics and leverage ratios through the bike's travel. Sine refers to the rate curve; an initial falling rate transitions to rising rate through the midstroke, followed by a falling rate to offset air spring's natural ramp up at the end stroke.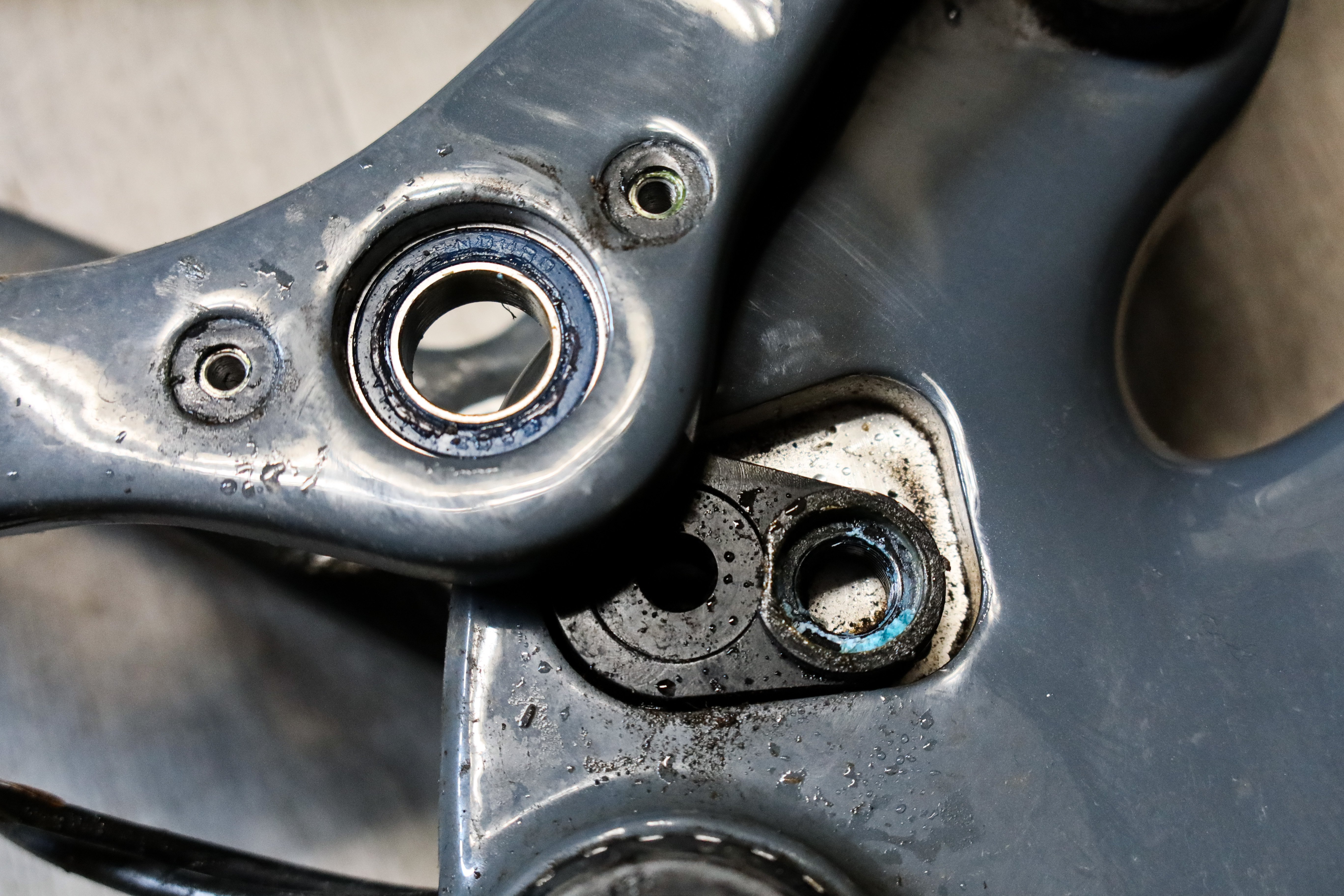 When rubber meets dirt (and wet roots)
Component-wise, I had two issues right out of the gate, but they're somewhat personal, and weather related. The DH-F/DH-R combo is great and would have been my preferred choice for sopping wet North Shore root gardens, however the Dual Compound versions selected provide what can only be described as an impressively low coefficient of friction in the presence of moisture. The same can be said about the Egron grips; I found them hard, they transmitted far to much noise to my hands, and lacked any discernible friction in the wet. Did I mention I have permanently sweaty hands, and live somewhere it rains a lot? Swapping the front tire and grips out was a high priority, but I don't begrudge Alchemy here. Contact points are a personal choice, and in most places that aren't exactly the conditions I often ride in, the tires are great all-rounders.
The SRAM GX Eagle shifting has been as expected; a budget-oriented yet solid choice that I have few complaints about. The Shimano XT M8000 brakes have the patented Wandering Bite Point; they're also the most powerful, fade free set of XT's I've ever been on. (note - this bike would now ship with the new XT 8120 brakes - Ed.) The only other component that doesn't already have encyclopedic levels of review is the X-Fusion dropper lever. Despite my initial misgivings about it feeling a bit cheap, it performs well with good leverage and throw, and the lever's adjustability is worthwhile.
Stack height was the most apparent geometry number initially; the Arktos is a full 23mm (an inch!) taller than my current Rocky Mountain Instinct BC, and who-even-knows how much taller than my Sick GrimRipper (Honestly, I have no idea what the geo on that frame is. Sick was a constantly moving target. Its certainly low and slack, though.) With the stem slammed I started to get comfortable and acquainted with a pretty well rounded... mountain bike? With "only" 140mm on tap in the rear, and geometry not focused on being an exceptionally aggressive descender I'd struggle to label this a modern 'enduro' bike, but it's probably got too much travel - especially up front at 160mm - to be a true 'trail' bike. So a mountain bike it is, then. And so we shall test it as a mountain bike, a quiver of one; XC epics to enduro racing to full face shuttle days.
Going Up
As you'd hope and expect from modern suspension, the Arktos climbs well. Its not going to win any pure efficiency records, but it does a great job of trading a couple of watts for traction, especially when the going gets rough. That said, its not a bike that you're likely to use a climb switch for off-road. This slight efficiency compromise, coupled with good mid-stroke support means you can pedal in places you might struggle on other platforms - this bike excels at ripping around with chunky ground on undulating moderate grades, maintaining momentum throughout. When the going gets super steep, the slack-ish steat tube angle, stack height, and short-ish chainstays all conspire to make the front end very light with a propensity to wander. The Sine Suspension will provide ample traction to winch yourself up anything, but prepare to get up on the rivet, bend your elbows, and really chew on your stem.
Going Down
The Arktos is a bike you are "on" not "in." The kinematics and geometry mean its quite nimble and playful, wanting to take you to those little side hits and pops. Its not a bruiser or a plow, and it isn't built for outright speed (Cody Kelley is good evidence that this bike is perfectly capable of going fast in the right hands, mind you). It'll carry you down 'the gnar,' should you so choose, however I managed to meet or exceed my personal comfort limits on this bike on a few moves I'm confident riding on other machines. Feeling a bit of chassis flex wasn't uncommon, but on the Arktos its not unnerving or distracting, it feels well engineered. An annoying niggle - cables and hoses rattling around in the downtube make a bit of a racket.
The Arktos rewards good body positioning, and tossed me to the ground on two occasions when I forgot the front end needs weight during cornering. This isn't a fault, but there's perhaps less leeway than other bikes may allow. I tested with a couple of different stem lengths, and found that using a stem at least 50mm long helped add a bit of weight on the front end. Overall, its a capable descender but isn't a full scale enduro smasher; its a great mountain bike.
Is This the Bike for You?
The Alchemy Arktos 29 is a great mountain bike; while it doesn't outright win at anything it's quite good at covering vast distances and vert over 8 hours, is definitely capable on bike park jumps, and will handle shuttle laps on the steeps. While talking to a coupe of folks about this, a common phrase emerged, "Oh, so its a Colorado bike!" Yep, totally.

I'm not sure I'd buy one living here in the Sea to Sky corridor due to the difficulty of trails I spend most of my time on, and common climbing grades. Most places on earth you're going to be quite satisfied on this machine, and with a medium-sized budget to purchase it's a great platform to throw a few customized tweaks at to suit your riding and location. I'd also take a look at the ST (Short Travel) version of this bike if you're going to be light on gnar and bike park days; it's a bike that's likely to have a bit more zest for each pedal stroke, but similar geometry that's built for fun.
For more on Alchemy, and the Arktos in particular, click here...