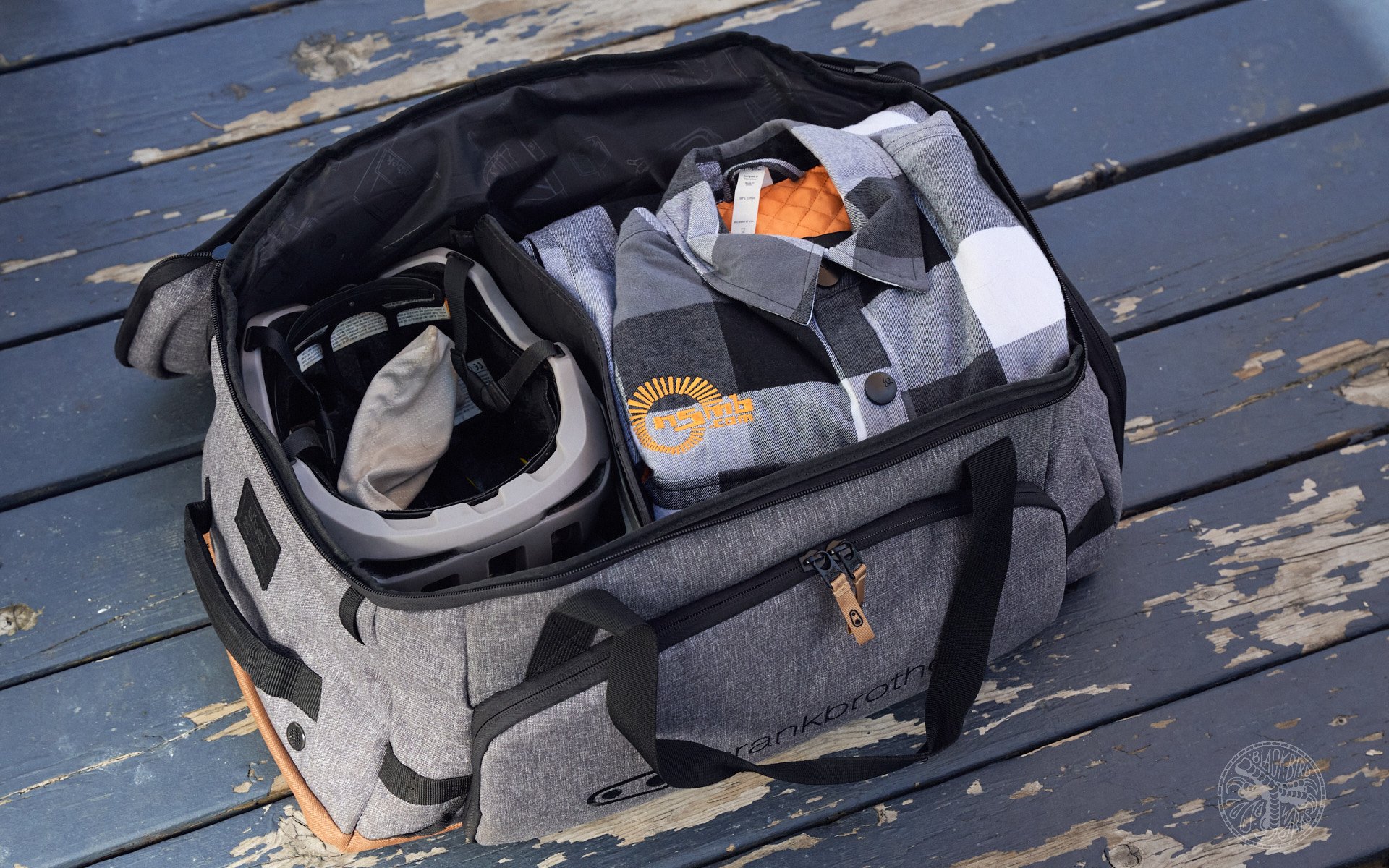 Review
Crankbrothers-Albek Skytrail 51 L Duffel Bag
Sorting Life Out
When I'm packing for a ride and an apres, or quick zip over to the EU to visit family, it takes me a long time to figure out what to bring. My scatter-brain can make a list and immediately forget about it. Helmet-Shoes-Gloves has been my chant for a long time but we all know I'll need to pack quite a bit more than that. If the mountain of backpacks and duffels in the house are any indication, I have a problem and it can't be cured. The perfect pack doesn't exist but I am determined to find the closest approximation.
When the Crankbrothers-branded Albek Manufacturing Skytrail 51 L caught my eye, I needed to find out if it was the real deal.
Features:
Padded helmet compartment
Elastic Stash pouches - great for gloves and other smaller items
Hideaway back pack straps
Removable padded shoulder strap
Luggage handle pass thru
External quick access pockets
Anti bag-tang vented compartments
Tool & Tech Organizer
Specifications:
Waterproof footwear compartment
Weight: 1.55 kg / 3.41 lb
Volume: 51L / 3112 cubic inches
Dimensions: 54 × 30 × 31 cm
Dimension Inches: 21 in x 11.8 in x 12.2 in
Recommended Use: Mountain bike / Powersports / Adventure
Material: 600D Dull Oxford / 1000D Tarpaulin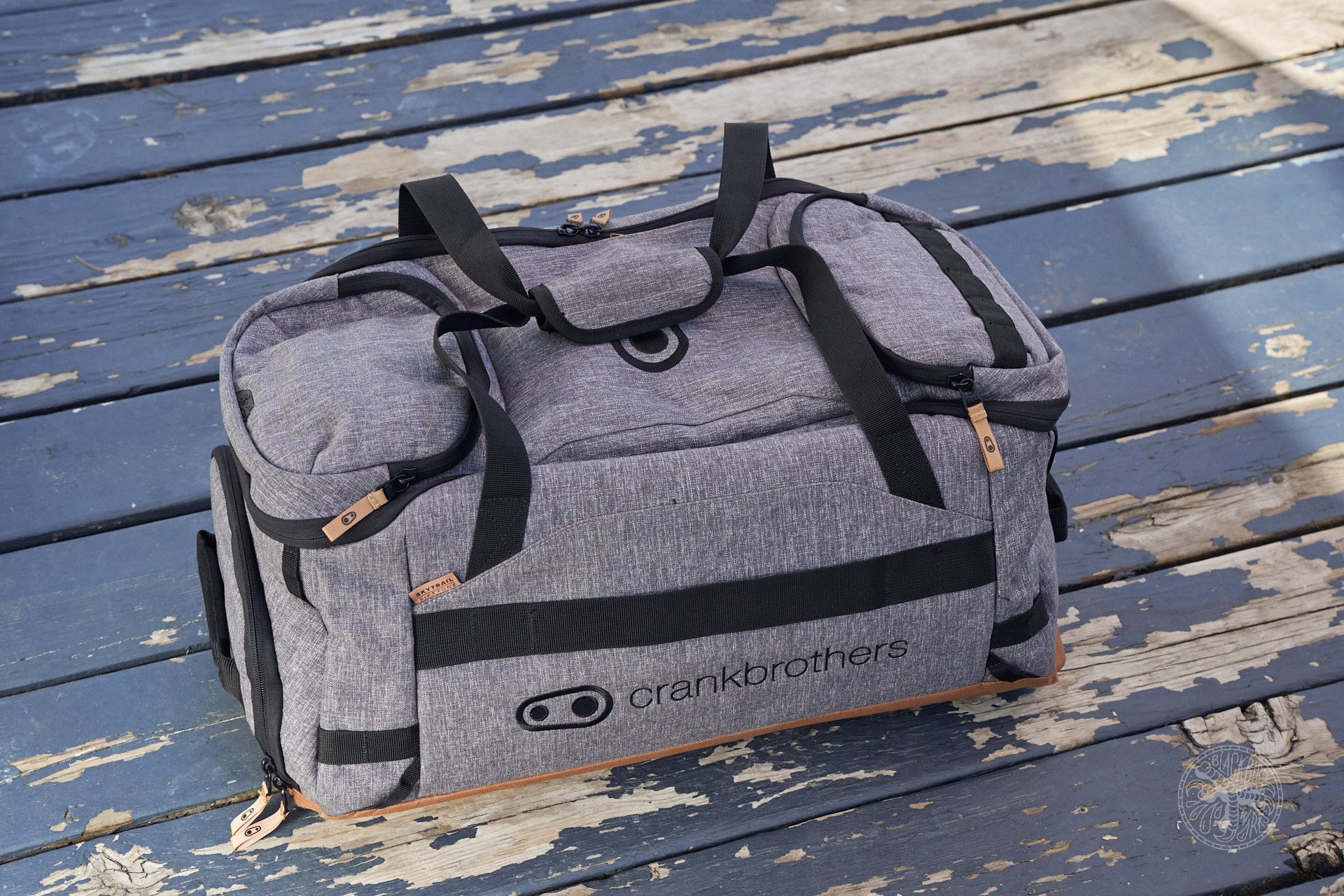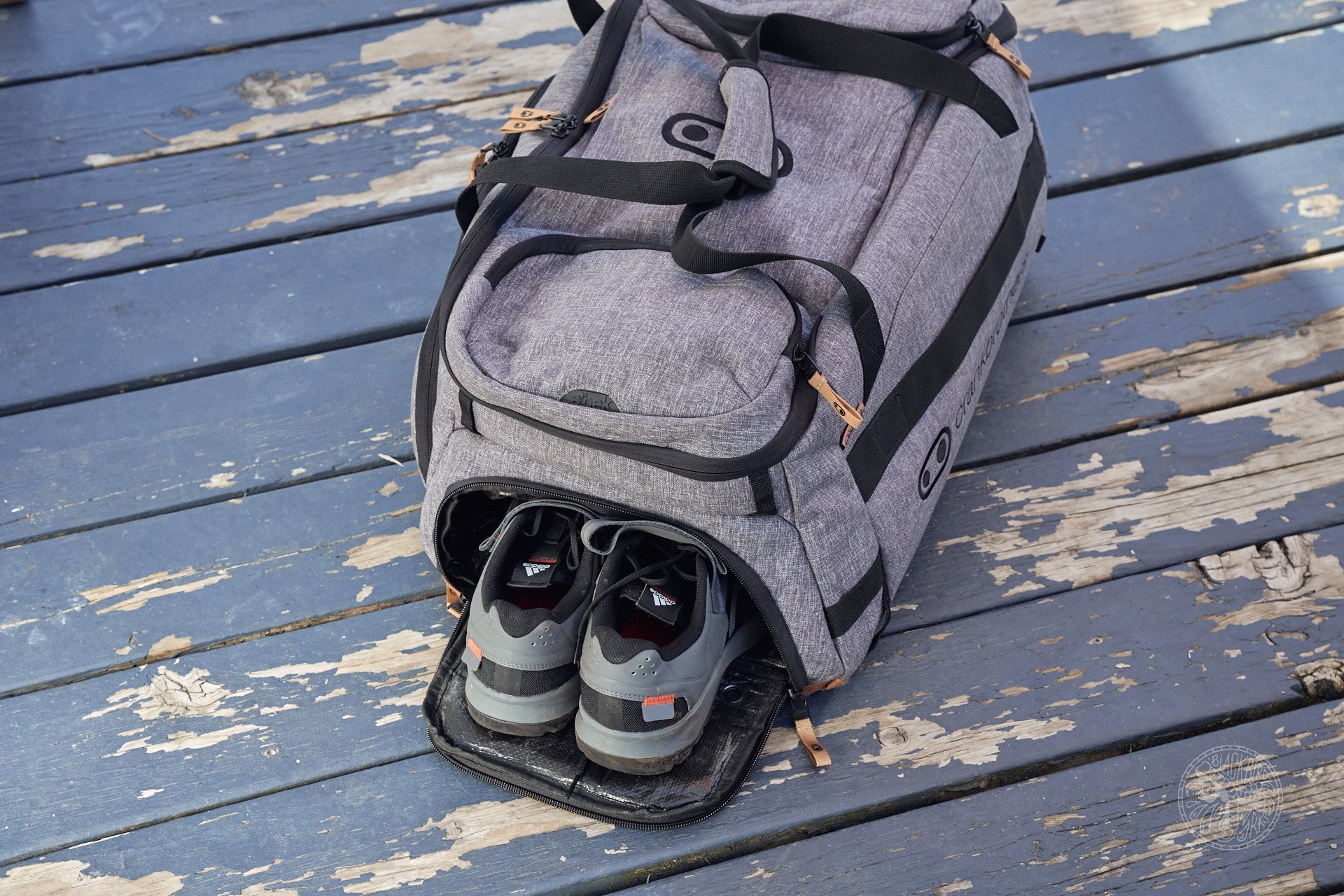 The canvas-like finish on the Crankbrothers version of the Albek Duffel feels thick and durable. The external material isn't advertised as waterproof and doesn't really need to be for the use case scenario. The truck bed crowd will need to carry a garbage bag to toss this into for a rainy road trip in the open. There is no immediate danger to the contents of the bag as the material seems thick enough to fend off moisture for a while, but as I said earlier, this is no dry-bag.
There are 5 external compartments and a big main compartment with organizers that allow for great flexibility when packing this duffel. Three top compartments are ideal for smaller, quick access items like gloves, riding glasses, chargers and keys alike. The zippers are secure and do not deploy accidentally to spill your contents on the ground. Yet they are smooth enough to slide at ease when you are trying to open them one handed.
During March, I took this duffel tightly packed to Europe as a carry-on packed with everything but the riding gear and I was delighted with the functionality and looks. Everything in the bag survived the trip with 14 airport visits! (an insane carbon footprint I have to offset by biking everywhere this summer). The shoe compartment held my sandals initially then became a perfect place to isolate the dirty laundry I had piling up between washes. I can't emphasize the value of that compartment enough. With exhaust vents to the outside of the bag, it is also nice to be able to air the wet shoes or dirty cloths that it will carry.
The side compartment is a unique one for gear heads that wrench on the go as it is designed to be a full blown tool roll and a work bench. The full zipper enclosure opens up and the in flap itself is limited on its drop with webbing to turn it into a great little platform to put small parts while working on your bike from the back of the truck or car.
There are also 20 elastic loops that one can use to organize wrenches or other items that you may want to contain. Generous amount of zippered and slotted compartments make it a very handy tool bench.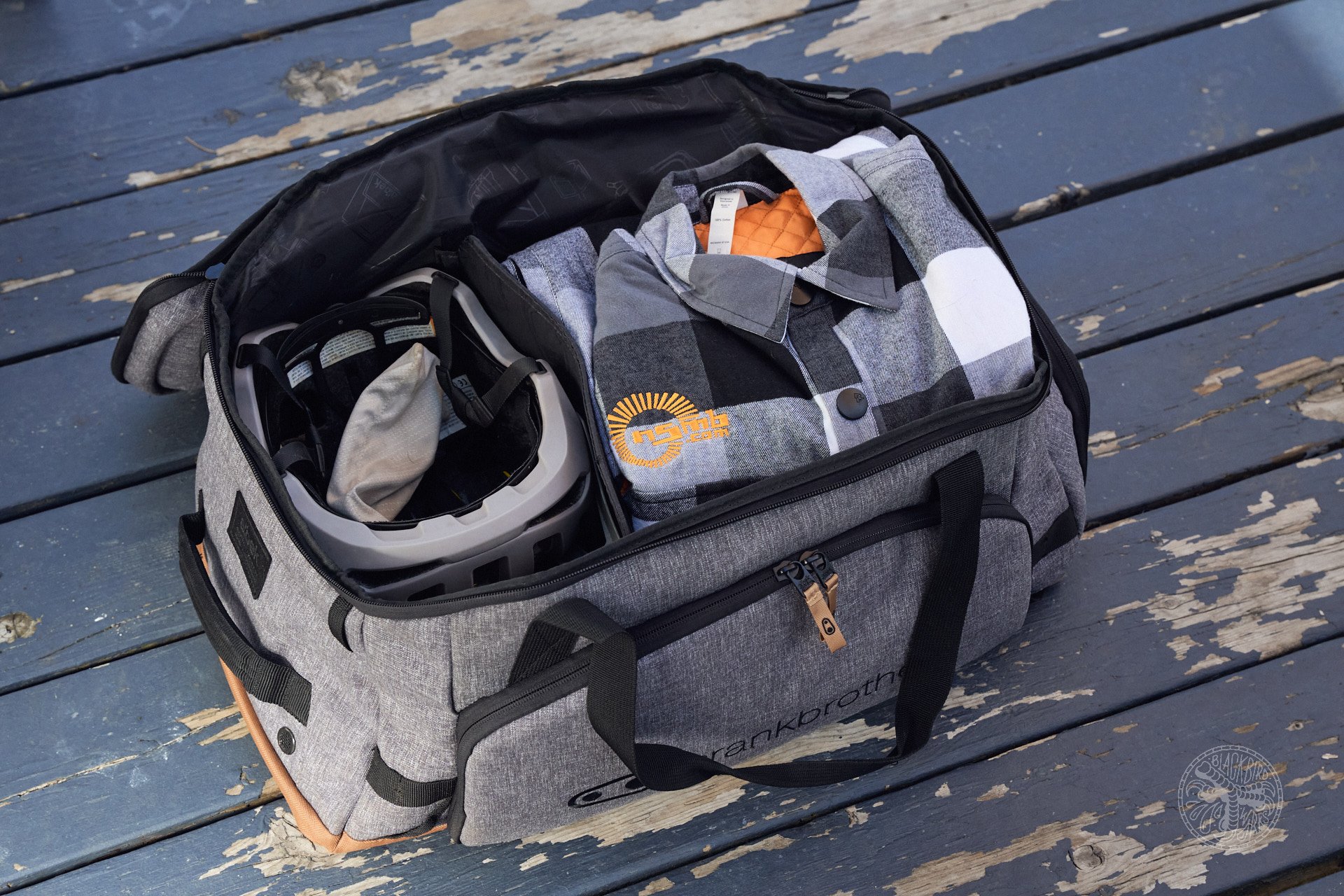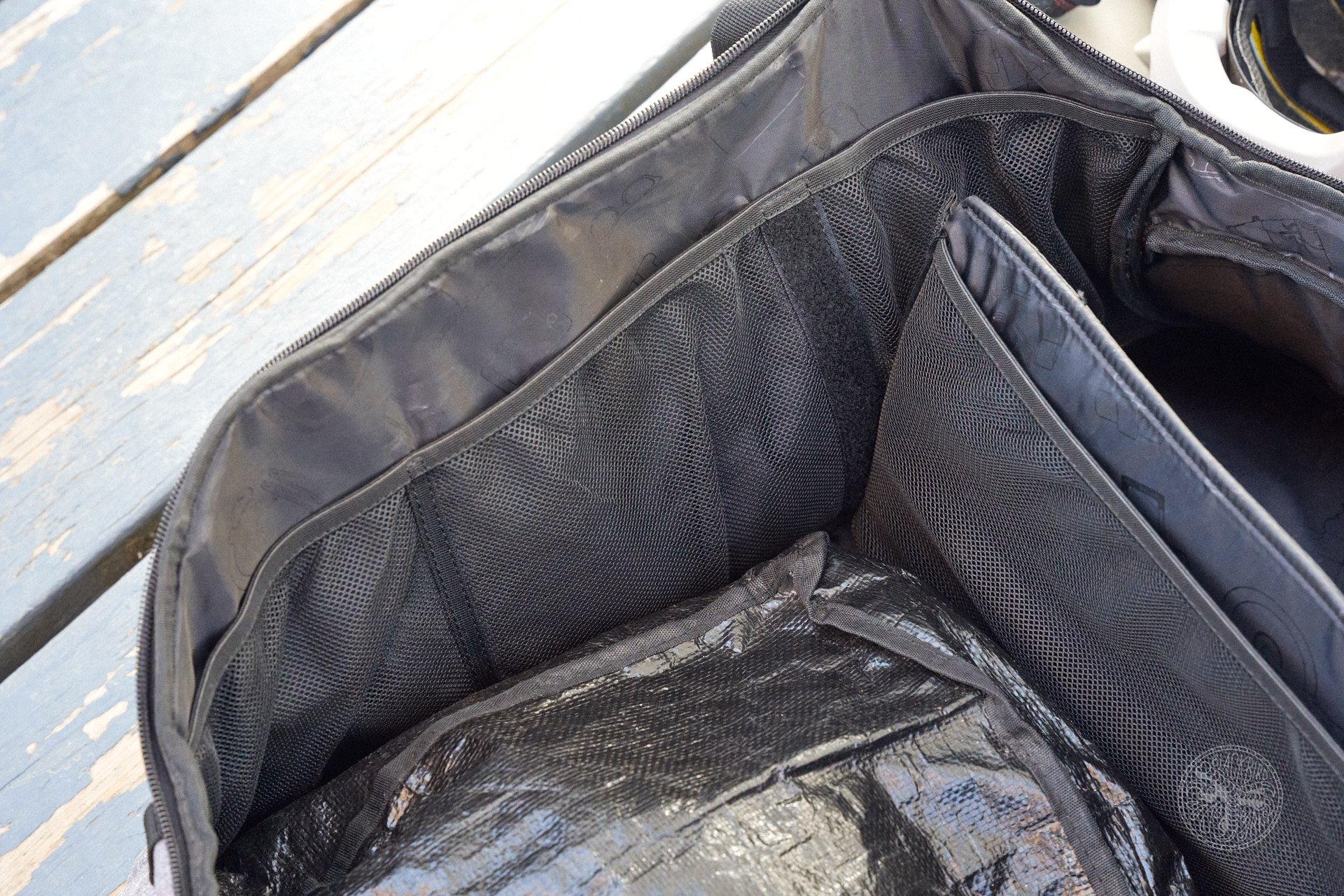 The main compartment is spacious and accessible. With bulky shoes in the shoe hole, there is some volume lost on the inside on the bag but soft goods still fit easily for plenty of storage. The divider is hinged at the bottom if you want to free more space inside and again is laced with plenty of webbing for loose stuff you may throw in there.
The entire bag is padded with what seems like 1/8 inch of the soft stuff to protect laptops and other sensitive gear that may end up inside.
The bottom of the bag feels like it has a coating of water resistant material. This allows for the duffel to sit on wet ground without soaking up the liquid from the ground.
With the shoulder straps deployed and clipped into their loops, the duffel becomes a backpack with a chest strap. The shoulder straps are wide and well padded, they are comfortable enough to go on short hikes in or the seemingly infinite walk from airport entrances to your gates. I've carried this thing around as a backpack more than I have in my hand and absolutely love the way it travels. I have taken it on the bike into the forest for non bike related activities aswell. The functionality is top notch.
There is some sort of pleasure with being organized and not living out of Tupperware bins, although I still keep one in the back of the car for extreme mud and filth situations. It also keeps some emergency blankets and clothes dry and clean. But riding out of this duffel has been a real treat for the past 6 months. It flies well and road-trips like nobody's business.
Along with a couple of other 40ish liter duffels I have in the house, they will serve me well into the future.
Albek offers a lifetime warranty for defects on their products. I have not seen this mentioned on the Crankbrothers website but it is practically the same bag. The Crankbrothers version also has a $20 premium for rocking their colours and looks. It is worthy of a premium if you want to fly with this bag and appreciate the styling. The plain Albek look is also quite handsome for day to day use.
What is your prefered gear tote?
$169.99 USD from Crankbrothers website
$149.95 USD from Albek directly

Deniz Merdano
5'8"
162lbs
Playful, lively riding style
Photographer and Story Teller
Lenticular Aesthetician