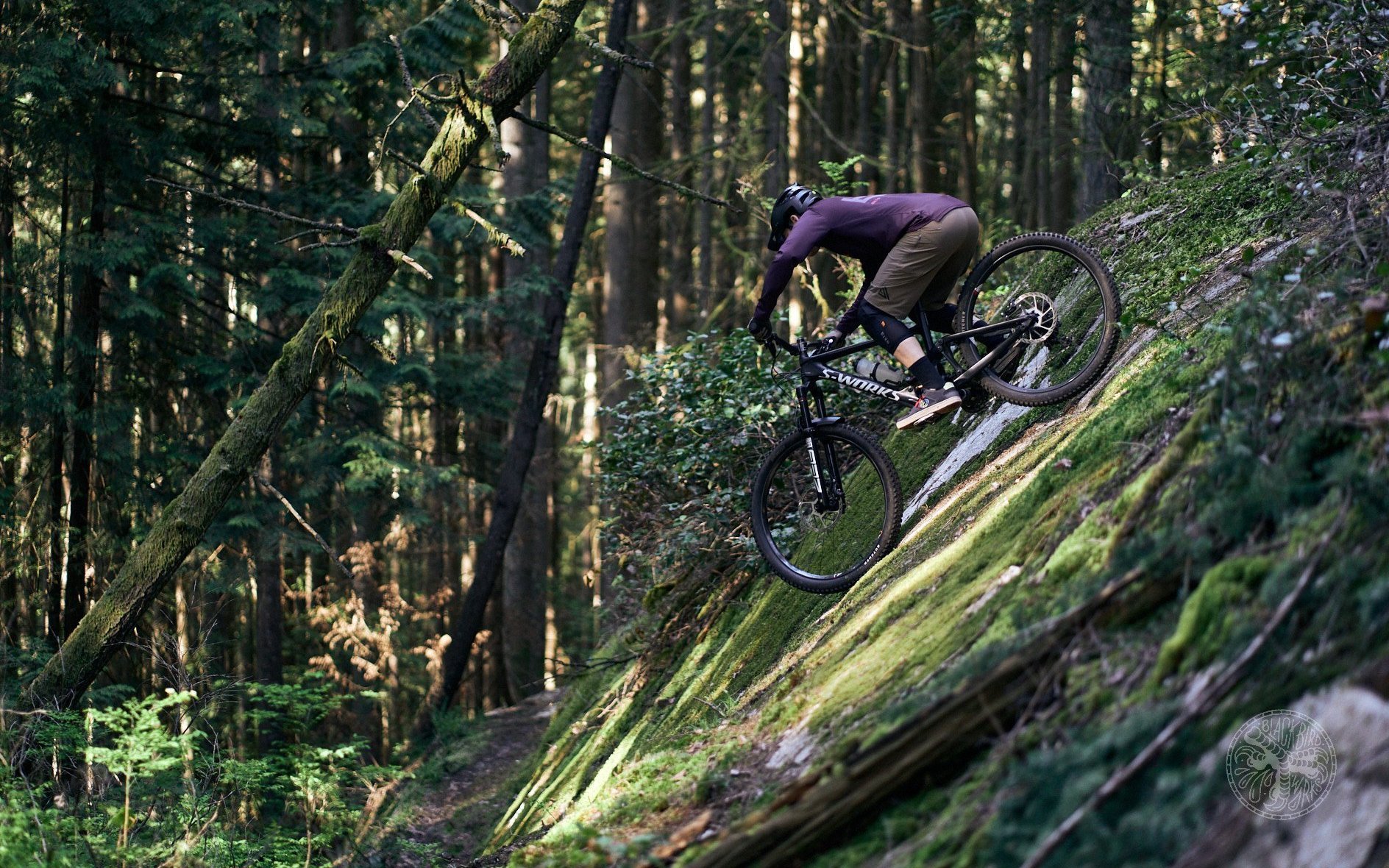 REVIEW
Akta Apparel - Part 2
More stylish goodies from Akta MTB.
Given the scorching summer temperatures we've been having in the PNW lately, it's hard to believe my cold and snowy first look at Akta Apparel was just three months ago. I came away impressed with the fit and performance of the Trail Pant and Long Sleeve Jersey, so it wasn't hard to convince me to give their shorts, gloves and knee pads a shot.
For a quick recap on the Akta story, they are a small collective of riders with years of experience designing technical apparel for some of the biggest names in the biz. A key focus for Akta is to offer cutting-edge designs and materials, while keeping things as environmentally friendly as possible. To that end, Akta has received several certifications that ensure the sustainability of their materials and processes.
Trail Short
If you read my earlier review of the Trail Pant, you may recall that I was a big fan of the lightweight Greenlon (recycled nylon) fabric that was able to shrug off more abuse than it ought to. As much as I've come to love those pants, even the lightest and airiest trousers become too much of a good thing when grinding up asphalt in +30°C heat. Luckily for me, the Trail Short arrived at my door just in time for our first real heat wave of the year.
The Trail Short features the same Greenlon 4-way stretch construction as the Trail Pant, and the shorts share many of the pants' key features. The waistband is lightly elasticized and a ratchet front closure is employed to customize the fit. A PFC-free DWR treatment keeps light rain and moisture from soaking in, while laser perforated holes on the inner thighs help ventilate your junk drawer. Zippered pockets grace both thighs of the Trail Short, and the right side features a built-in D3O ZERO foam pad to protect your cell phone in the inevitable event of a crash.
The Trail Short is available in sizes ranging from XS to XL, and can be had in two mud-friendly colours: black and brown.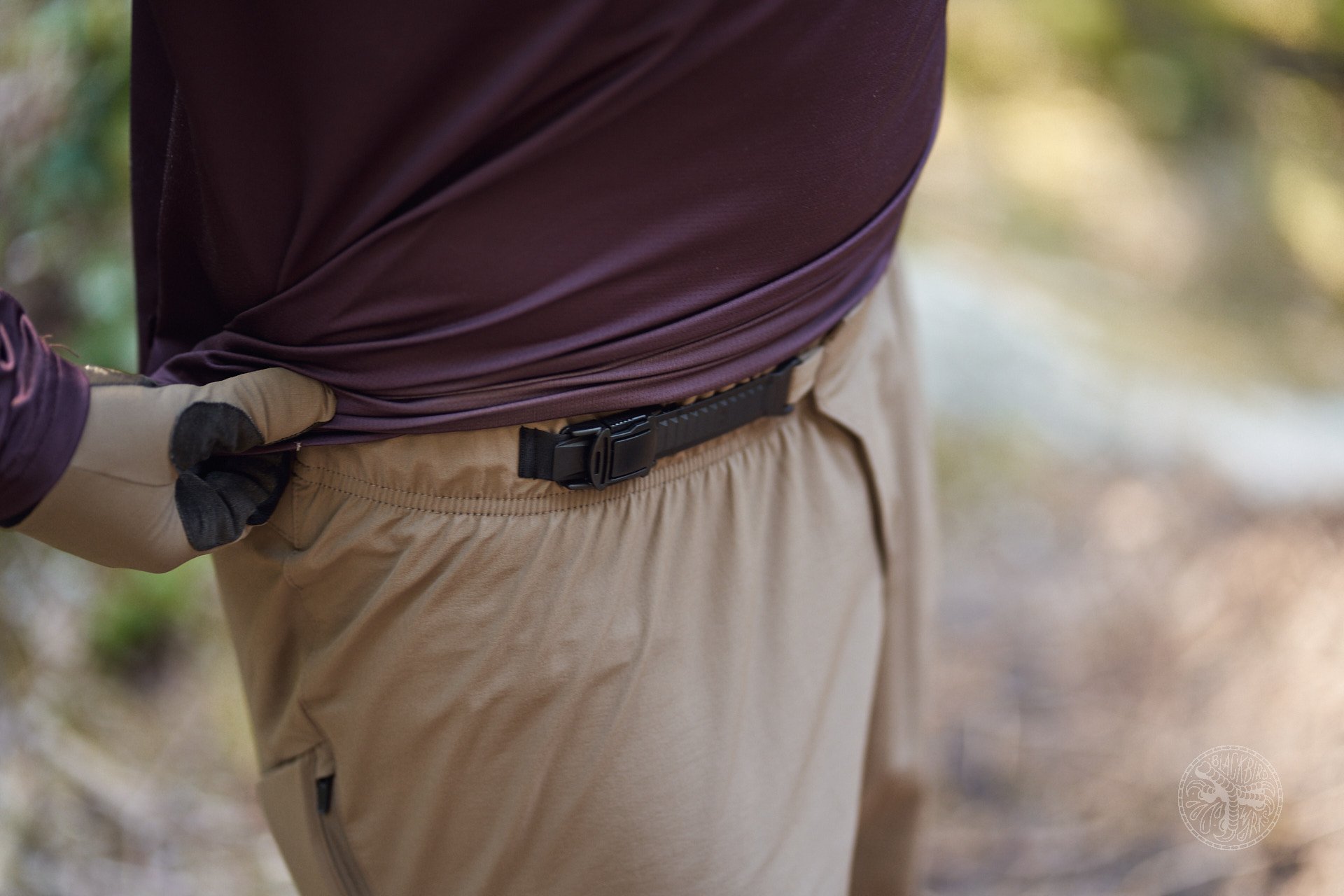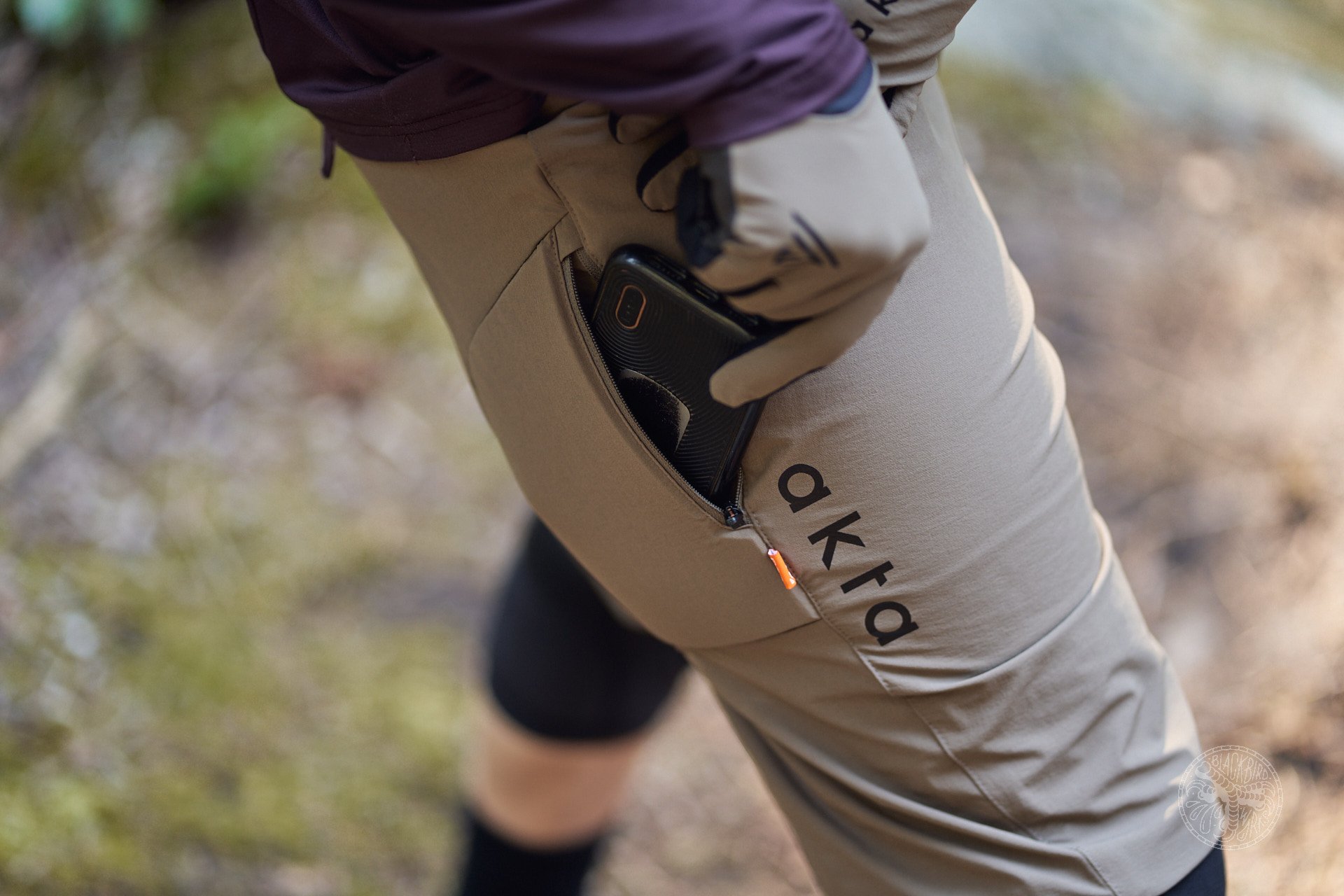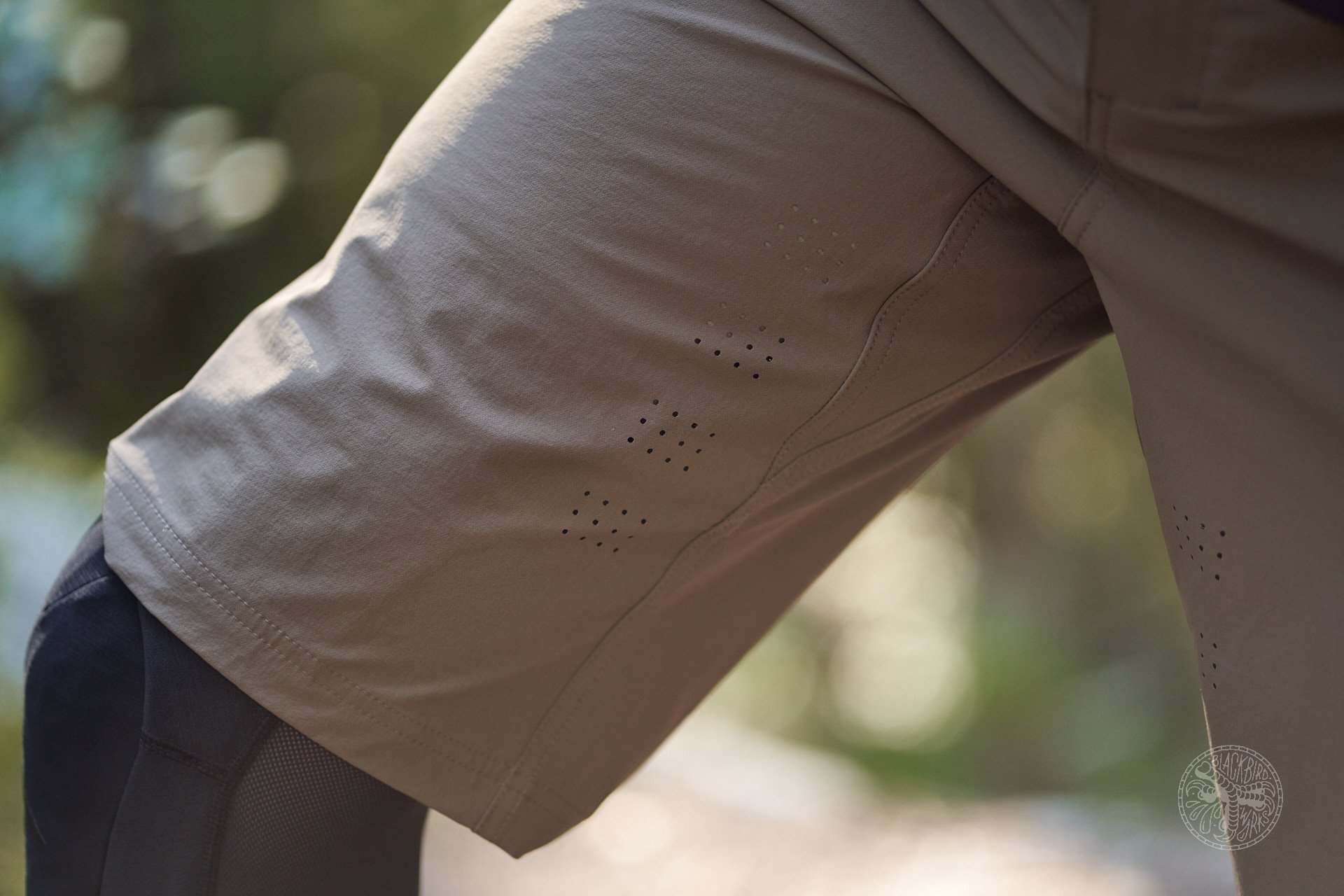 As I expected from my experience with the pants, the Trail Short felt comfortable right off the bat. The slim-but-stretchy fit was great for pedalling with or without knee pads, and the shorts stayed impressively cool even after hours of strenuous effort in the hot sun. While I didn't notice this with the pants, the brand-new shorts started out with a noticeable "swishing" sound while pedalling. I eventually figured out the sound culprit was the inside hem of the shorts rubbing past the tops of my knee pads. Thankfully, the swishing all but disappeared after a single laundry cycle, which must have softened up the fabric a bit.
I was excited to see the D3O padded cell phone pocket included on the Trail Short, and I hope this is a feature we'll start to see on other brands as well. Both pockets are ideally placed towards the rear thigh, which makes the contents more or less unnoticeable while pedalling.
While I was initially skeptical of the ratchet waist closure, I've since come to appreciate the ability to adjust it on the fly throughout the course of a ride. Extended periods of climbing feel a bit less torturous when the waist is opened up a few notches. When it's party time, I simply cinch things up a bit and I'm off to the races.
Trail Glove
Akta describes these as a "minimal trail glove", and they sure ain't lying. The Trail Glove is as thin and light as it gets, with no velcro, no padding, no worries. The backs are made from a 4-way stretch recycled nylon, while the palms feature a synthetic suede material that is said to be durable and breathable. The palm material cleverly wraps around the thumb and index finger where grip contact is made, and the index fingers include a touch screen-compatible stitch so you can slam the 'gram without losing your gloves in the forest.
The Trail Glove is available in sizes from XS to XL, and comes in black or brown colours.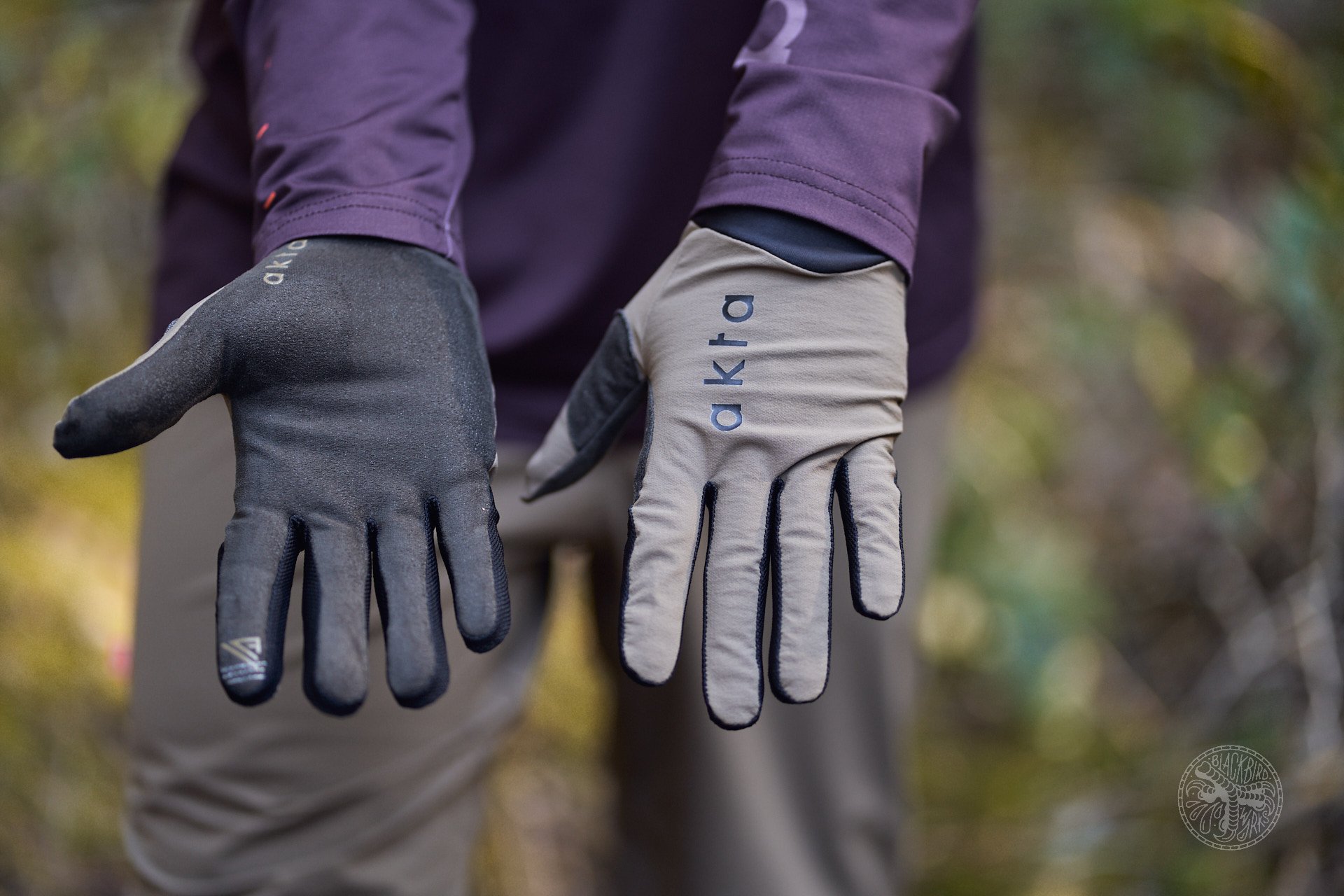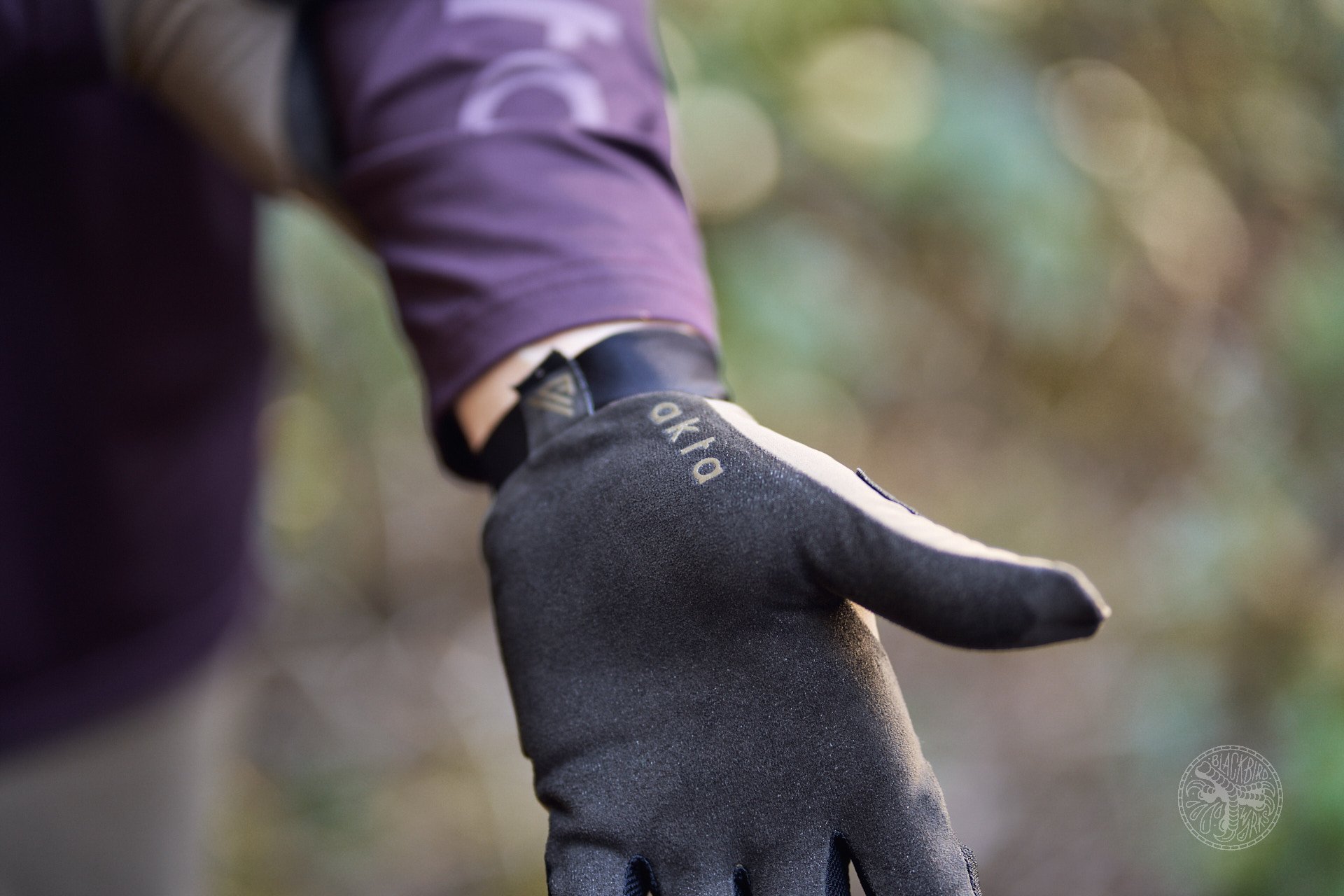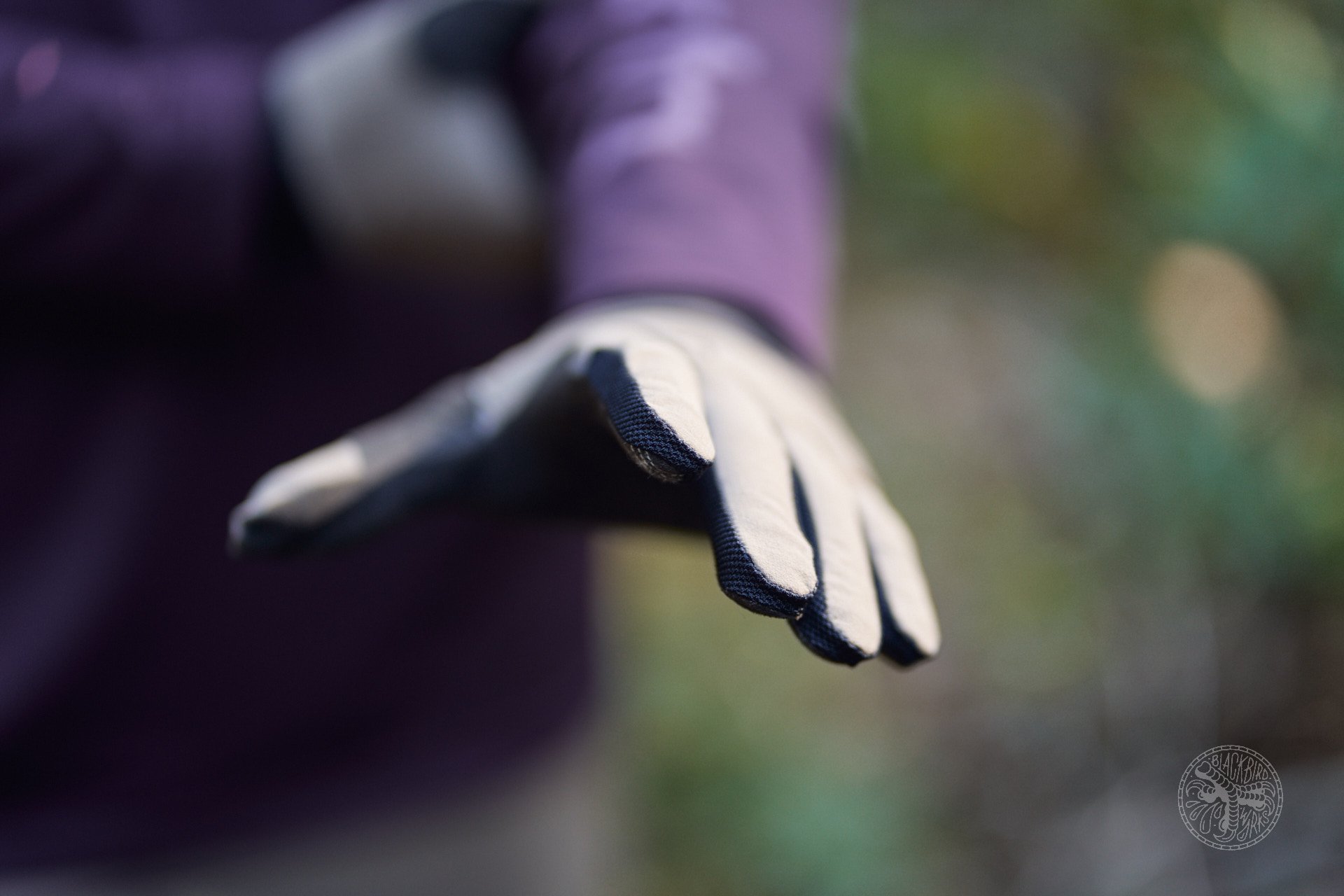 The Akta website advises of a "tight compression fit" with the Trail Glove, and they suggest sizing up if you prefer a looser fit. I'd far rather have a tight fit than material bunching up on the palms, so I went with my normal large sizing, which fit like a glove. I instantly understood what was meant by "tight compression fit" as soon as I put the Trail Glove on - the wrist bands stretch, but not very much, and getting the gloves on was a wee bit finicky. But once they're on, they kinda just disappear - and that's a good thing. This seems to be the glove for people who don't like wearing gloves.
In spite of the almost-not-there feel, the synthetic suede palms provide plenty of grip, and the tops were quite breathable as well. The touch screen fingertips worked fine on my iPhone, although I wouldn't suggest trying to type anything longer than a mountain bike glove review with them.
Trail Knee Pad
It seems that companies who make pedalling-friendly knee pads have really upped their game in the last couple years. It wasn't too long ago that climbing for extended periods of time with knee protection in place was basically unheard of. With the rise of the enduro segment, we now have many excellent options when it comes to comfortable knee protection, and it's clear that Akta have waded into very competitive waters with their Trail Knee Pad.
At the heart of these knee pads lie a removable D3O foam insert covering the knee and upper shin. High impact EVA foam protects around the sides of the knee, while a breathable mesh back ties everything together. The front of the pad is a layer of aramid fabric, a material known for its ability to stop bullets*.
*(in case you were wondering, the Akta Trail Knee Pad is not bulletproof.)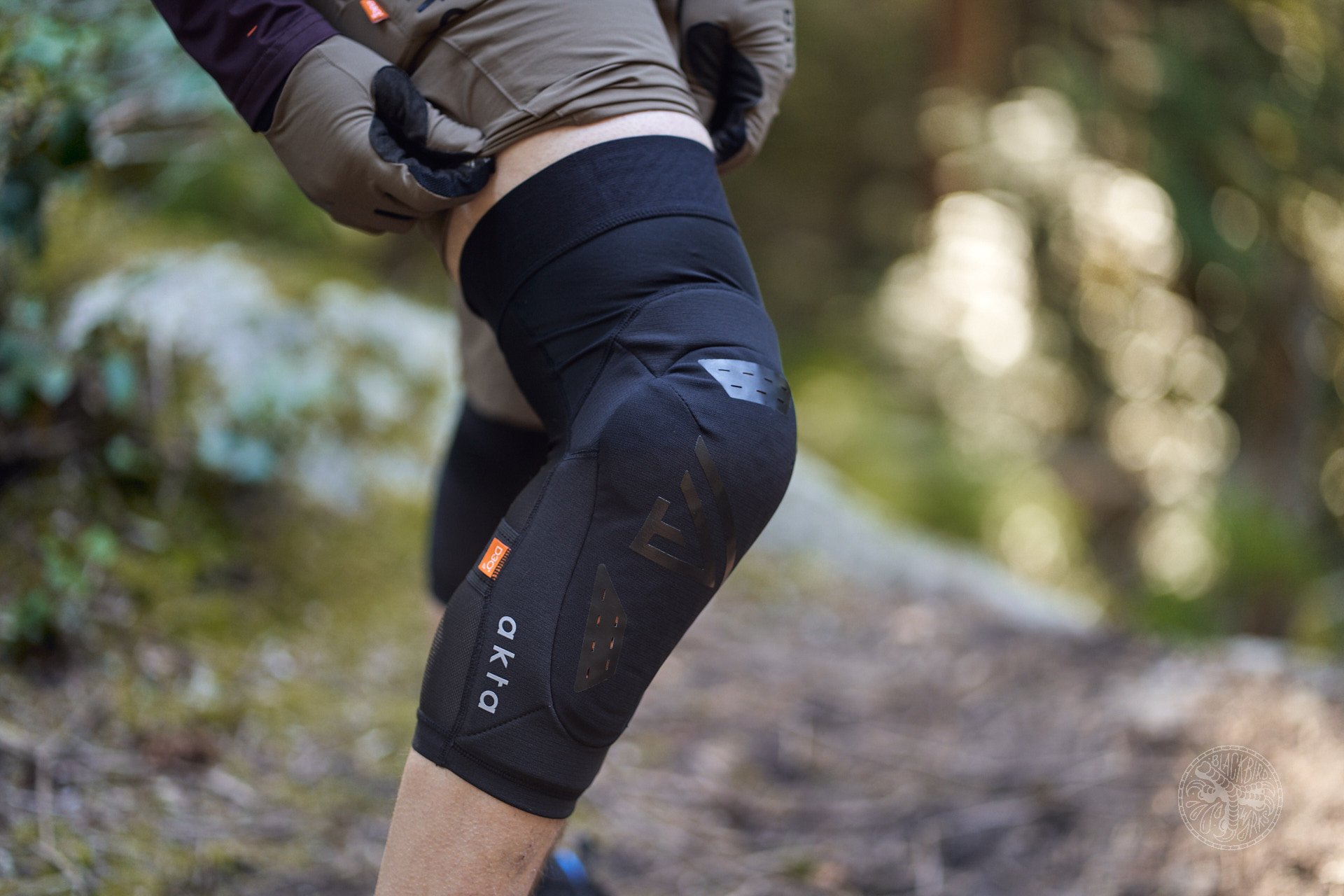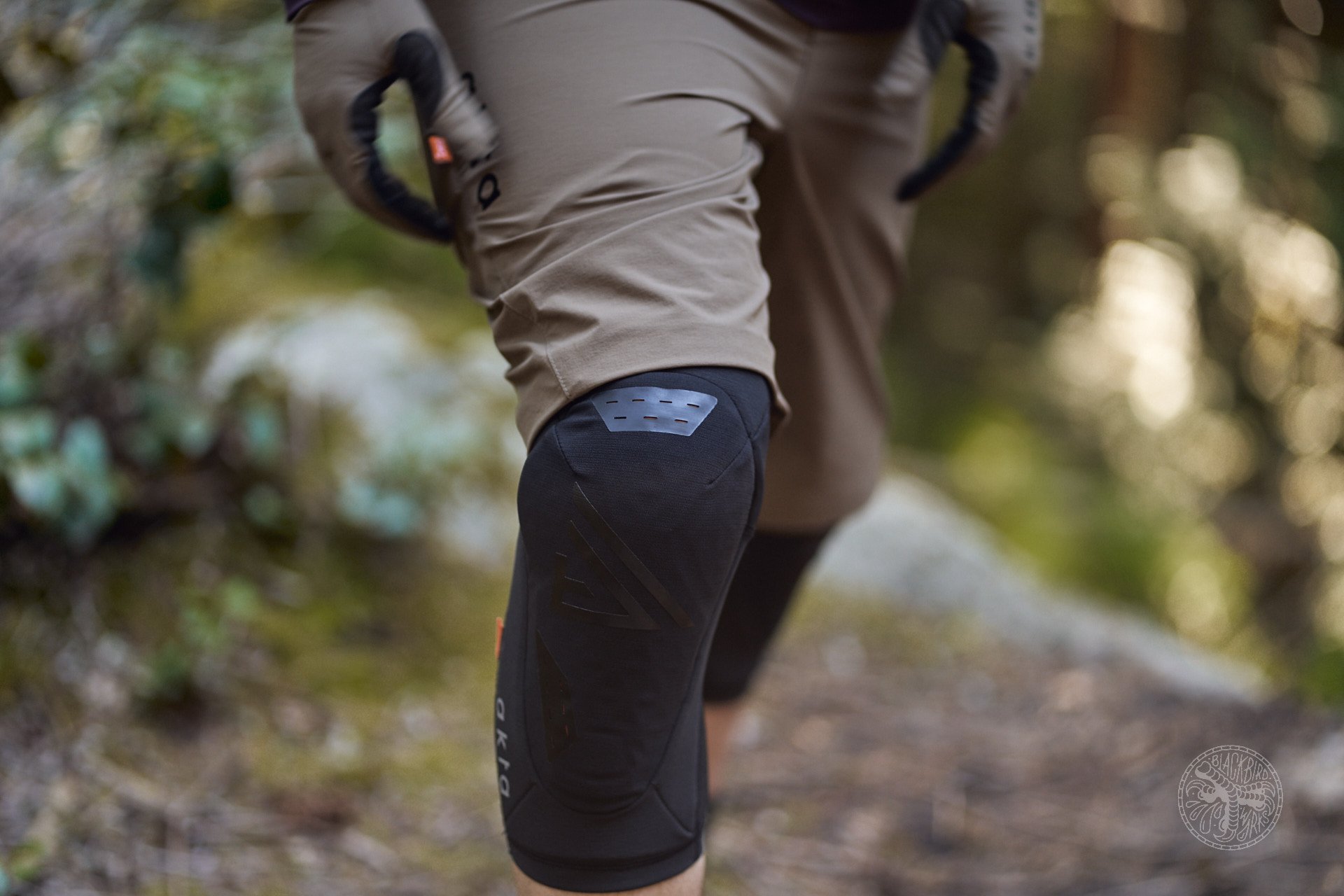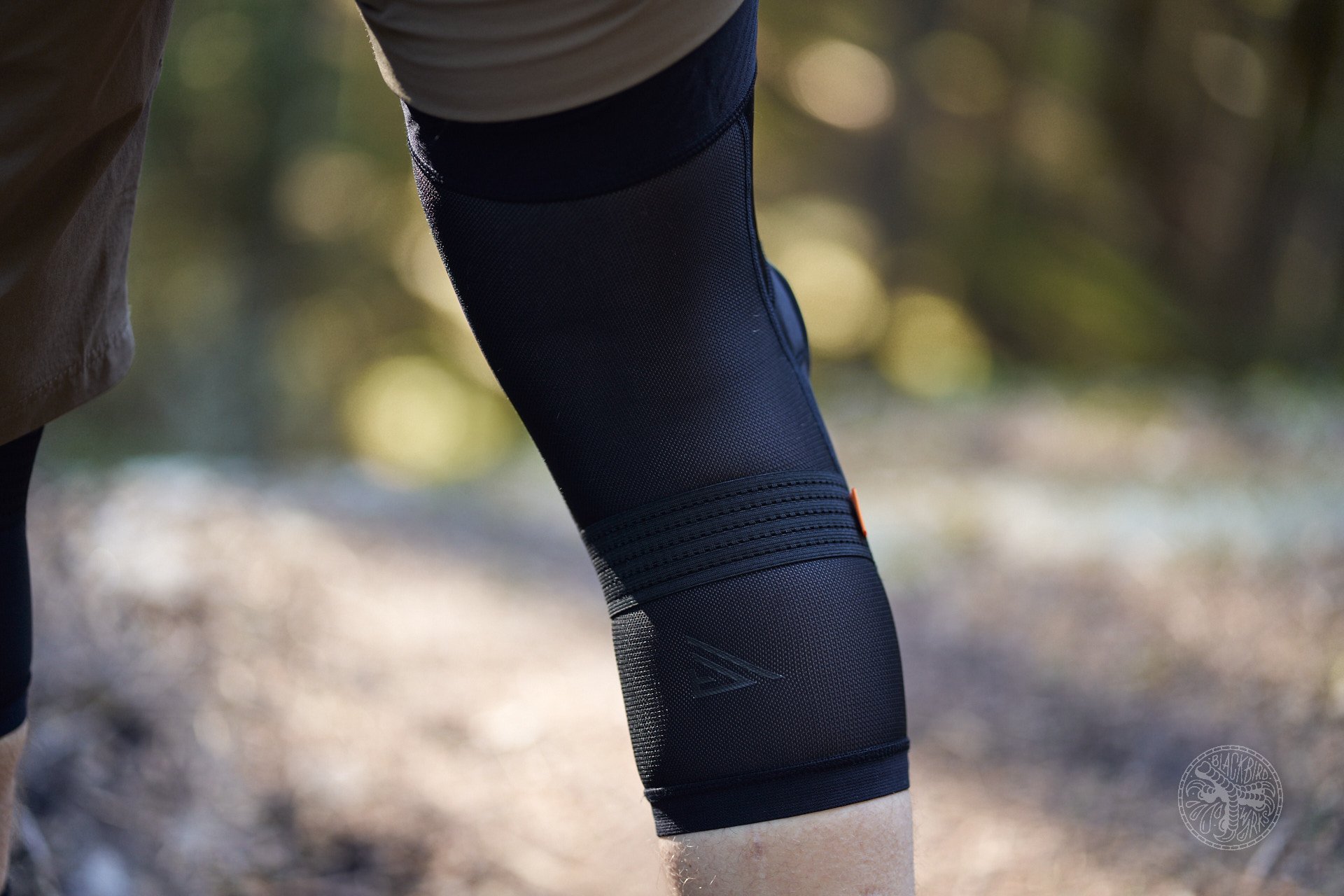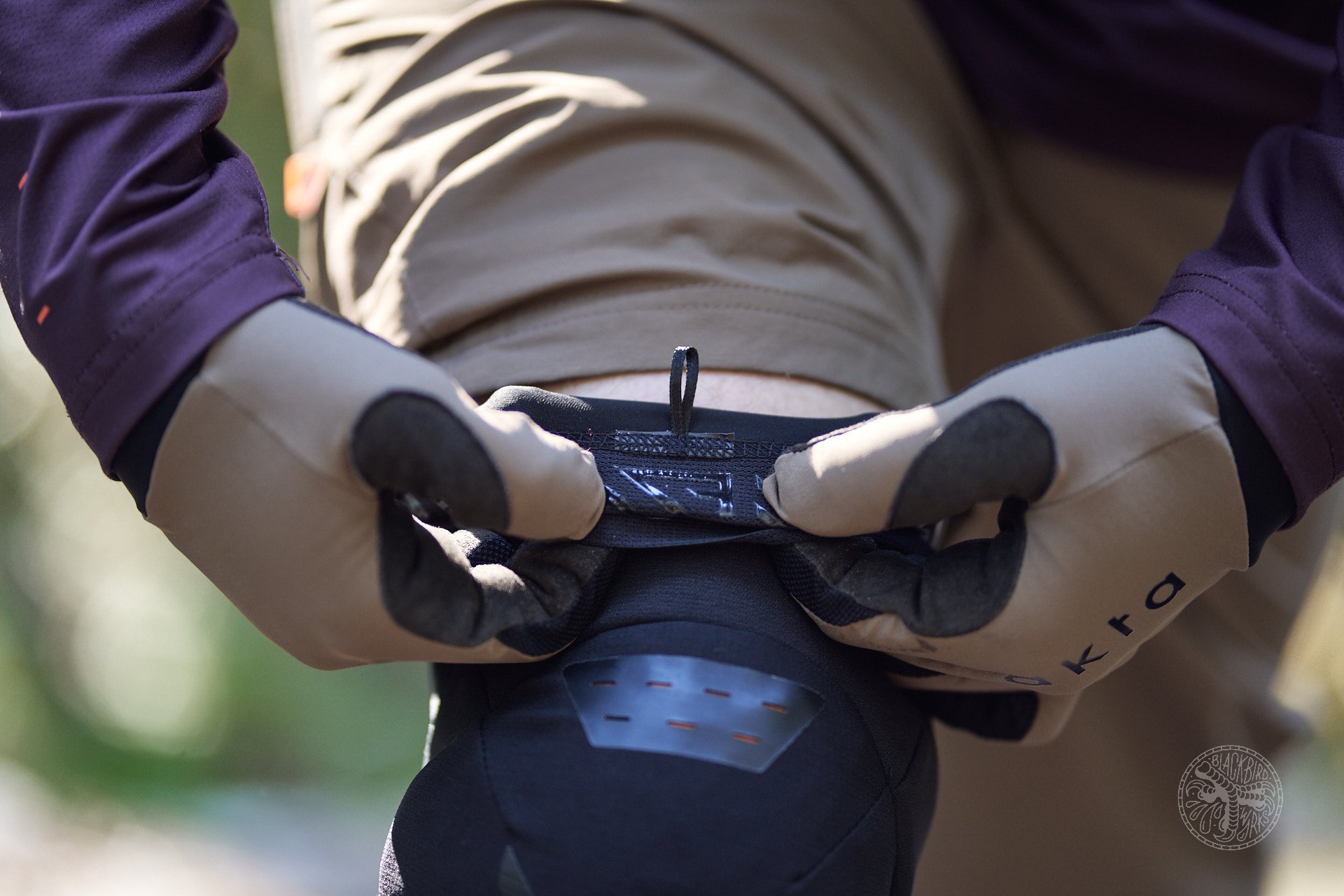 In a move that seems to be trending in knee protection, Akta have forgone any kind of straps or adjustment on the Trail Knee Pad, instead relying solely on highly elasticized cuffs that include silicone grips that keep the pads in place. There is also an elasticized calf strap that prevents the pad from inching down your leg over the course of a long ride.
While admiring the construction of the these knee pads after unboxing them, it occurred to me that there must be an astonishing variety of materials available for use in the action sports industry. It also became obvious that the crew at Akta have done a little more homework than most on how to combine these materials into products that work ridiculously well. The Trail Knee Pad is one of those products that you first put on and go: "Oh wow, these feel really good." Due to the tight compression fit, and the fact that these pads are perhaps longer than most (the upper cuff sits quite high up the thigh), getting them on and in the proper position takes a bit of patience. But once they're on, they're not going anywhere.
Straight out of the box, the Trail Knee Pad felt comfortable right away, with no hot spots or break-in period required. I just slapped them on my legs and proceeded to pedal up most of Mount Seymour in the blazing sun. I always pedal with my knee pads in place, regardless of the heat level, and the Akta Knee Pads were as comfortable as any other pad I've tried - even equalling (if not besting) the highly acclaimed Chromag Rift I recently reviewed. And while I think the Rift might just barely edge out the Aktas in terms of breathability, the Aktas likely win in the "staying put" department - which is crazy, because the Chromags certainly aren't slouches in that regard.
As the Akta Knee Pads were so keen on gluing themselves to my legs, some care was necessary when removing them. I found the best method involved rolling the upper cuff down to release the silicone grip, then I was able to push the entire pad slowly down my leg without too much trouble. While the construction and stitching on the Trail Knee Pad is solid, I can't overstate just how sticky those silicone grippers are, and taking a few extra seconds to gently release them is sure to increase their lifespan. The lack of any cumbersome velcro straps certainly added to the overall comfort of these pads, but there is always the worry that the elastics and fabrics will stretch out over time and lose their ability to stay in place. After about a month of regular use, there was no indication of unwanted stretch, but I will report back if things change over the summer.
Knee pad protection - legitimately tested!
About a week into the review period, I experienced a wild rodeo of a crash that no doubt tested the Aktas' protective abilities. Long story short, I was OK, but suffered scrapes and bruises on every extremity. I definitely impacted my right knee on something, as there was the telltale dirt smudge evidence on the pad. The dinner plate-sized hematoma that appeared on my thigh the next day further confirmed my suspicions that something violent went down. I'm convinced that the Aktas' ability to stay securely in place may have saved my knee(s) from serious injury in that crash. Thank goodness we are clear of the old days when even the best knee pads were almost guaranteed to slip down in the event of a crash. As might be expected, the aramid outer shell of the Trail Knee Pad shrugged off the impact with no damage whatsoever.
After having worked my way through most of their catalogue, I can confidently say that Akta have brought some very special products to market in only their first year of sales. While the products are new, the years of industry experience behind them are apparent, and it's hard to fault these products for anything other than falling on the somewhat expensive side of the cost spectrum. They say that you get what you pay for though, and in the case of these Akta products, what you get seems to be worth every penny.
$174 CAD.
$44 CAD.
$144 CAD.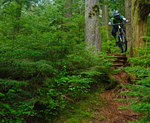 Ryan Walters
Age : 40
Height : 1803mm
Weight : 86kg
Ape Index : 1.03
Inseam : 787mm
Bar Width : 780mm
Preferred Reach : Pretty comfy at 487mm these days.