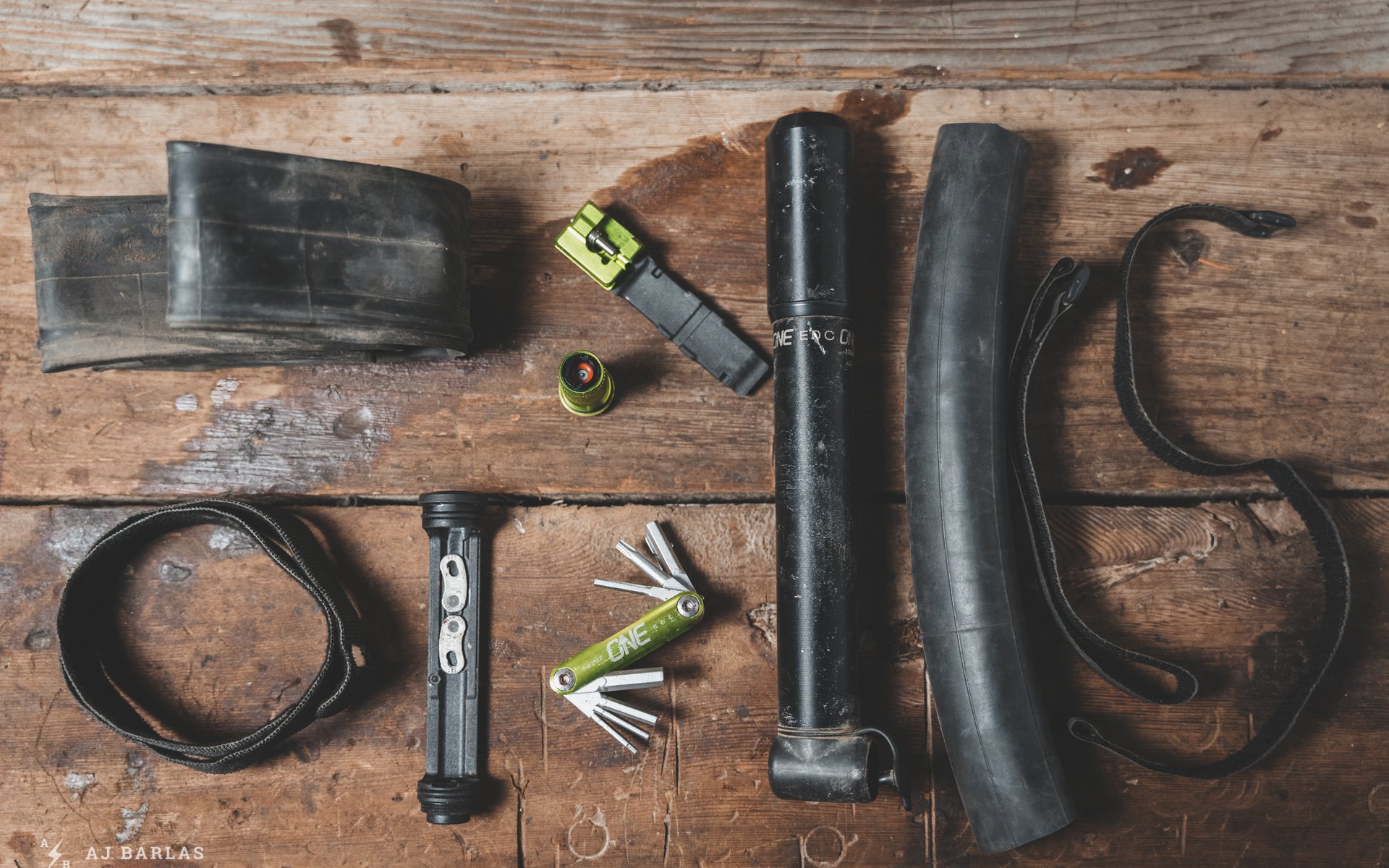 Whatcha Packin'
AJ's Packless Carry Solution
Carrying Too Little
Who remembers the days when riding without tools or a spare tube was more common? I mean, there are still heaps of people on the trails with nothing to get them out of the inevitable jam coming their way, but it's far from a regular habit now. Not long ago I discovered some expert-level racers were hitting the track ill-prepared. During the Whistler EWS several years ago I helped one such individual with a spare tool because he didn't have one. He frantically tore it open and began wrenching away while I (impatiently) waited, only to receive the tool back missing a part. Can you imagine racing from the top of Whistler Mountain – the longest stage of the entire Enduro World Series – without a tool?
But while I was more prepared in that situation, my karma for helping him was quite immediate and I flatted while heading down to capture the award ceremonies. I got a little excited while chasing a friend down and tagged something on the lower portion of Top of the World. The wheel and tire combo on my bike at the time were a real SOB and even breaking the bead to insert the tube I was packing was a struggle. As I limped the flat down the mountain and after repeated attempts to fix it, I met two wonderfully helpful individuals who had experience with the same wheels and knew more hands were necessary. Those two gentlemen were NSMB's own Cam McRae and Pete Roggeman.*
*This was the first time we met A.J. in the flesh - Ed.
I'll never be sure why karma hit that day. I assume it had something to do with my less than ideal attitude toward the unprepared racer. Despite offering to help him, I found myself muttering away internally in disbelief that he didn't have a tool. But perhaps he had one and lost it? Or maybe he made a mistake and simply forgot it? I'll never know but I do believe I should have been more open-minded, even if my willingness to help was jeopardizing my work during the final stage of the day as the first wave of top racers began to drop in.
Too Much
Then there are riders who carry so much, it's a surprise there's no kitchen sink. Heck, some riders could come close to building a complete backup bike. They become sherpa's to their over-prepared minds, hunched over and pushed toward the floor by the mass of gear strapped to their backs. At least they'll develop a strong neck and core on top of never being stuck on the trail and we all have that friend that's always able to help in a jam. Then again, unless carrying a second bike on your back, are you ever truly prepared for everything? There's always a chance for something unexpected to happen, right?
That's what caught me out all of those years ago. I'd never considered not being able to break the tire bead from the rim. I mean, it went on relatively easily. But there I was, on the mountain, working, fighting with a bead that was pretty much glued to the rim! Once broken there was no way to pull it up over the rim bead without an extra set of hands, or tools.
Enough?
Tools… I had tools but had overlooked one in particular. And it's not like I was trying to save weight. Lugging around a backpack full of camera gear can't be far off carrying a spare bike and the kitchen sink. So why weren't there two, simple little levers in there to go along with the camera gear, food, water, tools, stupid heavy bike lock and tubes? No idea. It's a good reminder to check and make sure I have some in my camera bag now though…
The funny thing is, on that busy day covering the Whistler EWS, I was more prepared than on trail rides at the time. It taught me I needed to improve my on-ride essentials because most of the time I had nothing. Not a tube, not a zip tie… nada. I even used to race the Squamish XC Toonie's without a bottle. There wasn't time to drink while redlining for 40 minutes on most courses. Instead, I opted to camel up the day-of and then replenish the next day. Who knows what damage I've done to myself with that process. Nevertheless, I somehow managed to get away with minimal issues for years. When I did flat, I would roll home on the rim, most of the time carefully. If I busted a wheel, I'd limp it back, and I've spent a few rides 'skating' my bike because of problems too.*
*I'll delve deeper into one specific skate mission by bike when I cover my adventure ride camera pack essentials in the future.
Growing Up in Preparedness
I clearly needed something for my everyday rides. It was irresponsible not to be prepared for at least minor fixes so I began with a tube strapped to my frame and soon added an CO2 cartridge and dispenser. You read that right, I carried a tube but no way of pumping it up; young and dumb. One close riding mate always had an CO2 setup for us but we didn't always ride together, ha! Eventually, I matured to the level of carrying a multi-tool, usually in my pocket, and that's how I rolled until a few years ago. I'm not a fan of riding with a pack and the same goes for [insert whatever you call a bum bag]. I wanted to be rid of the tool in my pocket and hearing the injury horror stories sustained from friends choosing this storage location made it a must.
When OneUp released its EDC tool a few years ago, I was intrigued but I never went with the in-steerer option. At the time I was testing multiple forks and while less common now, I'm still switching the front end around fairly consistently. I also wanted to ditch the CO2 cartridges. I'm not racing anymore so changing a flat at F1 pit crew speed is no longer important and I find them to be a bit wasteful. On top of that, I've always had to limp a low-pressure tire out when using CO2, or use multiples and cut it off before over-inflating. A pump makes more sense for me to carry and has come in handy when travelling too.
So while it may not look like much, my setup of the OneUp EDC 100cc pump and a spare tube remain strapped to my bike at all times. Generally, I'll only have one test bike going at a time and usually attach the OneUp pump mount beneath the bottle cage of the test bike. If able to use the mount on my bike, I'd likely be doing the reverse and strapping it to the test bike when needed. When testing a bike, I prefer spending large chunks of time on that rather than switching bikes often, so there isn't much swapping about happening. That's a good thing because I'd likely forget the pump more than I'd remember…
To attach the pump, I use a set of SKS straps that came with the mount-anywhere bottle cage mounts. Initially, I tried using them with the OneUp pump mount, attaching it securely under the top tube. Unfortunately, thanks to the mount's off-centre design, it sat less than ideally on my bike, which to be clear, doesn't have a bottle cage mount. So I removed the mount pieces and made use of the straps on their own. The small loops make cinching things up nice a tight a breeze too.
Most of my gear sits inside the pump. The EDC tool has a small multitool that includes Allen keys from 2 to 8mm, a T25, and a flat head screwdriver. I can't remember the last time I saw a flathead on a bike but it's there if needed for an older derailleur limit screw or something. There's a tire lever, spoke key, chain tool, spare quick link, chainring bolt, and Presta valve core remover. In the 100cc pump, there's space for things like zip ties or plugs and it comes with a small canister that threads into the bottom of the tool. You can also thread a CO2 in there if that's your jam. My pump was pre-bacon bits for tubeless tire repair so I've been running a Dynaplug Pill plug kit in the space below the tool. Inside it is a bunch of small parts I'm not sure how to use but also, the all-important plugs themselves. It works well and has gotten me out of countless jams but also fits snuggly inside the handle of the pump. I've used a small piece of moto foam between the Pill and the bottom of the EDC tool to hold everything tight and prevent any rattling.
To mount the tube to the bike, I use a cheap velcro strap from Canadian Tire many years ago. In the past, I've bought items like these straps with nothing but good intentions, only to find them in a drawer somewhere years later. Thankfully I've curbed that trait (I think? I'll have to check with my wife to be sure) but these have come in really handy since finding them stowed away.
The strap has a loop that allows me to cinch down on it and get the tube tightly held in place. They're also useful for brake bleeds, holding the swingarm in place when a shock has been removed and many other uses. They've turned out to be a good purchase and have endured years of abuse. They are yet to strap any TV cables together though… It's not as nice looking as other options out there but it works, so I struggle to open my wallet for something else. I've also tested strap storage options like the one from Race Face and the Dakine Hot Laps Gripper but they feel excessive when all I'm putting in there is a tube.
One item not shown in the images is my small 12mm box head spanner, which I need to adjust the high-speed compression on the EXT Storia V3 shock. It's not something I typically need once things are set but every time I make a change to the chip configuration (which Nicolai refers to as a mutator) I need to adjust the compression a touch to suit. The 12mm spanner is snuggly strapped to the spare tube, keeping it away from the bike and secure from sliding out.
Aside from these items, I will carry a bit of trail mix and my phone in my pocket and sometimes I may carry some water purifying tablets. They're usually more necessary on bigger rides, when I lug a bag with some more essentials, including my camera. I'll discuss that setup more in the future.