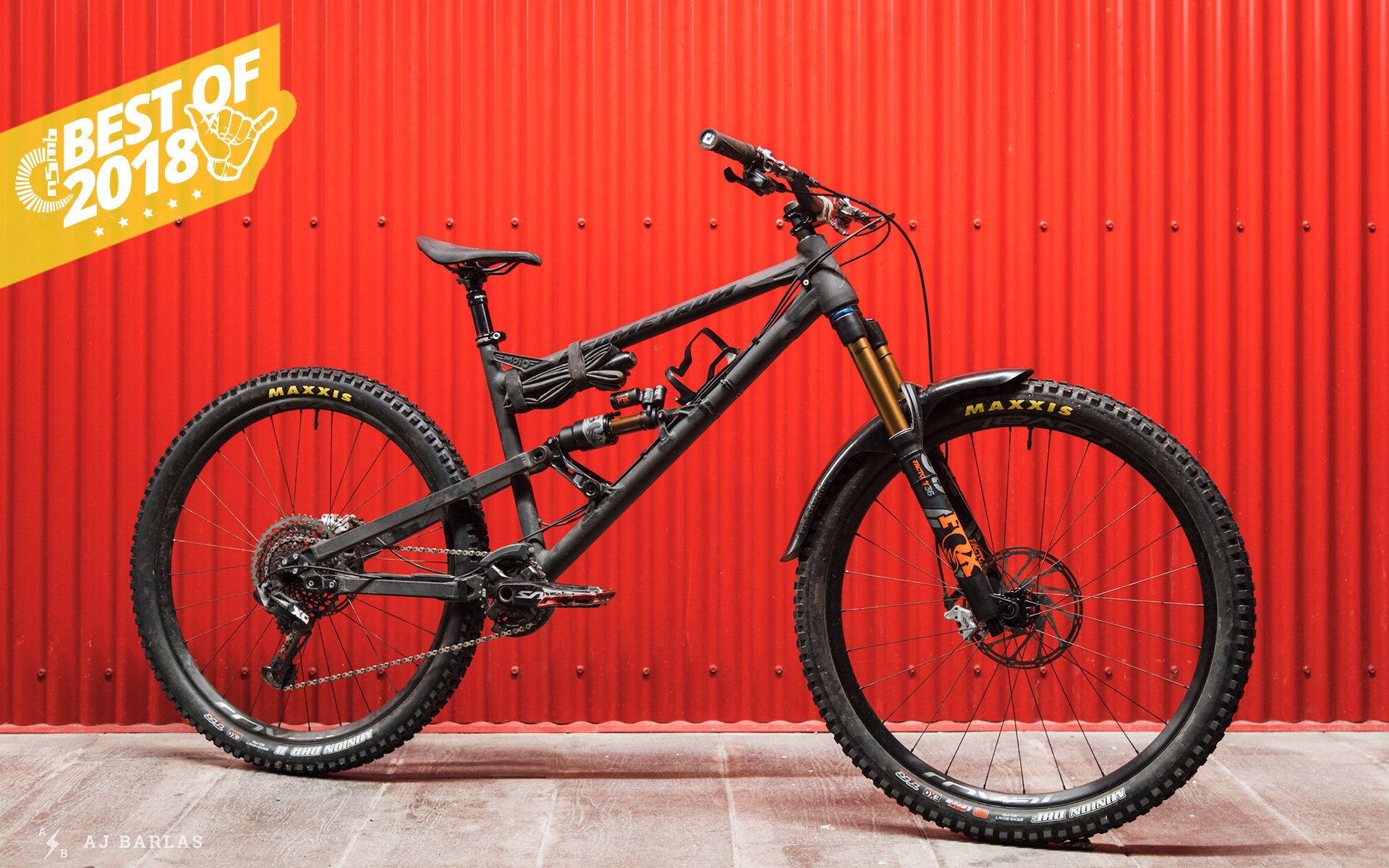 It Was a Good Year
AJ's Best of 2018
Croatia DH World Cup Opener
Racers and fans headed into the first Downhill World Cup of 2018 in Croatia with questions about the track's suitability for the world's best downhillers. Once the downhill circus arrived in April the tune changed considerably. It turned out the stretch of rocky terrain leading racers to the shore of the Adriatic Sea was worthy. Not only that, it was down-right challenging.



To say the race was eventful is an understatement. Tight and rocky, the track forced racers to take note early on. The unrelenting assault of rock challenged the focus of the best DH racers in the world. Tactics shifted to preventing wheel damage and preserving momentum.
The race also gave insight into the changing of the guard. While they didn't win, young racers like Luca Shaw, Dean Lucas, and Dakota Norton each placed in the top five. Jack Moir, Laurie Greenland and Loris Vergier placed well for a total of six young riders in the top ten. When not hampered by injuries, each continued posting strong results throughout the season.


 Brook MacDonald has been quiet for a few years but he kicked off 2018 with a bang. He qualified in first, just over a second ahead of Dean Lucas. But Lošinj bit back, taking him down during his finals run and sending him home with a broken collarbone. Aaron Gwin held it together and won aboard his new YT Tues, with Luca Shaw showing he has what it takes, finishing eight-tenths of a second back. World Cup racing was back and I was stoked. Croatia showed that a track can be worthy of a World Cup event without a bike park, resort, or the Alps present, and the scenery from the area was phenomenal.


A Long Hot Dry Summer in B.C.
This definitely won't sit well with everyone but heck, I'm a huge fan of hot, long, dry summers. It was a favoured element to growing up in Australia and despite a short stint chasing cold white blankets, I've resorted back to my old ways. So when we had an especially long dry period and the trails were loose and dusty this summer, I was right at home. 


Despite my affection for desert conditions, there were times when I used to struggle. This year, thanks to my current bike setup, I rode comfortably in far worse conditions than previously. That enjoyment on top of already being warm and dry made me one happy Canalian!

This weather brought some downsides and the fire situation throughout B.C. was hectic in 2018. It still is in parts of California. My thoughts go out to all affected by fire in these areas. While I enjoy long hot summer days, I really hope the fire situation doesn't return. I'd happily move somewhere that is naturally warmer if B.C.'s climate reverts to cooler and wetter preventing the devastation seen in recent years. 


Fox 36 FIT GRIP2
Earlier this year Fox unveiled the GRIP2 damper in the new 36. The use of GRIP technology from wallet-friendly forks confused some riders at first but the new version built on the tech. The 2019 36 GRIP2 replaces the RC2 and offers a higher level of customization thanks to high and low-speed rebound adjustability in addition to high and low-speed compression. The air spring was also updated to provide a more linear curve, included a new mid-valve in the damper for improved mid-stroke support, and the re-worked system also moves with less friction. Externally it looks the same, but the 2019 Fox 36 rides quite differently to the already strong 36 RC2 that came before it.



There's always room for improvement and while I've never been 100% with a suspension package, the 2019 36 GRIP2 has been the most comfortable, externally tunable fork I've had the fortune to spend time on. There are heaps of great options available currently too, with current RockShox, DVO and Öhlins models at the top tier being impressive. But from the very first section of trail aboard a 2019 36, I was the most impressed. And once adjusted to suit it only got better. It's just been serviced after a long, hard year and feels fantastic on the currently wet and greasy trails.
Maxxis Assegai DH Tire
By now you may have figured out that I'm a fan of the new rubber from Maxxis. A more trail friendly version of the Assegai was on my Christmas list and the initial impressions were really positive. Most downhill bikes I've ridden in the last few years have come with a variation of the Schwalbe Magic Mary. Prior to that, I spent most of my time on the Specialized Butcher and Maxxis Minion DHF downhill tires. The Assegai takes the cake.



I'm not sure why everyone, including myself, was surprised by how good the Assegai is. Greg Minnaar is no fool when it comes to riding mountain bikes and is one of the most successful DH racers ever for good reason. Together Maxxis and Greg developed a tire that includes the best traits from some of the most popular Maxxis tires available.
The Assegai may be on the slow side but it provides a calm, almost effortless amount of grip in a variety of conditions. Transferring from straight-line to cornering is performed with great composure and when in between the two they remain positive and in control.


Brandon Semenuk & Rupert Walker's AIM Video.
If my calculations are correct, Semenuk and Walker released six videos in 2018; three creative shorts, one banger for etnies and two RAW 100 videos. Every video oozes style and skill—both the riding and the filming/editing—but the one that resonated most with me was the latest, AIM. Contra was phenomenal from an artistic point of view and the images shot by Anthony Smith were something else. Inertia was also impressive, albeit more in the direction of a ripping trail video. However, AIM continued with the dark and artistic undertone I've grown to enjoy from Revel Co.

For me, AIM is the sharpest cheese from a gourmet selection. It had more flavour and that's without getting into the riding. Semenuk is known to drop videos with something new or groundbreaking and his cab 5 drop in was pretty special. It stroked my BMX roots just the right amount but the size suited the mountain bike perfectly. The flip to manual on the down ramp, flip-whip to x-up can, the list goes on. AIM was progressive in every aspect.

Better to have a short life that is full of what you like doing, than a long life spent in a miserable way.

On top of the amazing visuals and riding, the message behind the short struck me as well. Ever since losing my closest friend I've been driven to create a life filled with what I enjoy. It's a more common goal today than it was for my parents' generation. It seems Brandon is on the same train with his move almost completely away from competition and toward creating content. He also just won the CRC Rally Big White (at time of writing), taking seven of the eight stages, and putting 6:20 into the second place car. Brandon has transcended our little sport of mountain bicycling and if he had followed a path that he didn't fully enjoy, that likely wouldn't have happened.   
GeoMetron G16
I know this was part of my list last year but a lot has changed since. Long, low and slack is now more cliché than ever. Every brand under the sun is slowly edging away from dated geometry philosophies and toward a mountain bike specific shape. Especially with aggressive trail and all-mountain sleds. My eyes typically begin to wander after about eight–twelve months with a bike. Beyond twelve months I've typically closed in on something else but I continue to grow more fond of this bike.



Over the last year the setup of my G16 has changed considerably but in all scenarios, it's been a joy to ride. It's not perfect but it is the closest I've ever gotten and I now realize the minor details I would change to get there. A year of riding without back pain is enough to seal the deal. Add more grip, confidence and ease and it's clear why I keep coming back to the GeoMetron.
But wait! Since first writing this, Nicolai and GeoMetron released their latest weapon. Interested in what they had done I looked into it and low and behold, they appear to have answered my concerns. Does it mean I'm getting a new bike? Not yet but I'll be honest, it does have my eyes wandering. At the very least it appears I needn't worry about a custom tweaked G16 frame…