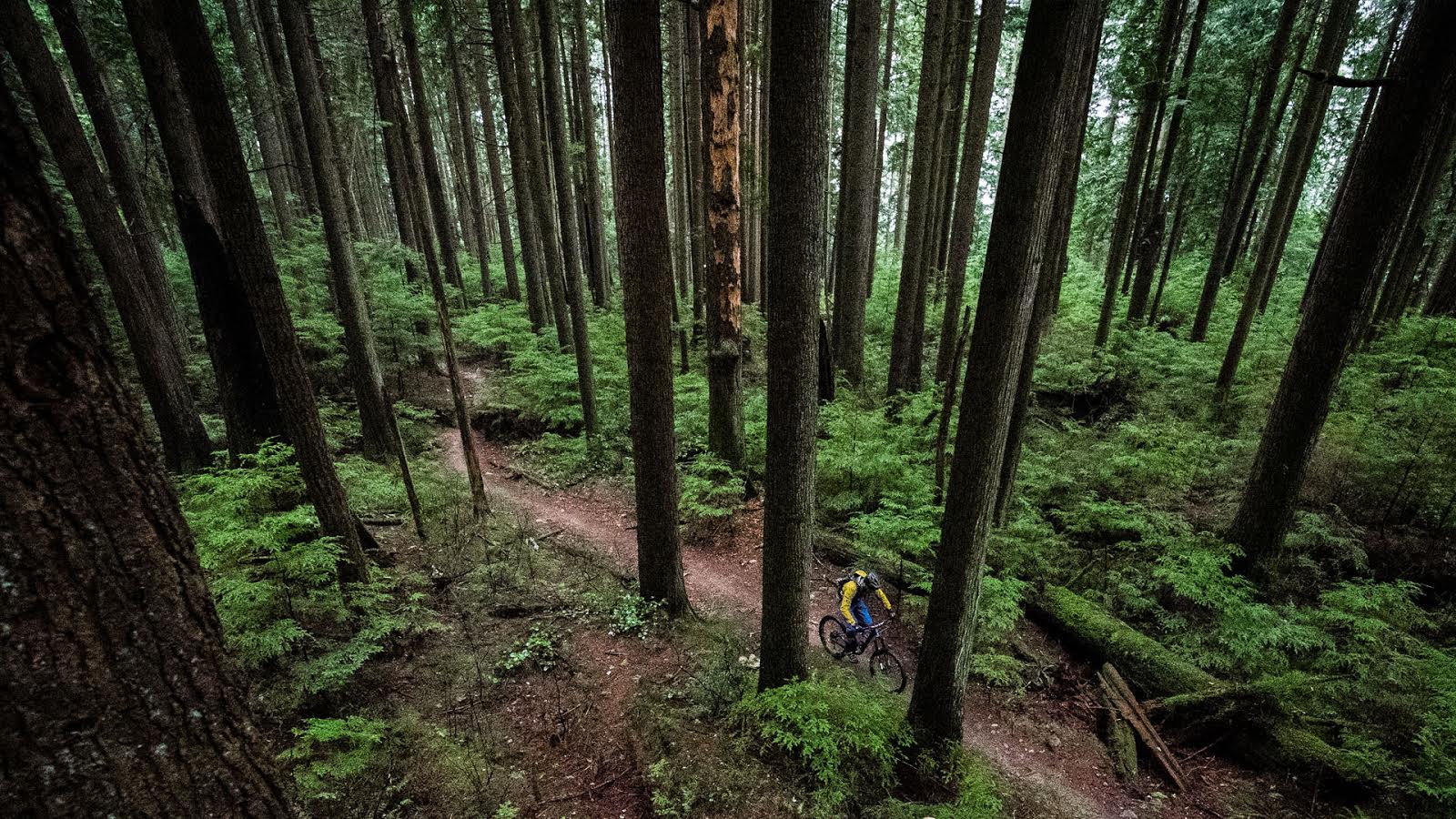 When Air Canada Destroys Your Bike
Since we published this story, Air Canada has done an about face and the company will now pay the cost of repairs to Jared's bike. More on that here.
---
Have you ever traveled with your bike? If you have you may have felt that churn in your stomach as you await your beloved machine at the baggage carousel. Jared Walker knows it better than most. Recently he arrived to discover that his bike and his case had been badly damaged on an Air Canada flight. I'll let him tell the rest.
NSMB – Was your bike new? Can you tell me a little about it? Looks like an amazing build.
Jared – Very new! Pretty much my dream bike;  2015 Intense Carbine 29. Fox 36 Talas 160, Fox Float X, Sram XX1 Crank/Cassette/Derailleur/Shifter, Easton Carbon Haven Wheels, Easton Haven 35 carbon bar and Haven 35 stem, Fox DOSS post, Selle Italia Saddle and Sram Guide ultimate brakes.
nsmb – Can you give me a little background on how this happened? Where were you coming from or going to?
Jared – I was on my way back from a business trip flying from San Francisco to Vancouver. I work in the cycling industry and our sales meeting typically includes some play time on a bike. When I arrived back in Vancouver I went to the oversized baggage carousel to pick up my bike and when it arrived it was very obvious that it was absolutely totalled. The bike bag was ripped wide open and I could already see that my carbon wheel was destroyed.
Do you fly often with your bike?
Funny enough this was my first experience flying with my bike. Ouch.
Have you ever had a problem with Air Canada before?
I've actually been a long time loyal Air Canada customer. I fly for work at least 5 times a year, and up until this situation I haven't had any major issues.
So you went to claim your bike. Can you describe what happened then?
The Damage was very obvious when it rolled out on the carousel, and as you can imagine I was devastated and shocked. I immediately walked my bag and bike directly to the Baggage service counter and started a file right then and there.
What did they tell you? How was your experience as a customer?
The agents that assisted me with the file were very helpful and sympathetic. They explained that I would need to make a claim with Air Canada's claim department through the online form and unfortunately could not give any further information regarding the claim process.
Can you describe the damage to your bike in detail?
Both wheels are destroyed. One was completely crushed and the other had a 1/2″ of metal ground off the hub and a 1/4″ of the carbon ground off the rim . The rear triangle is completely crushed. It's hard to tell from the pictures, but what was a 142mm spacing is now about 100mm. The upper and lower linkage have been bent and both brake rotors are toast. The carbon crank and derailleur were also affected. Damage at retail would be in the range of $6000.
How did you react?
At this point I just wanted to get home after a long day of travel and start the process with the claims department. I really believed this was an open and shut case. I checked in an undamaged high end mountain bike in a padded bike specific bag and paid the additional handling fees required and it arrived completely destroyed. It was obvious to me and every person who saw the damage that it could only happen when the bagged is dragged for an extended length of time and ultimately run over.
And you have continued to follow-up with them? How did that evolve.
I immediately filled out the online contact form and sent pictures of the damage. I didn't hear back for a few days, so I called multiple times before getting an email back. The first email I received was polite, simple and to the point. My claim was not accepted. I emailed right back and asked to speak with an agent. I believed the damage was outside of what could be deemed normal wear and tear and wanted them to re-look at my claim. The 2nd response was just as direct….the "damages results from "the inherent defect, quality or vice of the baggage", and as such Air Canada will not reconsider your claim". Claim refused.
And eventually you went to social media – and the response has been phenomenal. It sounds like you may have heard back from Air Canada at that point? What did they say?
Yes, I went to social media hoping I'd be able to warn other cyclist and travelers of the very limited liability Air Canada has when it comes to your baggage and I of course I hoped someone at Air Canada would hear about this situation and step up knowing it was wrong.
I've been blown away at the support and generosity from the bike community and general public.I've literally had people from all around the world contact me to offer support and advice, including advice from several Air Canada employees. I'm very thankful that the general community took the time to let the world and most importantly Air Canada know that this was wrong, plain and simple.
Less than 12hrs later Air Canada contacted me to ask for additional information and to let me know they had re-opened my claim. They have since offered some basic compensation, unfortunately not sufficient to cover the cost of the repairs. We're still in discussion at this point.
What would you like to see Air Canada do?
I really just want to have my bike retuned to the condition it was prior to the damage it received while in their care.
Have they tried to explain the damage at all?
Only in the last email I received. Here's what they had to say… "Our staff endeavours to handle all our passengers' baggage carefully, while loading and off-loading baggage. However, a bag's journey through a baggage system can be harsh and hazardous, with mechanical arms pushing baggage through the system and carousels dropping baggage onto chutes, and unfortunately, baggage may sustain damage on occasions."
I don't buy it. What would it take to grind a 1/2" of metal off a hub on one side of the bag and crush a carbon rim and rear triangle on the other side of the bag? My feeling is the bag was dragged and run over.
Do you have advice for people traveling with bikes?
Private or good home Insurance can't hurt. I've since spoken with my home insurance company and I do have some coverage, but they only cover up to $1500, which is great, but for many of us that really won't cover much on a high end build. I've since found a few insurance companies that offer better bicycle coverage and will be certainly looking into that in the very near future.
In terms of bike transportation, I'd still have no problem recommending the Evoc Bike bag. It was easy to use and I believe outside of dragging it under a track it will do the job 999 out of 1000 times with no damage to report.
Anything else you'd like to add?
A huge thanks for all the support and advice from the public. I'm hopeful Air Canada will do the right thing.
---
Will this change your approach to traveling with your bike?