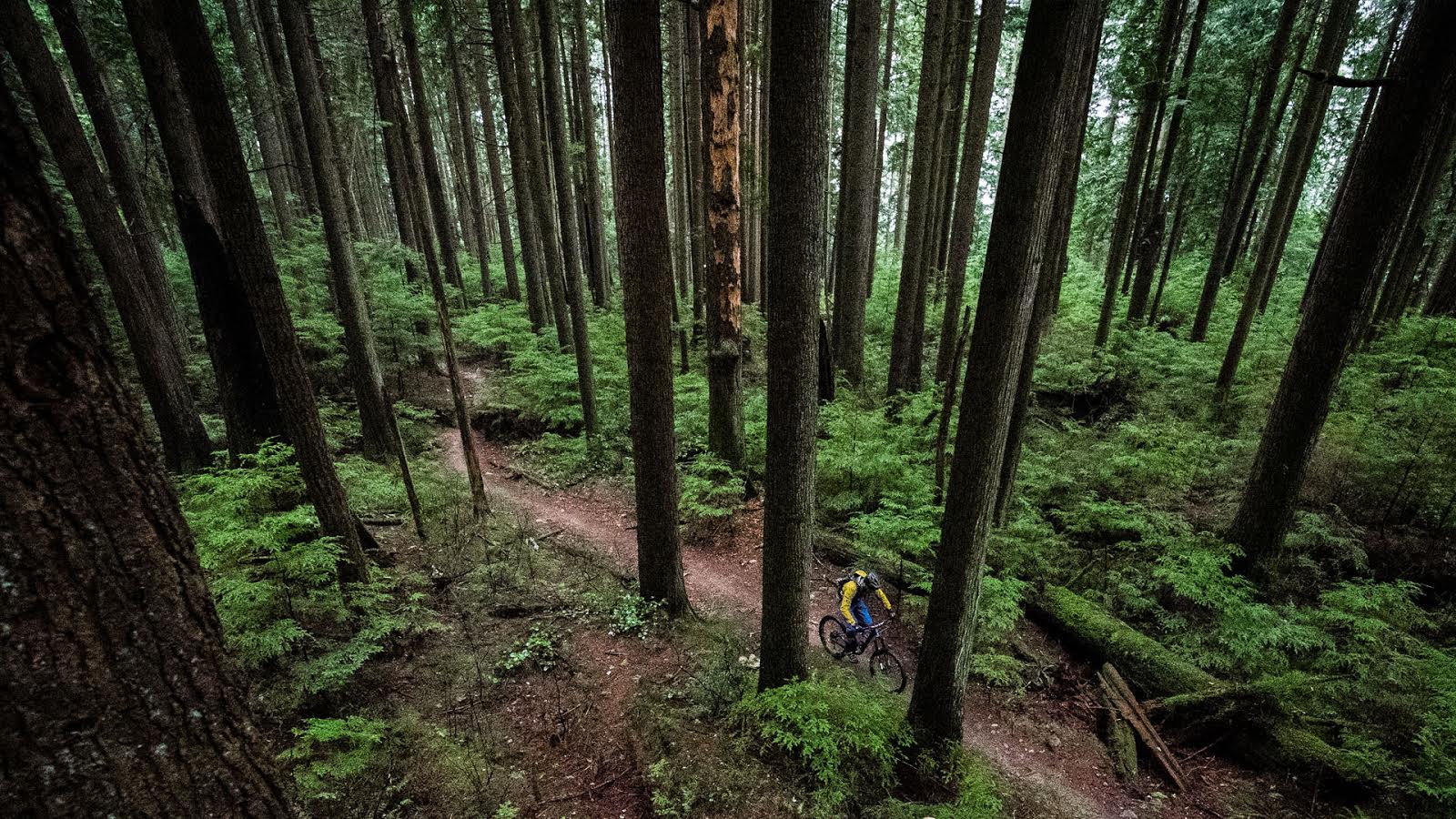 Agents for Change
My name is Lacy Kemp and I am a hypocrite.
Maybe you are too. Maybe not. Let me explain. I work in the bike industry. I love riding. I love working with athletes, showcasing their incredible talents and stories, and doing whatever I can to bring them closer to their fans. I love what I do and wouldn't trade it for anything in the world.
"It's fucked up," I responded.

"It's kind of like smoking cigarettes," he said. "It's bad, everyone knows it's bad, but it's still kind of fun."
Last year was my first time at Red Bull Rampage. If you're unfamiliar with this event, I suggest you do a simple web search. Surely your feed will be inundated with images of guys jumping their bikes off of 30, 40, 50 foot cliffs, podium shots with champagne showers, blue skies with helicopters chasing the riders down knife ridges with spectators ogling below. But I'll also bet your results turn up photos of crumpled bodies at the bottom of a cliff, bloody limbs, and videos showcasing the most horrific crashes ever to occur on a bike.
Welcome to Rampage – the most hypocritical event in action sports.
Rampage is held in a fairly remote part of the southern Utah desert in a tiny town called Virgin, just outside the gates to Zion National Park. The landscape and skies are a perfect couple of dramatic scenery. Dark red dirt that's finer than the softest powdered sugar infiltrates every possible pore of clothing and acts as an unintentional self-tanner. The skies are either the brightest blue you've ever seen or terrifyingly ominous. I'm not sure there is an in between. Rampage boasts a similar effect. It's either the most amazing thing you've ever seen, or the most gut-wrenchingly awful thing you'll ever witness. And, I'm afraid the latter is becoming ever more prominent.
As I sat in the red dirt staring up at surrounding canyon walls, I watched as dozens of people clung to cliff ledges like toys placed precariously by a child on a massive Lego construct. People dangled by rappelling ropes chiseling away at the soft layers of rock and clay, designing incredible works of art.
That would soon be the only way down for the athletes. Others worked in small crews creating landings for jumps that seemed big enough to set down a Cessna without much effort. One was even dubbed the "Great Wall of Rampage." It was a truly impressive effort of dirt manipulation. As the week progressed we started to see the riders testing out the features that were so thoughtfully built just for them. A tiny city of trails and negotiation came to life. Lines crossed over one another as riders reluctantly agreed to let another athlete crisscross their trail or share a jump.
While tensions grew thick over the battle for dirt that could or could not be shared, a bigger storm was brewing: the good old white elephant. No one wants to talk about what this event could turn into, but it's clear to me that Rampage is someone's death waiting to happen. These guys are essentially out in this desert alone. Mountain biking doesn't have the clout other action sports do. We don't have the support of the adrenaline world (yet). So everything that goes on in Virgin is essentially a roll of the dice. There is no massive paycheck that will set you up well for the next couple years of your life. Perhaps there are new contracts that could equal financial success, but to a mountain biker, that might mean being able to afford an apartment and a used Tacoma.
Some refused to ride their second runs because the scoring was such that in order to win, they may have been on a suicide mission. Or maybe a paralysis mission. Or a tens of thousands of dollars medical bill mission. Whatever was in their head that caused them to say no, that's what we need to be talking about.
Yet, each year hundreds of thousands of people tune in to the live feed on Red Bull TV to watch their sport's heroes go for broke – or go for broken. And each year the runs get scarier, the crashes get worse, and the question is whispered louder and louder, "How has no one died here yet?"
Honestly, I don't know. It's true the riders are incredibly calculated and talented. They wouldn't send a line they didn't truly believe they could ride. I also give huge kudos to the medical staff on site for being VERY fast to the scene of an accident. Having a helicopter on standby for the very seriously injured is also a huge plus. But one serious head trauma is all it would take for someone to start their day off as a potential champion and, instead, end their life as the "dude that died at Rampage."
As I climbed up and down 'Mount Rampage' I kept saying to people, "This is fucked up." I said it to my friends. I said it to the team managers, and I finally said it to some of the athletes that I could see were really struggling with the reality of the event. Each time I saw a rider go down the feeling of nausea grew ever more prominent. The crazy thing is that every single person I said those words to agreed with me. Some (of the athletes!) even nodded and high-fived me.
Some refused to ride their second runs because the scoring was such that in order to win, they may have been on a suicide mission. Or maybe a paralysis mission. Or a tens of thousands of dollars medical bill mission. Whatever was in their head that caused them to say no, that's what we need to be talking about.
I watched multiple friends get carted off in ambulances over two days. Compound fractures. Internal bleeding. Broken vertebrae. Concussions. Potential paralysis. You guys, THIS IS FUCKED UP. And the worst part? I'm there to document it and bring it to the masses. I'm there to share the stories of Rampage and how incredibly intense (for better or worse) the event is. By creating the media that pays my bills, I'm promoting this event, and therefore glorifying the carnage that ensues. My plan was to make a story about the build crews of three of the athletes. I wanted the focus to be on the emotional toll this week takes on the guys that pay in blood, sweat, and stiff muscles. As the week progressed two of the teams I was focusing on were stopped short due to their riders crashing out of the event with injury.
It suddenly became apparent to me that while my main focus would remain intact, I wanted to show (at least write about) a side to this event that exists only in the unmentioned thought. I watched as the crews spent hundreds of man hours constructing these masterpieces of trails sit on the sidelines as their riders were carted off to local hospitals. Their faces showed dejection, sadness, and frustration. I was curious if they felt responsible. I was curious if they were angry. I found myself feeling angry and feeling responsible, and feeling so guilty. We've created an event where the riders are simply pawns in a gladiatorial arena. We watch as they fall one by one. Or we watch as they put in an insane effort only to come up a little short. And we watch as the helicopter blades go round and round for hours at a time. We watch like it's some middle-aged fight to the death.
"But no one makes the riders do this. No one holds a gun to their heads," I've been told. True. No one forces this competition on the riders, but by promoting it as the biggest thing in mountain biking and creating a contract structure that awards placing at this event, they have an indirect pressure to compete, even if they're terrified. I asked Andreu Lacondeguy why he (and the riders) show up to an event like this.
"You know? I don't even know," he said rather cheerfully.
"It's fucked up," I responded.
"It's kind of like smoking cigarettes," he said. "It's bad, everyone knows it's bad, but it's still kind of fun."
So, maybe it's addicting like nicotine? The drive to compete and remain relevant is so addicting, that the athletes are willing to literally risk life and limb.
There simply has to be a better way to reward the athletes that push the sport. We need to redefine what mountain biking currently is, and the direction we want it to go. We're at a tipping point. The diggers know it. The riders know it. The media knows it. Everyone is afraid of this event, yet everyone still shows up. Everyone still watches. There is an unspoken fear of, "If I don't go I'll become irrelevant," from some of the athletes. For me personally, there is the journalistic drive to go and talk about the scary stuff, but that means I'm still marketing an event that I love to hate, and I have a serious problem with that.
People are starting to talk. With the injuries from guys like Paul Basagoitia, Tyler McCaul, Nico Vink, and Jeff Herbertson (among many others), the realization that something has to change is palpable. A collective voice is emerging from guys like Cameron Zink, who has been very outspoken about the dark side of this event. But Cam is only one guy. It will take an army from all sides: the riders, the media, and the fans to really push the sport in a direction that is realistic. Glory is great. Imminent danger is not. The safety of the riders has to be considered. The risk vs. reward has to be fair. And we, as the watching public, have to take part of the responsibility for letting it get this far.
I'm not asking for Rampage to be turned into an event with pure flow trails (barf) and no challenge. I don't think anyone wants that. There's a reason so few people can compete in this event. It's hard. It's really hard. For 99% of us, it's impossible. It should only remain for the elite. The concept of constructing an original trail down a mountain in a week is a brilliant idea and totally unique, which is why so many of us fans have flocked to the live feed. But for the sake of life and not death, let's set some regulations, provide insurance for the athletes (that often lose money just traveling to this event), and put all the riders and judges on an even playing field. Eight people crashing out of the event is uncalled for.
I don't know where to go next with my thoughts – I only know that continuing the conversation is better than simply watching the replays of carnage and saying nothing at all. We all love to watch Rampage, but yet we all cringe when someone falls off a cliff. Then we watch that crash over and over, essentially making it ok to have happened in the first place, because we know that the rider ended up being ok.
We're all hypocrites for this. All of us. Let's talk about it. Let's help promote the change our sport needs to see. Let's honestly support the riders that are putting everything on the line. Let's encourage amazing riding and talent, but figure out a way to make it more inspiring and less terrifying. It's not watering anything down. It's truly growing the sport in a direction that we can justify without fearing for the death of our icons.
---
Are you a hypocrite too?