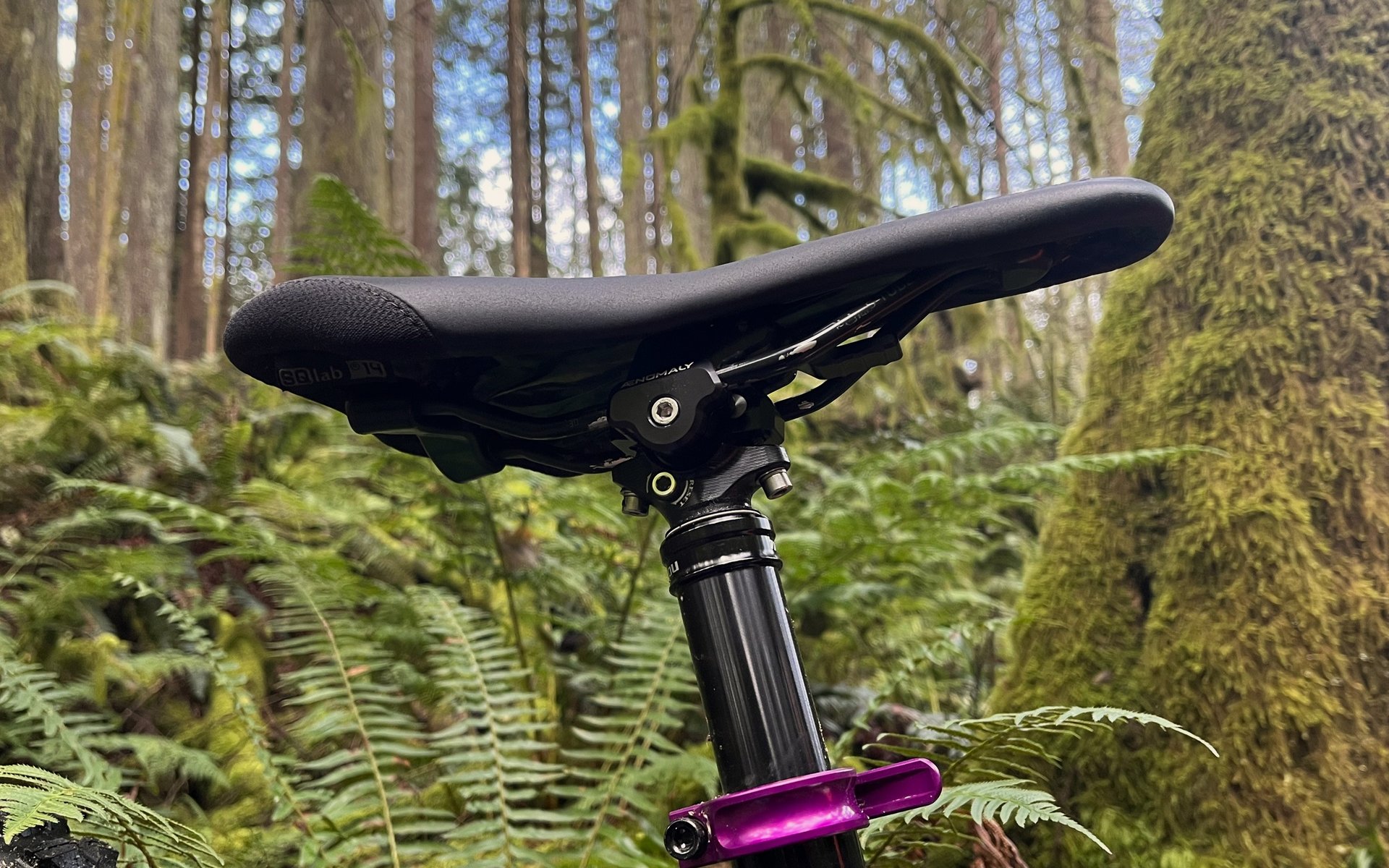 TEARDOWN | FIRST IMPRESSIONS
Aenomaly Constructs SwitchGrade Saddle Angle Adjuster
Adjustable Attitude
The SwitchGrade is uniquely imagined and elegantly shaped. Its aluminum components are machined in Whistler, it's assembled in Richmond, and the design was conceived around the steep climbs and descents that make the 'wet coast' of BC world famous for mountain biking. It follows the history of products born here from Roach armour, to eNVy Inner-E chain guides, and Ralph Schoepper's telescoping seat posts. These were products that immediately made sense for riding the North Shore and were easily adapted to many other locales.
Like those examples - pedaling in pads, manually shifting between the grannie and middle chainring, and adjusting saddle height using two quick releases - the Aenomaly Constructs SwitchGrade adds another level of complication and cost to riding your bicycle in the woods. If the thought of an on-the-fly adjustable saddle tilt makes you want to throw your hands up and switch to riding rigid single-speeds, I completely empathize. But before you jump down to the comments and proclaim that Aenomaly is solving a problem that doesn't exist, well, you're wrong.
Go to any North Shore trailhead, check out the bikes in for service at any North Vancouver bike shop, heck, peruse the NSMB Dream Builds articles and it will be readily apparent that more than a few local riders tilt their saddle noses downward. SwitchGrade is taking this trend and adding two other positions. Now the rider with their nose angled down can quickly adjust their saddle flat for rolling terrain, removing a significant amount of pressure from their arms and hands,* and when the trails get steep there's a third position that pops the nose up.
*As an added bonus, that flat saddle is much easier to steer on descents
The prior art that gets dangled for derision as soon as SwitchGrade enters the conversation is Specialized's WU dropper post, but the WU has three issues:
It's limited to 150mm of travel which is less than many riders want.
WU automatically angles the saddle nose up when you lower the post, even though this position is only desirable in steeper downhill terrain.
WU is a Specialized Command post. Many riders do not like the mechanical locking feel, even with 14 distinct positions.
SwitchGrade differentiates itself from WU in a number of ways that can all be summed up under the heading of choice. The system is available in four configurations that fit most droppers with two key exceptions: RockShox's Reverb AXS and Wolf Tooth's new Resolve. Aside from OneUp's dropper post, with its patented drop clamps, the Aenomaly system adds about 1cm to the height of your post. So if your bike currently allows one more centimeter of insertion depth (or two with the OneUp), you can keep running the same amount of travel you have and just lower the whole assembly. Otherwise, it's a win to you for buying a post that's travel adjustable. Just knock it down 10mm.
Another element of choice is that the saddle angle is completely independent of saddle drop. There are many trails where I like to have my saddle down, usually slammed, but prefer it flat as opposed to nose-up. Likewise, as someone who is happy climbing with a flat saddle and will pop up to pedal when the going gets really steep, I only use the nose-down climb mode on the steepest sustained singletrack climbs. All good. Within ten minutes of riding, I was competent at clicking the lever under my saddle and switching modes on the fly.
Made In BC
From the first engagement of the under-the-saddle lever, which can be oriented fore or aft, the quality of the SwitchGrade is obvious. The system is spring-loaded and snaps into place. On that note, while the system is most likely compatible with your favourite dropper post, it may not be compatible with your preferred saddle. Currently the system only works with 7mm tubular saddle rails but Noel at Aenomaly told me he's working on a clamp set for oval rails like those found on the BikeYoke Sagma saddle.
I couldn't resist taking the system apart to see how it works and I will note a degree of folly here. I was stoked to see that every piece is easily replaceable, and it's really quite intuitive how it all goes together, but getting the spring seated while pressing either side of the assembly together requires a bit of dexterity. I'm positive there's a technique to it but I didn't ask before taking the system apart so reassembly took longer than I'd care to admit. The tilt mechanism is robust and the product is still fairly fresh, but I'd like to see a how-to service video added to the website.
When actuating the system in my hands, the snap of the three engagement points is impressive. A long-term test is really required here to see how the system will wear but there's no shortage of material. Without the teardown, I think I would have wondered about the option of having smaller changes between each of the settings but it's clear here that the aluminum 'teeth' need to be robust enough to handle the load of rider-on-saddle. The pins, internal surfaces, and spring were very well greased, as you'd expect from a company testing its products in a rainforest.
I'll pull it apart again to look at for any wear or play when I write up my review after a winter on the SwitchGrade system.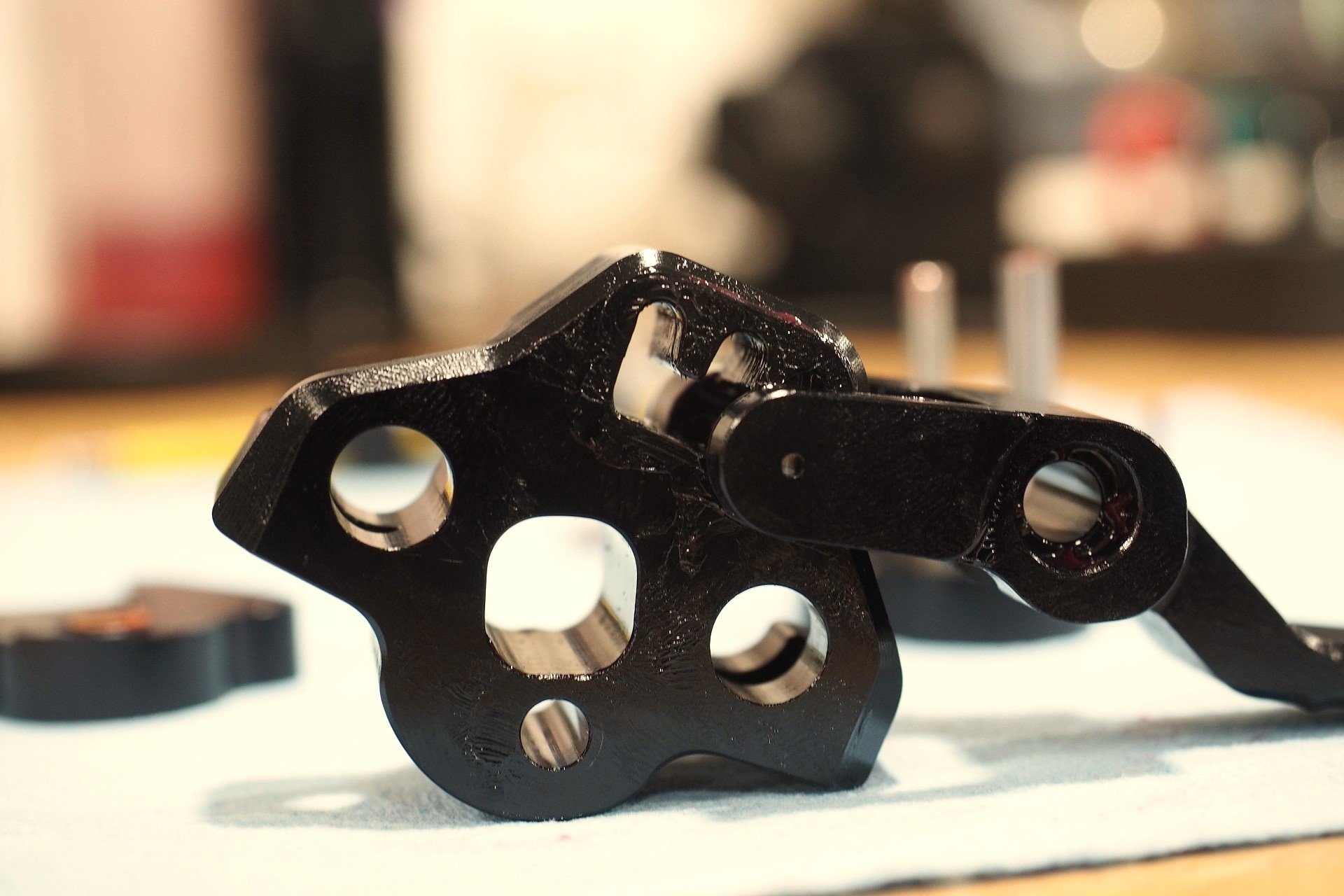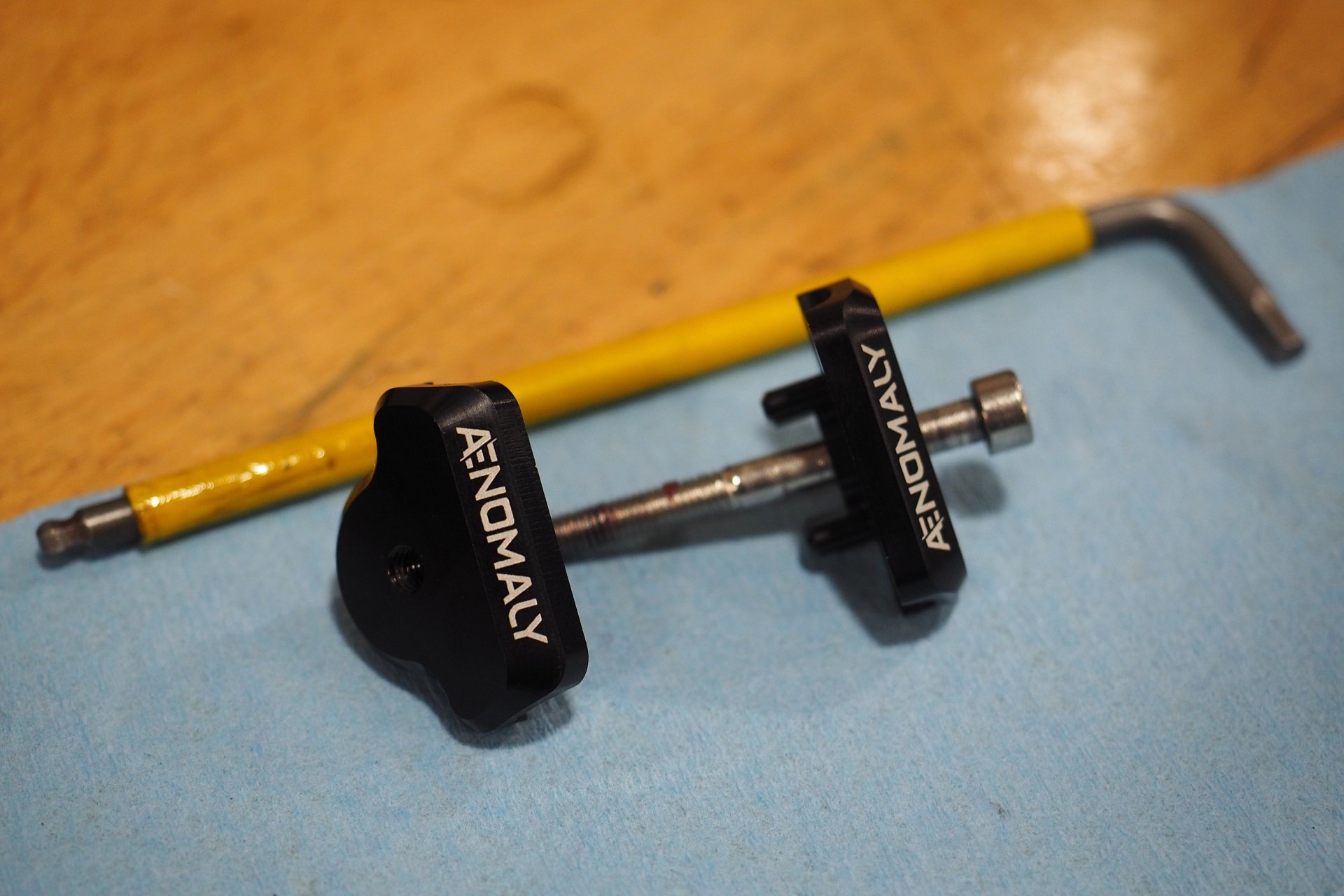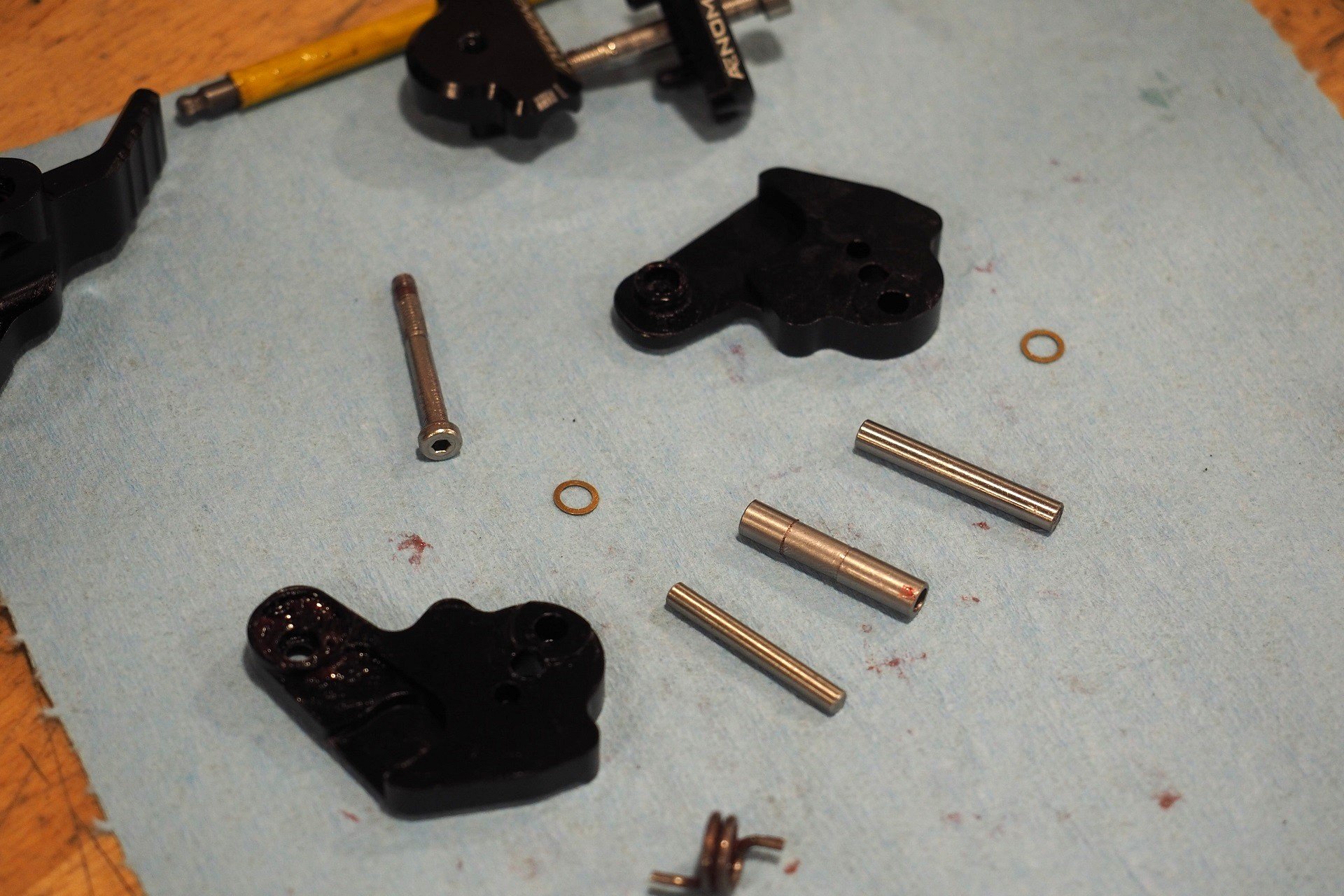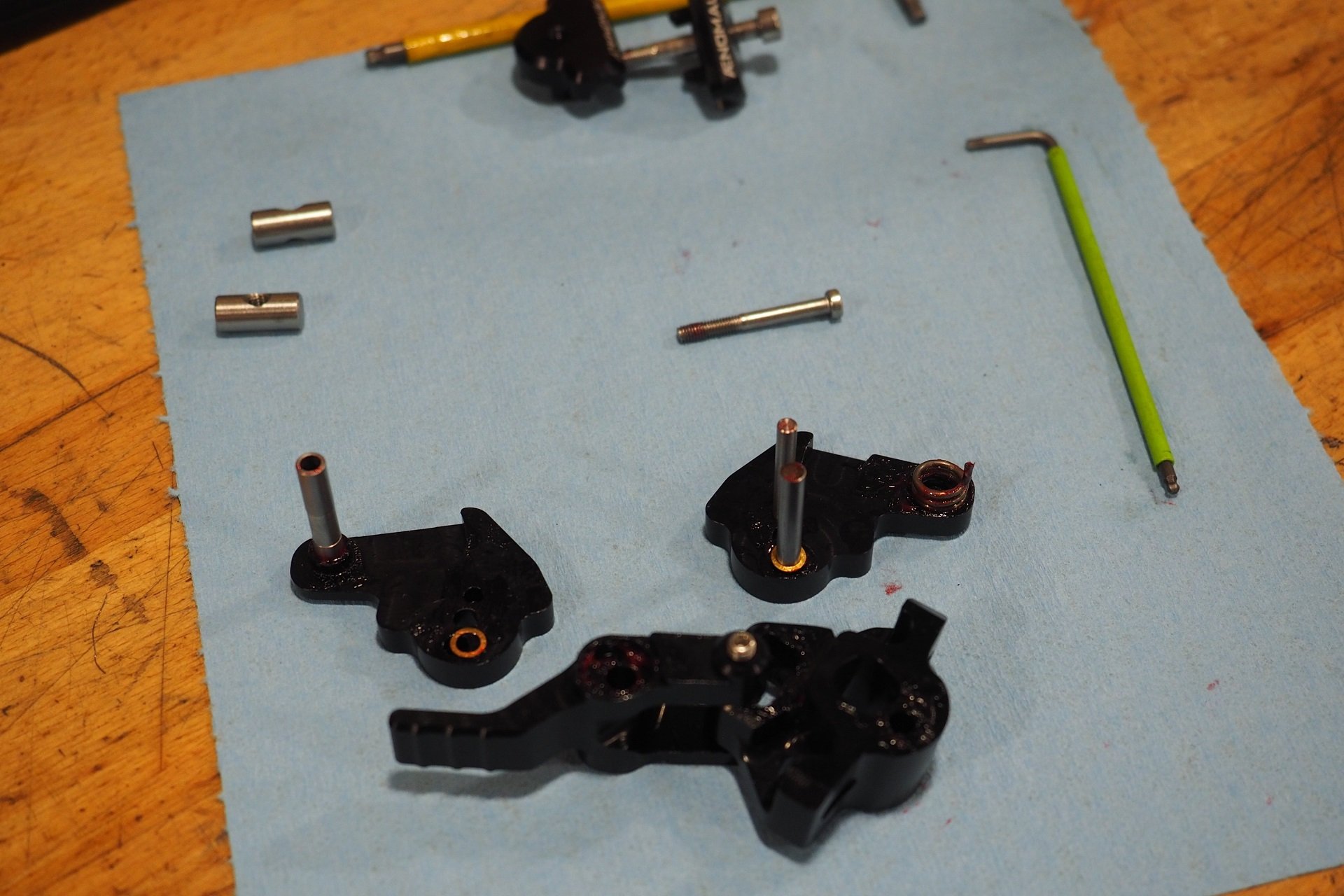 Installation
In my case, the installation of Aenomaly's saddle construct was what I'd call the worst case situation. Most folks will be able to lower their current dropper post by about 1cm, bolt up the SwitchGrade following the instructions, and go ride their bike. Aside from potentially swapping out the seat post bolts to ensure the maximum number of threads are captured without interfering with the system - using the included bolts - the installation process is so quick because tilt is independent from saddle retention. Bolt on the SwitchGrade, then bolt on your saddle and tighten it in place with a single bolt, and then adjust your tilt.
My Marin Rift Zone has a kinky seat tube and I had already reduced travel on the Manitou Jack dropper post I'm testing to the nearest 5mm of travel that worked for me at climbing height. This meant lowering my post another 1cm to accommodate the SwitchGrade. Aside from the bit of time invested, I think this actually is a great scenario as I've found myself using the nose-up DH position on the steepest tracks to enhance bike-body separation but the 170mm of drop with the saddle flat is perfect for most trails with the saddle level, and also what I run on my hardtail.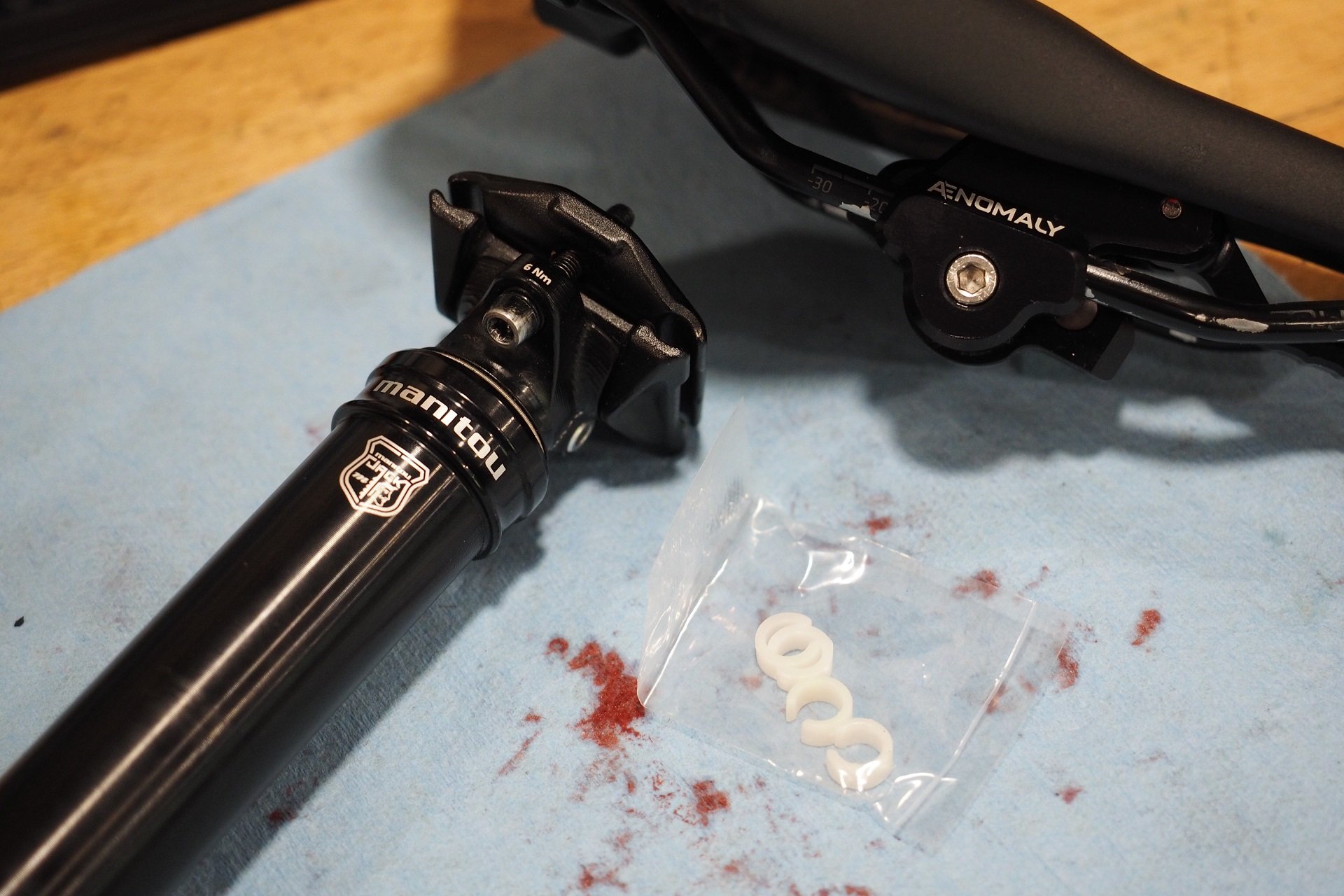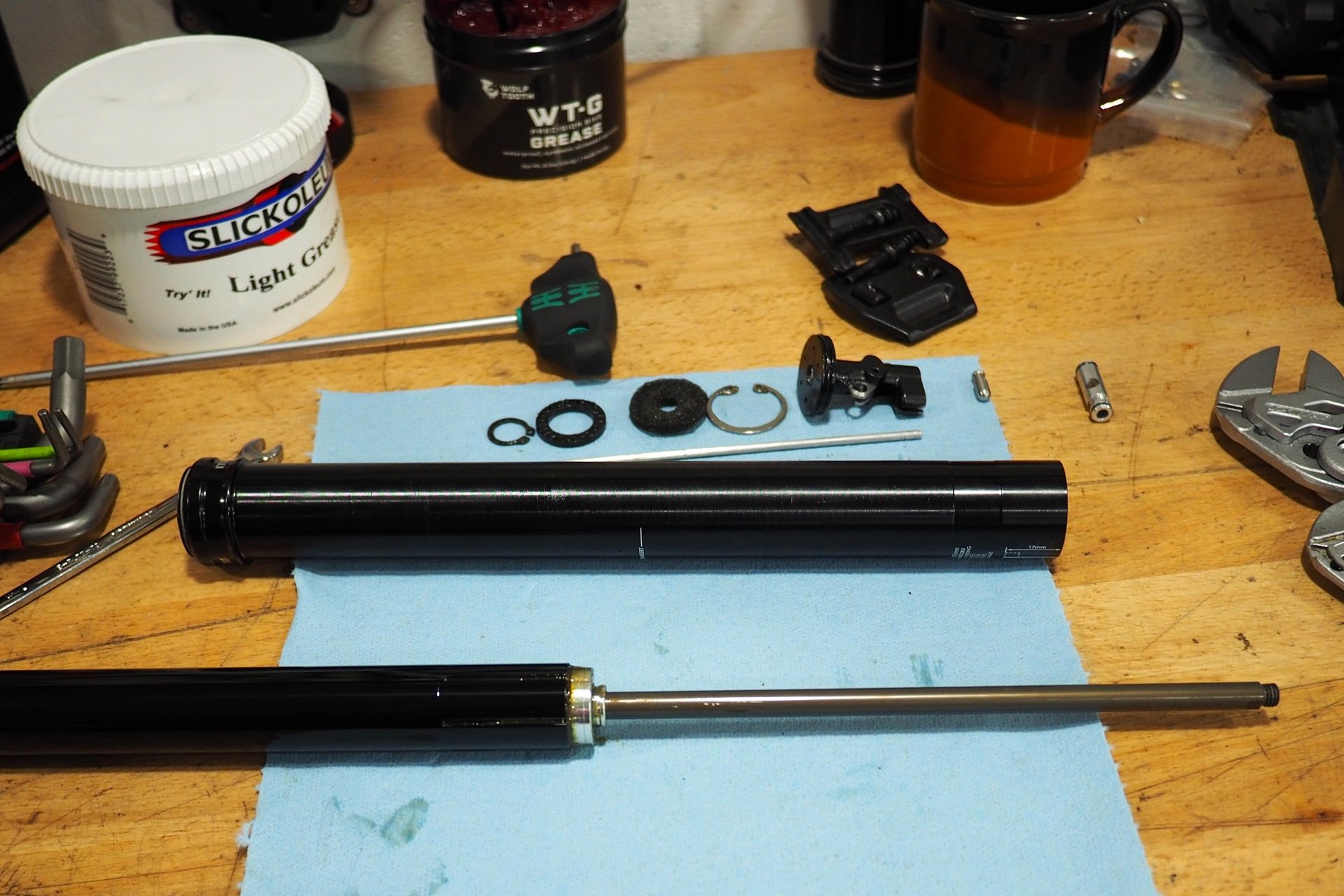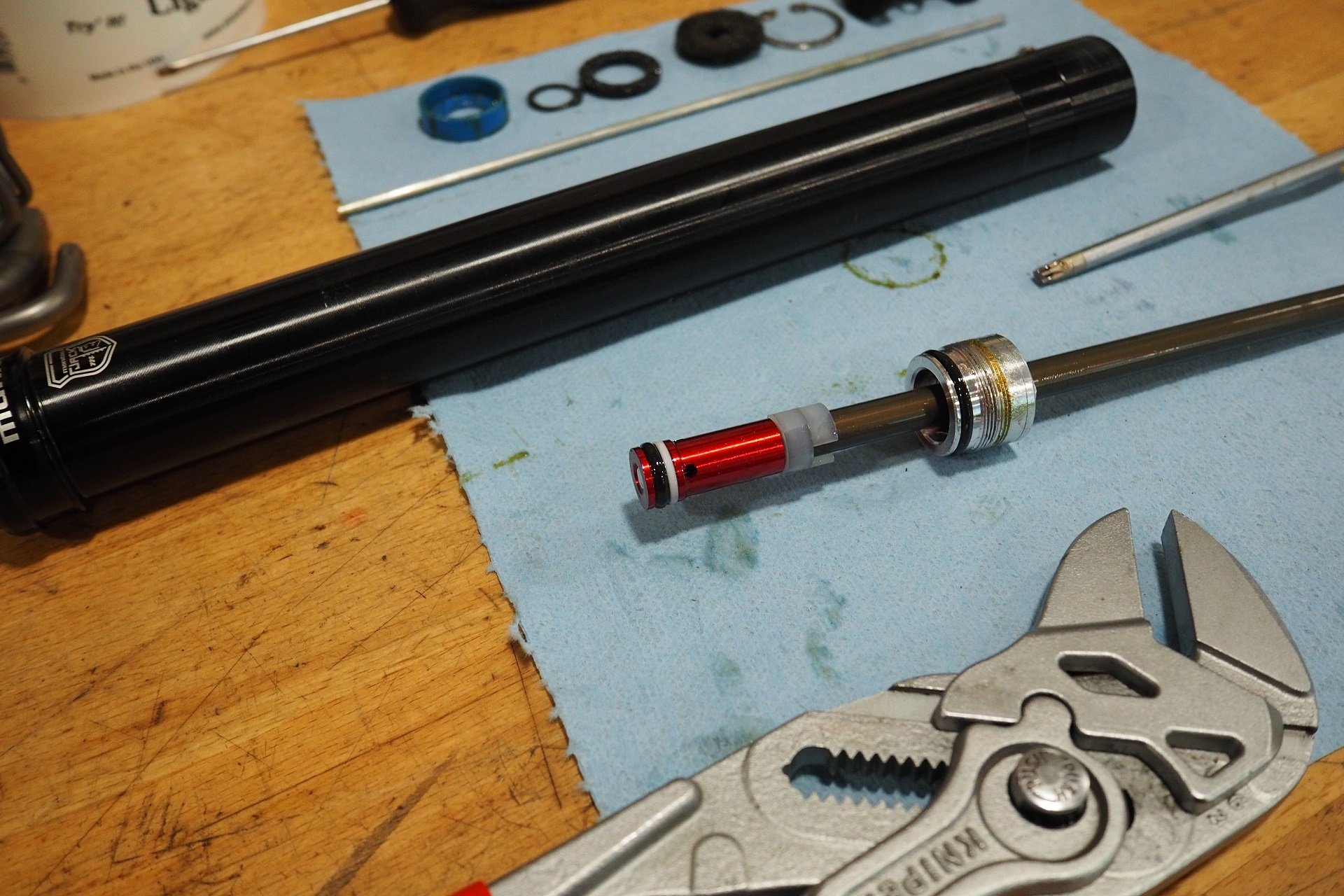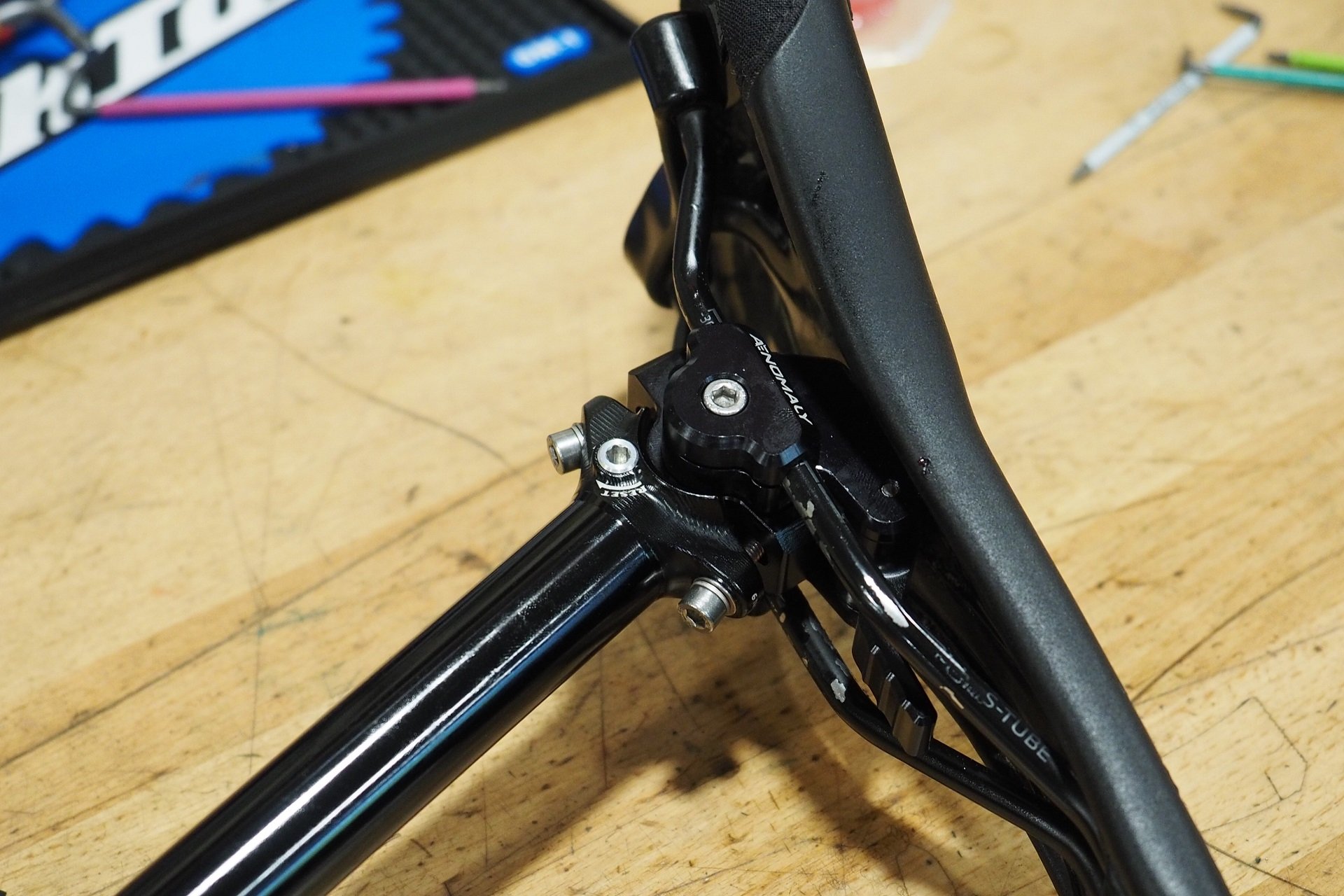 Easy Recommendations
At first glance I figured I'd be among the worst choices out of the whole NSMB.com readership to be reviewing this product. I run most saddles almost perfectly level from tip to tail and any time the trail gets too steep to just slide up the nose a bit, I prefer to stand and crank. I'm also loathe to add a layer of complexity to any of my rigs, never mind paying money for the privilege. Further, the bike I've been riding where this product makes the most sense is the We Are One Arrival 152, which rewards seated climbing in all situations and uses a Reverb AXS dropper which is one of the few that isn't compatible with the SwitchGrade.
What I discovered in running the SwitchGrade in the nose-down climb mode is that there are steep climbs where it's not just more comfortable but I feel I have more power as well. It's also easier to restart and move around the bike with the saddle nose out of the way. My issue with leaving the system in climb mode is that on flatter terrain it moves a ton of pressure on to my arms, wrists, and hands and when descending the saddle is in an awkward positing to steer.
That leads to the conclusion that any rider who is currently riding their saddle with the nose down and optimized for our steepest climbs is going to appreciate the extra support, and getting weight off their upper body, by being able to nearly instantly level their saddle for flatter terrain. I ride with multiple folks for whom this could be the best upgrade to their riding experience since dropper posts themselves, especially when they take their bike off the Shore to ride areas that have more rolling terrain.
First Rides
I'm not telling any rider they 'need' a SwitchGrade but it took only a couple of minutes of playing with the system on my favourite steep single track climb before I had a list of folks I've ridden with who'd be prime candidates. If your saddle nose points down, and you have the budget, then I'd recommend a closer whiff of what Aenomaly's cooking.
I use the climb mode infrequently, but when I am spinning up something steep on a different mountain bike, I lament its absence (although I haven't caught myself reaching for an adjuster that's not there, yet). I very much like the DH mode and if I'm going to be leaving my saddle down for a length of time, I'll put it into that mode and leave it. I predicted that the dropped tail would cause more contact between my butt and rear tire but that hasn't been the case.
I'd be quite keen on a two-position SwitchGrade that just had the descend and neutral modes, and I can imagine riders who'd prefer a two-position setup that just had the climb and neutral modes. In both cases that would make slamming the system in the neutral center position faster and more intuitive. I think the easy solution here would be for Aenomaly to make a plastic spacer that could be pressed into the SwitchGrade that could lock out the front or back setting.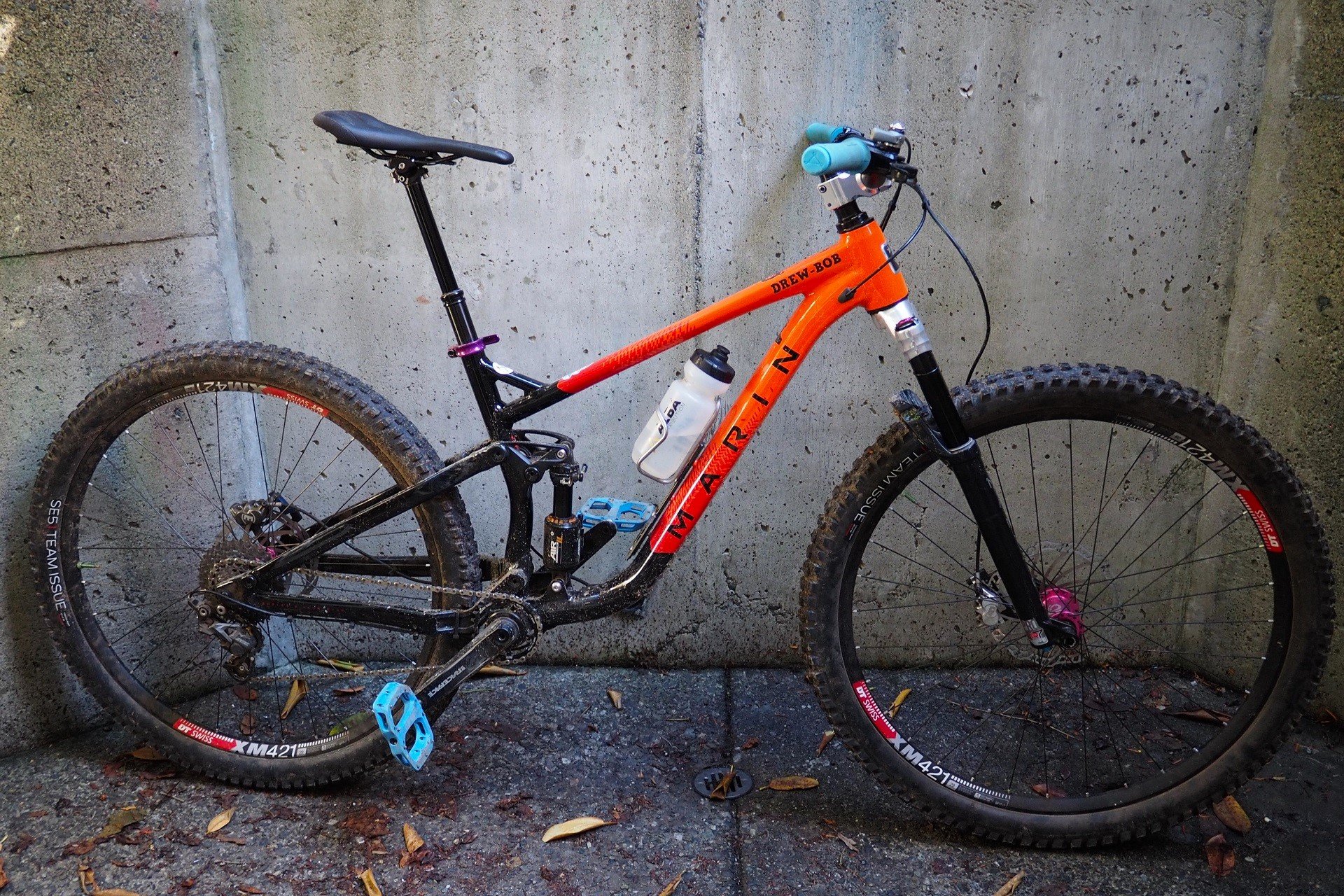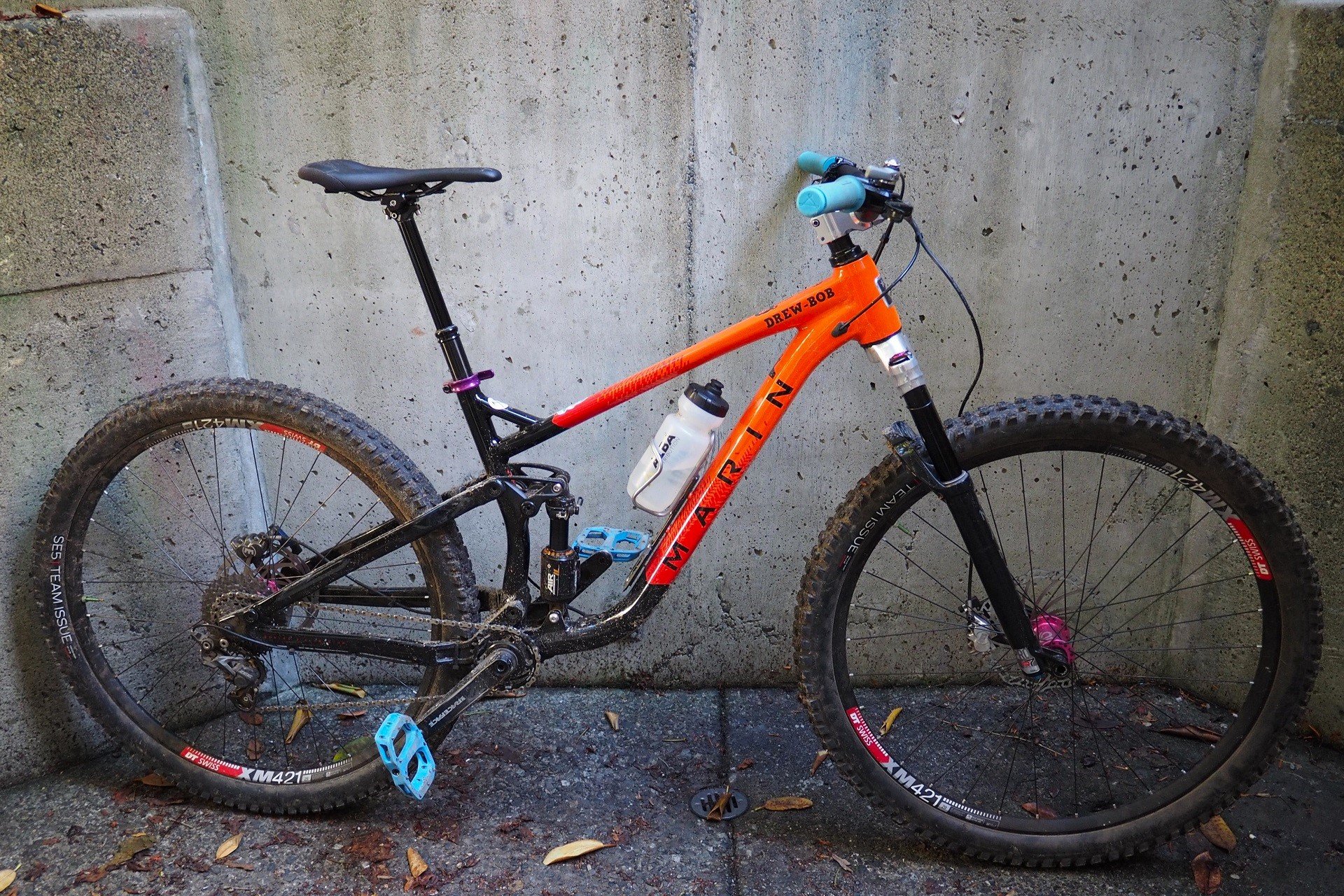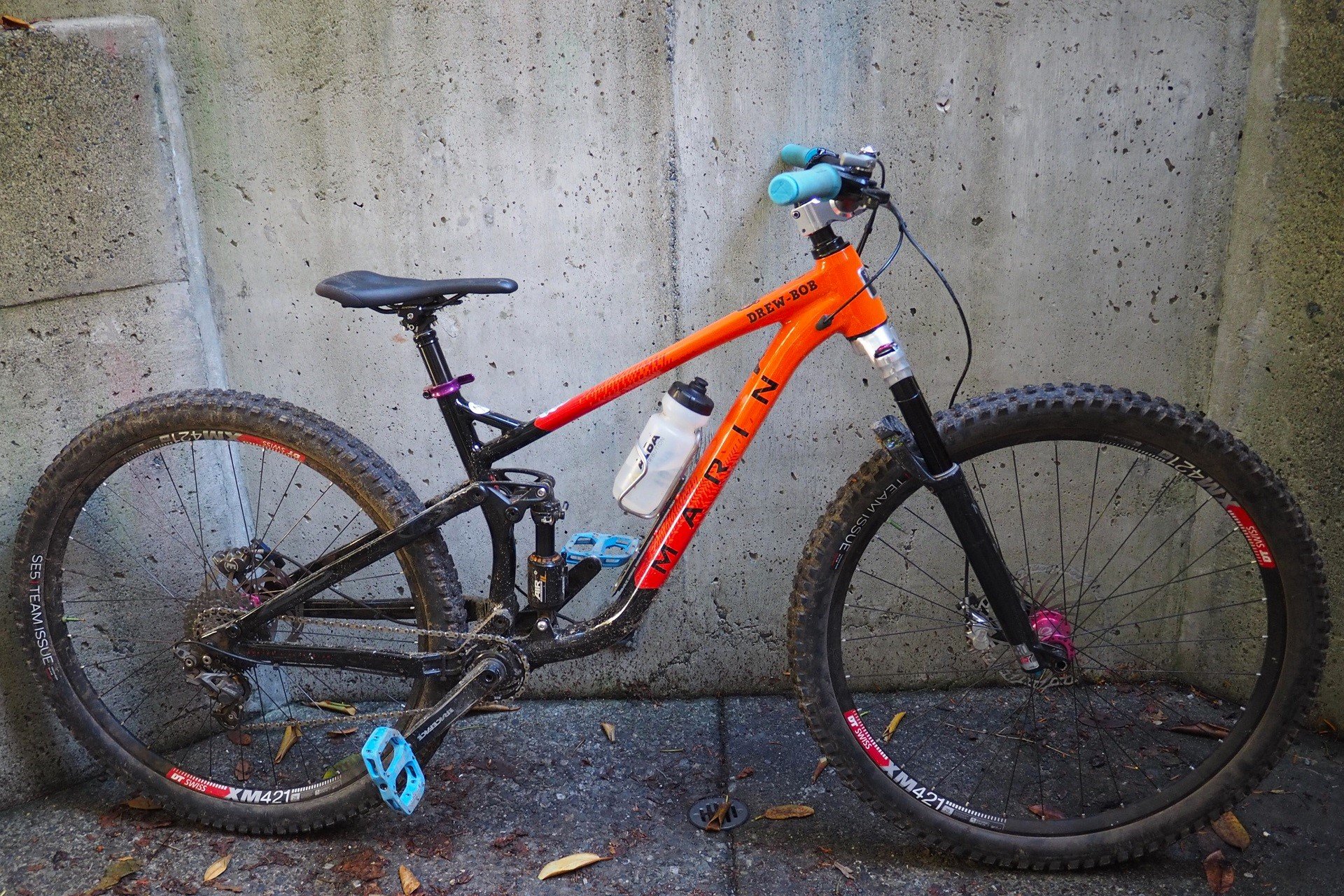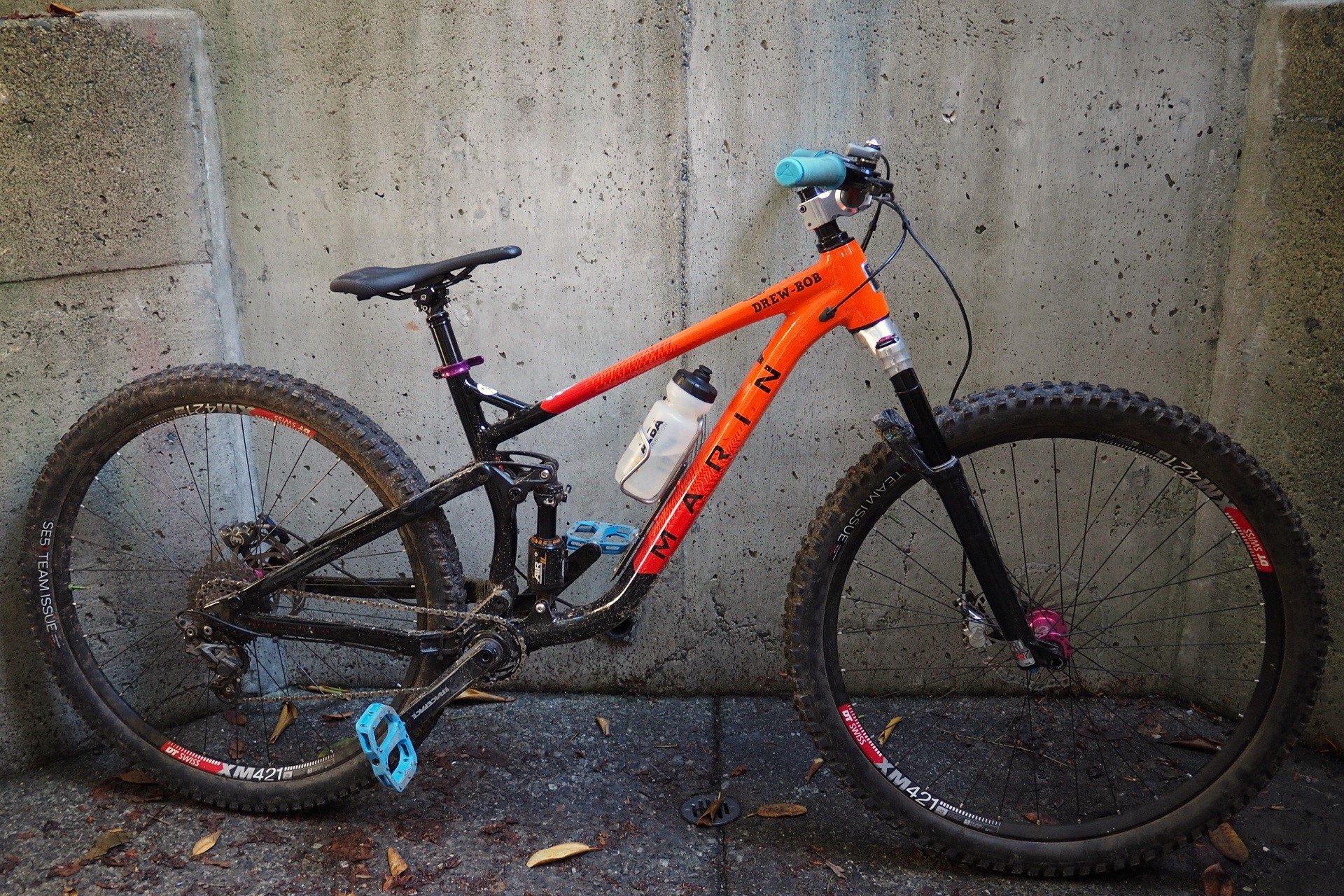 My favourite thing about the SwitchGrade is that it exists. Noel, the owner of Aenomaly Constructs, is a long time mountain biker who developed the SwitchGrade because he wanted one. I've met a lot of would be Noels with a great idea but few that were willing to turn their imagination into a usable product and then place a bet on production with the belief that other riders would appreciate their widget to the same extent. There are some prototype photos on his About page and it's neat to have a window into how he arrived here.
I really enjoy the DH mode and I'll be interested to see if I'm using the Climb mode more frequently by the time I follow up with a full review. It will also be interesting to see how the system holds up now that we're having some proper weather. Will it be worth having for a generally saddle-flat rider who loves the DH mode?
For you nose-down riders, even after only a handful of rides, being able to easily level your saddle to give your upper body a break, to get a better descending position, and to still hit your happy spot uphill, makes the SwitchGrade something worth looking at. Made in Canada, combined with its serviceability and small parts availability and the potential to change your on trail experience, the 284 CAD price tag is justifiable for those with the cash. Head to Aenomaly Constructs for more information.