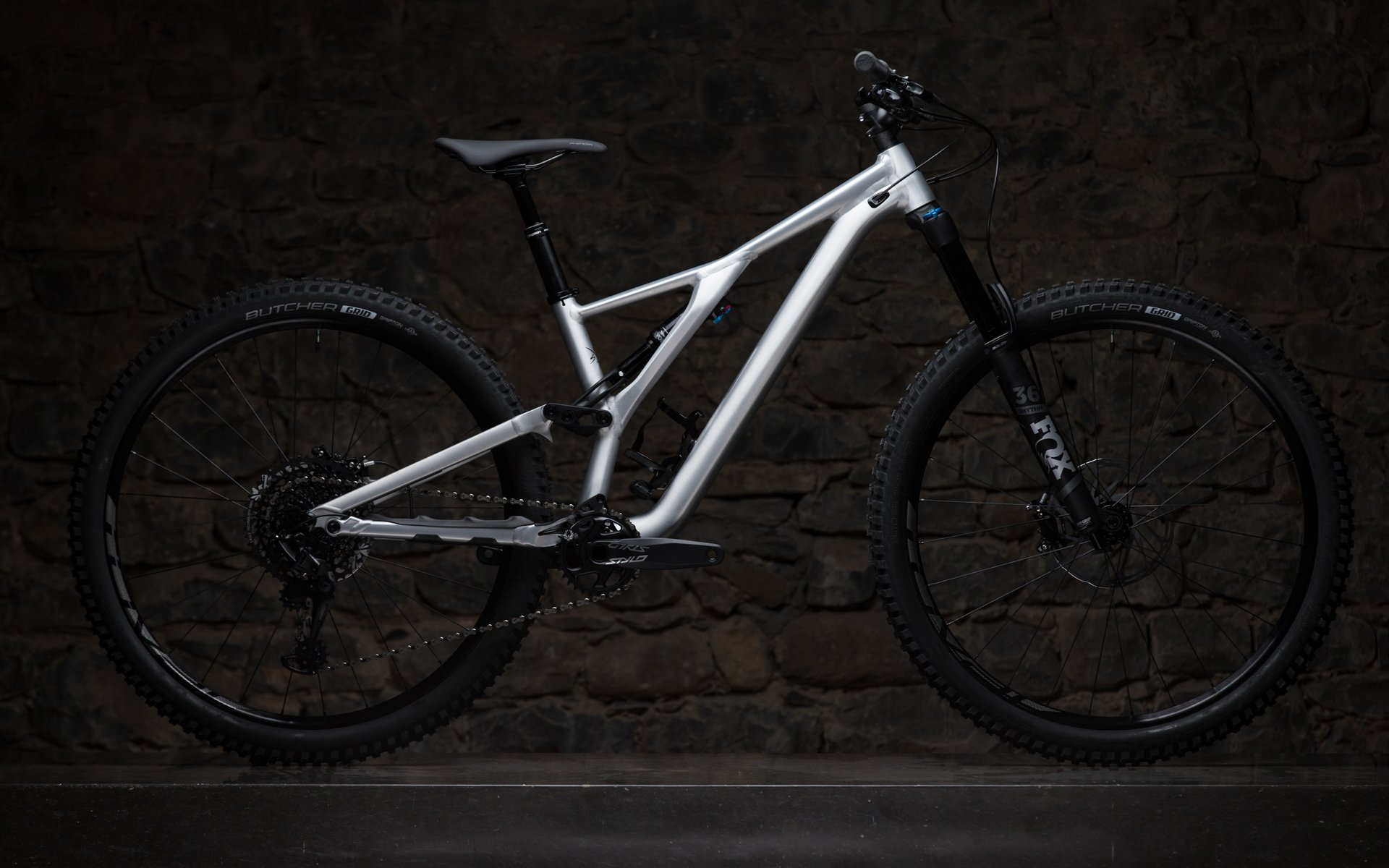 EDITORIAL
Actually, the Bike Industry kicks Apple's Ass
The One Exception
Matt Lee's The Apple-ization of the Mountain Bike offers a compelling look into his experience maintaining an older mountain bike and his concerns about planned-obsolescence, unnecessary innovation, and forced upgrades. It was popular with NSMB readers, which isn't surprising given that some 43% of us own an iPhone and let's face it, new bikes are expensive.
The counterpoint is that Mountain bikes are, and long have been, a shining light of serviceability in a world of throw-away objects. If anything, we are going through a renaissance of inter-compatibility, a De-Apple-ization if you will. The companies, from the tiny to the enormous, that make up 'The Industry' are doing an epic job supporting long abandoned legacy standards.

Have a late 90's disc-brake hardtail with a 22mm disc mount? There's an adaptor for that.
*Cover Photo Harookz/Specialized.
Even in the case of the one notable exception, the death of the 1-1/8" steerer tube, it's an epic stretch to call it planned obsolescence. Like Boost hub spacing, tapered steerer tubes and the required larger headtubes quickly gained popularity after they were introduced by Trek for the 2008 Remedy. Eleven model years ago.
And while it's getting more and more difficult to find replacement forks for some bikes - particularly for longer travel bikes that don't have 1.5" headtubes - this isn't a surprise I think it's sad and I wish there was a business case for a company like SRAM to step up with some 1-1/8" models, but there is still lots of time to stockpile a backup fork and this is a great reminder to stay on top of suspension service.
Steerer Tubes
For the first time since 2003, and arguably for the first time ever, the mountain bike world has one headtube size*. Cannondale is in the process of abandoning 1.5" with their new single crown Lefty forks, Giant gave up on their stupid OD2 1.5-to-1-1/4" nonsense a couple of years ago, there is no more short taper vs. long taper issue, every new high-end mountain bike shares a common steerer tube standard.
1.5-to-1-1/8" tapered steerer tubes are the victor.
So many frames on the market are using the same ZS 44 | ZS 56 press-in headset, it's possible that if a couple more bike companies ditch drop-in bearings (looking at you Specialized) that within the next few years that will become the standard**.
*I'm ignoring the odd new rigid steel bike with a 1-1/8" headtube. Are those even mountain bikes?
**Eat me every company pushing ZS62 lower cups.
But here's the thing. Every headset standard that's ever been thought up is still supported. Have a classic Klein or Yeti with a 1-1/4" headtube? Your local shop can get you one - never mind the internet. Some weird combo of an EC34 upper cup and an EC49 lower? Yep, no problem.
It's simple to adapt a straight 1.5" headtube (49/49) frame for a tapered fork, and the Giant OD2 headtube is just a prevalent ZS44 | ZS56 with a tiny bearing up top to accommodate the fatter steerer tube. An upper headset assembly and a cheap stem with a standard tapered fork and the only reminder of OD2 is a sticker under the clearcoat.
One stem clamp dimension, one steerer tube dimension, heck one OneUp EDC dimension. It's like Apple, Google, Samsung, LG, Blackberry and a bunch of phone companies I've never heard of got together and adopted a universal, swappable, battery design.
27.2 Dropper Posts
With the advent of dropper posts for gravel grinding bikes, the cockroach of mountain bike seatpost sizes lives again! Options abound and you don't even have to drill a hole in your seat tube (unless you want to). Check out the 110mm Pine from PNW, or the 120mm drop Lev from KS. There's always the option of buying a Gravity Dropper and hooking it up to a decent remote and if your wallet is fat check out the Thomson Elite.
If you're handy with the tools (see below), or willing to pay someone who is, there are a host of good 27.2 stealth options like the PNW Rainer, a range of Lev Integra models, and there are more popping up all the time. I say go with a hole and never look back.
Then again, a Chromag quick release and a straight Thompson post have a nostalgic appeal some days, especially when I'm riding solo.
Shock Sizing
I just want to take a second to note that the whole new Specialized Stumpjumper series. Carbon and aluminum frames. Yes, even the f***ing sexy Evo model. Every one of them is using a standard shock size.

No weird dimensions.

No special bodies.
The person buying a used 2019 Specialized in 2029 says 'Thank You!".
And it's not just Specialized. Check out the totally boring shock dimensions (if not the shocks themselves) coming on the Trek Slash and any new Cannondale or Scott bike.
Yeah, but what about the past generations of bikes with proprietary shocks?
Good news there too. All the Trek Full Floater bikes were close enough in size to adapt-in standard shocks, the components of the Fox/Cannondale Dyad are built to last forever and those companies have confirmed support for wear items (seals), and Bike Yoke has you covered in standardizing more Specialized frames.
Bottom Brackets
Sure, a bunch of bikes are coming with DUB bottom brackets but really who gives a sh*t? If it bothers you thread (yes I said thread) out the stock BB, sell the cranks, and buy whatever tickles your fancy. BSA is back baby.

And even so, thanks to a pack of players from Enduro Bearing, to Wheelsmith, to Chris King, to Hope, to White Industries, to Praxis, to Phil Wood, and so on the only bottom bracket that isn't ridiculously easy to find is the first generation Octalink model for my 1995 Shimano XTR cranks.*
Have an unfortunately-named ISIS crankset that's still running? FSA has your back!
*And even that is still possible.
Boost Spacing
I previously claimed that Boost hub spacing shouldn't matter, and I'm happy to now say that it doesn't. There are a plethora of very clean 'Boostinator' kits on the market from the hub specific options delivered by Wolf Tooth to the simple universal spacer kits from Problem Solvers. I've used both with great results.
And lo! I've even seen a couple of rather ingenious spacer jobs involving Center Lock rear hubs, including one with a post mount rear disc setup. Bonus points if you can guess how they were done.
Super Boost Plus isn't a big deal either, and if you just bought a Boost 148mm hub and your new frame is using 157mm don't stress. There's an adapter for that too.

But wait. Can't shrink a Boost hub to fit 135/142, can I?
Give me a break or list one hub manufacturer that's not producing 135x10mm and 142x12mm rear hubs. Hope? Yep. Chris King? Still a thing. Industry Nine? Will make those sizes for all time. Project 321? Non-Boost hubs are fun. Formula? Quando? Every size yo. DT Swiss? Your heirloom hub accomplice. Race Face? On the case.
Seriously, I'm here all week. And if you ever have a problem sourcing 135mm or 142mm hubs anytime in the next twenty years let me know.
The Small Things
Did you know that a 10-Spd Shimano mountain bike shifter (introduced in 2010) will happily index a current 11-Spd Shimano clutch mountain bike derailleur across your choice of 10-Spd cassette? Including Shimano, SRAM, or my current favourite SunRace 11-46t.
Take a SunRace 11-40t 9-Spd cassette, a Shimano 11-Spd clutch derailleur, and a 9-Speed SRAM shifter and with a bit of faffing about you're making party on a trail near you.
Shimano 11-Spd bar-end shifter, Paul Thumbie plate, Wolf Tooth Tanpan-11, and an 11-Spd Shimano clutch mountain bike derailleur and you're indexing your way from 11-50t* with a thumb shifter - the way it should be.
*10-50t if you have an XD driver
Can't get a 1-1/8" suspension fork for your hardtail? Try rigid with a big fat tire. Can't get a 1-1/8" suspension fork for your decade-old 6x6 bike? Get a dual-crown and lower it. Your frame has a 30.0 seat tube? Buy a shim and run a 27.2 dropper or if it's a thick tube have someone competent ream it to 30.9.
De-Apple-ization
Bikes are adult-Lego and if you want to keep your old rig running, click some pieces together.

Or don't. Maybe it's just time for a new rig. Bikes have come a long, long, way in the last decade and current geometry (both frame and suspension) is awesome. As someone who spends a fair amount of time riding without suspension, I'll also give a big up to Plus tires, current brakes, reliable dropper posts, and bar-sweep options.
Don't worry about keeping your current rig because of some nefarious scheme to force you to upgrade by not supporting it with parts. It's not the case.

Do not stress about buying a new rig that will be obsolete in a few years. We're currently on the path to fewer standards, not more, with a stable of companies supporting everything on the market.
I'm positive that in both cases you have bigger things to stress about. Like how much the latest software update slowed down your six-month-old iPhone.