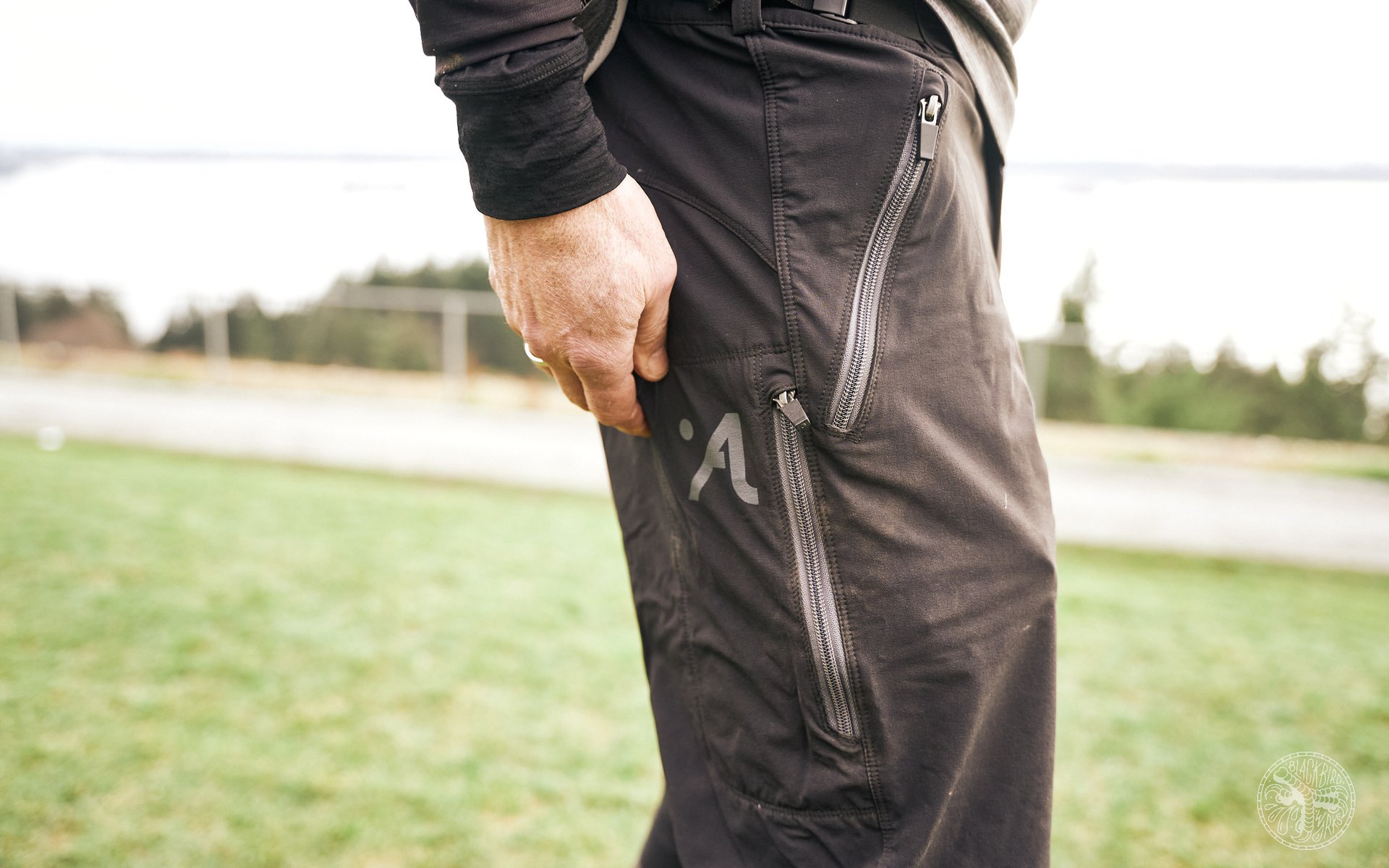 REVIEW
Abit Gear MTB Shorts
I know what you may be thinking. "Just another pair of black riding shorts." Ho-hum.
But you'd be so wrong. Abit Gear is the brainchild of Justin Vander Pol, longtime rider and former Executive Director of the Evergreen Mountain Bike Alliance, and a self-proclaimed "lean guy with a bigger butt" which probably describes a few of you reading this right now. A few, but not all. Some of you may be the opposite, or somewhere in the middle, or...hey, look, mountain bikers come in all shapes and sizes and having shorts that fit well is important. Too loose and you might snag 'em on your saddle (always just when you're dropping into something scary for the first time).
Too tight and everyone is wondering if you meant to grab your gravel bike instead.
Too long? Refer to too loose.
Too short and you're sporting that gaper gap between knee pad and hem.
It's vicious out there on the catwalks of the MTB world, my friends.
Justin decided there was an opportunity to fashion some shorts that weren't slaves to fashion, but designed to fit over a bunch of different butts. From that idea, Abit Gear was born ('Abit' is derived from 'a bit' as in 'let's try to make stuff that's a bit better than what's already available).
The Abit Mountain Bike Shorts are not trying to be all things to all people. What makes them unique is that for a given size* there are two volumetric options (Slim and Athletic) and two inseam options (Medium 12" or Longer 13.5"), meaning four available combinations for each waist size. Abit shorts aren't marketed as unisex but I imagine many women would find a size and shape they'd be happy with as well as the guys out there.
*waist sizes range from 28 to 40 inches in 2-inch increments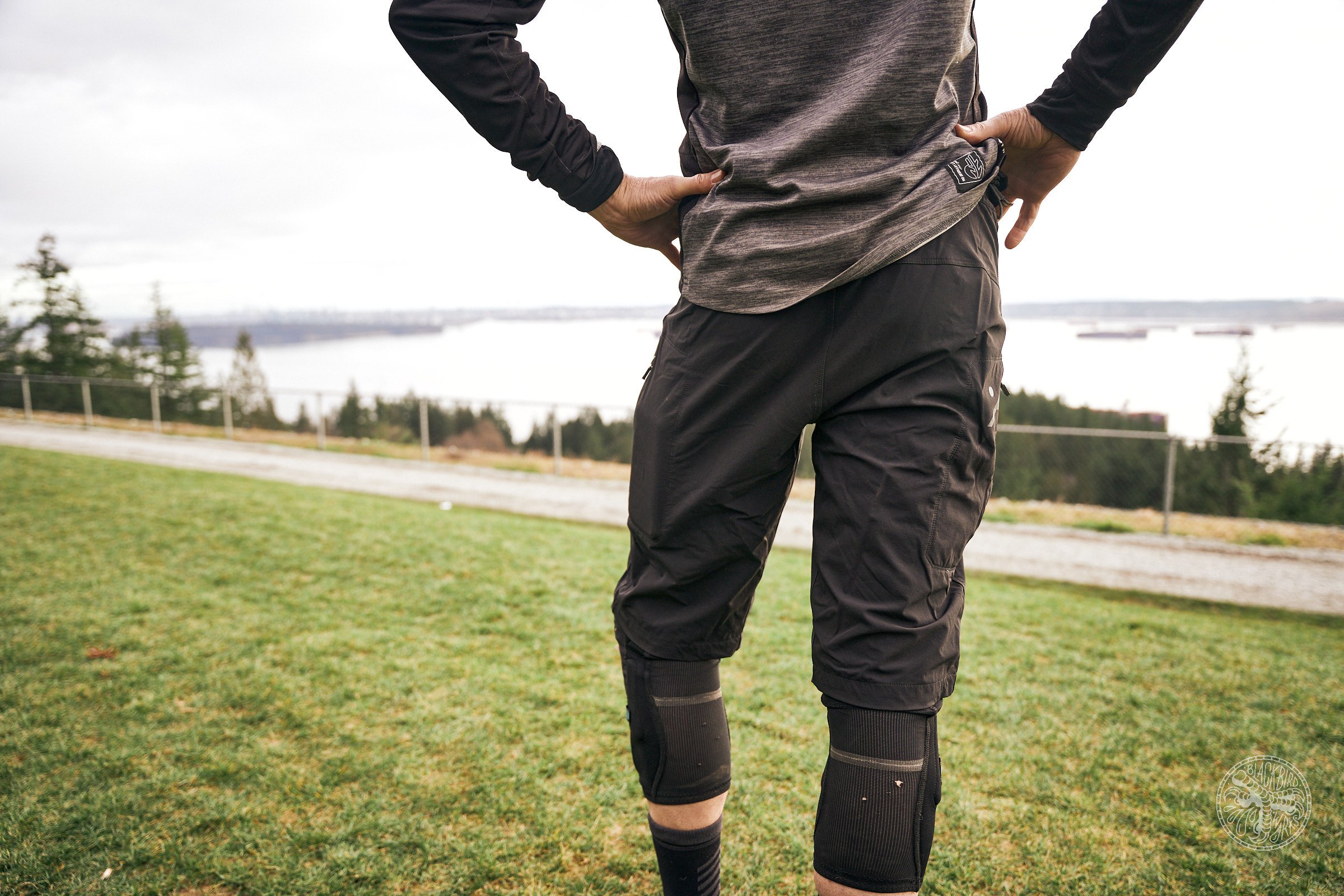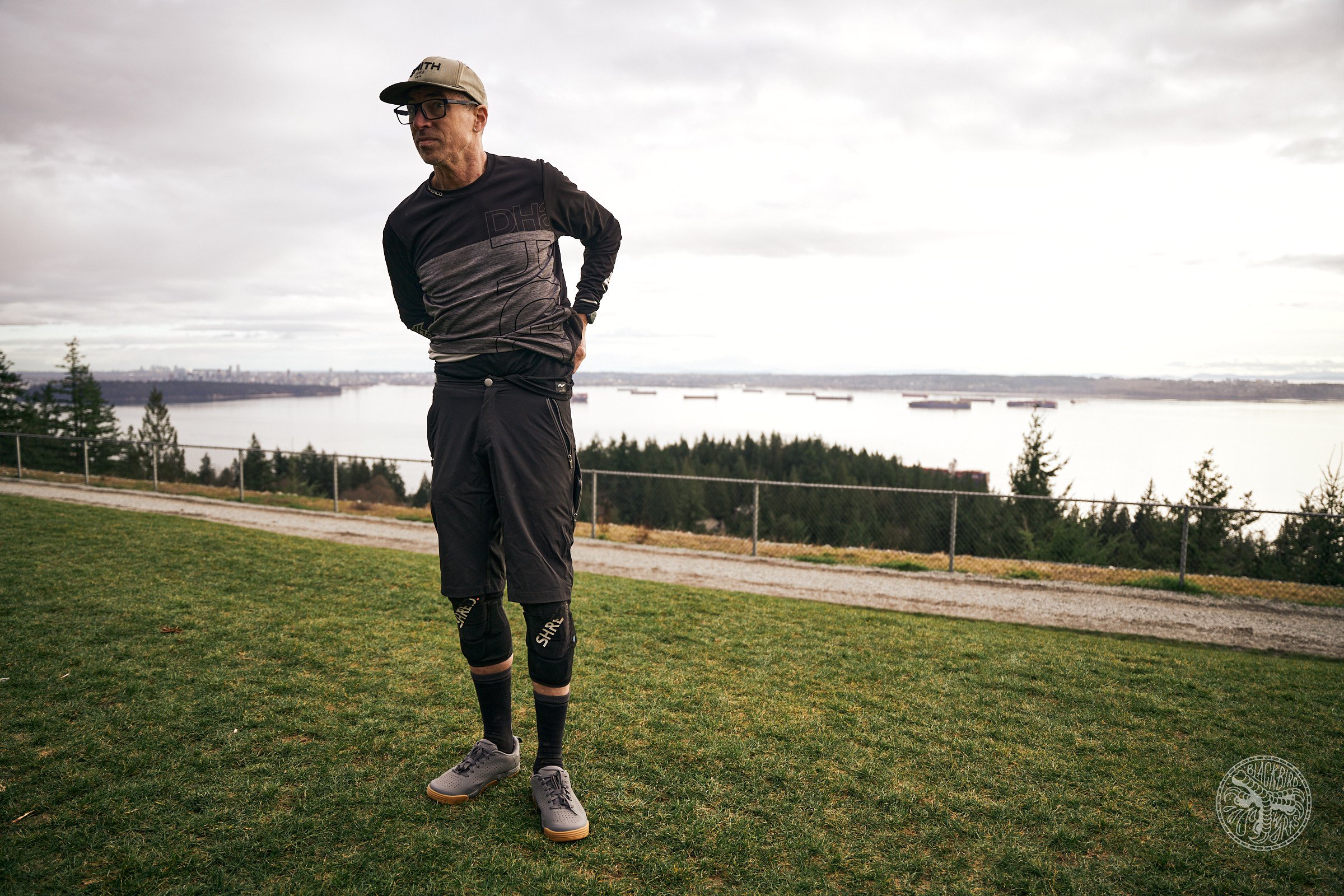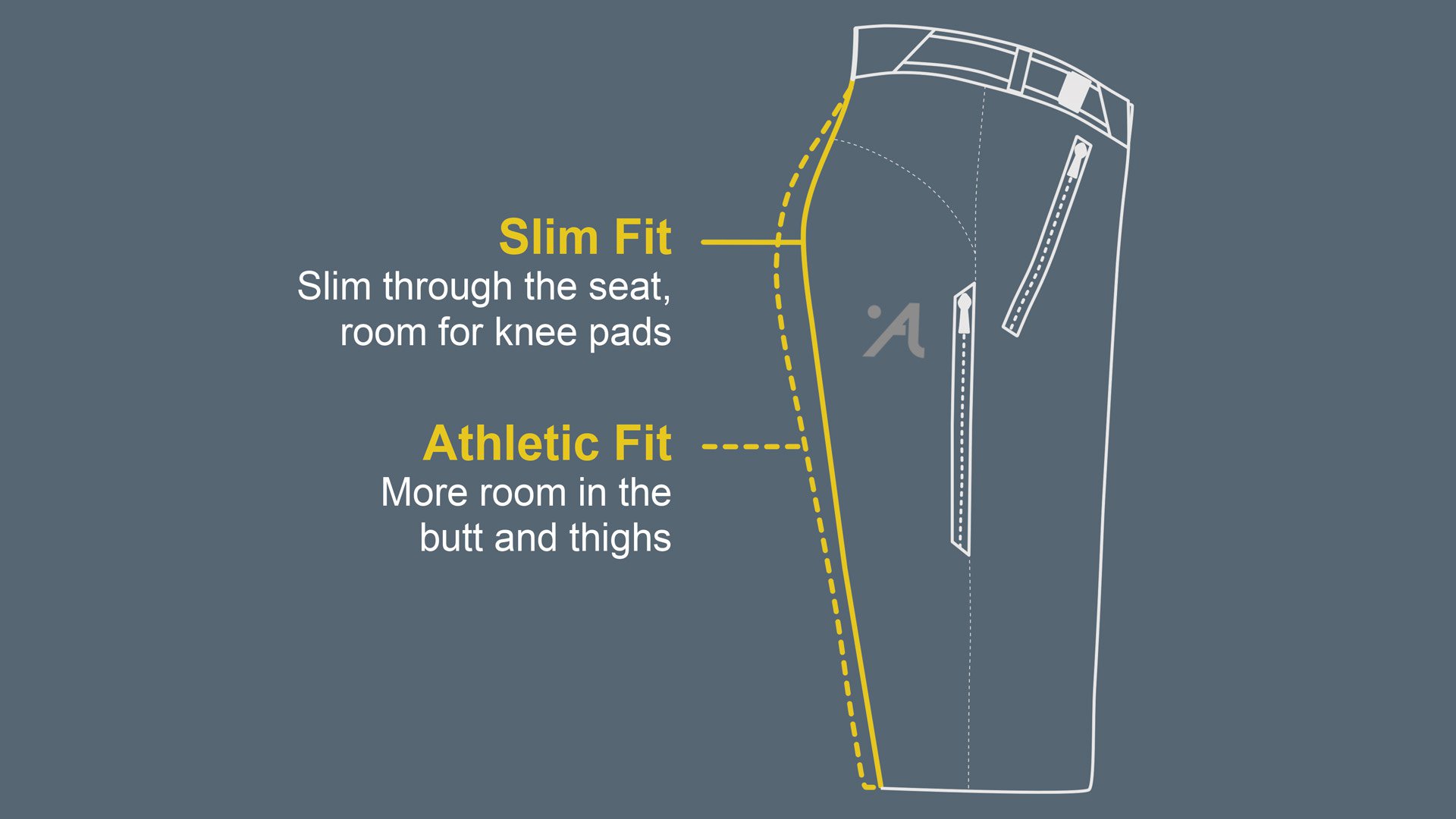 Features
The Abit MTB Shorts are constructed with a 190gsm material consisting of 90% nylon and 10% elastane that is both more durable and odour resistant than polyester, which is commonly used in outerwear like riding shorts. It has a 4-way stretch (essential for good fit and comfort in a dynamic sport like riding) and a DWR finish that brings splash resistance and quick drying attributes to the party, both important for riding through puddles and fending off post-ride beer spray.
Cam-lock waist adjusters and an integrated belt work to keep them fitting well throughout the ride, even when you're wearing a hip pack, which is nice because I find they pull the waist band of some shorts and pants down if the fit isn't quite right. They're easy to set up comfortably and can be quickly adjusted during a ride, even from the saddle if necessary.
A jeans button holds them shut up front and YKK zippers round out the durable hardware used throughout.
There are four pockets - two slash pockets and one along each thigh - all YKK-zippered and constructed of durable, fine mesh with reinforced bottoms. I leave the slash pockets open while I'm getting ready to ride so I can slide truck keys and other fast grab in/out items in them (my hands always seem full when I'm gearing up) and then usually leave them empty while riding unless I put an ear bud case or small multi-tool in there while riding in case I'm fine-tuning bike fit.
The thigh pockets are semi-hidden heroes that let you stash a modern-sized phone (there's a fabric sleeve within each pocket that holds your phone tight to your thigh so it doesn't bounce around while you pedal) and other large but flat-ish things like energy bars. In a short video on the site, Justin pulls a beer out of one of the thigh pockets - you wouldn't ride like that, but it would work for post-ride domestique duties ferrying beer from the cooler to the huddle. If needed, you can leave the thigh pockets open for ventilation on a warm day.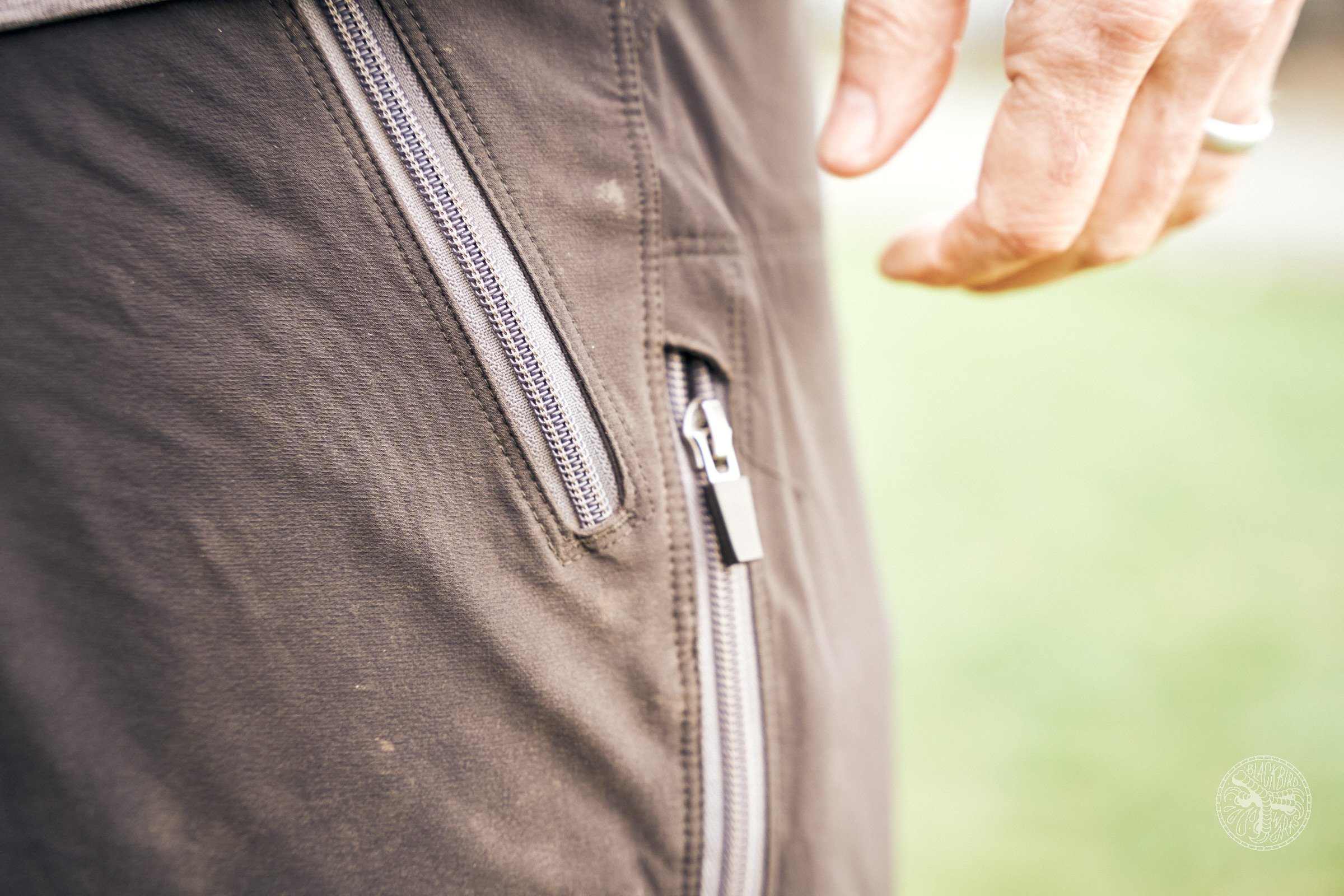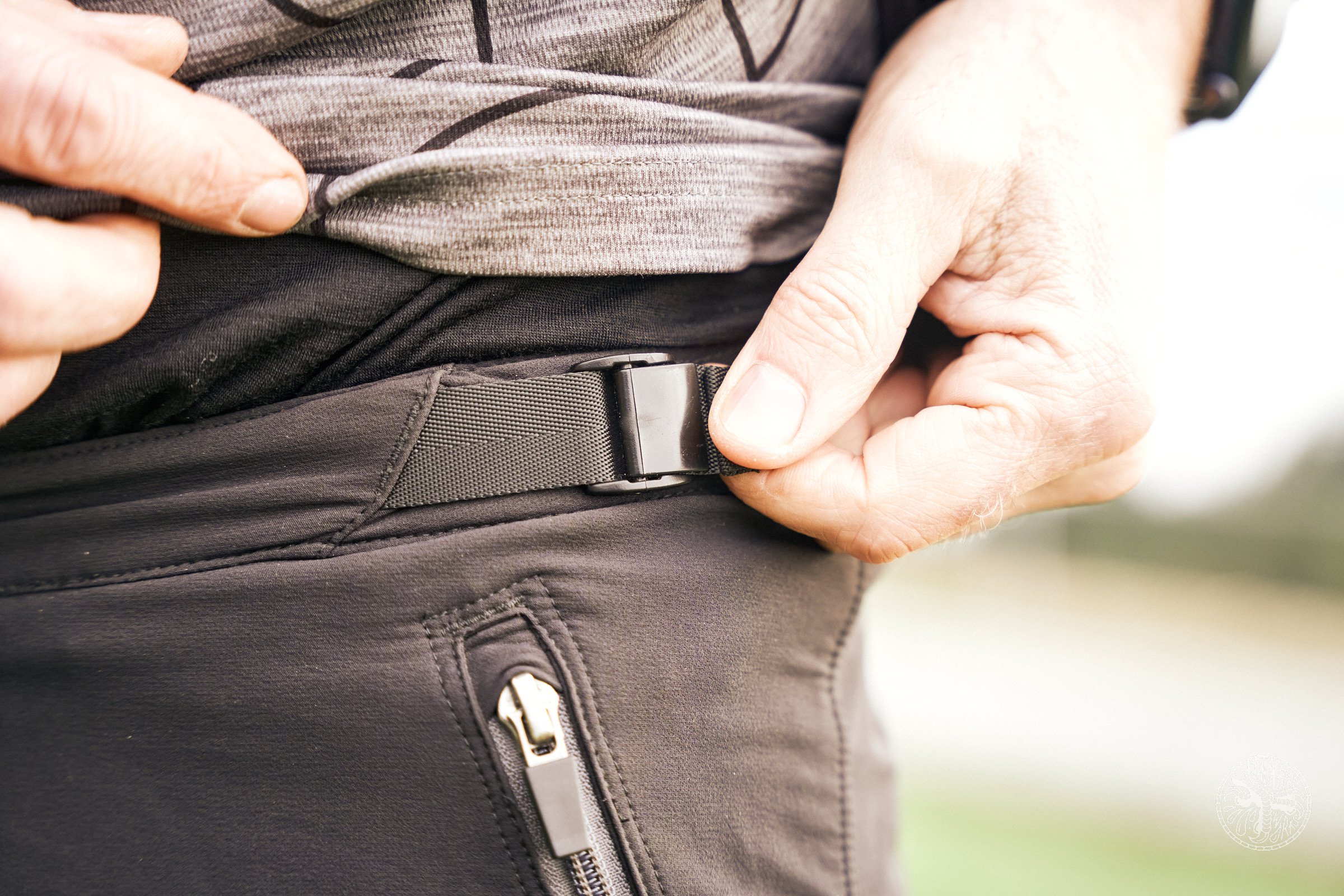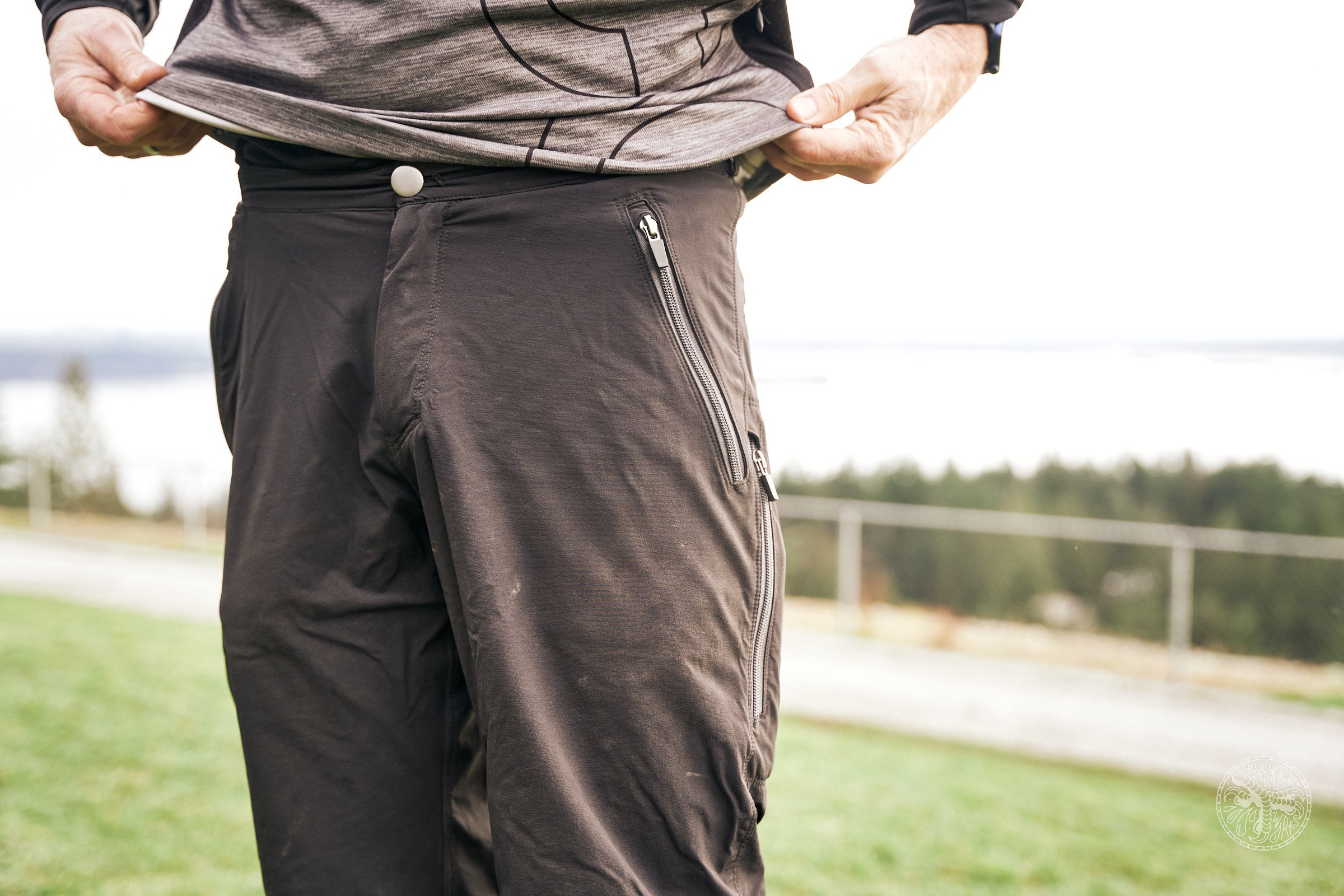 Abit Better Fit
Justin sent us a couple of pairs to test - Cam's been riding the Slim/Longer configuration in a 32 waist, and I've got the Athletic/Longer in a 34. Cam's inseam is 35", whereas mine is 32", and while I would be perfectly fine in the Medium inseam size, the Longer version is not too long for me. We're both between 6' and 6'1". Similar height and taste in beer, different body shapes, both very happy with the fit. The photos here are all of Cam but I'm similarly well-served. For my part, I have worn my Abit shorts for lots of different rides over the past year or so and been 100% happy with them. They fit as well as anything else I have, which includes use with 4-5 different knee pads and with a simple jersey or t-shirt or an undershirt, jersey and jacket. The other reason I love them is that the pockets do a great job of being useful when I need them without adding bulk that gets in the way when riding. I prefer a little more in the way of pockets than some, since I often spend long days in riding shorts that includes running errands before or after a ride, so I need somewhere to stash keys and a wallet. Combined with the durable and comfortable fabric, the Abits have found their way into my bag on camping weekends, and I've worn them while working around the house or hiking. The basic black colourway with grey zippers is understated and doesn't scream 'biker'.
Cam's opinion and mine are the same on the Abit shorts. We both found ourselves repeatedly grabbing them (when they're clean) and never finding a limitation, whether with fit, function, or durability. They have what you need in terms of features, but don't go overboard and burden themselves with bulk or weight. There are other shorts out there I like equally as much, but the list is short - and none I like better. For those reasons, we wholeheartedly recommend Abit MTB shorts for 3-season riding (in all but the wettest and coldest weather), especially if you don't currently have a pair of black do-it-all riding shorts, because they go with everything, on the bike or off. On top of that endorsement, buying Abit shorts supports a small Seattle-based brand run by a genuinely good goat named Justin who gives part proceeds back to trail advocacy.
You can order Abit MTB shorts directly from Abit. They're available in waist sizes 28-40 (in increments of 2 inches), Slim or Athletic fit, and inseam lengths of Medium (12") or Longer (13.5"). 142 CAD / 109 USD / 99 EUR / 82 GBP