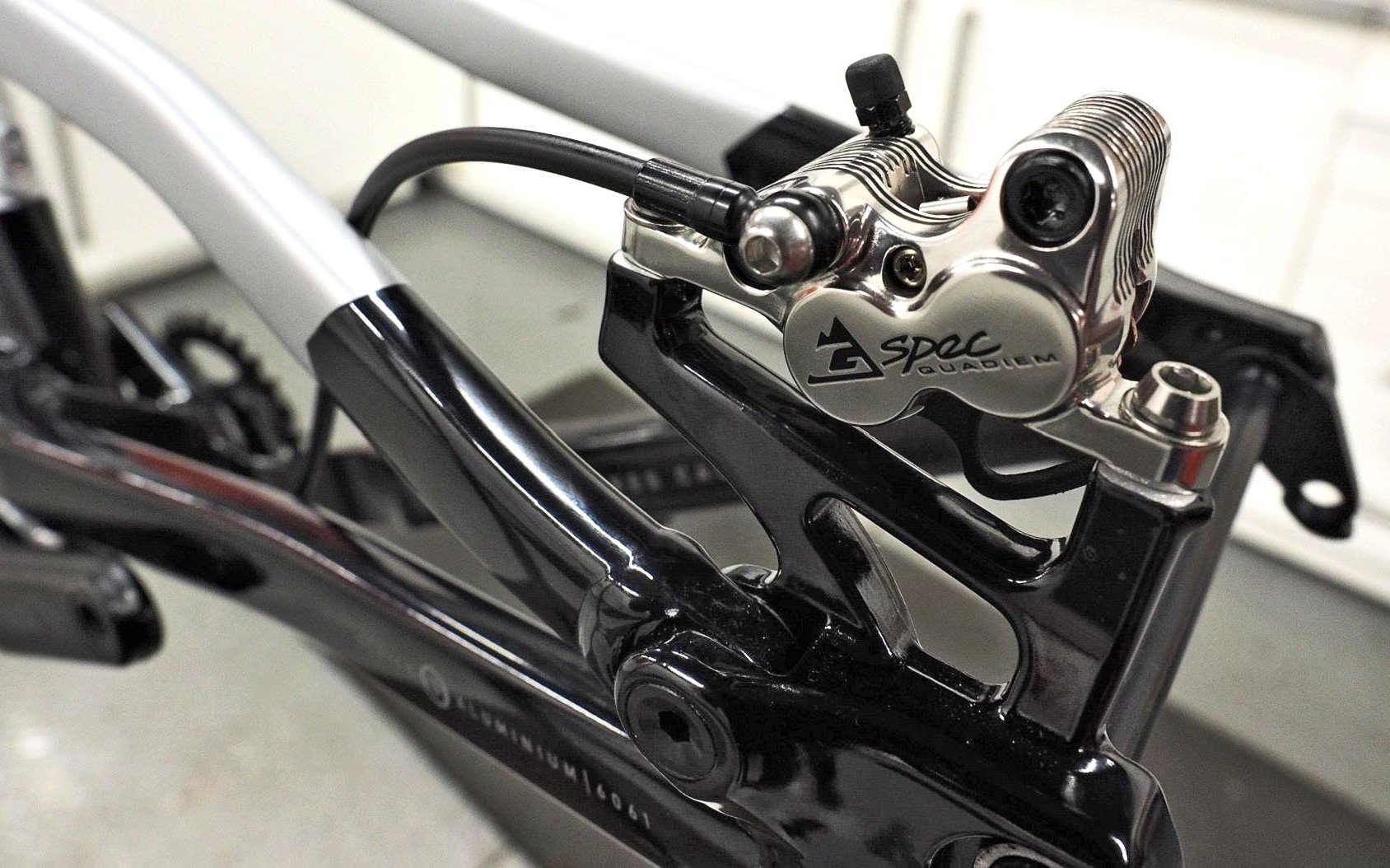 Teardown | First Look
Aaron Gwin's TRP Quadiem Brakes - Teardown
We The People
I'm holding the TRP Quadiem brakes in my hands and two things come to mind. Maybe neither sounds flattering at first glance but I promise both are heavy compliments.
1) They look like original Shimano M755 4-pot disc brakes on steroids.
2) The design and features could have been crowd-sourced from the crew I ride with.
The Quadiem and Quadiem G-Spec* brakes use non-finned doppelgangers of Shimano Saint/Zee pads so spares will be easy to come by. The lever blades rely on brute leverage rather than any hydraulic or cam tricks to drive the pistons and are generously hooked at the end. The calipers are massive to bleed heat. Bleeding is simple and the brakes are completely rebuildable - both the calipers and master cylinders.
I'm not shy when comparing every brake I ride against Magura's Trail Sport. Of the brakes I've ridden and serviced, it is the Holy Grail of price, performance, power, and feel. But, as my friend Steve would say, it's a manufactured brake: master cylinder, caliper, and ride. If there are any issues beyond swapping a lever blade then the complete unit needs to be swapped.
Before I've even squeezed the lever the Quadiem scores points with me by being fully rebuildable**. The piston seals are easily replaced in a brake that was engineered to be 100% serviceable. It's probably a vocal minority of riders who care about a user rebuildable, easy to service, mineral oil brake system. For those riders options are limited.
*The brakes are identical except for the finish and a couple pieces of titanium hardware.
**Assuming TRP makes all the parts easily available.
Caliper
It's 'UGE. It has machined fins. It looks sweet. It's held together by a pair of T30 bolts that beg any home mechanic to take it apart and have a peek. It is the TRP Quadiem caliper.
Heat dissipation is the name of the game and the giant chunk of aluminum with fins for increased surface area makes everything else on the market look dainty.
It's surprising that TRP is using uniform piston sizing for the Quadiem caliper. Running smaller leading pistons should improve braking modulation since they will contact the rotor first, creating more ramp for power. These brakes were created with input from one of the world's fastest DH racers and raw power may have won the day over modulation.
Once I have time on the brakes in various conditions I'll have a more in-depth assessment.
Master Cylinder
That long, dimpled lever blade with the big hook on the end feels SO SWEET. My only concern is that with my relatively presidential hands the lever starting point is parallel to the bar, so the hooks don't feel as pronounced as they would for a rider with bigger meat mitts.
Given the choice I'd skip the tool-free reach adjuster for a clean and simple hex-key arrangement but the TRP adjuster is very easy to use with gloved hands and well tucked out of the way so it's not vulnerable. Riders that prefer a tool-free adjuster will appreciate the Quadiem.
The Quadiem came apart and went back together intuitively. Even a capable home mechanic less familiar with the working of brakes than Jeff should be able to figure it out by taking time and remembering the order of operations.
The only 'special' tool needed is circlip pliers. Air quotes applied because if you're tackling this level of teardown that isn't really a special tool.
The Quadiem guts remind me of the original champagne Hayes while at the same time the layout and manufacturing scream Shimano. I suppose there are only so many ways to skin a Jabberwocky but if TRP isn't making parts for Shimano I'll eat my NSMB socks.

Thanks to their finish the G-Spec looks wicked from a few steps away. Up close they're still a really nice looking brake but they lack the smooth sex appeal of Formula's made in Italy ROR or the brutality of Hope's hard-cut machined lines.
Pads
The only WTF part of the Quadiem is the stock pads. I used my standard pad/rotor break-in procedure but I'll give them a few rides just to make sure they don't have a crazy long break-in period. If there's no change I'll swap in some Shimano pads up front.
On the brake pad vs. caliper note, assuming just based on availability that a Quadiem rider will eventually end up running the original Shimano Saint sintered metal pads, having the fins machined into the massive calipers instead of mounted to the pads will be a notable cost savings over the life of these brakes.
Cable Porn
Everyone has their thing. Some people collect tiny spoons, some people wear those running shoes with individual toes, some people will drop an extra c-note for brakes that are identical but for their finish. Jeff is really, really into massaging the cable routing on bikes he works on.
A sexy set of German-made hydraulic hoses join the caliper and master cylinder together.

Bleeding
Choice is chief and the TRP Quadiem brakes can be bled any number of ways. Jeff prefers to hook up a syringe to each bleed fitting and go at it Avid*** style.
It's at least as easy to just push out the top fitting into a receiving bucket or remove the whole master cylinder cap and bleed/suck like the original Shimano brakes for anyone who didn't throw down for the professional vacuum bleed kit. A gravity bleed is always an option too.
Pick your bleed method and be a dick about it.
***Previously known as Magura style for anyone who came up bleeding HS rim brakes.

Gwin-Spec
I'm a few rides in on the Quadiem G-Spec brakes. They are attention grabbers drawing lots of questions and comments.
I can appreciate why TRP would send top end Gwin edition brakes our way as they have a sex appeal, in photos and on the trail, that the $100 (USD) cheaper standard Quadiem can't touch. In the epic battle to balance performance and value I know riders who will happily pocket the 25% savings for an otherwise identical product and some who will easily justify the price difference for the look of the G-Spec model.
For the latter, as long as TRP supports the small parts, go ahead and amortize that difference over as long as you like if you're going to maintain them. I know riders still running Hayes hydraulics from almost 20 years ago.
I'm looking forward to reporting back after I score solid hours of riding on the brakes and potentially play with some different pad options.

In the meantime check out TRP for more information. The Quadiem brakes hit the street at about $300 (USD) a set and the Quadiem G-Spec shown here jumps in at $400 (USD) per pair sans rotors or adapters.