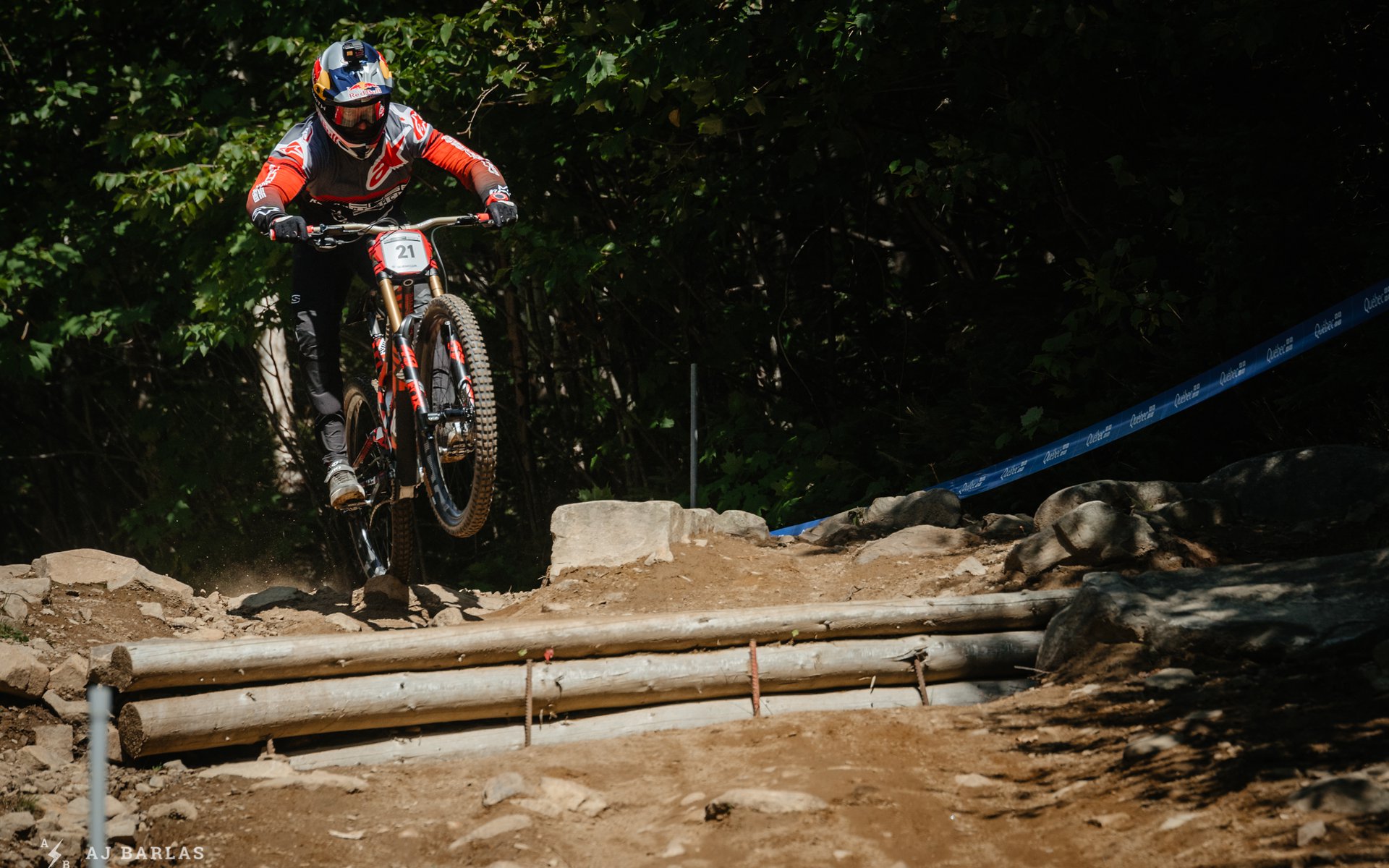 Interview
Aaron Gwin and His Season of Challenges
Race fans have likely noticed the absence of one of the best on the podium in 2019. Aaron Gwin hasn't had a good season when it comes to his results, but it's not that he's struggled to find pace or that the bikes are holding him back. Earlier in the year he looked strong but it didn't take long for things to take a turn for the worse.
Crashing is part of the sport and unfortunately for Gwin, those crashes have resulted in injuries that made it hard for him to perform. Part of offseason training is to prepare the body for the rigours of racing but sometimes it's not enough.
There's also lady luck and for Gwin fans, it's hard to believe that the ol' lady has been on his side this year. Does Gwin believe in luck? Karma? Is someone trying to tell him something or has something meddled with his preparation?
After his accident in Andorra, I reached out to Aaron to ask him those questions and discuss how he gets out of the slump. We also touched on the psychological challenges in order to flip the tables back in his favour.
Aaron, thanks for the opportunity to connect. How are you feeling at the moment?
No problem, thanks for hitting me up! I'm feeling ok at the moment, I just flew home from the final World Cup in West Virginia a few days ago. It's been a super busy week for me since I've been back and we're getting ready to head up to Big Bear tomorrow for the US Open this weekend. I'm still managing a few lingering injuries and feeling pretty tired from everything but I'm stoked to race this weekend near home and then have some time off to heal and rest for a bit.
You had a big offseason with the team change and taking ownership of that. How were you feeling coming into the first race of 2019?
I was feeling great coming into the first race. Training through the offseason went really well and I felt strong for sure. There was a lot of anticipation with my new set up and I was just excited to get to that first race.
With the new ownership of the Intense Factory Racing team and a busy offseason, would you say you were as prepared as previous years coming into the first round in Maribor?
It was a busy offseason for sure but I felt more prepared physically coming into this year than any year previously. Because I was injured last year and missed some races I was really ready to get started with my training early last offseason. We did a ton of testing on the new bike too and had it running good. I felt a little off on the actual frame sizing but with switching to the 29er full time I didn't really know what the best set up would be size-wise in race conditions. I really just needed to get to that first race and see how we stacked up.
At the Mountain Creek Pro GRT, things seemed to turn on you and you left with a pretty swollen ankle. How concerned were you about the World Cup in Fort Bill two weeks later?
Ya, that race really set me back. After Maribor, I actually switched frame sizes and we went out to Mountain Creek for that race to do some testing with Fox and get things dialed in. Unfortunately, I blew my ankle out pretty bad in qualifying and had to fly home. Thankfully nothing broke or fully tore but I stretched all the ligaments out pretty bad and the thing just ballooned up like crazy. I was on crutches for most of the next week and then flew straight to Ft William.

In Fort Bill, it seemed like luck wasn't on your side. You're there already dealing with the ankle, then your race bike gets stolen, then you have a wild blowout early in your race run. Looking back at that, do you think someone was trying to tell you something?
Haha. No, it was just a tough week. My ankle was hurting pretty bad coming into the race and I wasn't sure if I'd be able to ride but I flew out there with the hopes that I could. I got through the first few runs of practice slowly and then actually did the exact same thing again to my ankle the 3rd run of practice, that was so frustrating and man did it hurt. I thought there was a good chance that I'd be out for a while after that but I managed to tape it up super tight and get through qualifying the next day. Race day I was barely able to ride but again just wanted to do my best and then I had that huge crash in my race run. It was not one of my better weekends that's for sure.
How much was the ankle injury affecting your riding in Fort Bill?
It was affecting it big time. I probably should have stayed home and just let it heal but that's such a tough thing to do when you want to race so bad. Unfortunately, I made it worse with that second incident and it's still recovering now months later.
You turned things around the next week in Leogang though. How did you stay positive and confident when you're ankle still wasn't 100% and you'd had plenty of bad luck already?
It was tough to stay positive for sure, I was pretty bummed on the whole situation. Thankfully, Leogang is a much smoother track than Ft William so I taped the ankle up tight again and managed to get on the podium that weekend. My race run was my only fast run of the week as I was trying to just save my ankle. I got through it, the run wasn't anything great but I was stoked to get on the podium with how I was feeling.
In Andorra, things took a turn for the worse. You hurt your rear braking finger on the first day of practice and then during practice on race day you take on a tree, and the tree wins. What was the injury that your shoulders sustained?
Ya, that was pretty much it, I nailed that tree in my last run of practice before the race and separated both shoulders. I knew as soon as I hit the ground that I'd messed them up and I flew home the next day to get everything checked out and then on to physical therapy.

If you were able to ride through the shoulder injury, do you think you would have soldiered on?
Hard to say. I wasn't even close to being able to ride with those injuries though so I had to take the time off.
At what point do you consider it not worth the risk of further injuries in favour of taking time off to heal?
It really just depends. Last season I was racing with the injured thumb and that only made things worse but I was in the points lead when I got hurt so I just had to keep trying. Every injury is different, some you can ride through pretty well and some you can't. Some injuries are painful but you can just tough it out. Others really affect your strength and it doesn't matter how much pain you can handle, you're just unable to take the impacts while riding these rough tracks.
A lot of fans would say luck hasn't been on your side this season. Do you believe in bad luck or karma?
No, not really. Sometimes things just go your way and sometimes they don't. This season was a combination of my own riding mistakes as well as other situations that were out of my control. You've just got to keep working hard and do the best you can with what you've got.
Do you ever ask yourself why these things happen?
I try to just move forward. When there's a setback, I focus on what I can do to be proactive. Thinking about "why" or "what if" doesn't change the situation. If I've made a mistake to get me into a bad situation then I just want to learn what I can from it and move on.
It can't be all about results if you know you're unable to perform to the absolute best of your abilities with an injury. What motivates you to push on when you're not at full strength? Product development? Team morale? Personal morale?
I'd say all of the above. There's a point where you're doing more damage than good racing injured but if I believe that I can still compete at a high level then I'm out there to support my team and represent my sponsors the best that I can.
How do you feel now after some time off to heal? How are the ankle, finger and shoulders?
I'm getting a little better each week but I'm still far from 100%. I wasn't really ready to come back for these last two races but I didn't want to miss World Champs and my home World Cup. I knew I wasn't going to be at my best but I believed I could put down some strong finishes and it was an opportunity to get a head start on some new bike testing for next year.
Admittedly it didn't look like your typical Gwin on track the first few days in MSA. How hard is it to get back in the right groove?
It was tough for sure. I had about 2 weeks before World's where my shoulder was healed enough to ride downhill. I was still pretty weak but I could make it down the track. Unfortunately, I got really sick at the start of those two weeks so I rode a few times but was feeling pretty terrible physically. Thankfully the sickness finally went away and I got about 3 days of easy riding on our new bike right before I flew out.
How challenging is it to build confidence when things keep going wrong or you're still carrying injuries?
It can be hard for sure but before World's, I knew I just needed more time that I didn't have. I went to those last few races knowing that realistically I wasn't ready to compete for wins but I believed we could still turn those races into a positive and we did. My times were in the mix with the top guys and I learned a lot on that new bike I was riding that will help for next year. All in all, it was a successful trip and I accomplished what I'd hoped to for the most part. It was just great to be back on the track and hanging with my team.
I heard you say that you feel like your mind is there but the body needs to catch up. What did you mean by that?
I just need to heal and get strong again. I'm still healing from these injuries and it takes time to fully rehab them and then start building the strength back up. My legs are pretty strong from the training I've been able to do but I was at about half of my full strength in the gym with my left shoulder when I flew out to World's. This injury is normally about a 3 month heal time from my past experiences and I was racing again at about a month and a half. It just takes more time for the body to heal and rebuild. When you're not riding it takes time to get back up to speed again too so I've just been behind on everything since May.

Remaining positive through a heap of shit being thrown your way must be tough. It looks like you've successfully done that. How were you able to do it?
Haha. It's been tough man but that's just what I've had to do! I love riding my bike so I think that's the most important thing. I think anyone who really loves to ride would tell you that the worst part about getting hurt is just not being able to ride and that's definitely true for me. I really miss it when I'm sitting at home. I know that I've been doing my best through these trials and working hard so I'm content with my efforts even though I'm not happy with the situation. I'm just looking forward to the times when things get better.
How are your motivation levels now? Do you have more fire now than if you had raced the entire season and does missing out make you want to race more?
I never seem to lack much motivation when it comes to my racing, I always really want to perform well and I work hard to do that. These injuries definitely get me excited though to come back strong. Being able to work through all the setbacks and get back to the top is a challenge I'm looking forward to. I believe that I've got a lot of wins left in me and if I can do it next season, I think the results will feel a little more special for sure. I've been here before coming back after a rough 2013/14 and I remember that first win back feeling pretty dang good.
A few short years ago you were dominating and when healthy, you're always a threat but that dominance hasn't been present for a couple of seasons. Do you feel the level of racing has risen since you were dominant, or have you not been able to put down the runs you know you can?
I'd say both. I've raced 2 World Cups in the last 2 years at 100% and those were the opening rounds of each season. The rest of the races I've been managing injuries and/or back racing with very little time on the bike. These are not so much excuses but just realities. The competition is so strong now and it's getting stronger every year, you've really got to be at or very close to your best to win. I've known going into these races the reality of my condition and I've just tried to make the most of it.

Going into the offseason, have this year's injuries brought on any changes to your preparation plans for next year?
The plan right now is to put together a really solid rehab program to fully heal these injuries. I've been talking to my trainer and physio and were planning on a pretty detailed 6 weeks to get everything solid again. This will be pretty low impact and really focused on my range of motion and stability. It will also allow me to kind of rest and regroup a little. I've been feeling pretty smoked from these last few months. After the stability comes back and I start feeling good again we'll start with a more aggressive training program. From there it's just putting in the work like I always do and pretty much business as usual until next season.
What can fans expect to see from Aaron Gwin in 2020?
They can expect me to do what I've always done and that's give it my best. Hopefully, I can avoid these injuries moving forward and get everything back on track. I really want to be battling for wins every weekend and all of my focus is on doing the thing's that I believe will get me back there.
Thanks heaps for your time mate, and good luck with everything this offseason.
Thank you, buddy!
---