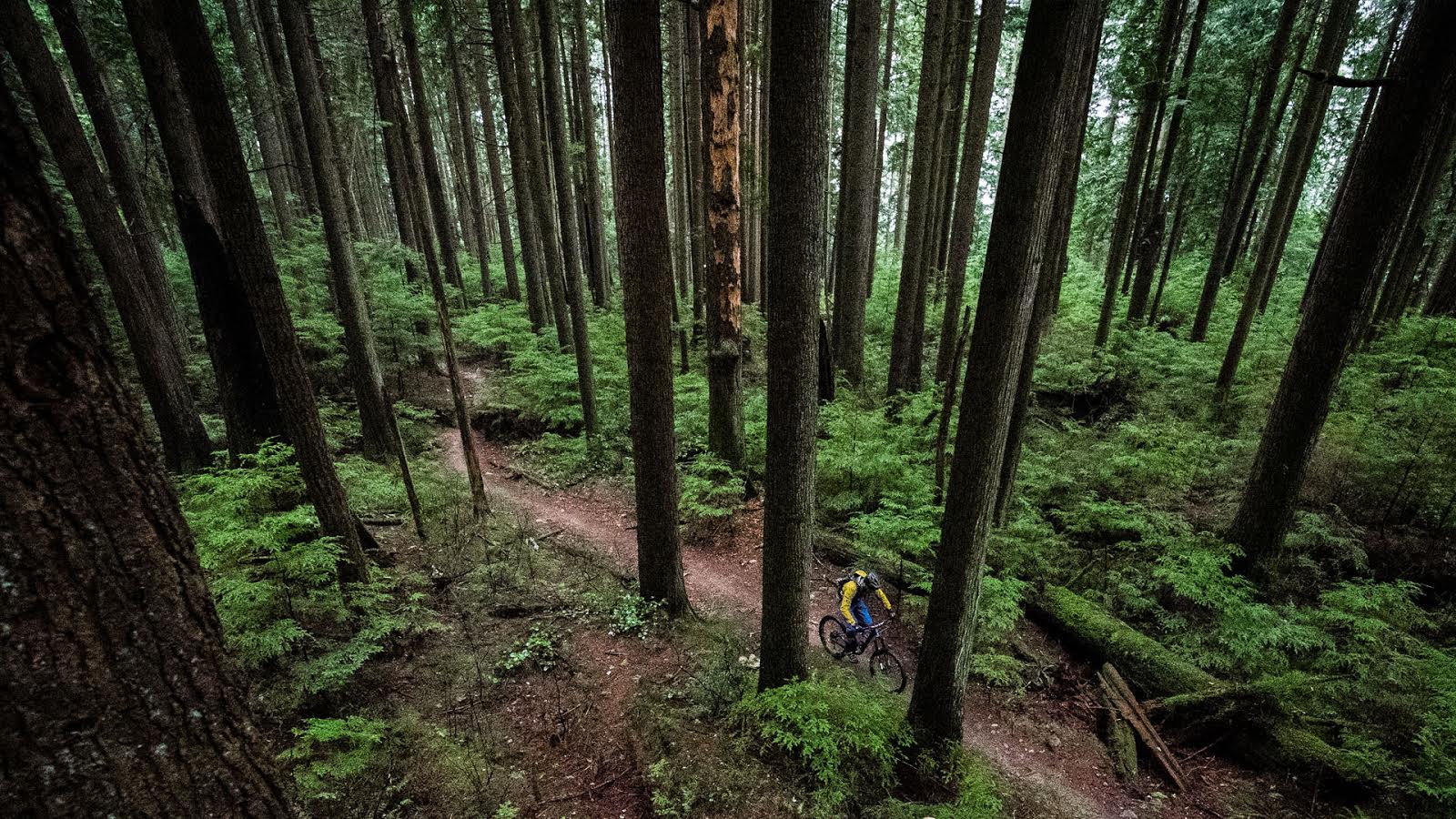 Reflecting on a Weekend with Ryan Leech
You don't turn down invitations from Ryan Leech. Last spring the nicest guy in mountain biking  invited me to check out his Ride and Reach weekend on the Sunshine Coast – and I was all in. Say what you will about dudes wearing Lululemon, but I'm a diehard yoga fan. I began 'practicing' in earnest while recovering from a spinal fracture in 2006 and I haven't stopped.  Since you are reading this here you should know that downward dog, warrior and shavasana have made me a better rider and it will make you better too. Yoga has even made me taller. I kid you not.
While mountain biking can be a healthy activity, it can just as easily mess you up. Muscles shorten while some strengthen and others wither leading to imbalances. And have you noticed most riders' posture? And how about crashing. I recover faster and I launch into rhubarb less often because my body is more able to react. Of course you should start yoga if you haven't already – and if you get the chance start with Ryan. Here it comes… Yoga will change your life.
My own history left me surprised that most Ride and Reach attendees weren't big into yoga. They were keen riders who jumped at the chance to ride with Ryan. And I can't blame them at all. Many had their eyes opened by the experience though and I'd be surprised if several of them didn't start getting down (on the mat) after Ryan's intro.
The weekend kicked off with some rigorous yoga followed by some of Ryan's integral coaching and then we were off to the trails, limber and eager.
After the weekend I asked Ryan about his Ride and Reach formula and here's what he had to say.
Cam McRae – Can you tell me how Ride and Reach came to be?
Ryan Leech – I wanted to share the benefits I'd experienced from yoga with other riders, so it seemed natural to create a cycling workshop that included yoga; it was Boreale Mountain Biking in the Yukon that recognized the potential and offered up the first Ride & Reach holiday four years ago.
CM – On the weekend you united three interests; yoga, riding and Integral Coaching. Can you tell me a little about the latter and how it has influenced your life?
RL – Being coached and becoming a coach has been transformational; sounds cliche, but life is challenging, and fancy bike tricks can only get you so far!
We spoke for about an hour about IC and then you revisited it on the trail. What kind of benefit would you expect for people being exposed to this material in this manner?
We all have habitual ways of directing our awareness while on the bike, in the workshop we explore, practice and broaden the bandwidth of what we are able to experience while on a bike, for example our inner awareness, the group vibe, physical/bodily awareness, and environment/nature awareness.
What would you like your guests to take away from the weekend?
To have taken a deeper dive in to how riding can be of service to rather than an escape from our regular daily lives. We all cognitively know that is the case, but to consciously acknowledge this creates a responsibility for it, it is that which I hope to have triggered with guests.
Our first day of yoga and riding was intense! I was surprised at how rigorous our morning session was – but it felt great. Why did you structure it in this way?
Haha, I like to make people suffer! No, actually, I wanted to ramp up the intensity so we could practice being awake and present during it. Also, it seems that mountain bikers often like to get to business and be challenged, so getting in to some safe, fun, and challenging poses to start seemed more inviting than starting with meditation which we did the second morning.
Do you tailor your yoga classes (both in person and on your DVD) to the specific needs of mountain bikers? If so what are those needs and how do you address them?
I do. In most classes I try to bring in a mix of balance, stretch, and strength postures. Balance postures develop, well, balance! They're also useful for developing focus through breathing. For stretching postures, I'm sure to include calve, quad, hip flexors, back, shoulder and neck stretches, all the spots that tend to tighten up from riding. For strengthening I'm a fan of classic chattaranga style push ups for a whole body strengthener, that along with a good amount of core strenthening to help fend off back pain issues. Through the years, my personal practice has naturally flowed to address many of the issues I've had such as back pain (bulged disk), knee issues (torn acl/pcl), and shoulder imbalances, that's just to name a few!
What do you feel are the strengths of Ride and Reach as it stands?
It's not all about fun and games, yes we have fun and kick back with a few beers, but I wanted to create a safe space where the bigger, deeper, existential questions of life can arise and be processed through our common love of mountain biking.
Are there some areas you aren't yet happy with? If so what would you like to develop further and how do you hope to accomplish that?
In any standard riding workshop, guests get a good sense of which riding skills they need to work on when they go home; often habits on the bike show up in other areas of life and vice/versa, so I'd like to fine tune the structure of this workshop so guests leave with a unique life practice that truly serves.
What is the future for Ride and Reach?
I actually need to make a distinction between a few versions of the Ride & Reach I've been doing.
Ride & Reach Holiday: Like with Boreale Mountain Biking.
Ride & Reach Skill: Like at Silverstar, where we do talk about skill progression.
Ride & Reach Deep: Like what you did on the Sunshine Coast.
I plan to add a few more of the Deep workshops next year because there are no other offerings like it, and it is also where I feel my experience can have the most impact.
How has the feedback been from attendees? Is this something you actively solicit? I saw lots of smiling faces but there were some questions as well.
I was touched after recieving emails from participants about the more personal impacts of the weekend for them, very re-affirming feedback. I also sought more in depth feedback from a couple other partipant face to face over coffee, it was very fruitful, leaving me with plenty to work on and lots of for future workshops.
---
Ryan's personal physio, Francisco Gatchalian, was along for the weekend so I wanted to ask him, as a rider and as someone who repairs riders, about the benefits of yoga for mountain bikers.
You treat and come into contact with a lot mountain bikers. Are there some common issues riders seek treatment for?
When I see a referral for a "mounatin biking injury" on my daysheet I generally have no idea what is going to come through my door. The injuries range from fairly traumatic fractures and sprains (some which require surgery) to chronic repetitive injuries like bulging disks. These injuries tend to follow the type of biking that the patient is doing, but not always. Sometimes cyclists book in just to address imbalances, perform better, or just feel better on the bike.
Do you see yoga as a beneficial activity for riders? In terms of prevention and healing? How about for performance?
I definitely see yoga as beneficial personally and as a physical therapist. The nature of being good at a sport leads us to have imbalances in flexibility and strength. These imbalances lead to inefficient movement patterns and set us up for injuries to occur. Yoga helps us to find and address these imbalances before they cause problems. Knowing how your body moves and what you need more work on can only benefit performance. Not to mention that fewer injuries leads to more time on the bike.
How does Ryan's approach specifically benefit riders?
We all know that Ryan knows mountain biking. What fewer people know is just how much training he has put into his yoga. He has practiced for years, completed the work to get certified and also used me and my staff as sounding boards for all of his questions on anatomy and injury prevention. I think his synthesis of biking, yoga and injury management has led to a well rounded approach to yoga that will speak to all types of cyclists. I think the strength of his approach lies in the many options and the adaptability of his programs. For example he may lead a more vigorous practice to build strength when people are well rested, but may use a more gentle stretching session as he plans to on BC Bike Race when people will need more recovery.
I know you and Ryan are friends. Did you practice yoga before you knew him or did he goad you into it?
Goad! That's a good one. I did have some experience with yoga, which helped me to figure out my own back problem. Then I learned that Ryan was pursuing his instructor level and we began talking about how it fit not only on the mountain biking scene, but from a physiotherapy perspective. He was very curious about the physio perspective because he knew that many of his students would be coming to him with pre-existing injuries.
What about your personal experience with yoga as a complement to riding?
Bottom line…when I don't do it, my back hurts more. I definitely have tendencies to get tight in certain areas and achy in others. Yoga helps me enjoy my riding day because I hurt less. The Ride and Reach weekend was a great example because we did a fair amount of climbing and my hamstrings weren't uncomfortably tight on Monday morning as they would usually be.
---
The part of the weekend I haven't mentioned much is the riding. If you haven't ridden on the Sunshine Coast you are missing out. The large and well tended network is under used (from a North Shore perspective) so you'll find loam and actual dirt on all the trails. Want to get drifty? Air? How about some long miles and burly climbs? The zone that produced the Coastal Crew has it all. We did some long rides that included some technical sections. I rode a sure-footed trail rig but an all mountain bike would probably be best. The rides were guided by Kranked Films' guru Bjørn Enga – and he knows the goods in that part of the world.
Ryan has a few spots left for this year's Ride and Reach on the Sunshine Coast. It runs from May 30th to June 1st and it's a really sweet deal. Check the details here…