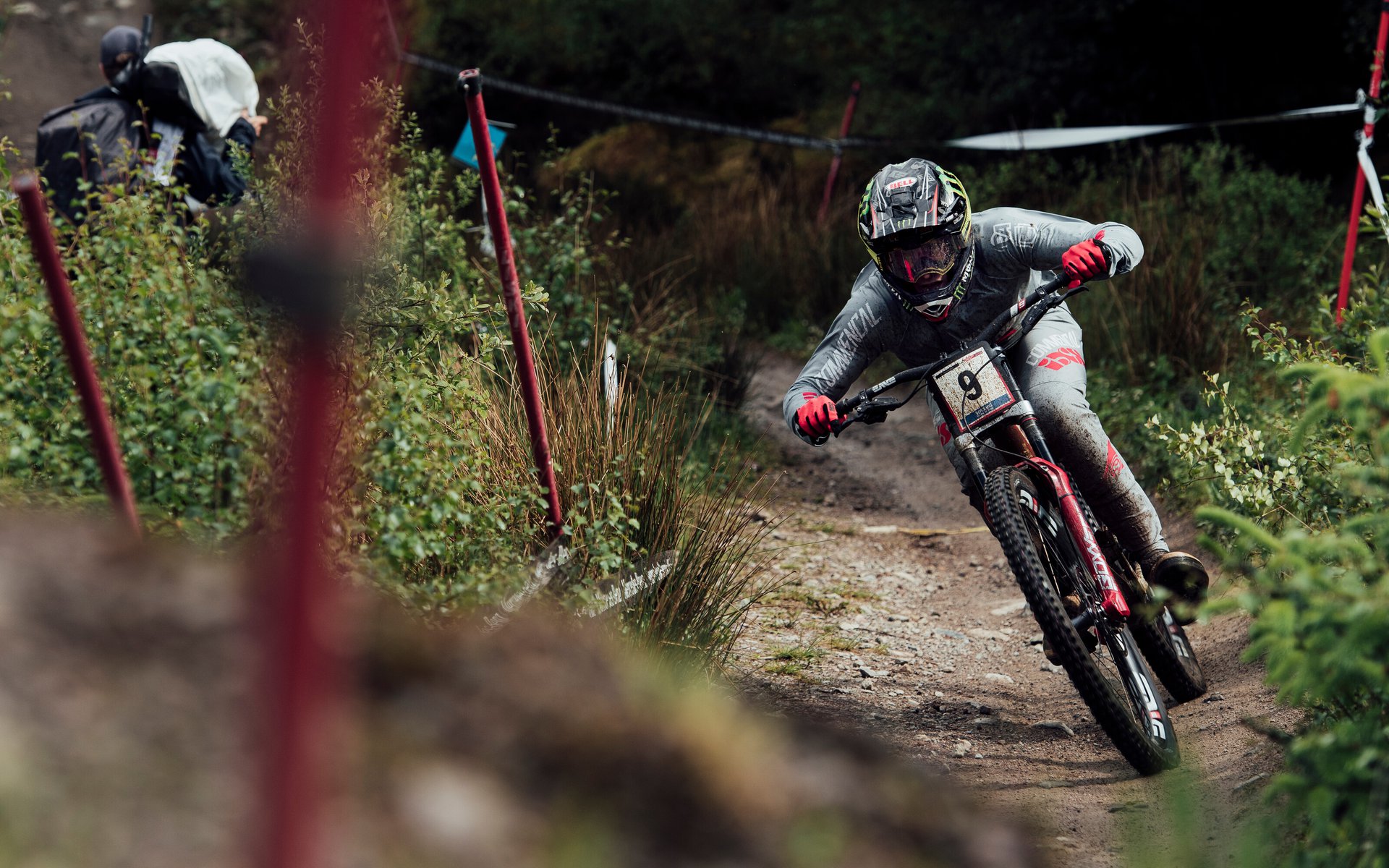 RACE NEWS/EDITORIAL
A Tale of Two Wheel Sizes (and one combo) – Fort William DH World Cup 2019
Fort William showed once again that it's one son of a gun this past weekend. The track, often touted for its punishing ways, actually seemed worse in 2019. Social feeds and slideshows were inundated with images of the world's best getting it handed to them. Loïc Bruni suffered a beat down that had him looking like a defeated MMA fighter. Tahnée Seagrave was stretchered away with a separated AC joint. A series of hairline fractures were found in the head of her humerus as well, spreading like cracks in a window pane. Others were battered and bruised and we can't forget Aaron Gwin hurtling through the air in his race run. B. R. U. T. A. L.

Yet the track saw little change. It remains long, fast, and rough, but riders seemed to kiss the sandy, gravel-like surface more than usual. The lack of tight, slow sections has it considered a prime location for 29-inch wheels. In 2018, many teams slung – albeit haphazardly in many cases – larger wheels in the bikes of the fastest racers. This was of course after the Syndicate debuted a fully redesigned wagon wheel V10 in Croatia. Luca Shaw placed second on the new bike, Loris eighth and Greg thirteenth. It's not clear if others were already preparing bigger wheels for Fort Bill, but the pot was stirred in Croatia nonetheless.
Now a year later, a number of the teams have properly designed options for both 29 or 27.5-inch wheels. Commencal is an obvious one, and the Supreme DH 29 has already been piloted to a World Cup Overall under Amaury Pierron. Amaury also proved his form is still there in Fort Bill, taking the win by over 3.5 seconds. And despite the winning ways of the big-wheeled sled, Pierron's teammate, Rémi Thirion, returned to the smaller 27.5 wheeled Supreme DH in Fort William.

The Fort William results sheet suggests neither wheel size is clearly better. Despite the Fort being considered ideal for a larger wheel, the top five elite men's results call that into question. Behind Pierron was Mr. Consistent, Troy Brosnan. The Australian Canyon Factory Racing athlete dethroned Canadian, Finn Iles by more than three seconds when he rolled into the finish arena. And he did it on 27.5-inch wheels. Not only that, he did it after a big crash during his final practice run, banging his hand up and surely his confidence too. Loris Vergier completed a 29er sandwich around the smaller wheeled Australian. Vergier was the fastest qualifier and last to leave the start hut. Although he didn't win, Loris said he was happy with how he rode. That isn't something commonly heard from the Frenchman who seems to be quite hard on himself.
Finn Iles' best finish to date was accomplished with a hybrid 29/27.5 set up. Finn's Specialized race bike has been developed to run either a 29 or 27.5-inch wheel in the rear, with the swap of the swingarm and some other parts (no-one seems sure yet and Specialized Factory Racing is keeping things quiet). A larger front wheel is said to provide a smoother ride with increased rollover while the smaller rear may develop more momentum from the backside of features and help with steering. Both Finn and Loïc have been testing 29 front and rear as well but they didn't feel they had enough quality time on the setup to race it in Fort William.

Danny Hart is also running the hybrid setup. Being a smaller rider, Danny has owned up to his butt buzzing a 29" wheel, but has also admitted it happens with 27.5 too. If athlete size is anything to go by, could Troy Brosnan benefit from a mix? Rumours surfaced last season that Troy and his Canyon teammates were testing the larger hoops but it's unclear if they tried the hybrid setup. Greg Minnaar, who stands at 190cm, has mentioned on numerous occasions that he believes the increased wheelbase forced by larger hoops has more effect with fit and comfort. Perhaps Troy is running a proportionally longer wheelbase than others with the smaller wheel size.
Will we see more hybrids on the World Cup? It seems we'll at least catch glimpses of World Cup downhillers testing the option. Everyone's pushing hard and seeking an edge, so any incremental gain will be important. I don't believe 29 will take over completely because what works for one racer won't necessarily work for another. The good news is, watching the (dreaded!) wheel size debate evolve, and deconstructing what is performing better at each race, keeps things interesting.