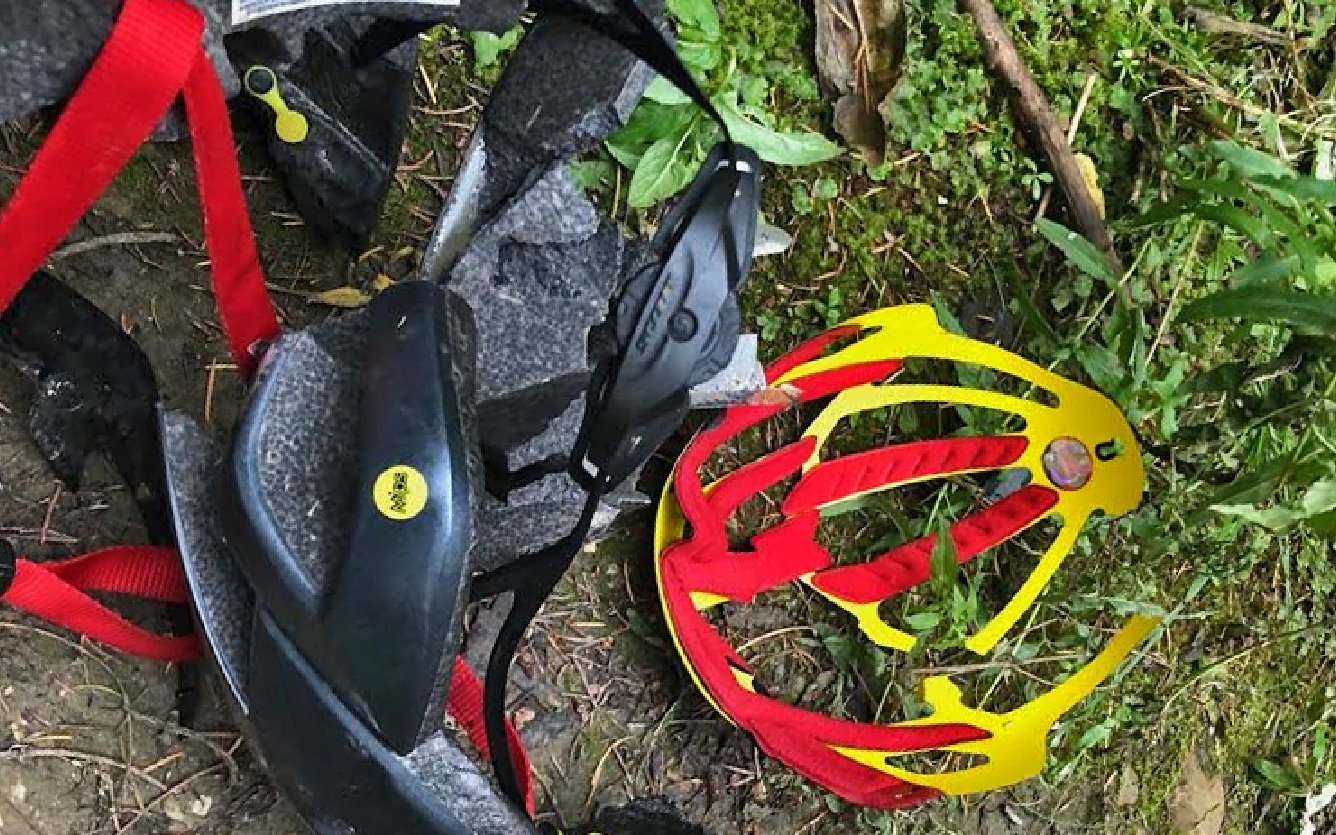 An ER Doctor's Bro Goes Down Hard
A Crash Story (with a Happy Ending)
We are aware that for many of you, dosing mountain bike media helps escape the headaches and pitfalls modern life can generate. And maybe even the pitfalls and headaches mountain biking can create. Flat tires are one thing but who doesn't cringe when a rider mentions an acquaintance who was recently placed on injured reserve because of some mishap, big or small. Of course we all wish they wouldn't happen, but they do and they will and pretending will not keep us out of harm's way.
Moritz submitted this article some time ago, and while there were communication challenges that affected the timing, I was also a little hesitant to hit the publish button. As I thought about it more, I realized that I felt compelled to share this educated wake up call, for myself and others, about the dangers of our sport. Every ER physician I've ever talked to has said that most serious mountain bike injuries, like the one outlined below, are sustained on higher-speed trails, and usually flow trails with berms and jumps. For those of us in the northern hemisphere, here's an early season reminder to play it safe and take some simple precautions to keep us all rolling on two wheels this summer. - Cam McRae
---
I've been riding mountain bikes for a long time. Long enough to remember when riding up Moose mountain access road in Bragg Creek, Alberta to bomb back down was considered fun.  The memory of not being able to see from being rattled around so hard on my fully rigid aluminum Cannondale with its super stiff Pepperoni front fork is one that sticks with me vividly. These early bikes had a speed limit built in, so to speak.  Above that speed, they just weren't all that fun to ride. Obviously technology has come a long way since the early 90's, and so has the level and speed of the riding. Nowadays it's much easier for even riders of meager skills, like myself, to reach speeds once reserved for the John Tomacs of the world. 
The worst thing I ever did for my riding was to become an Emergency Physician. It's nearly impossible to remain unaffected after seeing people paralyzed from cervical spine injuries, or in a vegetative state from devastating brain injuries. I'd find myself subconsciously just scrubbing that little bit of speed on sketchy corners, or giving that drop a pass more than most. On visits to BC I'd find myself marvelling at the scale of the technical trail features, and the skill and cajones it would take to ride those.  I couldn't help but feel a bit inadequate in my riding when I just wouldn't even consider trying most of these.  
Big air and big drops were the obvious things to avoid, but riding fast was becoming easier than ever.  Long and slack bikes, and effective suspension with XC bikes sporting more travel than the DH bikes of yesteryear have significantly raised descending speeds. Strava segments also tend to push you that little bit extra. Keeping your wheels on the ground (mostly) just automatically feels safe. Yet that speed comes at a price, and that price is a significant increased risk of serious injury. Recently I had an experience that really drove this point home. One that is bound to affect my riding further.
We were on a bike trip in Golden B.C. My younger brother, my best friend, and myself. Really doesn't get much better than this. We had finished a very long climb to the top and were reaping the reward on the descent down. Beautiful buff single track with endless berms and turns. A blue trail on Mount 7 called Schacher. I had a new bike, and was eager to really see what it could do. We were pushing the pace for sure. My brother was a few seconds ahead of me so I did not see the crash. I found him wedged between two large trees. The trail there had taken a little jog left, and there was a patch of wet dirt right before. His helmet was smashed into 4 pieces hanging off his head. Luckily he was conscious. Feeling like a mechanic without his toolbox, I quickly assessed him. He did not complain of neck pain, and was not tender. He also exhibited almost no signs of concussion which I found impossible to comprehend given the state of his helmet. He did complain of pain in his left arm and numbness in his left fingers though there was nothing to find on exam. He figured he'd hit the tree with his hand.  
I rode down to get the car while my brother and my friend walked down the trail until they hit the road. We then took him to the local Emergency Department. He still had no neck pain, but he was holding himself funny, and complained of tightness across his shoulders. An x-ray of his neck revealed that he had broken it. Badly. In medicine we describe the spine as consisting of 3 columns. Like a 3 legged stool, the chances of your spine standing up by itself diminish the more legs you break. He had broken 2 of his 3 columns, making this an unstable fracture. Theoretically, this could allow the bones to move and damage the spinal cord. It takes very little energy to damage the spinal cord itself, and that kind of damage is irreversible.  He underwent surgery to stabilize things and then faced a 3 month recovery in a hard collar.
There is no doubt in my mind that we got very lucky with this outcome. No paralysis, no significant head injury. I am sure the helmet saved his life. Likewise there is no doubt in my mind that the speed at which we were going lead to this accident.  There are studies that show that decreasing the speed a car is travelling by only 10 km/h significantly improves the chances of survival of a pedestrian being struck by said car. Hence the recent move towards 40 Km/h speed limits in my neck of the woods. Smooth blue flow trails are so much fun to rip down at speed, but that speed carries a significant cost, and one that is all too easy to forget. I got back on my bike 3 days after the accident. I was anxious. I decided to just slow down, just a tad. Not tentative, but just to focus on being smooth. The good news is I still had fun, I did not feel lame. It was just me and my bike, rolling through the forest, thankful for being able to do what I love, and accepting of my own limitations, both those inherent to my skill level, and those newly self-imposed.
I wanted to know more about this situation with the perspective of Moritz experience as an ER Physician. Here's our exchange.
Cam McRae Can you tell me a little more about your brother?
Moritz - He's 41, 7 years younger than me.  He's a phenomenal athlete.  He won Junior nationals at 17 yo in XC skiing, and ran something like a 2:44 in the Boston Marathon.  He's got 3 kids aged 4 to 10.  He's got good technical riding skills and has been hitting the bike park with his 10 year old in Calgary this year.  He always pushes himself, and by extension me, and does not sit still very well. I think being inactive for this long might kill him. (thankfully it did not! -Ed.)
What sort of mechanism of injury would you expect to have resulted in the damage to your brother's spine? 
This was a rotational injury -- his head hit the tree on the left side and caused his head to rotate forecefully to the left beyond the natural range of motion.  This resulted in tearing of some ligaments that hold the bones toghether, damage to the disc between the C6 and C7 vertebrae, as well as fractures to the bone itself, specifically part of the bony ring that surrounds the spinal cord. 
Aside from not crashing(!) is there anything that could have prevented this injury in terms of protective gear or anything else?
Helmets appear to provide some benefit in preventing neck injury as well as brain injury. One could postulate that the MIPS system which he had may  have helped as its designed to decrease these type of rotational forces but that is purely speculative.  Protecting the cervical spine specifically focuses on limiting the range of motion that it can be moved through. What makes the C-spine unique compared to the thoracic and lumbar spine is that its by far the most mobile. This has obvious benefits allowing us to look around, but it also means we have this giant weight (our head) on this relatively spindly and mobile column able to rotate sideways and up and down. The only successful devices so far are those that prevent primarily hyperextension i.e. limit the range of motion in looking up.  The HANS device in F1 is said to protect against rotational injury as well, and looking at it I can sort of see how it might do that, but you have to keep in mind that F1 drivers don't turn their heads a lot, and I think using it on a bike would be pretty much impossible.  There are other proposed devices being studied but nothing on the immediate horizon, The one thing that would help, and is something I'm planning on doing more, is specifically strengthening neck muscles.

What do you think his prognosis is after his three months in the collar both in terms of day to day living?
Currently he can't do much. He needs to wear the collar, and can't excercise or lift anything at this time. He tells me sleeping is very uncomfortable. Long term he is very lucky.  He should be back to basically normal once everything has healed in about 8 weeks or so. He will lose some flexibility in his neck as his C6 and C7 vertebrae have been fused basically becoming one very large vertebrae and it remains to be seen how much that will affect him.  I think MTB riding with its upright position should be fine, but if he was still doing Triathalons the aero bar position might be challenging.  He is at increased risk of arthritis higher up in his neck as the remaining vertebrae have to compensate for the loss of flexibility in the lower neck.*
*Moritz brother is doing great now and his collar is long gone. He has been running and road riding for some time and he's just started riding on trails again.
Will he be any more susceptible to a spinal injury in the future as a result of this injury?
The answer here is a wishy washy maybe.  The C6 and C7 should area itself should be stronger than before given its also reinforced by a titanium plate. The question are 1. how well the ligaments will heal as ligaments can heal poorly due to having a poor blood supply, and 2. will the increased rigidity in the lower neck increase chance of injury at a higher level by being more of a rigid fulcrum. This is mostly theoretical.  The neurosurgeon who did his surgery certainly expects him to get back to biking.
Have you noticed any patterns among riders who sustain these sorts of injury in the course of your work?
Interestingly I have not seen a ton of spine injuries from biking specifically.  I think that that is related to where I live not being a huge biking epicenter, as well as the hospital where I work being more inner city, and the more afluent cyclists are likely to be seen elsewhere. That being said cycling injuries are common enough that a cycling injury is defined as a high risk mechanism in a widely used clinical decision rule that helps us decide when a patient requires X rays or not. Most of the spine injuries I have seen are from motor vehicle accidents and falls.  Moto cross crashes and ATV accidents are common mechanisms and 2 risk factors that really stand out are intoxication (alcohol or drugs including marijuanna) and older age.
---
A year later and Moritz' brother is doing great. He's back running and road cycling, and he's recently started reintegrating mountain biking to his life. But, as Moritz laid out clearly, he was very lucky.
Let's be careful out there shall we?