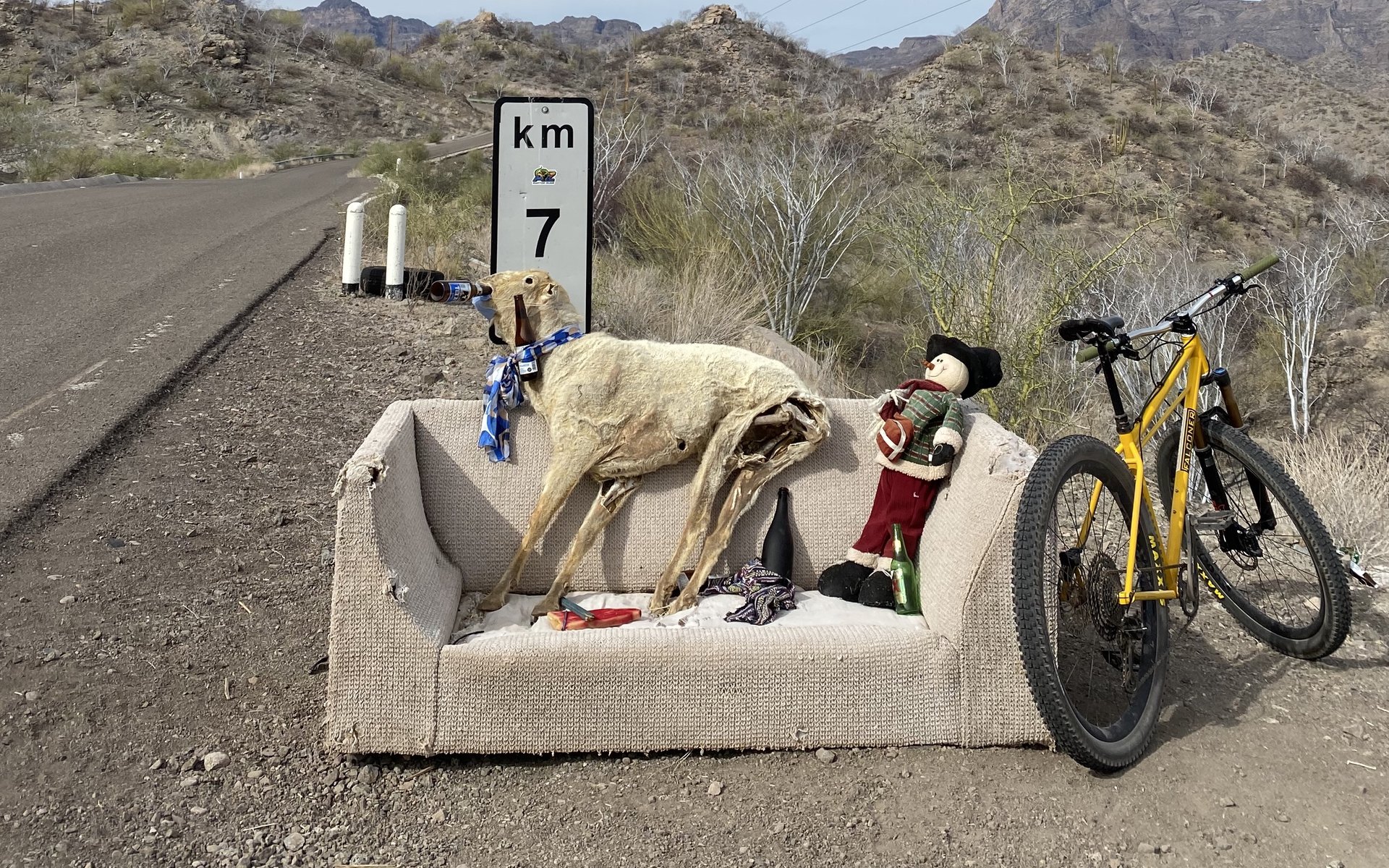 Beggars Would Ride
A Couch Is Not A Throne
Twenty years ago almost to the month, I found myself in Fernie, nervously waiting for the gun to fire at the start for Stage 1 of the inaugural TransRockies race. John Gibson had roped me into this, saying something about how it would be a piece of cake, and how we would craft a banger of a story about the event. I didn't share his enthusiasm, nor did I have anywhere near the legs that he did. I had been living in Downieville, and was spending the summer catching shuttles up to the high country, skinny dipping in lakes, and doing everything I could to avoid any encounters with my own anaerobic threshold. A couple years prior, I had moved to the mountains and renounced pinning numbers onto jerseys and pedaling into the pain cave. And in spite of Gibby giving me ample warning, I had done nothing at all to train for a week long mountain bike stage race. I was racing this, as we would often say when trying to shrug off implications of being woefully undertrained, off the couch.
This was patently a bad idea, and somewhere on day three during one of a seemingly infinite number of incredibly steep hikes up what were referred to as "seismic lines," my left Achilles tendon twanged unpleasantly, and I hobbled through the remaining three days of the race in the kind of pain that is best referred to as "character building." Fortunately the hiking lessened, the weather got worse, and Gibby had fistfuls of Ibuprofen on hand. So we survived, even had a couple brushes with going sort of fast, but I still recall being in so much pain by the finish that I broke down in tears during the final stage and Gibby had to push me along the paved sections on our way into Canmore. I can't remember exactly what happened after the race ended or how I made it back to the US.

And in spite of Gibby giving me ample warning, I had done nothing at all to train for a week long mountain bike stage race. I was racing this, as we would often say when trying to shrug off implications of being woefully undertrained, off the couch.
I have also conveniently forgotten much of the following year of careful rehab, but every once in a while that same Achilles tendon will swell up and remind me that I am not very smart. And that I am piss poor at finding that sweet spot where I can stay fit for any measurable time. Instead, I find myself battling cycles of inertia, riding my way into shape then falling out of shape due to work or injury or "life," then having to drag my broken/fat/lazy ass off the sofa and start the whole damn process all over again.
Way back when, the struggle was one of showing up to races without really tempering my efforts leading up to events. I often had this slightly haunted, bags under the eyes look going, thanks to a habit of riding as hard as I could all the time, not really paying much attention to diet and hydration, and probably sucking down a whole lot more booze than would be considered prudent for anyone claiming to be an athlete. This approach to racing bikes led to generally predictable pack-fodder results, but I liked to pretend that I was hardcore. At some point I realized that diet, hydration, less booze, and rest were all pretty important, but that is also about when my desire for self-flagellation via XC racing began to subside.
Racing went away, but big epic rides remained a staple for much of the following decade. And while some of the behavioral excesses and habitual stupidities had been excised from my menu of self-defeating options, I still managed to bite off more than I could chew on a regular basis, with results just as predictable as when I was trying to take racing seriously. Ride until something inside hurts, submit to the injury, take time off the bike, rise from the warm embrace of the sofa, pedal furiously toward the next injury or burnout, slump broken back to the couch. During their great MotoGP rivalry, Casey Stoner and Valentino Rossi took every opportunity to lay waste to each other, and after one particularly brazen torpedo run by Rossi at the 2011 Jerez GP that resulted in him taking out a clearly faster Stoner in a mid-apex block pass that wouldn't have been out of place in a demolition derby, Stoner uttered this post-race assessment; "obviously your ambition outweighed your talent." That sentence, right there, about sums up the first few decades of my relationship with mountain bikes.
I'd love to say that I'm smarter now. But I'm not. I do better with hydration, but that's about the best of it. That and sunscreen. I still don't eat right, and I cannot train my way into a sustained high level of fitness to save myself. The stumbling blocks nowadays are time related or entirely situational. And the patterns have become seasonal. In the winter, I ride. The passage of decades has finally, thankfully, eroded whatever mechanism inside me used to dictate pedaling as fast as I could until I barfed. But by the same token, all my wattage has also disappeared. But still, by springtime, I am usually in somewhat decent shape. Then summer comes. 100 degree heat, blown out trails, headwinds every afternoon, along with a ramp up in paycheck work. By July, right as almost every single other person I know in the northern hemisphere is hitting their prime fitness, I'm back on the metaphorical sofa.
There are two test bikes that will not let me get away with that this year. Nevertheless, July has been a total blowout as far as riding goes. As I prepped the bikes yesterday for an upcoming two-week trip to Colorado, the sealant in the tires of both bikes had dried out completely. That's just sad. For my part, a two-month frenzy of dawn to dusk physical labor (I am banking on the fact that pushing wheelbarrows full of dirt uphill might have some knock on effect as far as pretending I can climb hills) followed by a visit from everyone's friend, Covid-19, has left me feeling hollowed out and incredibly weak. Two weeks getting dragged around at altitude by younger, fitter, faster riders - what could possibly go wrong? Here we go again, rising like some bedraggled phoenix from the foamy ruin of the familiar rut.
This is going to hurt. No two ways about it. I don't like to think of myself as a masochist, because I excel at pro-level relaxation, but I am actively relishing the discomfort of groveling my way out of this newborn-foal state of weakness. I am looking forward to being so crushed from some easy rides that I fall asleep mid-afternoon in my riding gear. I cannot wait to feel my arms give out somewhere near the bottom of Rainbow Trail at the end of a Monarch Crest ride. I am positively giddy about being so blown that I can barely push my bike up switchbacks that everyone else is riding at a conversational pace.
Instead of eyeing up high alpine singletrack with a gleam in my eye and some personal KOM dreams in my head, I am thinking about ride snacks and available daylight. Woefully undertrained, again, but at least I know the drill. Same old story. Off the couch, again. Just like every year. Once upon a time I used to joke about exercising my demons, instead of exorcising them; how having fit and healthy demons was an important part of a fit and healthy life. Now, whatever demons that may still be dogging my psyche are most likely to be clamoring for naps. Maybe I am a masochist after all. A very well-rested one…