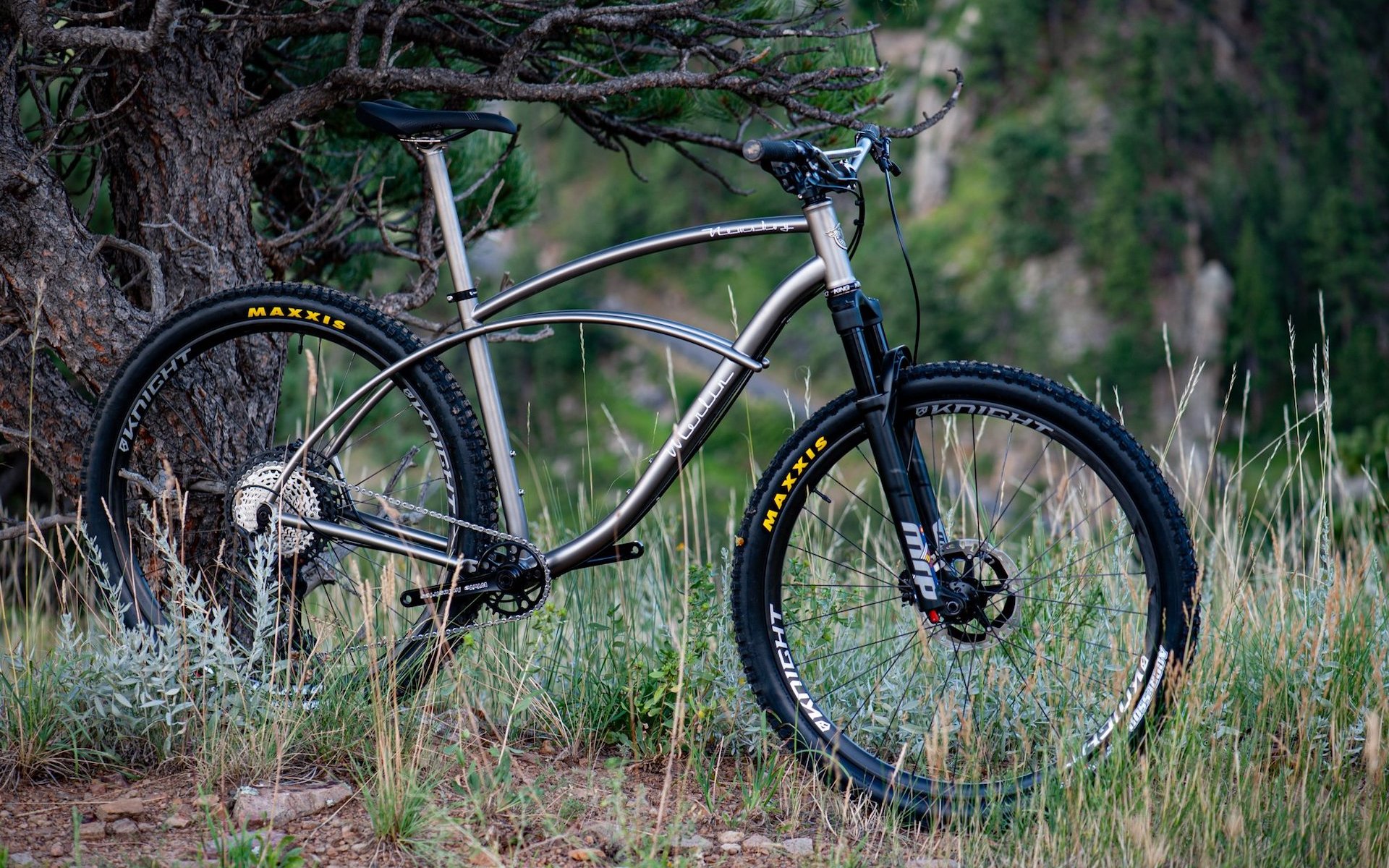 Beggars Would Ride
A Confluence Of Sorts
There's a new Merlin Newsboy out. It has been prowling around the internet the past couple weeks, and well-meaning friends have sent me texts and screenshots of the release. A bike review I tapped out for Winning magazine back in 1994 features in the mix, somehow. With an ominous groan the wayback machine fires slowly to life, the horizon shimmers then dissolves, and I find myself reading words that I have long, long forgotten writing. And as the cobwebs begin to fizzle away from synapses long dormant, I remember.
First, some context. The Merlin Newsboy is, and always has been, an exercise in flagrant posturing. It represents the full-on Grey Poupon, so to speak. For the rider who has already ridden everything and can afford anything ("if you need to know the price you probably can't afford it") the Newsboy represents an over-the-top stylish extravagance. Please understand, I do not fault it for that. I love that it exists. And I suspect that if it hadn't been for over-the-top bikes like the original Newsboy, the handbuilt bike world would maybe not be as flush with creativity and boundary pushing craftsmanship as it is now. I also suspect that there will be plenty of pitchforks among the bespoke framebuilding cognoscenti ready and willing to skewer me for that sentiment. Be my guest, but please, let me finish impaling myself upon my own words from three decades ago first.
The original Newsboy, wrestled out of Rob Vandermark's fertile mind and forcibly bent into life by his incredibly talented hands, was an almost cartoonishly curvaceous statement to the world at large that the folks at Merlin Metalworks could, literally, bend the reality of titanium to their will. To me, it was jaw-droppingly beautiful. At time, I was riding and racing a Retrotec singlespeed built by Curtis Inglis, and was also railing a whole lot of singletrack aboard an old inch-pitch Schwinn Panther from somewhere around 1950. The Retrotec sported a Girvin Vector fork, and I had butchered the Schwinn with a Bontrager fork and a front drum brake; as such my personal aesthetics were both highly questionable and highly sympathetic to the Newsboy.
So, when I got my hands on one, I was a perfect mark for Merlin; a pre-convert, a hyperbole spewing acolyte with access to not one, but two bully pulpits. I wrote the review of the bike in Winning, as well as slotted it into the halcyon pinnacle of dumb ideas in the fledgling Bike magazine; The Beer Foam Shootout. I look at those reviews now, well, the one in Winning, anyway, and see a textbook case of confirmation bias at work.
Winning's editor, Rich Carlson (R.I.P), was a grammatical badass. He beat journalistic fundamentals into me, enforced the inverted pyramid structure, was merciless with his word counts, and at the same time would go to great lengths to ensure advertisers were appeased. "Emphasize the positives," he would tell me, "and if there are negatives, try to find a way to turn them into positives." So for the Newsboy, I waxed poetic about the positives, which was easy to do. The bike, for the time, handled really nicely. It was fast and responsive and comfortable. I raced in in the Leadville Trail 100, had an absolute peak life moment railing 401 Trail in Crested Butte, and experienced one of the highest speed yard sales I have ever endured somewhere outside of Stanley, Idaho. We had some fun, that bike and me.
But I barely mentioned how the rear brake was essentially decorative; the cable routing so contorted that it took huge effort to get the WTB Rollercam brake to bite the rim, and then the chainstays would flex enough to negate any effective leverage. I did point out the total lack of tire clearance, and alluded to some degree of flex, but still, I painted a pretty damn rosy picture. Mind you, I didn't have to pony up $2860 for the frame alone. At the time, that was straight up Fuck You money. The Newsboy was beautiful, but it was not a sensible purchase. Never let it be said that I was a coolly analytical bike reviewer…
Tempus does fugit, as my mother likes to say. The original Newsboy looks comically short between its tiny wheels when viewed through a modern lens. And it is/was short – that's a 41.5" wheelbase. I vividly recall spinning out the 44x12 big gear and pulling into a full tuck time and time again on fire roads in places where the air is thin, and watching my little Sachs cyclocomputer creep up to 50mph. You could not pay me enough to try those shenanigans today.
Merlin went and got bought by Saucony, Vandermark split to found Seven cycles, then Merlin got purchased by the American Cycle Group (who owned Litespeed and Quintana Roo at that time), and the dance of corporate acquisitions sent the marque on an odyssey that many other brands have been forced to navigate. Competitive Cyclist owned it for a while, then the Janus Group. Along the way, new iterations of the Newsboy would bubble to the surface, each one striving for some connection to the old Merlin as well as that rich vein of cruiser history that anchors mountain biking's psyche to the firmament.
Now looky here; another resurrection of the Merlin name, and an all new Newsboy. This time with 29" wheels and modern-ish geometry, utilizing 3-d printed titanium lugs, and TIG-ged to life by the steady hand of Peter Olivetti. And praise be, checkout that 45.7" wheelbase on the large size…
During that time, though, other torchbearers have been keeping that flame very much alive. Curtis Inglis can twist you up a curvaceous steel bike that showcases his own three decade-long evolution of getting up very close and personal with his tube bending jigs. He'll even do you a Retrotec in Ti, if you want. Cjell Monē is down there in Silver City, New Mexico, doing things to old cruisers that obliterate the lines between loving tribute and total heresy. They are the tip of the iceberg. There are a lot of builders, building a lot of beautiful frames, most of which cost about the same to purchase as that original Fuck You Newsboy pile of money, but still cost substantially less than the current This Is Not A Gentle Lovemaking price of a modern carbon fiber full suspension frame from Santa Cruz or Yeti or Pivot, and less than half the Rough And Vigorous Rogering price of the new Newsboy (it's hard to put a price on violent but consensual congress, however 6380 USD will get you a new Newsboy frame).
This is a confluence of sorts. 30 years ago, I had maybe a couple years of sporadic bike reviews under my belt. I was still working in bike shops, and this writing/testing gig seemed like a kind of fever dream. There's no way something like this could be sustained, I thought at the time. 30 years ago, Merlin was spitting out its own titanium crafted fever dreams, and also planting seeds in Massachussets of a framebuilding diaspora that would birth and influence builders for decades to come. 30 years ago, 41.5" wheelbases were normal. 30 years ago, an obscene amount of money would buy you possibly the most expensive frame in the mountain biking realm. Today, that amount of money will get you a sweet handbuilt steel frame from a number of talented builders, or a nicely specc'ed complete hardtail from a big company, or an alloy Stumpjumper. Today, $6380 hardly even seems like Fuck You money, not when there are $15,000 ebikes to be had. One thing's for sure though, you won't find any sub 42" wheelbases anywhere this side of a small grrrrrravelllll bike.
Confluence, different paths spread out in different directions, coming back together. The river braids in its course, always flowing, and reconnects in places before braiding apart again. Drop a dye marker in the flow, name it Newsboy, name it Stumpjumper, and follow it down the river. Here we are, all these years later. Same, but different. Welcome back, Newsboy. Long may you run.