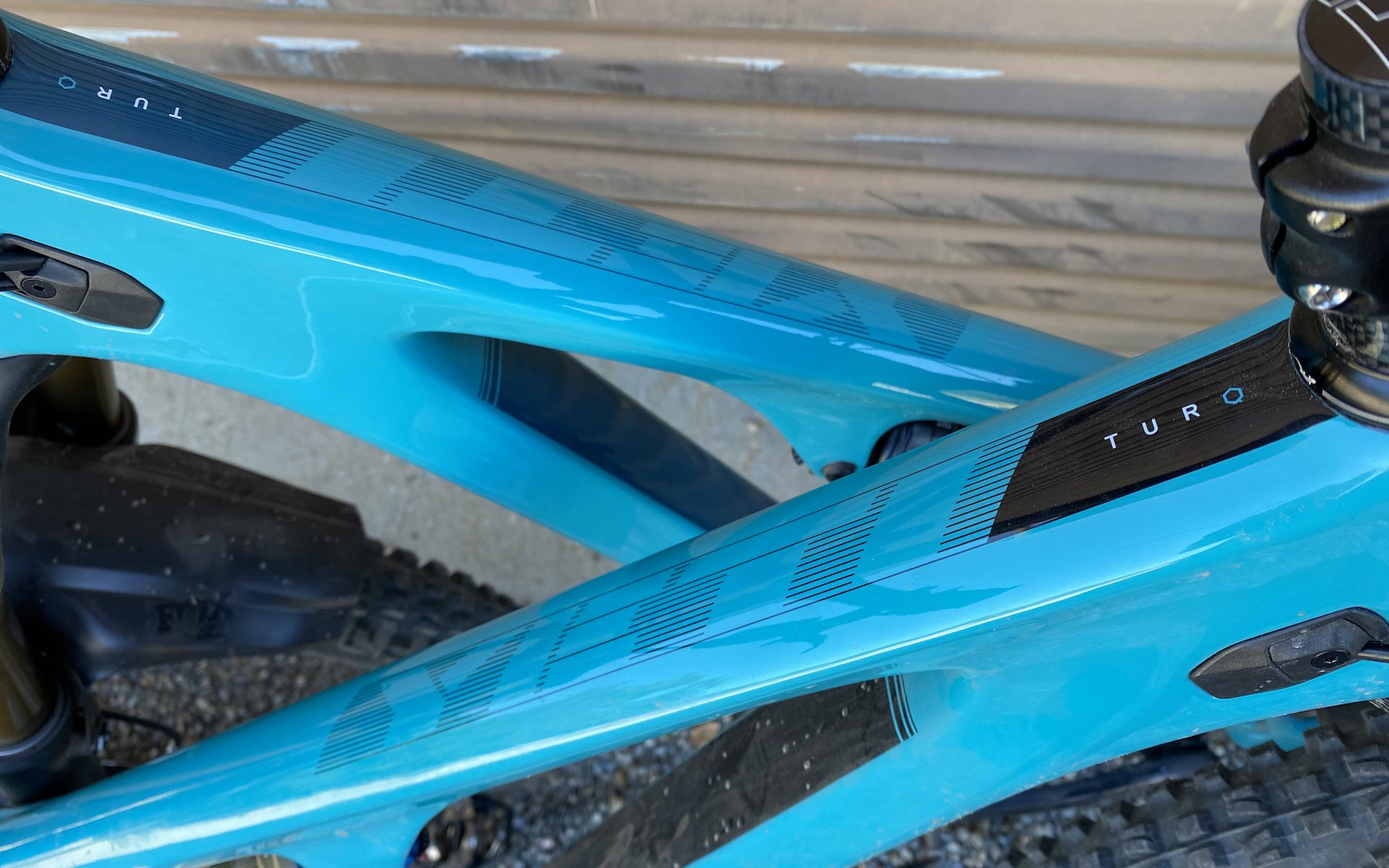 Geometry lessons for the AARP set
A Bit Of A Reach
Initially, this started out as a progress report about the teal-toned double-dip I am experimenting with; the back to back review of Yeti's SB120 and SB140. I'll get to that at some point soon, but not here. Today, because of these two bikes, I want to talk about reach.
Full confession: I am a regressive curmudgeon with just enough brainpower to be a menace to myself. Meaning, I think I know things. I can get pretty far down my own confirmation bias wormhole, to the point where I am convinced that I REALLY know things. This brings up a premise from the Kurt Vonnegut novel, Galapagos, where humankind has evolved/devolved to something akin to fur seals and the book is being narrated by the ghost of Leon Trout. Much of the book expounds upon the idea that our brains are too big for our own good, and that we would be much happier, and would make less questionable choices, if our brains were smaller:
"When I was alive, I often received advice from my own big brain which, in terms of my own survival, or the survival of the human race, for that matter, can be charitably described as questionable. Example: It had me join the United States Marines and go fight in Vietnam.
Thanks a lot, big brain."
Aaaanyway, my own questionable grey matter has been convinced that reach isn't really a very important measurement as far as bicycle geometry is concerned. Let's refer to this mindset as "Crusty Old XC Nerd Syndrome". COXNS is best evidenced in men of a certain age who tend to view ever slackening geometry with suspicion, and who, it might be fair to say, are inflexible in their thinking when it comes to vehicle dynamics. The COXNS afflicted will assert that effective top tube and effective seat angle measurements are the real important stuff, and that reach is some new school affectation put in place to try and obfuscate the fact that wheelbases are becoming almost comically long. Or something like that.
Doing back to back rides on these two Yetis however, has me thinking that it is time for me to gently set aside my COXNS and maybe hobble stiffly into the 21st century. To recap: I am testing a large SB120 and a medium SB140. Each bike has exactly the same componentry, wheels and tires. Each bike has exactly the same wheelbase; 1217mm. Chainstays are almost identical – 438mm for the SB140, 439mm for the SB120. The SB120 is a degree slacker in its effective seat angle, at 76.5 degrees as opposed to the 77.5 degrees of the SB140. The SB140 is a degree slacker in its head angle, 65.4 degrees to 66.5 on the SB120. In spite of these variations in head and seat angle, the front center measurements of these two bikes are also almost identical – 779mm for the SB140, 778mm for the SB120.
It could be assumed, from looking at the geo charts, that these two bikes would ride just about the same. Sure, one has more travel and a beefier fork, but in terms of the bending them around turns, the distance between the wheels and the placement of the meat spinning the cranks is so similar that they'd have to ride about the same, right?
But they don't. At all. These bikes are both teal in color, made from carbon fiber, and have the same bits bolted onto them, but they behave very differently from each other. And I suspect that much of this difference comes not from the extra travel or the slacker head angle, but from a paltry 10mm that I've been omitting to mention until now. That 10mm is the difference in reach between the medium SB140 and the large SB120; 465mm vs 475mm.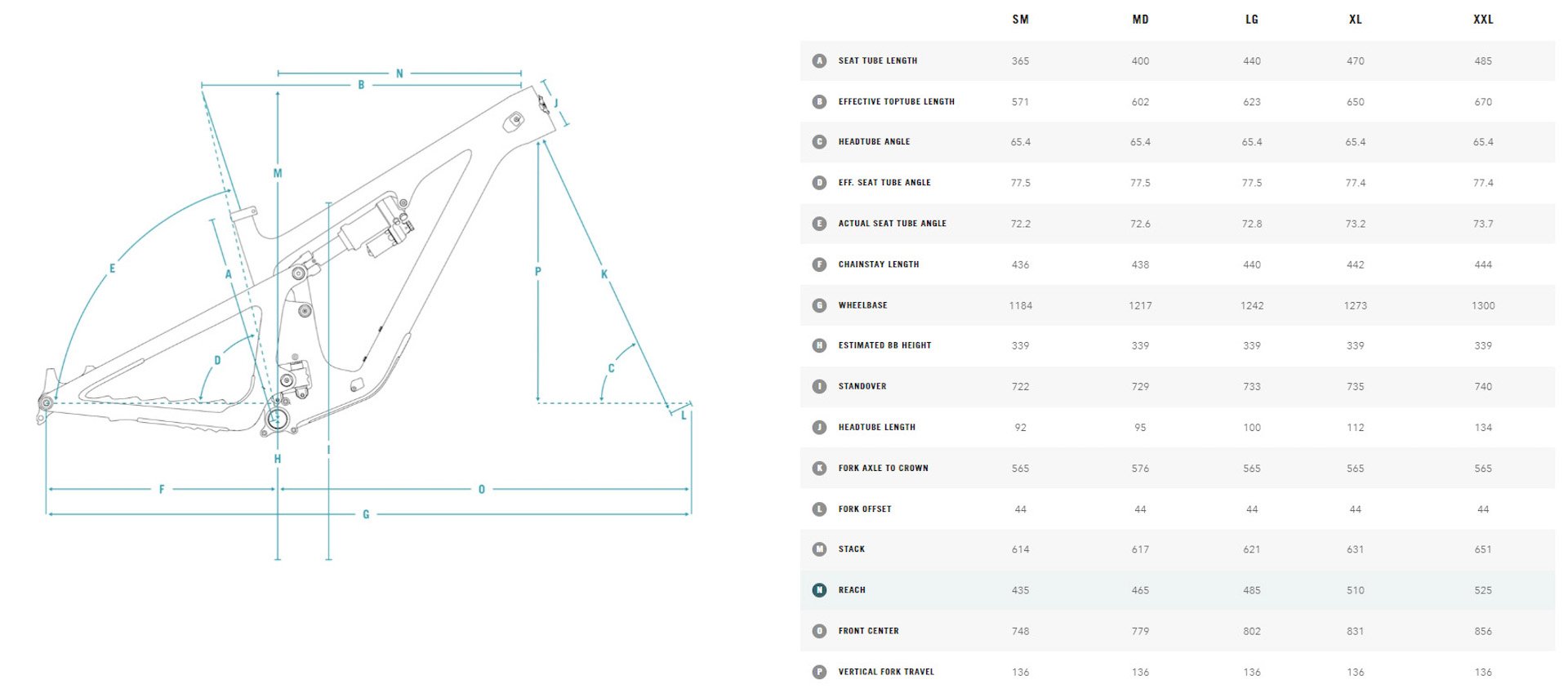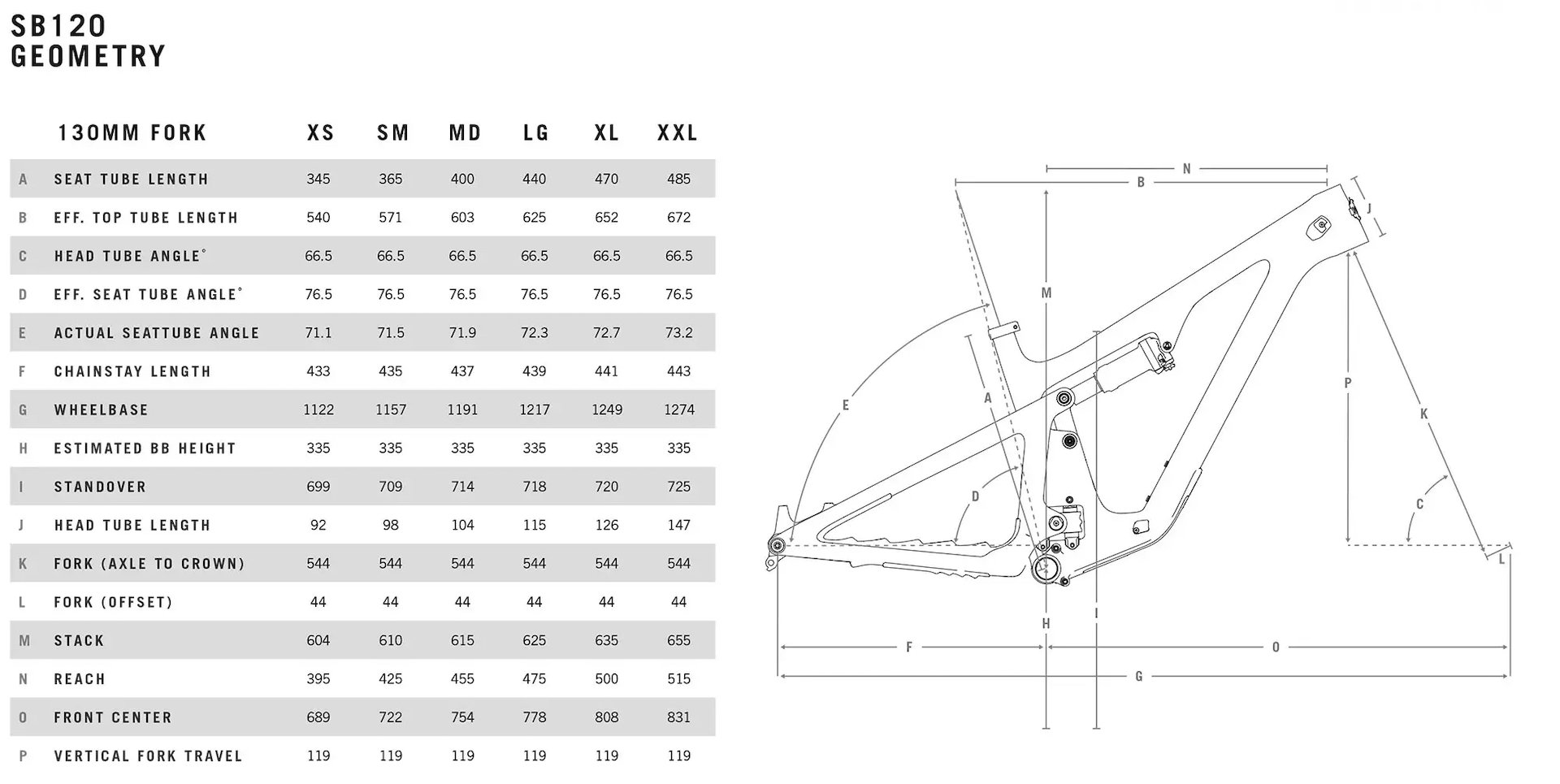 The SB120, so far, has proven to be a versatile and adaptable long-XC rig. Don't say downcountry. Just don't. It's a stupid word. The SB120 is a sweet pedaling, beautifully proportioned bike for grinding out long bite-the-stem climbs, but it has enough plushness to the suspension and enough room between the wheels to remain stable and fun when the going gets chunky. It'll still run out of suspension at some point, but up until that point, it is a very capable bike in almost every situation. It is calm, predictable, comfortable to stretch out on, and it doesn't try to do anything sketchy.
The SB140, meanwhile, is a fucking riot. Loose drifts entering high speed turns, bring them on. Wheelie drop into poor line choices, no problem. Finesse the pedal strokes between the rocks and roots or just smash into everything, have it your way. Ironically, it pedals and climbs almost as well as the SB120. I mean, it's close enough that in terms of pedaling performance I would have trouble determining which bike I was on if blindfolded. There's more travel, so there is inevitably a little more body induced motion, but if one wanted to sacrifice some top of travel plushness for a little more pedal stomping glory, a few extra PSI in the Float DPS and I am willing to bet they'd be even-Steven. The pedaling kinematics are right there, but the distance between the nose of the saddle and the handlebars is that crucial skosh shorter. And when it comes time to bite the stem, that's when the SB140 reveals its limitations.
But is it a limitation, or is it a size choice? This is where I am running smack dab into my own preconceived ideas about bike fit and bike handling. As an aging XC burnout, and a cusp sized rider, I have always opted to size up to a large instead of downsizing to a medium. I blame this on a too-small Bridgestone MB2 in 1988. Sort of. But really, for most of my life, I have opted for more effective top tube, and more room to breathe. This was all fine and dandy until mountain bike geometry really started to evolve away from old paradigms during the past decade. And now, I think my old way of thinking is hampering my enjoyment of riding.
That 10mm shorter reach, combined with the extra degree of seat angle, means that the distance from the nose of the saddle to the center of the bars is 495mm on the SB140. That same measurement is 515mm on the SB120. Same saddles, set to the same height, with the same setback. Same stems, same bars. I suspect that this 20mm difference has more to do with why the SB120 feels like a gentleman climber and the SB140 feels like a teenage renegade than any difference in fork stanchion diameter or wheel travel.
Reach is measured by going vertically upward from the center of the bottom bracket, then drawing a line horizontally forward to the center of the top of the headtube. Effective top tube length is just that – the measurement horizontally from the center of the top of the headtube back to where it intersects the seatpost. The higher a given seat extends, the slacker the effective seat angle may become (that's a whole other column!), but when comparing different geometries with the seat heights the same, ETT is a consistent point of reference. For seated, bite the stem dynamics, effective top tube length is still a great measure. It determines how much you can stretch out and suffer while laying down the watts. Reach, meanwhile, which along with stack basically tells you where your hands and feet will be, is probably a more valid harbinger of overall bike handling – of the potential fun quotient.
I have, in my dinosaur way, tended to weigh my preferences more upon effective top tube length than I have reach. I'm kind of embarrassed to admit that. And, similarly, as bikes have entered the new school of stretched out wheelbases, I have continued to opt for as much reach as I can get. "Yeah, 480 sounds about right for me, bro." I am a little embarrassed to admit that as well. I suspect that maybe I have been reaching too far, so to speak, for the past few years, and in so doing, have been robbing myself of fun.
I don't know whether I'd like a large SB140 as much as I like the medium. It may not be as much fun. And dear god, that SB140 is fun! Conversely, I am pretty sure that a medium SB120 would lose out on its red mist capability, and would feel too cramped as well as a hair more sketchy. But I am dead certain that moving forward, when I am looking at any longer travel bike, I am going to need to contemplate sizing down instead of dumbly selecting "large" and calling it good. More to think about. Or maybe less. Shit, now I am confused again. As the ghost of Leon Trout would say; thanks lot, big brain!