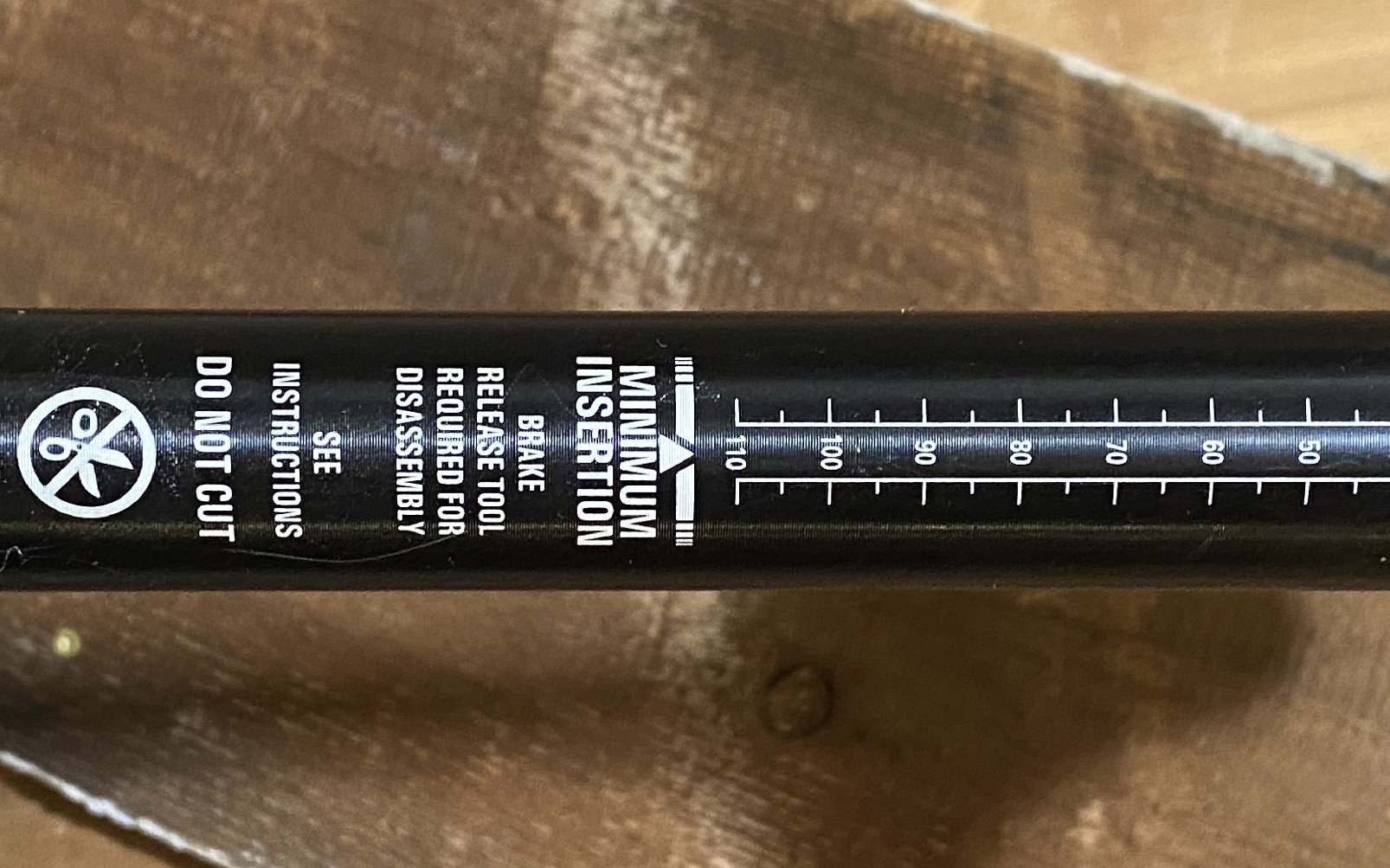 REVIEW
9Point8 Fall Line R Dropper Post
Dropper seatposts are arguably one of the most significant innovations to hit mountain biking in the past two decades. There are very few people who still try to argue that they do not dramatically improve your bike's manageability in the steep and deep, to say nothing of enhanced bike handling across the whole spectrum of the not so steep and not so deep. Those people who do try to argue against them – claiming that they are not necessary, or are too heavy, or are too problematic – well, they are wrong. However, it cannot be ignored that dropper posts do add weight, along with a measure of complexity, to one's ride.
A decade ago, the failure rate of dropper posts was pretty grim. Almost everyone was trying to spool up their own idea of "the right thing" and the dropper post buying beta-test public was awash in slopped out heads, seat tubes full of hydraulic oil, and countless variations of the stuck-somewhere-between-up-and-down theme. Things are, thankfully, a lot better now. That mostly across-the-board reliability, though, comes at the expense of diversity. A huge number of the posts on the market these days use some variation of the Wintek dropper post cartridge as central to their design, and many brands outsource the entire manufacture of their posts to one of a few factories that specialize in this.
Then there's 9Point8. Located in Ancaster, Ontario, 9Point8 boasts Canadian designed componentry, and approaches dropper post design from a somewhat different perspective than most everyone else. Light weight, light action and low internal air pressure all sounded pretty interesting to me, so, when my old twice-rebuilt Reverb burped an internal seal and stuck itself down again, I jumped on the chance to mount up a 9Point8 Fall Line R.
Out Of The Box
First off, the Fall Line R is not for everyone. Available in either 30.9mm or 31.6mm diameters, and four predetermined lengths (275x75mm, 315x100mm, 375x125mm and 435x150mm), it is not likely to appeal to the "I need 200mm or more travel, and not a millimeter less" crowd. I'm stumpy, though, and until pretty recently I thought even 150mm travel was overkill. So, 150mm seems just right for me. ESPECIALLY WHEN THE SEATPOST WEIGHS 128 GRAMS LESS THAN THE REVERB IT IS REPLACING! If you want longer drop travel, the standard "non-R" Fall Line is available in 175-200mm travel lengths, but weighs 125 to 170 grams more, which puts it kind of in line with everyone else.
It does bear mentioning that the Fall Line R also costs $424US, and that if you don't already have a cable actuated remote, you'll need to pony up for one of those, too. The Digit 2.0 lever is a very nicely made piece of kit, but it'll tack another $60 onto the price. So those 128 grams were not shed for free. But still, that's a quarter pound of weight up high on the bike, and now it's gone. Sweet. If you want the longer travel "non-R" Fall Line, the price tag drops by $80US. * (There's some clarification from 9Point8 on country of origin and pricing at the end of this piece)
9Point8 also offers a choice of heads for the post, allowing for inline saddle mounting, or offset 25mm to the rear, or offset forward 25mm. People seeking to modernize their effective seat angle (at the expense of reach - oops, make that at the expense of effective TT length) can run a Forehead mount and scoot an inch forward. Similarly, riders who think that 78 degree seat angles are the work of the devil, can get their hips and knees back into a more natural orbit by running a rear offset clamp.
The clamp mount itself is very nicely machined and well thought out; a standard two-bolt tilt adjustment holds the head in place, while the saddle rails are clamped from the sides by individual pinchers, meaning you can slide your saddle back and forth, or even replace it, without having to mess with your tilt. This also makes removing saddles very, very easy. The cartridge's Schrader valve is located at the top of the post, and this ease of saddle removal helps access that. Lots of nice etched height marks, bolt-torque specs, and reminders not to cut the post down for length, round out what is a very cleanly presented seatpost.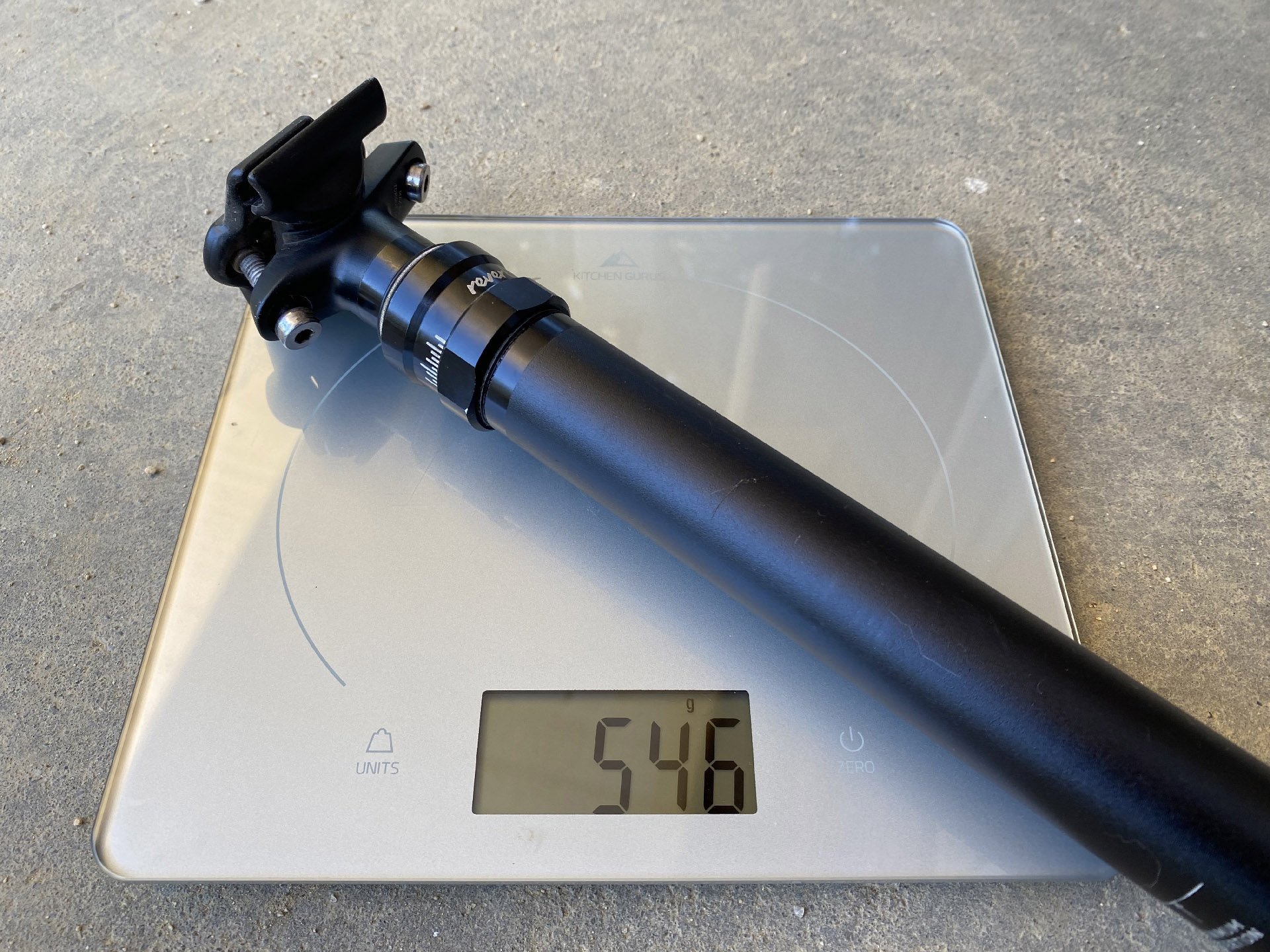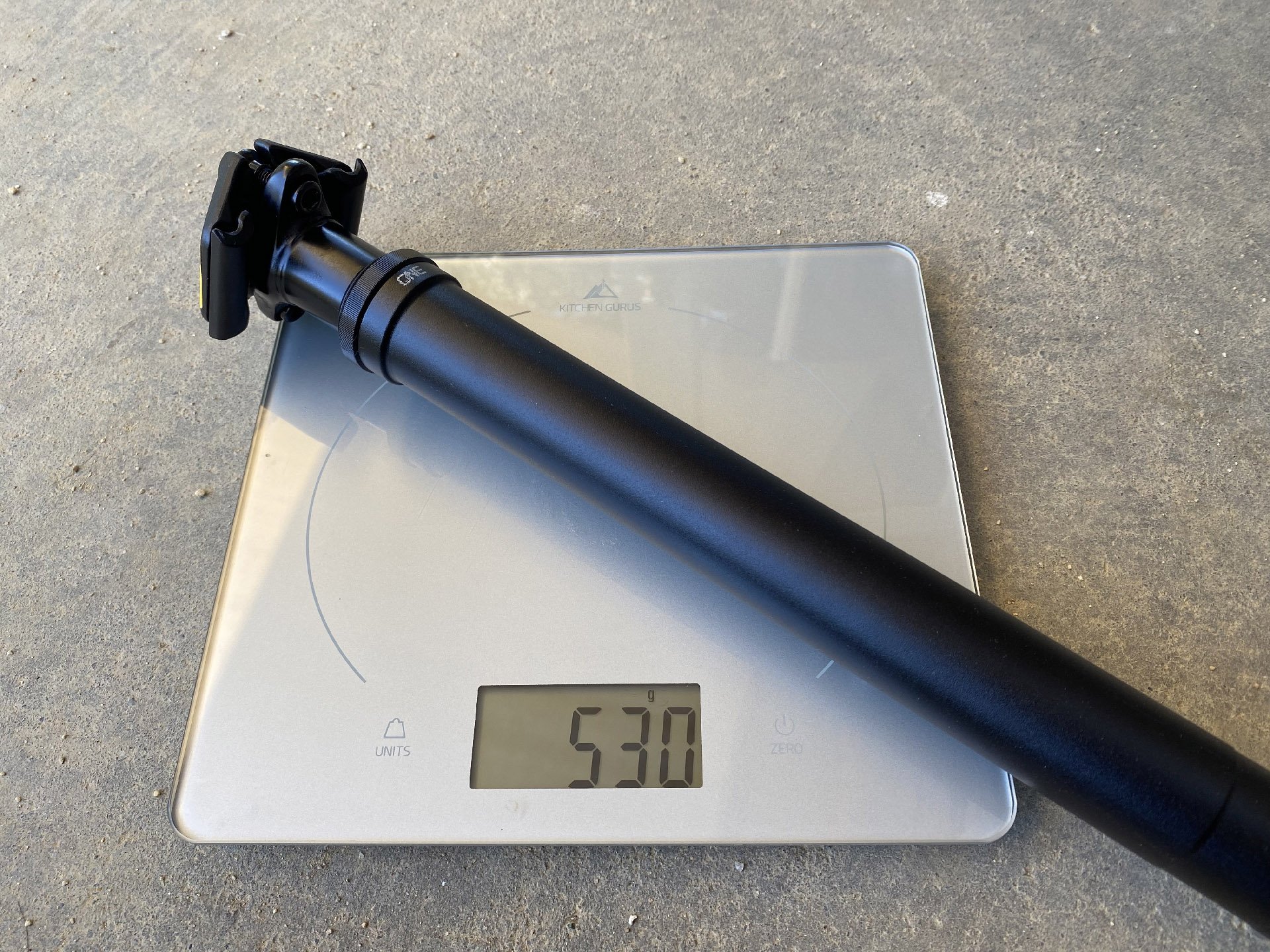 Installation
If you do some searching around on the googles, there is some grumbling about how the Fall Line is kind of a pain in the ass to install. I'm not going to spend too much time arguing that point, since I think ALL stealth routed droppers are kind of a pain in the ass to install. But, to be fair, the 9Point8 is different enough in its cable routing and release mechanism that it can be a bit of a head scratcher.
9Point8, to their credit, provide very thorough installation instructions with the post (along with a sweet little torque wrench for the seat collar), as well as a pile of videos on their website that tackle everything from mounting to service to rebuilding. For my part, it took two tries for me to get the cable clamped correctly in the little actuator assembly in order for the assembly to thread into the bottom of the post and actually do the job of making it clamp and release. Now, having done it a couple times, it seems super sensible and well thought out (to my way of thinking, anyway), and it doesn't try to kink the cable housing or dislodge the cable head when trying to wiggle the post into the frame while also trying to massage the cable through whatever little hole it needs massaging through. Once set, it's super easy to remove and reattach the assembly from the post, making removal and service relatively painless.
One of the reasons I was compelled to try out this post (aside from it being really light) was air pressure. Or, in this case, the lack thereof. 9Point8 recommends running between 20-40psi in their Fall Line posts. I believe, perhaps erroneously, that lower air pressure will always outlast higher air pressure in terms of seal life and overall product longevity. I'm not an engineer, so I don't really know jack about this. Anyway, I pumped 30psi into this post upon assembly and it's working fine now and I can't really say much about longevity until maybe this time next year, right?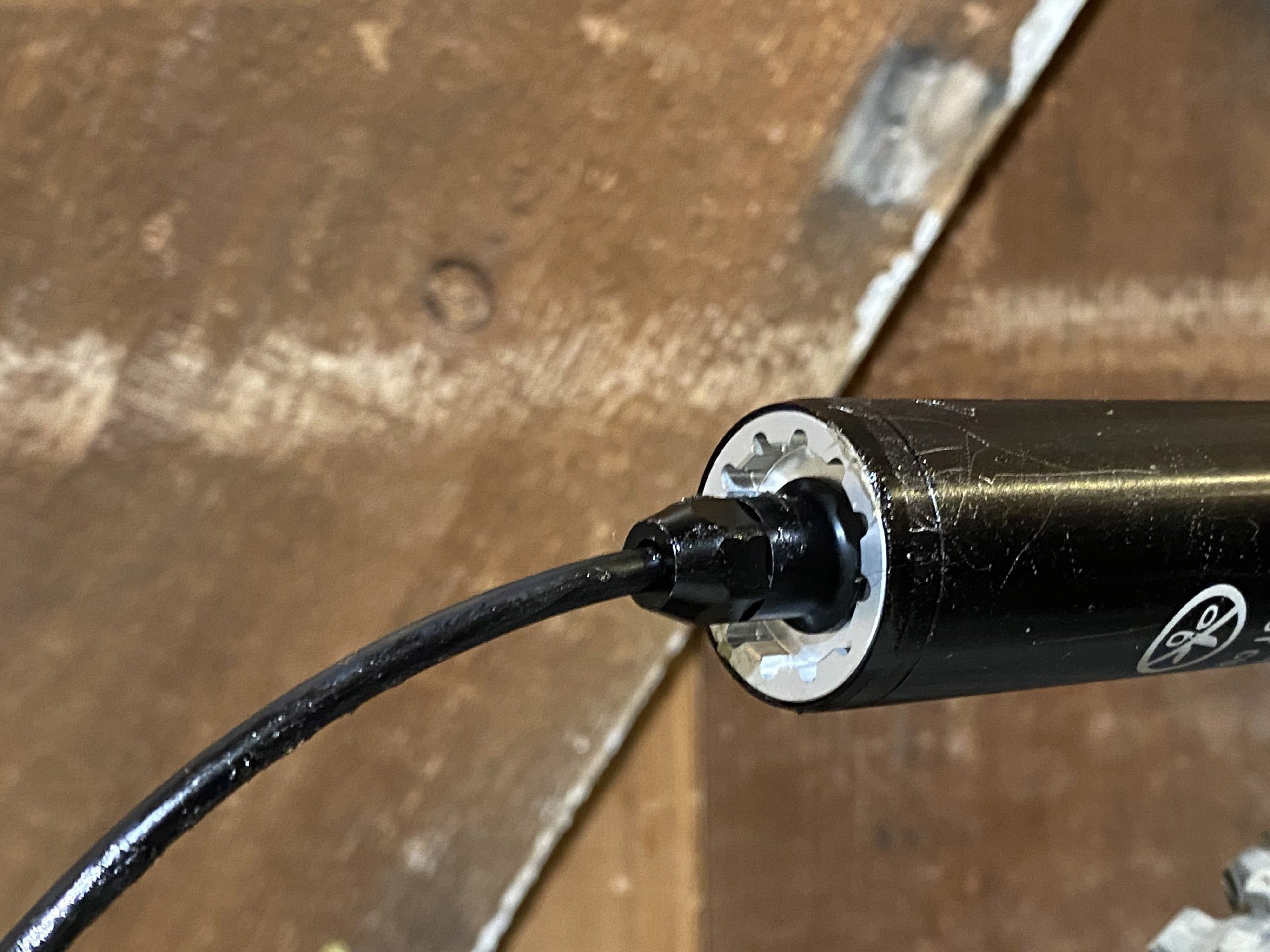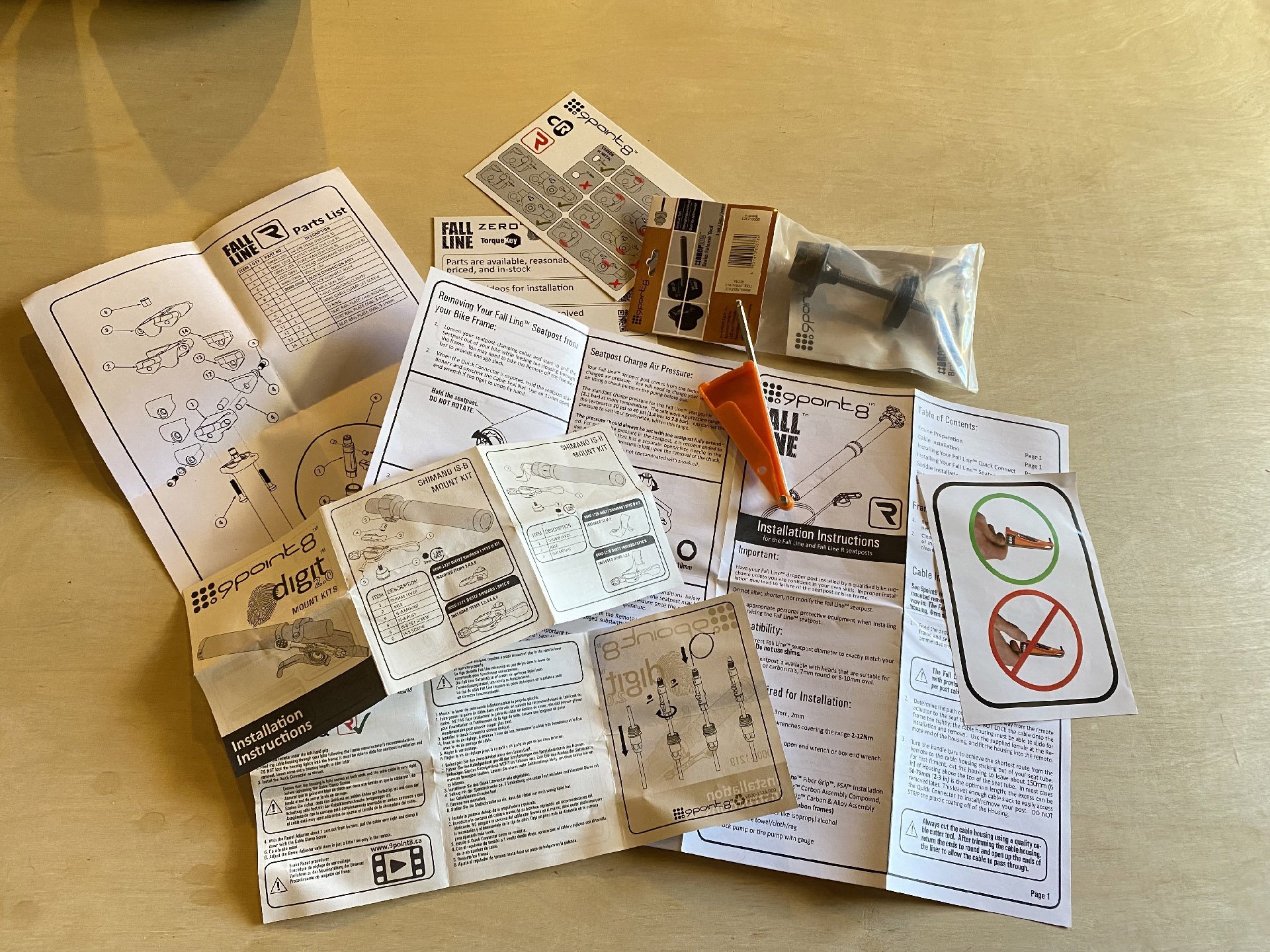 Yeah, But Does It Work?
Yep.
One of the things about low air pressure (again, just my opinion here) is that it can lend itself to a lighter overall actuation. Meaning, less butt pressure required to drop the thing when the lever is pushed. At 30psi, actuation is very light, borderline effortless and buttery smooth. I can discern a teeny bit of ramp near full compression, but only if I'm sitting in the garage trying to determine exact breakaway points and engaging in some pretty heavy self-faff. On the trail, it just sinks out of the way without any thought. Rebound is similarly smooth, and snappy enough to clunk on topout. I weigh about 185 pounds ready to ride at the moment, and would rate the 30psi behavior of this post as lighter and smoother by far than a Fox Transfer (since they are notoriously "high effort"), and slightly lower-effort than the Reverb it's replacing. I have a hunch very light riders would be stoked on this post at 20psi.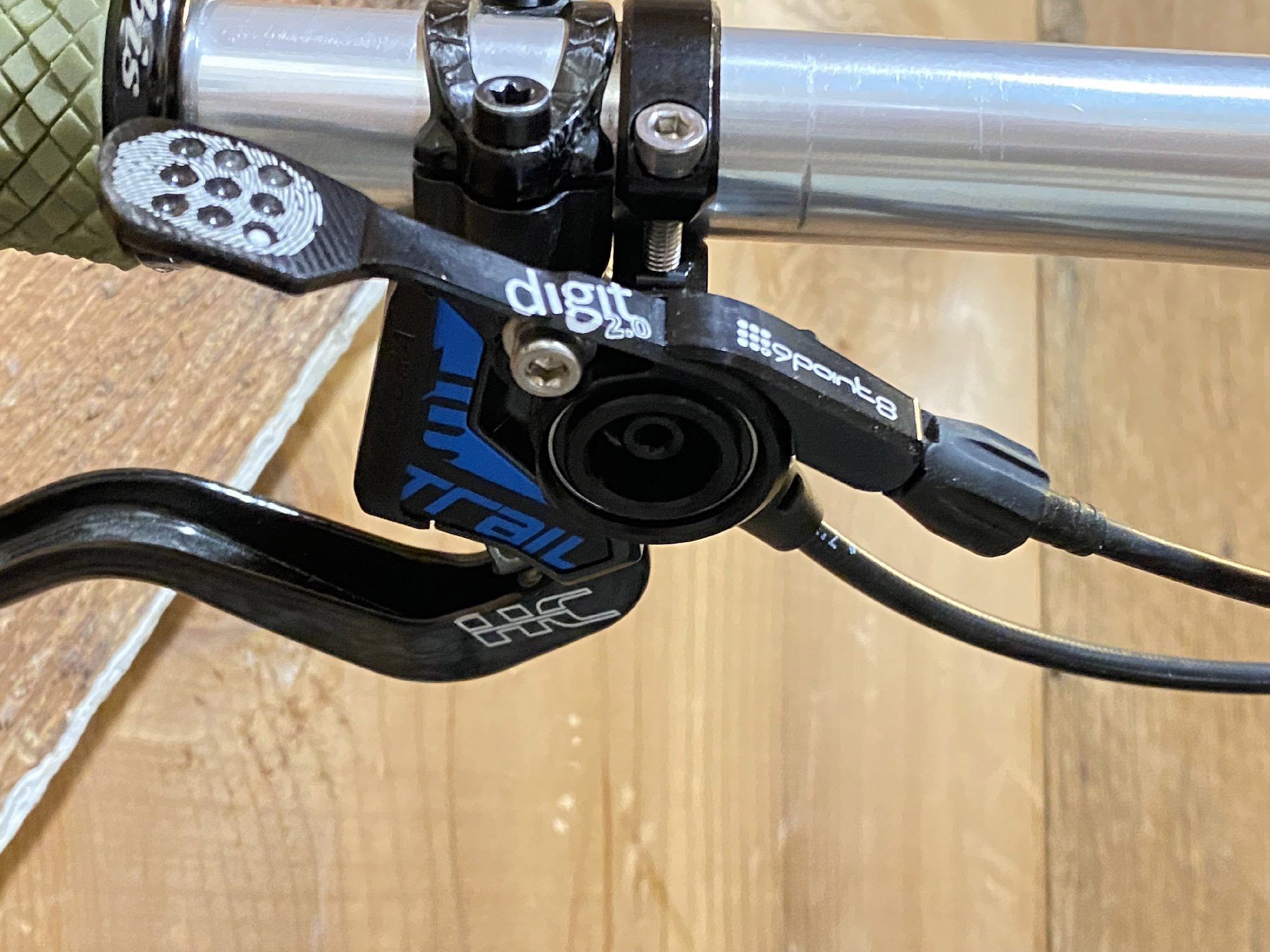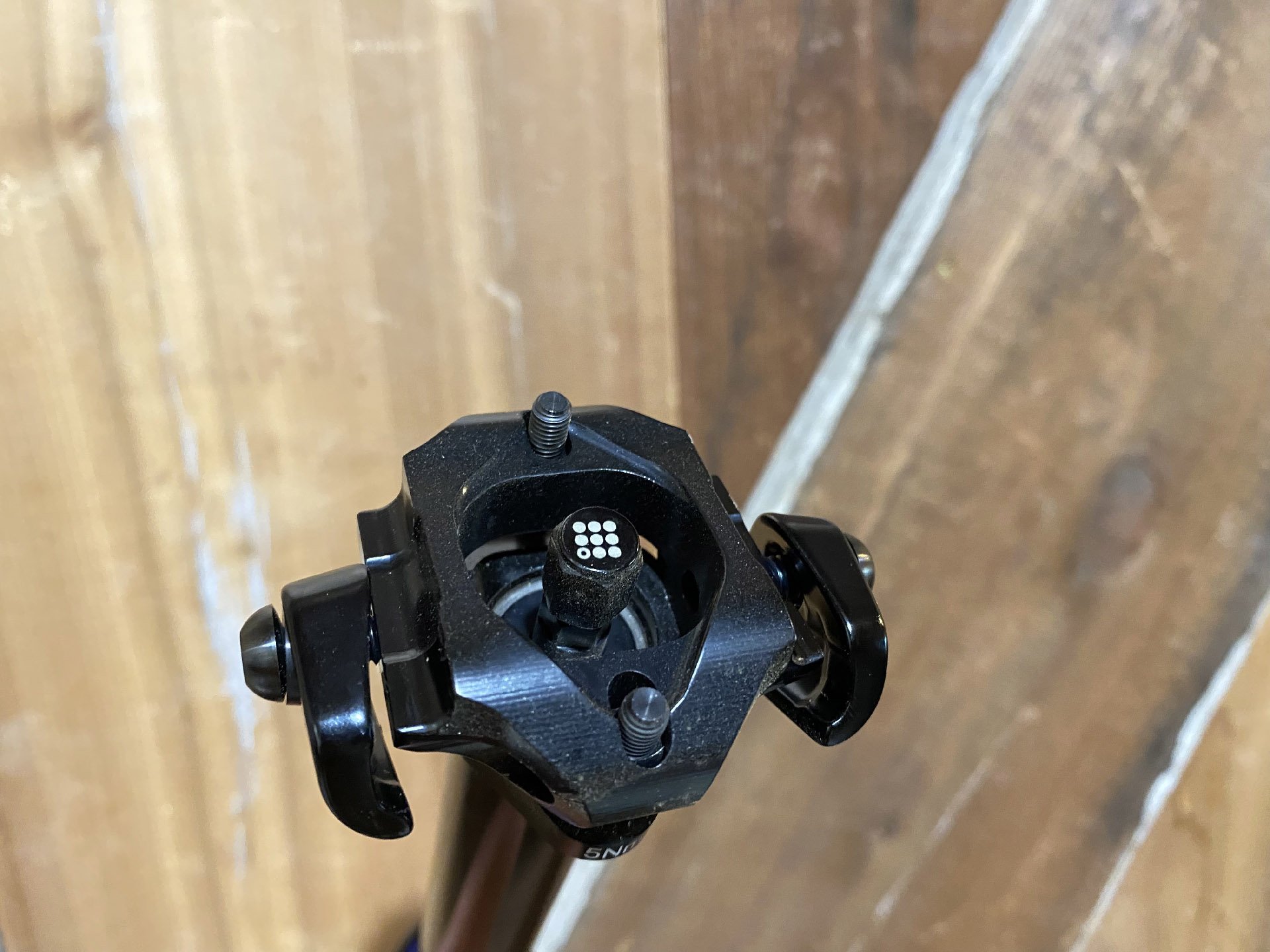 The post was installed on the trusty Falconer hardtail in April, and promptly ignored, since I was heading into back to back bike tests. The yellow bike and I have been sneaking out and playing around again lately, though, and everything is working just fine. But it is very early days to say anything about down the line performance. From a design, execution and support perspective, I am impressed with everything to this point. So far, I dig it. Let's see how it goes.
*** Post post editorial editification here...
I was in a time crunch yesterday to get this posted, and had a few questions that I'd emailed to Darren Manning over at 9Point8, but, as usual, I had sent them in at the very last minute and he didn't have a chance to respond before I caved to the deadline pressure. So, here is his clarification of my clarification, straight from the 9Point8 pulpit:
"The individual components of our post are manufactured or "Made in" Taiwan. Those components are then sent to our shop in Ancaster Ontario. When an order is placed, (since we offer custom stroke length and head offset options) the post is assembled to order, put through a series of tests for leaks and holding strength (tested to hold 700lbs) and once it has passed they are shipped to the customer. Laser etching is also done inhouse for the Fall Line series.
The original Digit was a rebranded Wolftooth lever. We worked with them to come up with their "Light Action" version then they produced some for us with our logos. The current Digit2.0 is our own product which is also manufactured in Taiwan. 
As far as what type of cartridge do we use? We don't. Our entire post is the air chamber, almost like the air side of a fork. And you are correct, that does put less stress on the seals."
In the interest of clarity and honesty, Darren took pains to point out that the actual manufacture took place in Taiwan, and final assembly and pre-ship testing was done in-house in Canada. My apologies for misrepresenting things there. Darren also mentioned that an equal length, 150mm travel Fall Line post, as opposed to a Fall Line R, would be $100 less expensive.