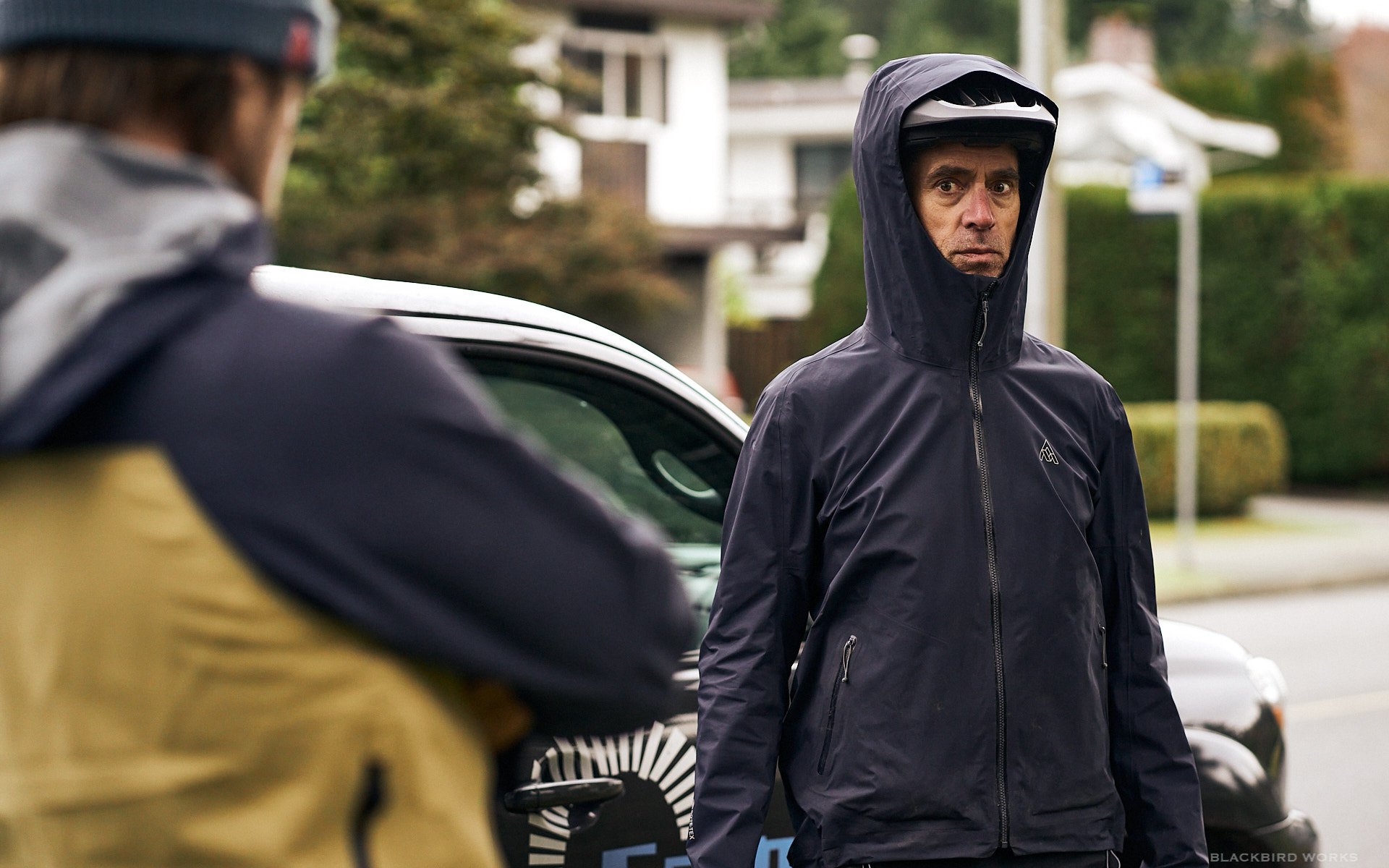 REVIEW
7mesh Thunder Pants and Men's Skypilot Jacket
Before I even dip my toe in, you should know that this review features gear from a category just slightly above... premium. Super premium? Hyper premium? Trust fund premium? Whatever the label, you'd better buckle up for the price tags before you hear anything that piques your interest and get invested, because together these two pieces will reduce what you leave for your children by 850 CAD, 650 USD, 650£ or 650€. This is less shocking when you realize the founder and founding staff at 7mesh all came from Arc'teryx, which you could argue is even pricier. A comparable example in terms of materials to 7mesh's 300 CAD Copilot jacket (review from Pete coming soon) which is made from Gore-Tex Paclite, is the 380 CAD Arc'teryx Zeta SL, which is most often seen locally on the Grouse Grind* or in Starbucks.
*B.C.'s most popular workout trail
As my colleague AJ recently discovered, outerwear is one of those categories where price and value often align quite closely, and my experience with 7mesh has hammered that home.* For all that cash, you get the best materials money can buy, excellent construction quality, and uncompromising, often mountain bike-specific design, (for better or worse, as you'll see). You also get a warranty that aims to be among the best in the business, and that includes a crash repair or replacement if you do something nasty to your gear in the first 30 days, and a repair for a small fee if it happens even a few years down the road. If your garment has sustained a fatal wound, you'll get a discount on the purchase of a replacement. This peace of mind is worth something to be sure. Whether it's worth $400, or $450, or $850 Canadian dollars is up to you.
*There are of course exceptions to this rule and many fine
7mesh Skypilot Jacket
The Skypilot is essentially last year's garment with a new name and re-aligned pockets. The material is the same and the features are identical, aside from those pockets, and the price went down by 50 CAD! The Guardian was 500 Canuck bucks and it was excellent aside from the funny pockets with zippers up toward your armpits with pouches that were aligned rearward. The only way you could put your hands in your pockets was to give yourself a hug and accessing whatever was inside the left pocket was only reasonably accomplished with your right hand, and vice versa.
While this was a bit of a pain, these deviant zippered enclaves did a nice job of keeping their contents stable and out of harm's way. This is an example of 7mesh being perhaps a little too uncompromising about design solutions that work for mountain biking, without considering whether they work for life. The cut of early 7mesh Revelation jackets made it impossible to raise your hands above your head with the zipper closed, which TBF rarely happens in mountain biking, unless you are loading your bike on top of a car or performing a fully clicked superman. The people spoke and 7mesh redesigned the Guardian with conventionally placed zippered slash pockets, which are a big improvement in my view. But... the old pockets hold things and keep them dry, and you can pick up last year's Guardian for 375 CAD, which will save you enough to buy a Loam Lever. Or half the sleeve of an Arc'teryx ski jacket..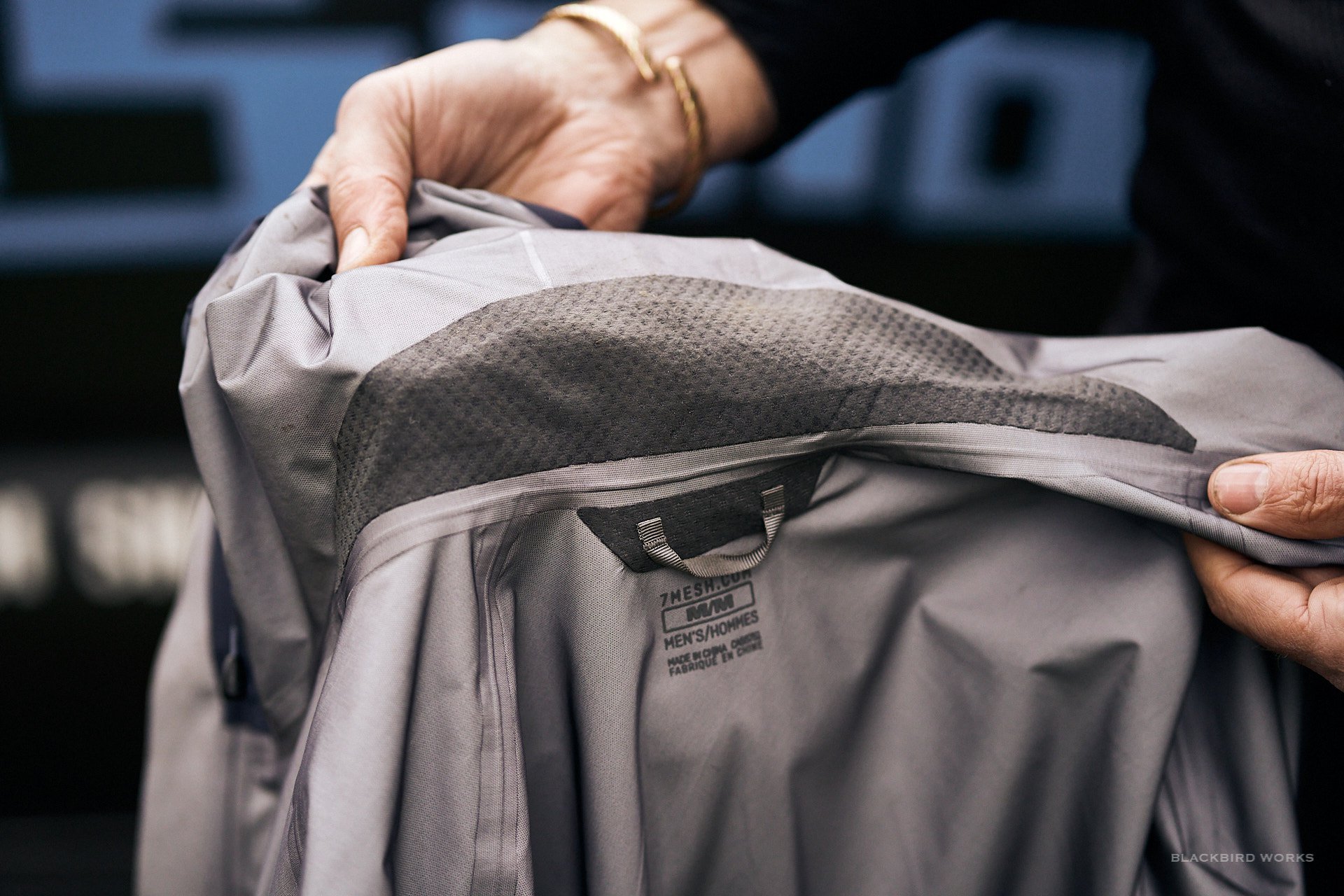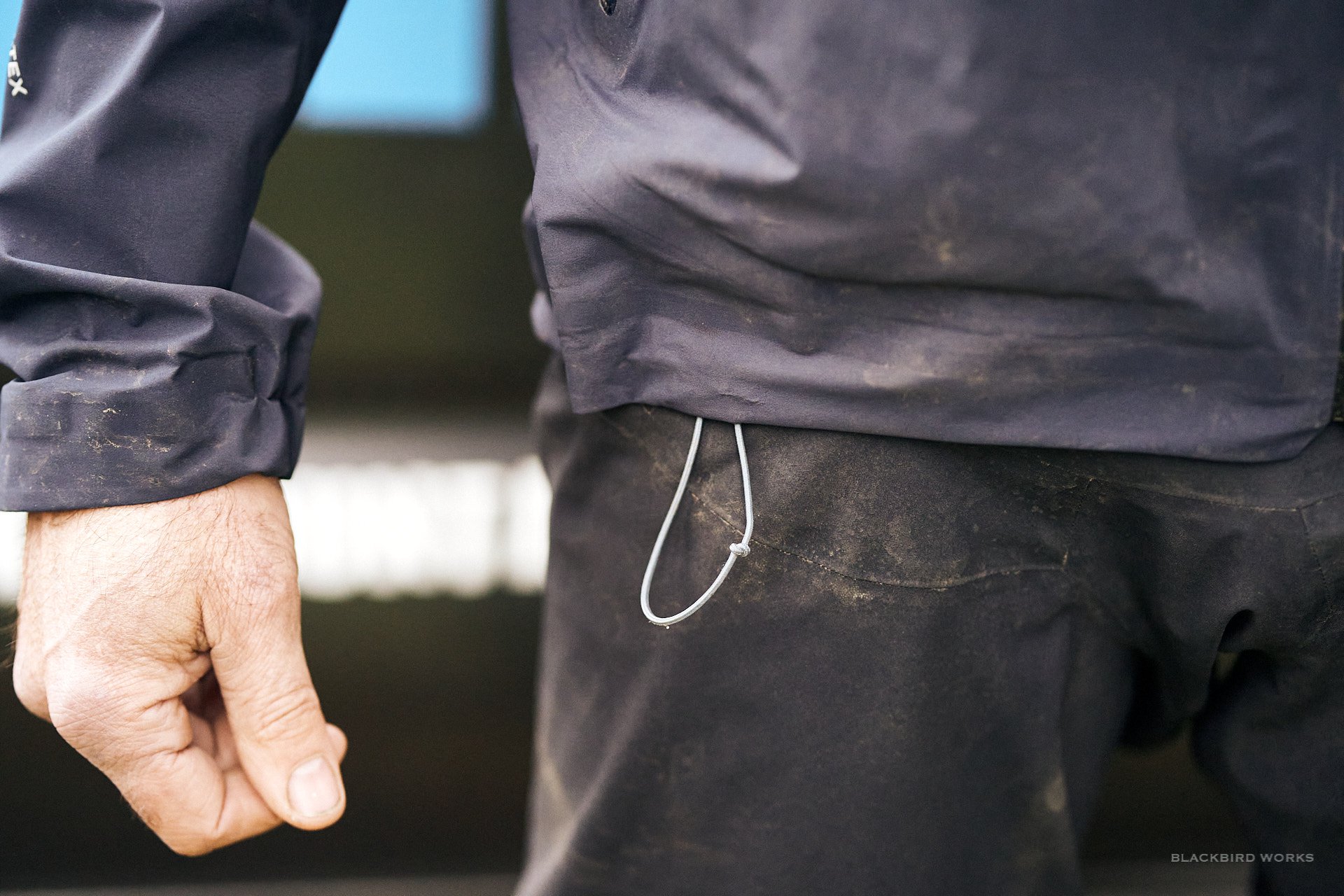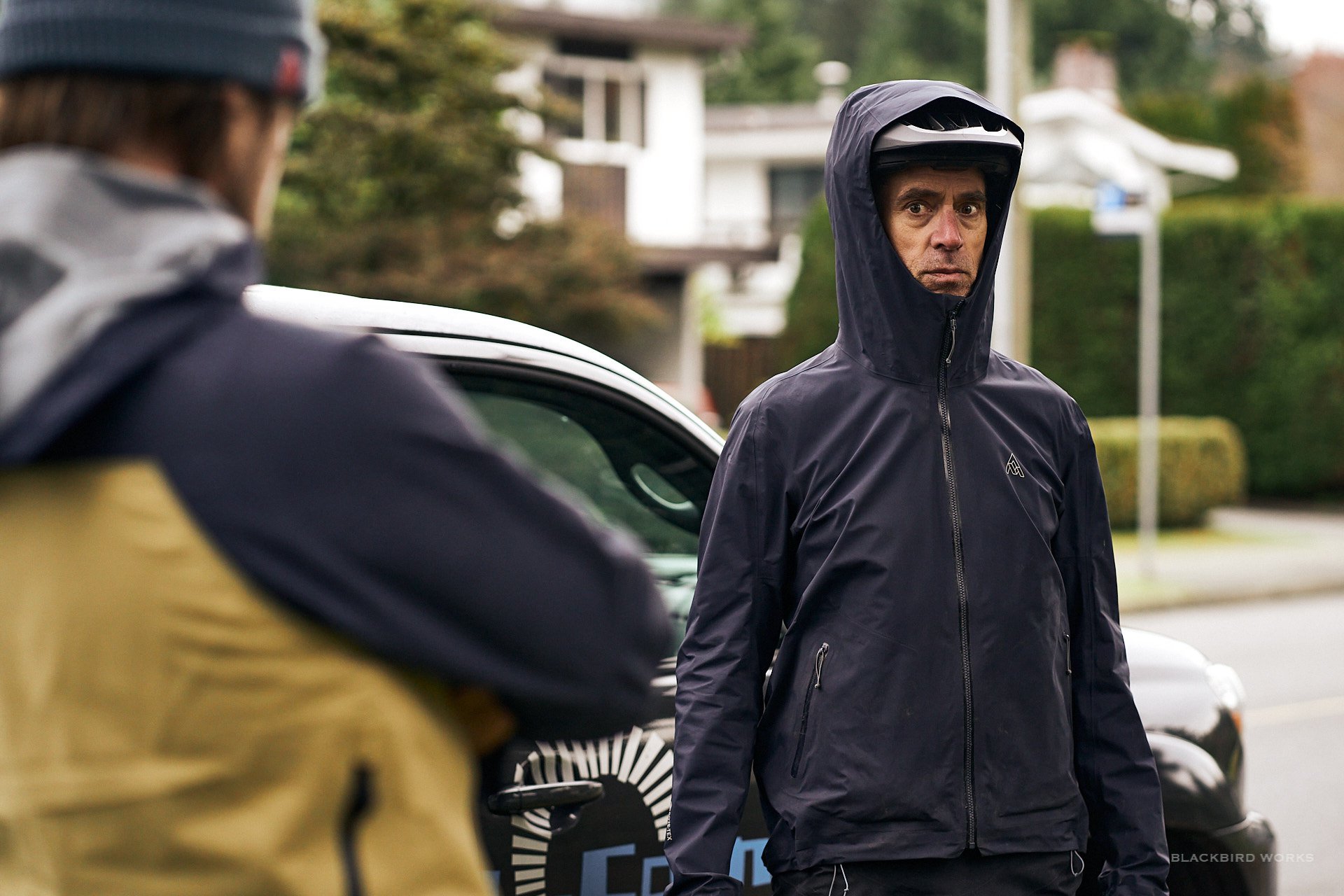 While the jackets should be identical in performance, I've found the Skypilot is even more effective at keeping me comfortable than the Guardian was. I've since learned my perception has nothing to do with the garments themselves. This year, in the shittiest weather you can imagine, I've been dressing a little on the light side consistently. Unless it's particularly warm or terribly cold, I've only worn a thin merino long sleeve layer (from NF) and a short sleeve lycra jersey under the Skypilot, and I've been shockingly comfortable without knowing why. My under layers have allowed me to keep the Skypilot zipped all the way up and on cooler days I've been cinching the waist as well.
A conversation with Ian Martin, 7mesh's VP of Product Development, got me up to speed. Ian told me that Gore-Tex works optimally when there is a temperature and pressure differential, which means sealing things off improves the way the garment allows vapour to exit. When you open a vent (no vents in this jacket though...) or your front zipper, you cool the perspiration on your skin so you feel more comfortable in the short term, but your jacket won't be able to breathe as well, which Ian explained is the difference between comfort and breathability. The moral of course is to dress so that you can wear your jacket for the entire ride and keep it done up when possible. I've also been riding without a bumbag often (thanks to the storage in the downtube of the Trek Slash I've been riding) and that has improved things further. It's almost like I'm learning something.
This has been a great season for testing waterproof gear and the Skypilot has had an unblemished record of keeping the downpours out, even on longer rides of several hours or when standing about shooting photos or doing trail maintenance for long periods. Like the Guardian, it's incredibly packable and weighs only 246 grams. The C-Knit backer is nice and soft and there is an even softer suede-like material around the neck
Considering I generally ride more in the winter than the summer, and the weather on the North Shore this winter has been wetter than a penguin's penis, the Skypilot is worth every penny of that 450 CAD to me. In fact it's the best mountain biking jacket I've worn.
7mesh Skypilot Highlights
Material - GORE-TEX® Active 3L, 30d 100% nylon plain weave, C-Knit backer
Elasticated cuffs
dual elastic waist drawstrings
Over helmet hood with drawcords
Only 246 grams and highly packable
---
7mesh Thunder Pants
Some truly waterproof pants have been on my wish list since I began experiencing the joys of being dry in the taintius maximus while riding in waterproof shorts from various brands, including the 7mesh Revo. The Thunders check some of the boxes you'd want for our clammy clime; Gore-Tex Pro (two types!), long waterproof 2-way side zips, and neoprene gaiters that can be cut to length easily. But that's about it. There is one pocket and waist cinches on each side, and nothing else to report feature-wise.
7mesh was out of size medium when they sent me a test pair so I went up to a large. The length was fine, so I couldn't document the cutting process, but I'm quite certain it would be trouble free. If however, you are fussy yet clumsy, like me, slicing into your 400 CAD Gore-tex trousers might be agonizing. The larges were huge on my 31" waist but the cinches took up the slack relatively well and they fit over pads with lots of room to spare.
The first thing I noticed riding in the appropriately-named Thunders, was a lot of noise. It sounded like I was riding wearing a dry paper bag. This has dulled some over time and after a few more washings I'm sure it will get better still, but in the beginning it was annoying. The next moderate nuisance was the clammy feeling of the backer. Compared to the soft C-Knit backer of the Skypilot, the inside of the Thunders is rather unpleasant when a cold morning ride is getting underway. Other points of comparison are the NF Berserker V2 pants or the Patagonia Dirt Roamer Storms, both of which feel like fine Corinthian leather against your skin by comparison, and, unlike the Thunders, have some nice stretch built into the fabric.* But... the NFs aren't waterproof and I've now worn through the ass of one pair of Patagonias and the second pair is looking like it will suffer the same fate soon. The Thunders have no seam down the midline where it meets your saddle, so there are no stitches or adhesives to fail.
*Update - there is now a version of Gore-Tex Pro that has some stretch to it, but it's rumoured to be heavy and compromised in terms of breathability
As I was mentioning earlier, 7mesh often goes to the wall making garments that are hyper-specific to mountain and/or road and/or everything between the two. The Thunder pants, as a result, have a very low waist at the front, and no fly opening at all. In the saddle when you are bent over your bars this works great, when you are up and walking around it looks and feels a little goofy and it means the Thunders aren't very compatible with other activities like hiking, coaching soccer, or building trail. Or going to Starbucks. Given the choice, after dropping 400 bucks, I'd prefer to have the option of keeping my legs and posterior dry for other activities without feeling like an alien.
Now that I've got my complaints out of the way... Hang on. Actually I forgot one.
Considering many of us are doing our best to ride pack-less, can we please have at least two zippered pockets? The NFs have four, which is my happy place, and the Patagonias have two, but the Thunders have only one. In the real world pockets are useful. When you are riding pack-less they are essential.
The good news is that the Thunders are incredibly waterproof and nicely breathable. I think they feel a little less breathable early on in a ride because I generally wear them over bare skin, and that clammy fabric feels a little damp, even when it isn't, before you warm up, but they are very good once you get rolling.
---
A Note about Pant Design
I think many pant makers are missing an opportunity. Through my experiments I've found that below-the-knee material that is completely waterproof is largely irrelevant. Last year I generally rode in disgusting weather wearing the Revos or some other waterproof shorts with some pants underneath that weren't waterproof, and I was entirely comfortable. Having a less expensive material from the knees down could improve comfort and reduce costs without having much impact on performance at all. Keep the nasty bits and the knees dry and for the rest all that's required is coverage from splashes, which is enough to keep water out of your shoes. /aside
---
The long zips are nice, but I don't think they need to be waterproof, although it makes some sense considering how high on the thigh these reach. Waterproof zippers are a pain in the ass to deal with from the saddle and they get even worse when they are covered in mud. The length of the zippers makes it easy to pull up your pads after a long climb or even to put on pads that open completely in the back. You can also reach down and open the zips from the top while in the saddle if you start to heat up excessively.
The wide velcroed neoprene gaiter is a little unruly and tricky to get lined up just so, but it's quite effective as a closure. My tendency is to wrap it firmly but I think it would be more effective if it was easier to wrap it a little looser so there would be more coverage for the foothole of your shoe. So far I haven't been able to nail this.
You might have gathered that my relationship with 7mesh's Thunder Pants is a little complicated. I really appreciate the thrust behind many of the design considerations, and I'd like them to work for me, but generally they don't. I wish they were a little simpler, more versatile, and had more pockets. The proof of my Luke warm feelings is revealed by what I instinctively want to put on before a ride, and if the weather is cool but not too wet, I reach for the NF Berserkers, if it is wet I reach for the incredibly comfortable Patagonias. If it's absolutely torrential, the Thunders are the best choice, and sometimes I follow that logic. Please realize that the shortcomings I perceive are quite personal, and if you aren't bothered by these elements, or if you appreciate some of these features, I can see your point. These pants are great in many ways, they're just not great for me.
Also - for all things Gore-Tex, check out this Two Minute Expert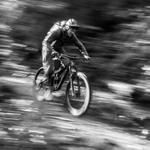 Cam McRae
Height - 6'/183cm (mostly legs)
Weight - 170lbs/77kg
Inseam - 34"/86cm
Ape Index - 0.986
Age - 56
Trail I've been stoked on lately - Boogieman
Bar Width - 760mm
Preferred Reach - 485-500mm (longer with 27.5 wheels than 29)