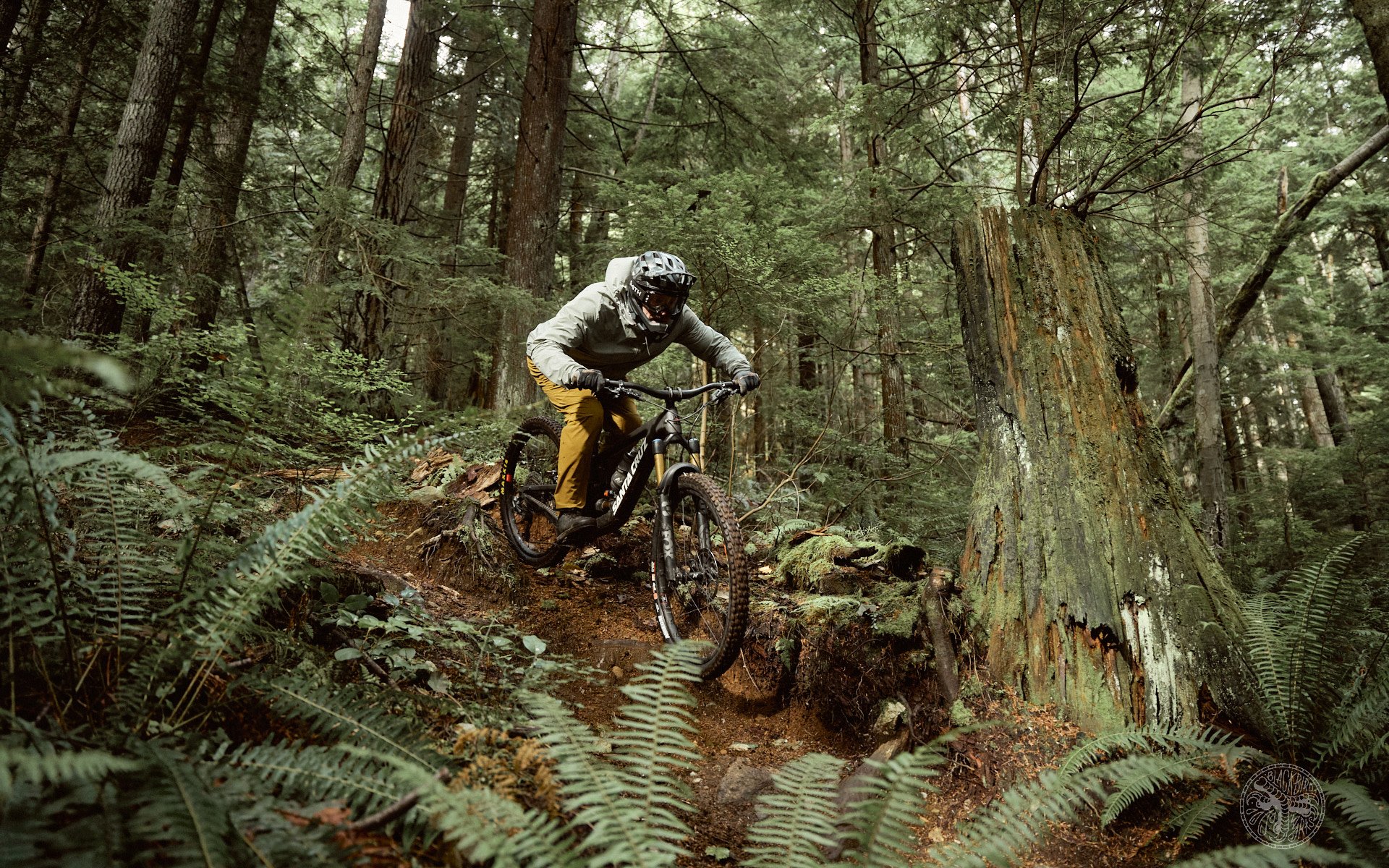 Shoulder Sheason Shell
7Mesh Northwoods Windshell
7Mesh Northwoods Windshell
When I received the 7Mesh Northwoods Windshell I was pleased to try it but apprehensive to cheat on my beloved Race Face Nano shell. The Nano has been my go-to packable for years. It fits well in my short and pant pockets but when my 7Mesh Glidepath shorts review came out and I showed the Mountie look with the Nano stuffed in one pocket and my other gear in the other pocket the 7Mesh crew decided this look needed to retire. In the name of fashion they sent me a Northwoods jacket to test because it packs into a ball and uses straps to hang off the bike frame: no more Mountie look for me. I could put it in a hip bag but then I'd have to carry a hip bag and let's face it, that is a fanny pack.
The 7Mesh Northwoods Windshell is easily the best light shell I have worn. The large fits me perfectly, the light fabric breathes a bit, keeps the cool of the wind out, sheds a bit of water in a very light rain and makes me feel good inside. I have hooked this shell to my frame many times the last two months...and many times it does not get used. But like Andrew Major's emotional support jacket (just knowing it's there gives a rider peace of mind) having it on board is almost as good as wearing it; almost as good. Before I go on I should say that I have a bit of a jacket fetish, as in I can't get enough jackets. When summer turns to fall, I love that I can wear my jackets. So far the Northwoods has warmed me up and given me the knowledge that I can get warm when it is stowed on board the bike. Yes it costs 220 CAD for a little shell; I get it, that is a huge expense for a lightweight jacket, but this is not like your old K-Way garbage bag/make weight for the 1977 wrestling match shell. I own a 7Mesh Co-pilot Goretex jacket that keeps the rain and cold out but it's too heavy for a lot of the shoulder season rides I do. The Northwoods has been excellent for the fall riding season and I can easily extrapolate that it will perform just as well in the spring.
Details
For me the top two details of the Northwoods would be the way it packs into the side pocket using a double sided zipper and the second is the elastic straps that attach the stuffed ball of nylon to the bike frame. Having the jacket along for the ride without it being stowed in a pack, hip bag or pocket is very convenient. The only disadvantage to the frame strapping is that the jacket gets stained from trail dust, dirt and mud. This isn't a big deal however, since the stains don't show when the jacket is unpacked.
Specs
100% Nylon with DWR
#3 reverse coil zip
Men's Lg: 126g
Low profile hood with draw cords for fit adjustment
Brushed tricot hood brim and chin guard
Elastic cuffs
Packs into its own side pocket with double sided zipper
Stuff pocket elastic straps attach the jacket to your bike when stowed away
Reflective Detail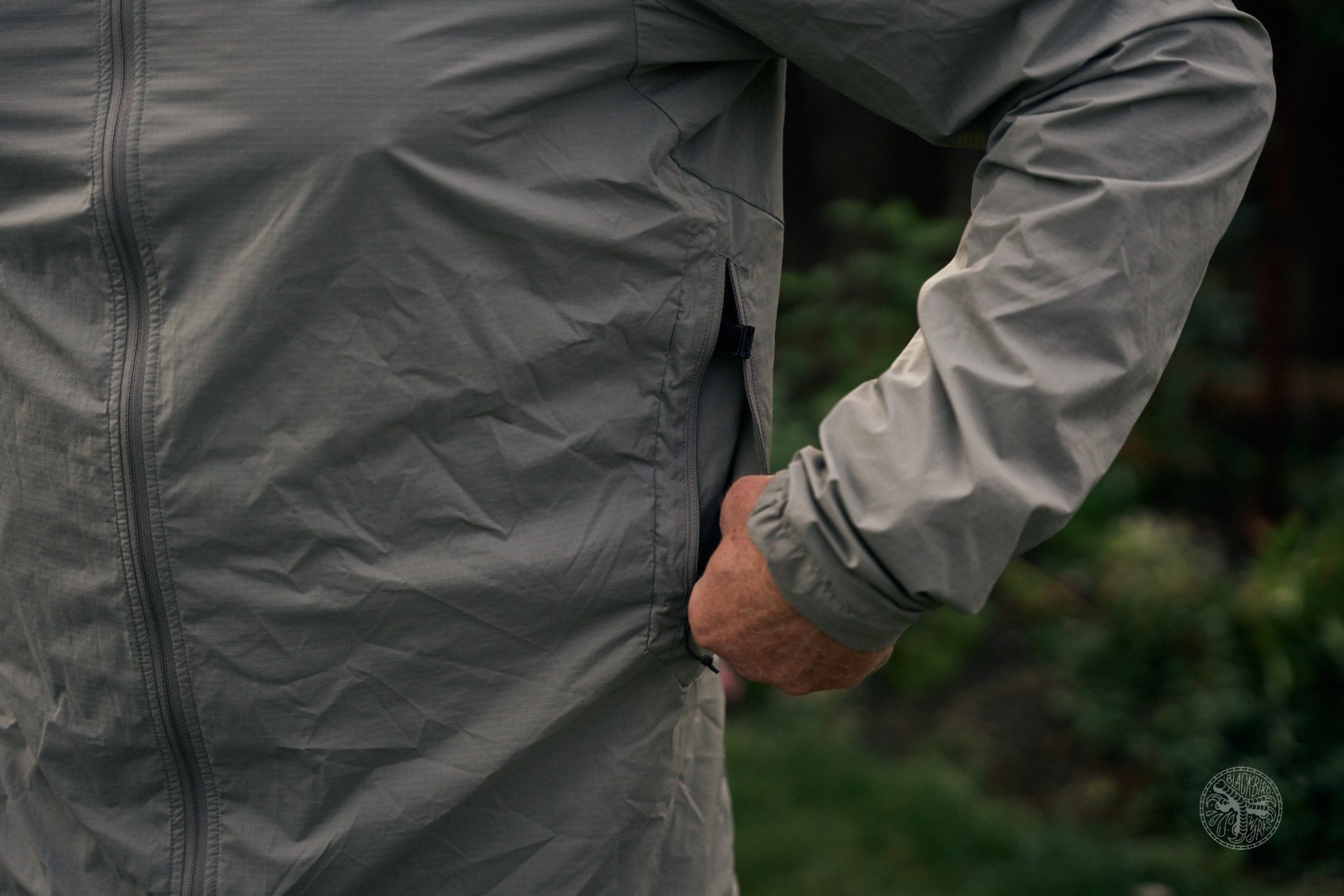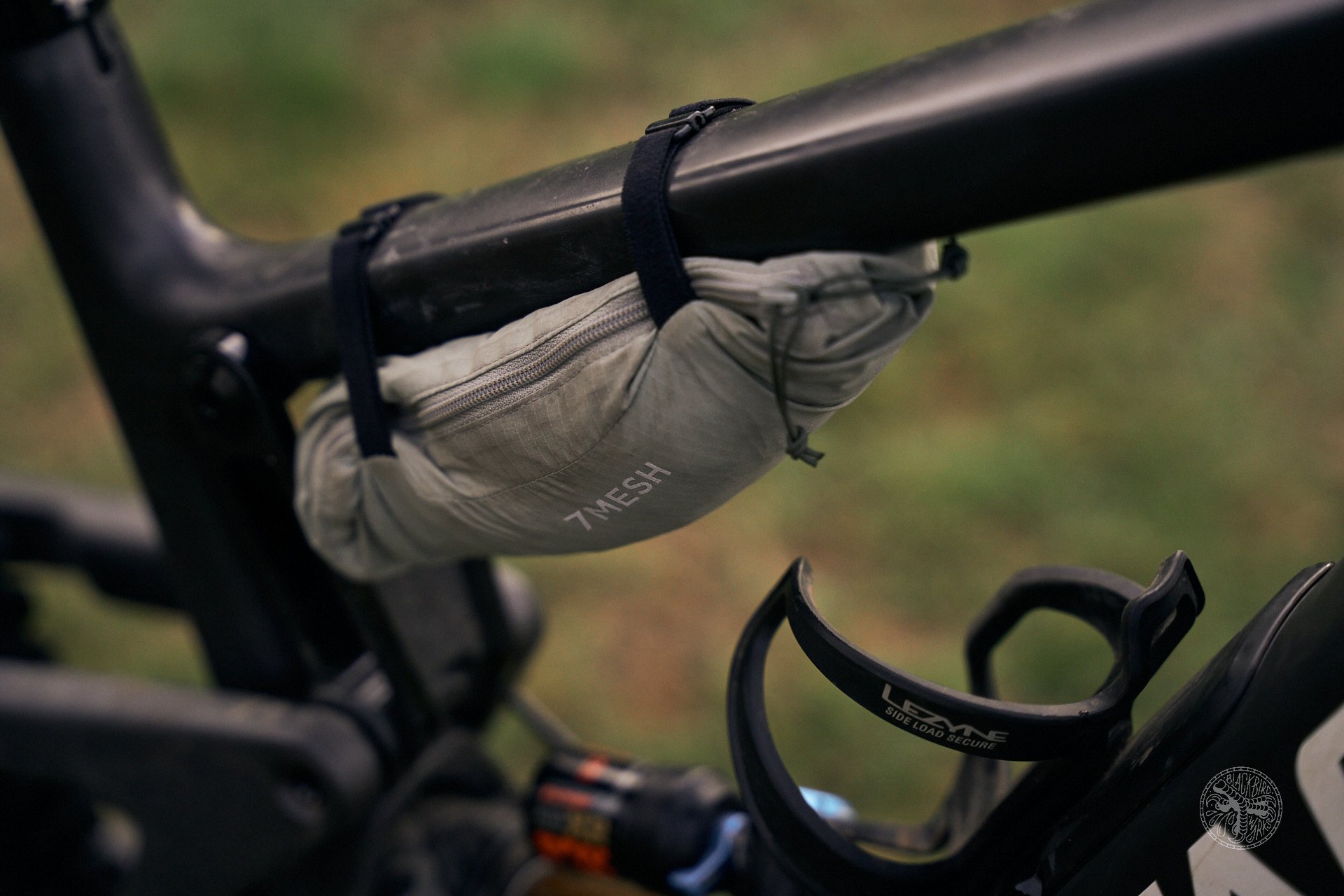 If you have a thing for jackets like me (N+1 where N is the number of jackets I currently own) this could be a good addition to your stock. I have used it about 20 - 25 times since I received it for the test. There are no issues other than the aforementioned inside pocket staining from being carried aboard the bike. The material is light, soft and comfortable. It does what it says: breaks wind and breaks wind quite well... I had to write it like that. The Northwoods Windshell has thus far proven to be a high quality piece of gear from 7Mesh.
7Mesh Northwoods Windshell // 220 CAD / 170 USD