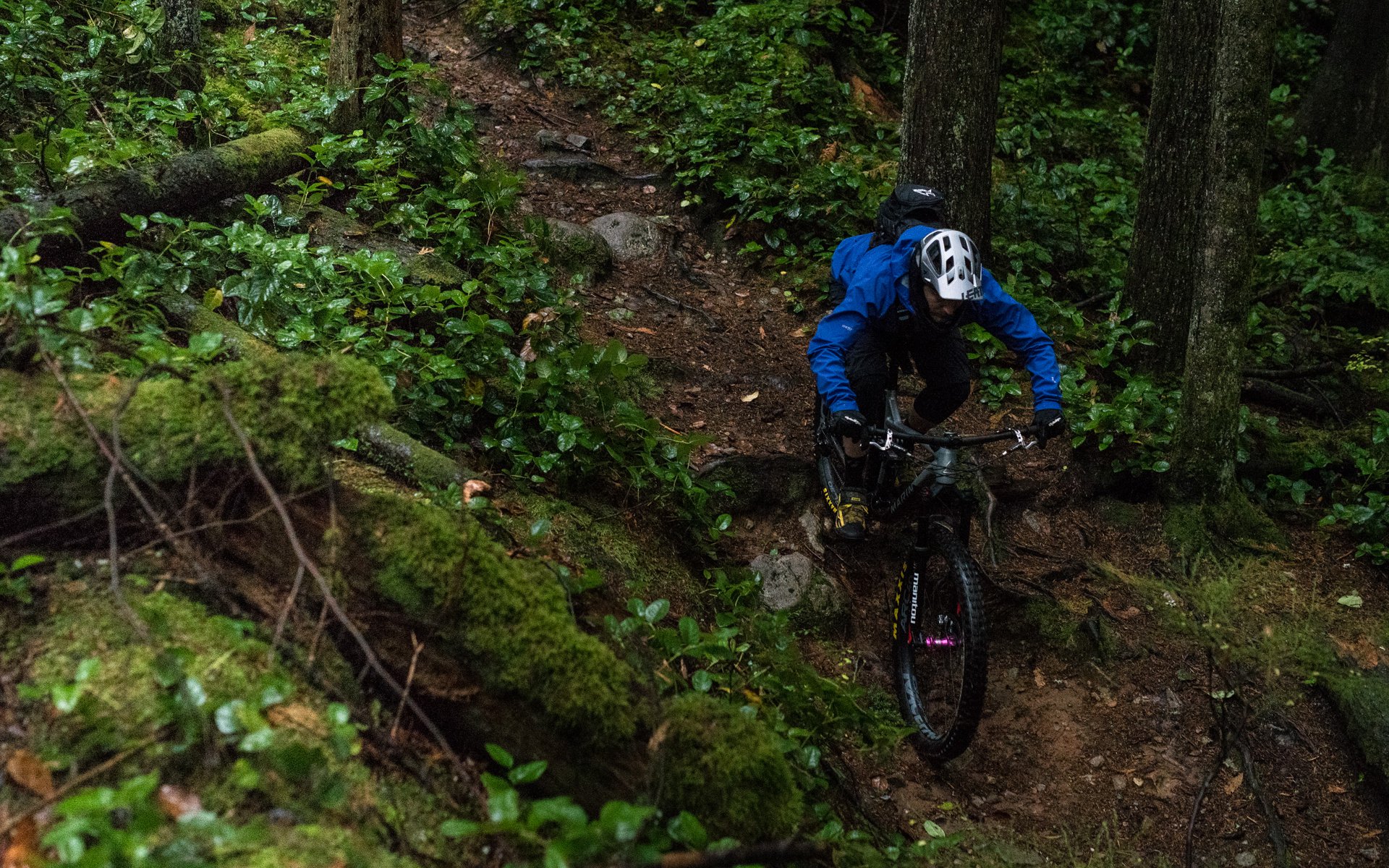 Review
7mesh Guardian Jacket in the Wet
#outsideiswet
7mesh has quickly gained a reputation for designing no compromise riding gear for inclement weather - with the price tag to match. The first riding jacket released by 7mesh, the Revelation, was so cycling specific that  your midriff debuted if you raised both hands above your head. Thankfully, as Brian Goldstone (marketing at 7mesh) told us, there aren't many stick-ups on mountain bike trails. The slim-fitting Revelation was forced to do double duty on and off road but the Guardian is aimed at mountain bikers with sizing that allows you to conceal your body armour, or anything else you'd like to hide.
Local riding takes place in a temperate rainforest, meaning the rain often comes with slightly warmer temperatures, so a good waterproof breathable jacket is paramount. If it's an option then drop the coin on a great one because it may be the difference between going out and staying home. 

Guardian Sizing
The 7mesh Guardian has a fit that I would describe as not roadie. It's different from most everything else on the market. My size medium generously swallows a mid-layer and maintains a full range of motion with a light set of Troy Lee elbow pads under the sleeves. It never hurts to be able to add a bit of protection in the greasy winter months. 
If the Guardian was a frame it would be a medium-large. And like that frame this jacket would not quite be long enough in the body for folks looking for a large jacket while being a bit big for someone that's a true medium. Basically it's Andrew-sized and I'm pumped that for once someone thought of ME while designing a jacket. 
Simplicity & Breathability
The Guardian lacks two features that I've generally always looked for in rainshells. The first is a removable hood and the other a generous pair of arm pit vents. Forgoing these features simplifies the jacket, making it lighter and in theory more durable, with the potential negative side affects of horse-fly like annoyance buzzing around my ears and drowning in my own sweat. 
Putting the 7mesh jacket on at the trailhead I could tell the hood is not an issue. The simple hood management system is easily adjusted with a single gloved hand and when the hood is up the cut makes motion and visibility excellent. I wear a pack 99% of rides and though the hood is generally down it hasn't bothered me once. 
While I was on the trail with Dave collecting some photos the sun unexpectedly appeared, quickly twisting the temp from crispy cool to ferns-a-steamin'. After hammering a hard climb Dave' was curious; "how's the breathability now?"
It turns out the Guardian doesn't need pit-zips. I've worn equally waterproof jackets for half the price but I would have been wishing for vents from my wrists to my waist in those. 7mesh could include the zips, just in case, but that would add weight and complexity and anything more than a short arm zip will take away from the magical maneuverability so I'm trusting their judgement. I've been out in some muggy rain events and have yet to feel like I've become excessively wet from my bodily precipitation.
Aside from the excellent breathability the Guardian is a very comfortable garment to wear. It's fairly quiet versus the crinkly plastic noise most rain jackets make, it's very soft to the touch and flexible and the cut is generous enough for the non-greyhound. The zippers also move easily compared to many waterproof models I've used.
Fear & Clothing... 
...and lost wages. I used to be truly paranoid about crashing and tearing a high end jacket until it happened a number of years back on a lame gravel descent at high speed. A 'couple few' Gore-Tex patches later and it functioned as good as new for another season and a half before being relegated to second-jacket status.
In my experience the cost-benefit of suffering through a crappy garbage-bag jacket isn't worth the risk of rendering a high end one inoperable. It's pretty amazing what can be fixed for cheap. I for one am sweaty enough that a great jacket makes a huge difference to enjoying rides on our often warmish rainy days.

Quibbles
If it isn't obvious, I really like the 7mesh Guardian. It is not as breathable as my NeoShell jacket but it is very close and so much more waterproof that it's become my go-to anytime I know a ride is going to be wet. That said, it isn't perfect. 7mesh has endeavoured to make the pockets compatible with a nominal backpack while at the same time ensuring that the less-flexible zipper-and-taped openings go un-noticed during riding. They absolutely succeeded.
The problem is that the zipped slashes are so short that even my Trumpian hands struggle to make them usable for the basic function of pockets. I love how the Guardian rides but would prefer the same performance with no pockets. I'm told, however, that front pockets on jackets are a bit like frames with only below-the-down-tube water bottle bosses. It doesn't matter if they suck to use - they absolutely have to be there. 
If I had to stretch for one more complaint I lost one of the little green knoted zipper pull-tabs in the wash. I've temporarily replaced it with a zip-tie (immediately devaluing the jacket by 83%) until it bothers me enough to find a suitable gauge of replacement rope. 
Treat Yourself
I'm all-in for discussing min-maxing of bikes and gear. I find for most areas of a bike I can get 95% of the performance for half the price. Weatherproof jackets, and hydration packs however, do not follow that trend.
Case in point, in the riding photo below I'm grinning ear-to-ear on a rig that shares a frame with a complete bike you can pick up for $1550 US while at the same time loving a $475 CDN/$400 US jacket. Given the option I'll keep my 11spd GX drivetrain, Race Face Aeffect cranks and X-Fusion dropper post and spend any upgrade money with 7mesh.  
The upfront cost is high but the Guardian presents the quality and performance to ride, hike and commute enough in the slop to achieve an excellent pennies/use ratio. In other words it's on the user to get extra-sweaty outside in the pissing rain enough times to create value for their  $475 CDN/$400 US investment.
7mesh has just posted the Guardian jacket online for the first time - check it here.