A tale of two shorts
7mesh Glidepath Shorts
Cam and I tested the updated 7mesh Glidepath short over the last few weeks. To be clear we each had our own pair; we like to share but not that much. Cam got the action modelling job, I got the posing and writing job.
I must confess at the start of this review that I am a big fan of 7mesh's Glidepath pant and past models of their shorts. About 5 years ago Cam gave me his 7mesh shorts from his review as part of yet another Cam-me-down gift. I probably had to give him a few beers and advice on how to cut his hair so that he didn't look like a roadie from Tom Petty's 40th-anniversary tour; he took the beer but not the advice. Those Glidepath's were my favourite shorts until I bought a pair of newer Glidepath shorts from Rocky Mountain's 7mesh collection (same short but with the Rocky logo). I have used the Glidepath pants after my review in all but cold and wet conditions and the Rocky-7Mesh Glidepath shorts in all conditions that are too hot to wear the pants. So ya – I like Glidepaths and I cannot lie. When I was offered the chance to review the new version of the shorts, I was all in.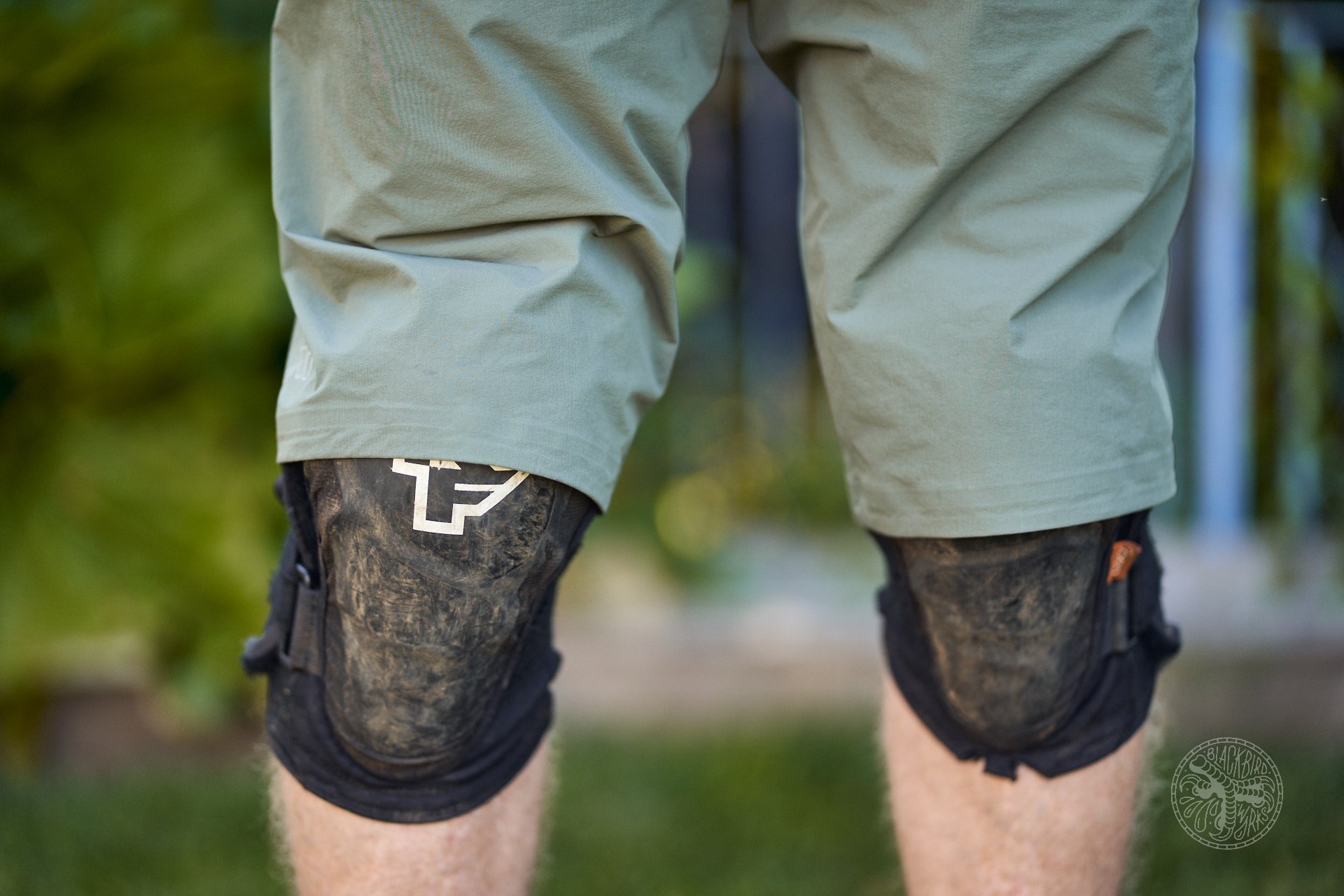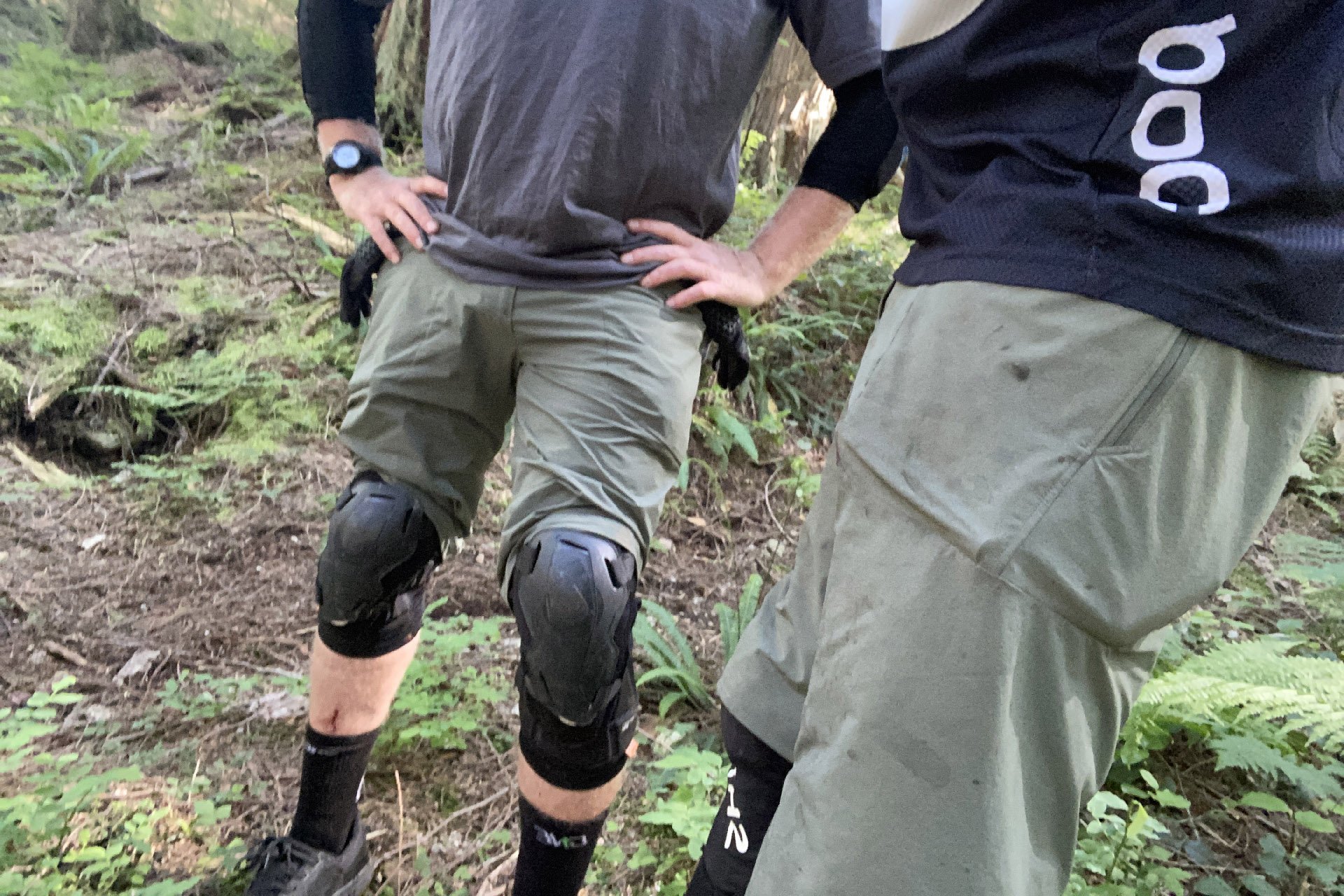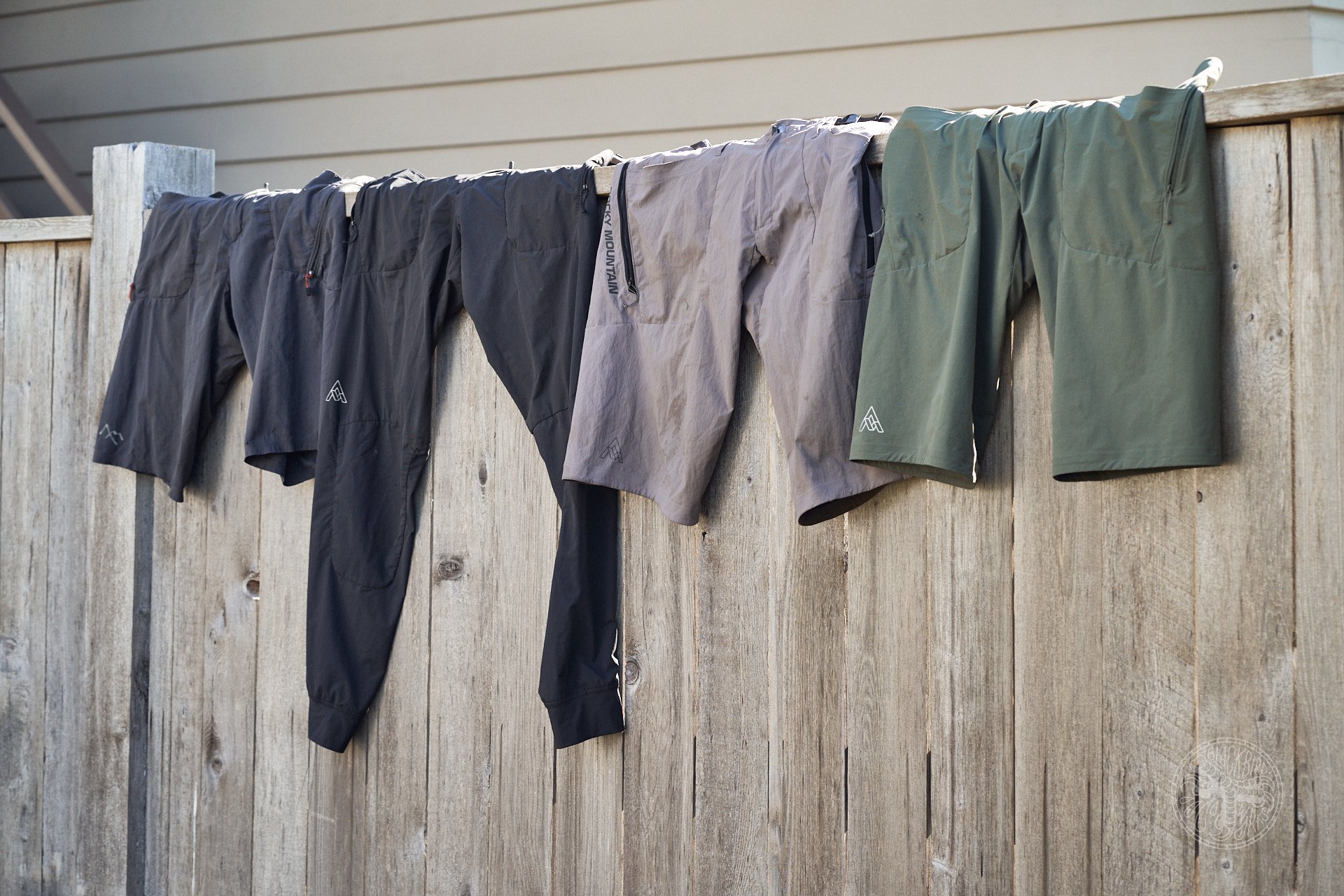 Old features vs new features
Old: integrated waist adjuster plastic clips and belt loops. New: belt loops and plastic clip waist adjustors are gone and replaced with an integrated ultra-suede hook and ladder belt adjuster.
Old: Soma 2-Way Stretch woven. New: more stretch using the same 4-way stretch, fast-wicking fabric found in the 7mesh Farside Short.
Old: a gusset that moves smoothly and won't get caught on the saddle. New: a reshaped gusset and an articulated leg shape that still moves smoothly and doesn't get caught in the saddle. Also tapered for more knee pad space.
Old: a pocket and a ninja pocket and a sleeve inside the ninja pocket that Cam called the Samurai sleeve. New: as with the Glidepath pants the Samurai sleeve is gone in the short as well. It's too bad as I really like this little pocket for my key or glasses.
Old: some other colours. New: some new colours they call loam, black and thyme (our greenish colour).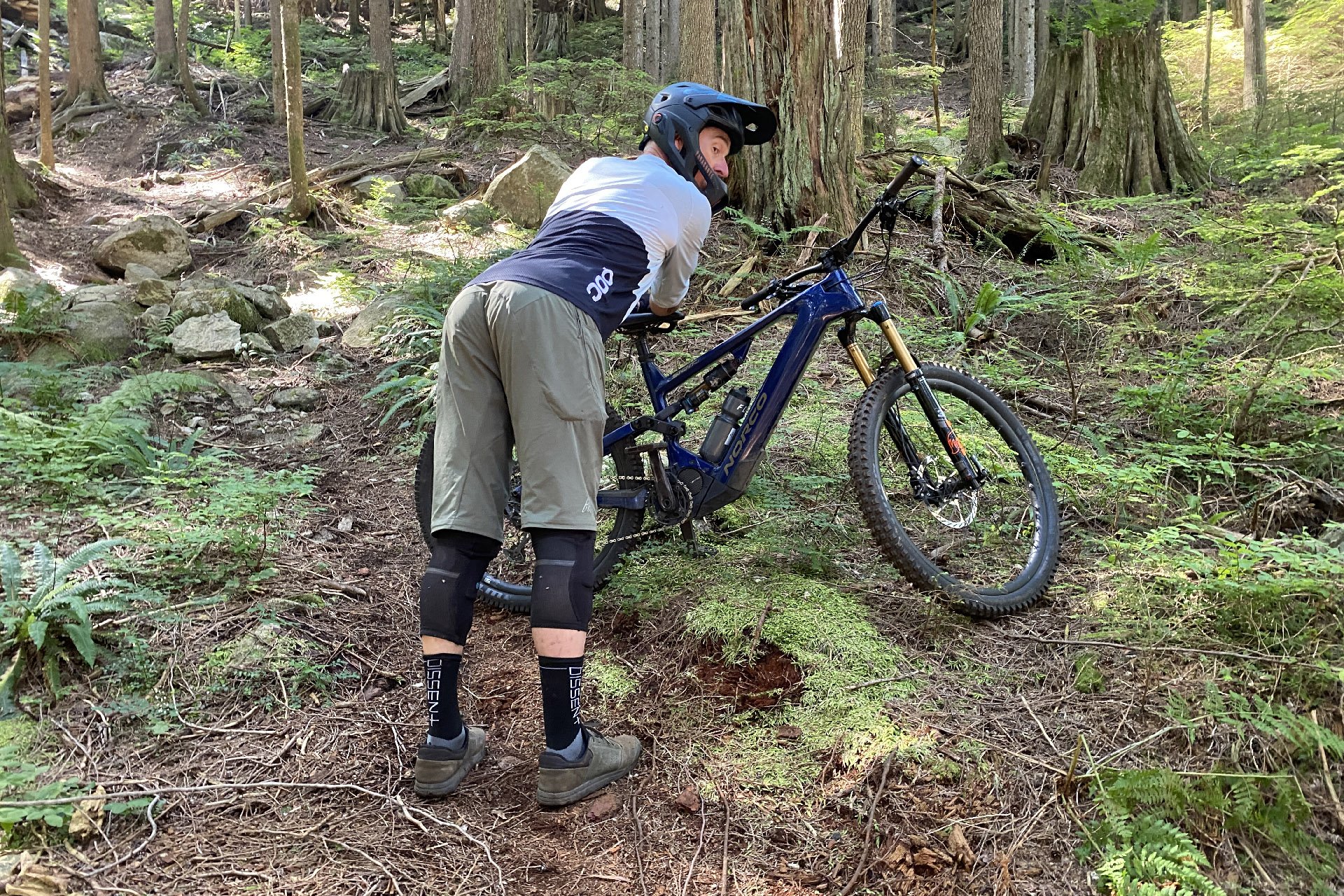 The Fit
The short is a relaxed fit which could be why I like them so much. There is plenty of room without feeling baggy. The originals definitely fit baggy and super relaxed, like every piece of clothing on a modern and 1995 skateboarder. Cam started with mediums which were too large but they fit me well. When compared to the Race Face Conspiracy shorts I tested they fit bigger but I find Race Face sizing a bit small in the shorts and pants department. Or perhaps the ratio of Dumpsters/bro beer-down time: waist size needs to be accounted for. The sizing guide 7mesh provides on their site works well for dialling in the proper sizing, something I am guessing Cam didn't get around to checking before requesting the mediums for himself that I am now able to test; or was it just a clever way to get me to write more words for him? Either way, we are two happy riders wearing the same shorts on our summer rides.
I find the new hook and ladder adjuster - as 7meshers call it - a bit awkward initially. Getting the metal into the cloth loop was tricky at first but it was easy once I got the hang of it. I have seen this metal hook into loop slots on Patagonia shorts in the past. Like the plastic closures from Glides of yore, the adjustment needs adjusting throughout the ride. I think it's just that the material stretches with heat and sweat or as I like to think I'm just burning huge cals and that's why they are bigger. I am on the last loop available and it works fine before, during and after rides.
The pockets
I have a tie for best features on all things in the new Glidepath shorts: the DWR coated, lightweight, smooth and soft feeling material tied with the pocket design. The shorts have two ample sized front pockets and two even larger side zipped pockets. The side pockets are the perfect position as they are low enough and and on the side of the leg enough that when full they are out of the way and do not restrict any movement on climbs and descents. I can keep a car key, credit card sleeve and phone in one sidecar and a Race Face Nano packable shell in the other one. I look a bit like a Mountie with the pockets stuffed but I'm OK with that. The front pockets get a lens wipe, tire plugger and mini multi-tool. I don't mind carrying a small hip bag but there is no need unless a cold rain might hit me and a real rain jacket is required.
More Details
The lightweight material , 194 grams, is 85% nylon, 15% elastane with DWR finish that has a bit of splash resistance and a lot of quick drying. This material dries very fast. One beer post ride and they are halfway dry. The Inseam is 15" or 38 cm. Other specs include reflective details, a zippered fly with a snap for closing them down. As for care, they are to be machine washed warm and tumble dried low. That's how I like to clean my gear; less hang dry, more machine dry for me.
The problem with the Glidepath shorts
The one problem with the shorts is that they looked so good I didn't want to dirty and rub them all over my gritty saddle. In the name of science, I sacrificed the clean smooth fabric and after several rides they still look new and suitable for wearing off the trails. I have not worn them on very wet and muddy days so I cannot address their condition under those circumstances but on a few social events, a bunch of out and abouts, the Gliders look great on me - well that's what I tell myself. In addition, they are girlfriend-approved for off the bike wear, as opposed to most of my bike gear. Of course I leaned against a tree and got resin on the front of the shorts in a visible location. I'll wait for the smart ones at 7 to tell me how to remove the stain before I ruin them with one of several Google approved resin removal techniques.
Shredding the $170 shorts
7mesh has a crash replacement policy whereby if you damage your apparel within the first 30 days of purchase, 7mesh will (at their discretion) repair or replace your item. Further to that policy, the 7 crew state,"But even if you've been putting your kit through its paces for a few seasons, we can still help to repair your crashed item, charging only a small fee to cover the service. If repair is not possible, or if you prefer, we can also offer you a Crash Replacement discount towards a replacement item."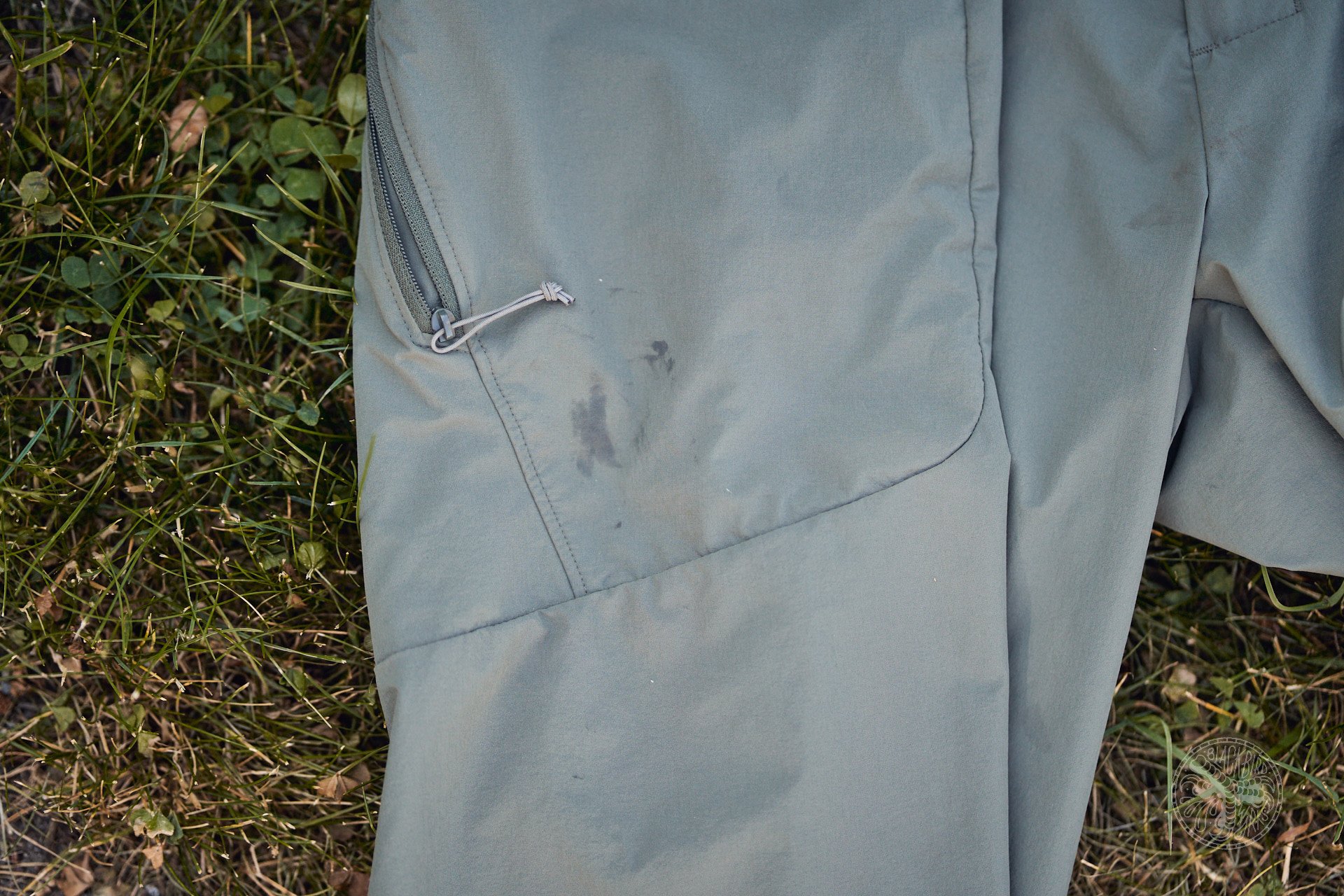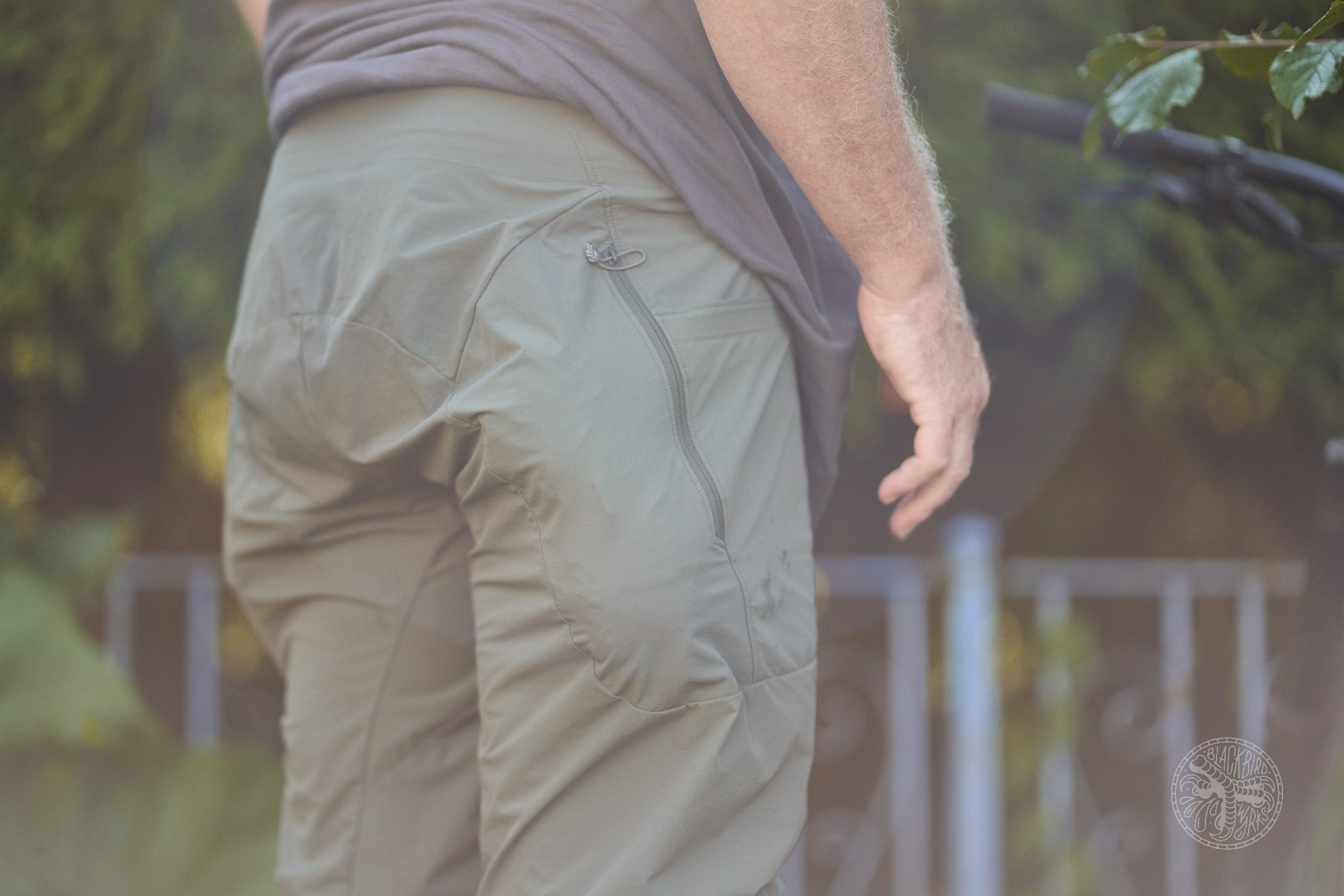 Bottom line on these bottoms
These are the best shorts I have tried and I have tried countless pairs of shorts over the last decade. Yes they are expensive, or are they? Looking at other brands they are in a similar price range. Patagonia Dirt Craft bike shorts $159, NF Invaders $141, Chromag Ambit $155, Troy Lee Drift or Ruckus $149, and Race Face Indy $160. Whatever, we all have our price and we all have our impulses to go beyond our price. For the money these shorts or this short, however you want to say it, is money.
7mesh Glidepath shorts 170 CAD, 150 USD
Some Comments from Cam
I'll admit I didn't check 7mesh's sizing guide before responding to the test inquiry from 7mesh, but I am a medium (the most exciting size) about 92% of the time. Occasionally, based on a company's generous sizing or when I've skipped a few post ride beverages, I wear a small. This generally isn't in shorts however. I'm pretty sure I'm either a size 31 or 32 waist. Which is a medium whether you are talking relaxed fit of full hipster jorts. Unfortunately, when I called up the 7mesh sizing guide using Safari, nothing happened. I tried back doors, side doors, and even straight over the main wall - nada. It worked in Chrome however and I discovered that small covers from 29-31 size pants and medium goes from 31-33. This however, is not true in my experience. I am certainly not single IPA under a size 31 waist but on the smallest setting, using the new ultra suede hook and ladder closure, the mediums were falling off me, with no other way to shore them up. No problem, said 7mesh, find another tester and we'll send some smalls.
I slipped on the smalls and they were immediately better. In fact, on the largest hook and ladder setting they were smaller than on the smallest setting off the mediums, so there was no overlap between sizes. After wearing the shorts similarly to Trevor over several days, riding and out to dinner with the Pope, I began to climb that ladder. At one point I arrived at the second last rung, which worried me some. My mea culpa here is that I hadn't washed the shots in probably 5 wearings. I was conserving water, and preserving my natural scent.
After washing, the shorts firmed up to where they were at the beginning, but the ultra suede cinch didn't get any smaller. In fact it seemed to have grown a little. For now they fit fine but I would have been in trouble if I hadn't sized down. Patagonia used a similar hook and ladder solution for their mountain bike shorts, but they used one on each side, providing twice as much adjustment. The 7 mesh closure also spans your fly so if you need a whiz you're going to have have to open up that closure. I can't say yet if this is a fatal flaw, but it has me a little concerned. It probably makes sense to size down if you are near the lower end of the sizing guide's recommendation. And you should probably pull out the tape measure instead of just relying on your pant size the way I did after the fact.
Sizing Aside...
I wasn't as much of a fanboi of the original Glidepaths as Trevor. They fit great, but I found the material a little crepey, for lack of a better word. The new version has more stretch, and a smoother feel and look. And while still nice and light, the fabric feels slightly more substantial, which I also appreciate. The previous dual-sided cinches worked very well but they looked a little sloppy because the tails flopped down. The hook and ladder is a big improvement from that angle. I like wearing and riding in these more and I won't be giving my test pair away any time soon. They won't fit Trevor anyway.
Trevor Hansen
Age - 57
Height - 5'9"
Weight - 175lbs
Ape Index - 0.992
Inseam - 31"
Trail I've been stoked on lately - Bukwus
Bar Width - 780mm
Preferred Reach - 465-480mm