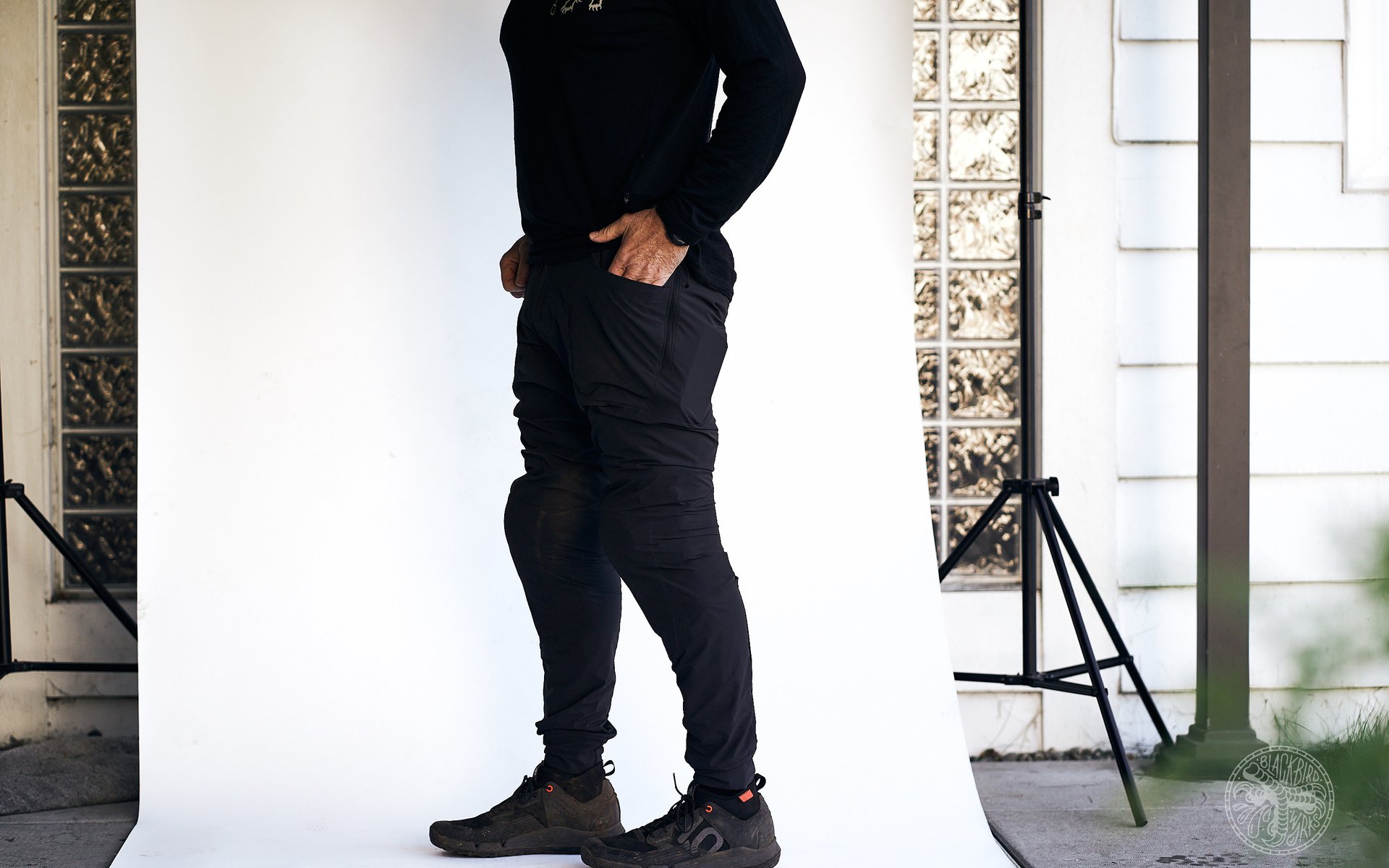 REVIEW
7Mesh Glidepath Pants Reviewed
Fave shorts in a long version
I have always loved my Cam-me-down Glidepath shorts. Cam reviewed them then felt sorry for me (or found them to be too big for his svelte self) so he handed them to me. They were my go to spring/summer short. The pockets were perfectly placed and plentiful, the fabric was super light with its fast drying secret sauce, and most importantly they fit well and were comfortable. I still wear them but I purchased a new, branded version from Rocky Mountain but they are identical shorts. When I heard 7Mesh had a pants version of the Glidepath, I knew I had to try it.
Pants
The pants are simply a longer version of the shorts (obvious but true -Ed). Almost all of the features of the shorts are present in the pants. Tied for best features in my opinion are the pockets and the lightweight four-way stretch fabric.
I heart pockets - the front 2 stash pockets are deep so I trust my junk (er...stuff -Ed again) not to fly out, and best of all the side zip pockets are angled and keep the bulges out of the way (do we need to have a chat, Trevor?) while pedaling. The only thing different than the shorts - and the thing I miss in the pant - is the pocket inside the side zip pocket. For some reason this feature was left out for the pants. Not a big deal, it just keeps things like phones and credit cards tucked away a little tighter than in the large cargo space.
I really want stretch in my gear. These pants have four-way stretch that makes climbing and descending great because of the reduced fabric pull. The knees are reinforced and articulated so pads can be worn underneath. Lower profile pads like my Race Face Indys fit well but even my Race Face Roams with their bulbous bulk fit fine.
Water, ankles, care and fit
The Glidepath pants (and shorts) are made with a slightly water repellent fabric. 7Mesh say it uses a looped back yarn for fast wicking. My grandma used a quadruple loop de loop yarn on all of our red mitts that we fake smiled for when opening them on Christmas day. Real smiles for me with the 7Mesh yarn because these do offer some protection from light rain and trail splash but their best feature is how fast they dry. By the time I'm halfway through my Dumpster Beer they are already drying out.
The fit is very soft and comfortable for an outdoor piece of gear. The stretchy, lightweight fabric feels so good on that I wear these - even off the bike - any chance I get. They come with belt loops (not for me) and low profile clip locking fasteners on a nylon belt for easy adjustment. As the ride progresses the fabric loosens a bit and these clips make for quick and easy adjustments.
The problem with these pants - and it's the only problem - is that the ankle cuffs are too tight. It takes a good tug to get my size 10 feets through the small non-elastized opening. If they designed it with more stretch and a slightly larger opening they would be perfect. I find the best way to get them off is to peel them off inside out to avoid the ankle fight. Getting them on requires good balance, or a seat, and some solid pushing and pulling. While drying out post-ride recently, Dumpster Prince and all-around great guy Kevin Calhoun recounted trying the Glidepaths on at Steed Cycles. While wrestling to get his foot through the ankle he hopped and fell crashing in the change room banging his head in the process. When the shop guy asked if everything was okay Kevin did what we all would do: he lied and said he was fine. Bike injuries don't only happen on trails.
Woodja?
Oh yeah, I would, and I have recommended the 7Mesh Glidepath shorts and pants to many of my riding buds. I try to wear bike pants whenever I can. Unless it's too hot, too cold or too wet these are my new my go-to pants.
They retail for $200 CAD. More info at 7Mesh
So... would you?