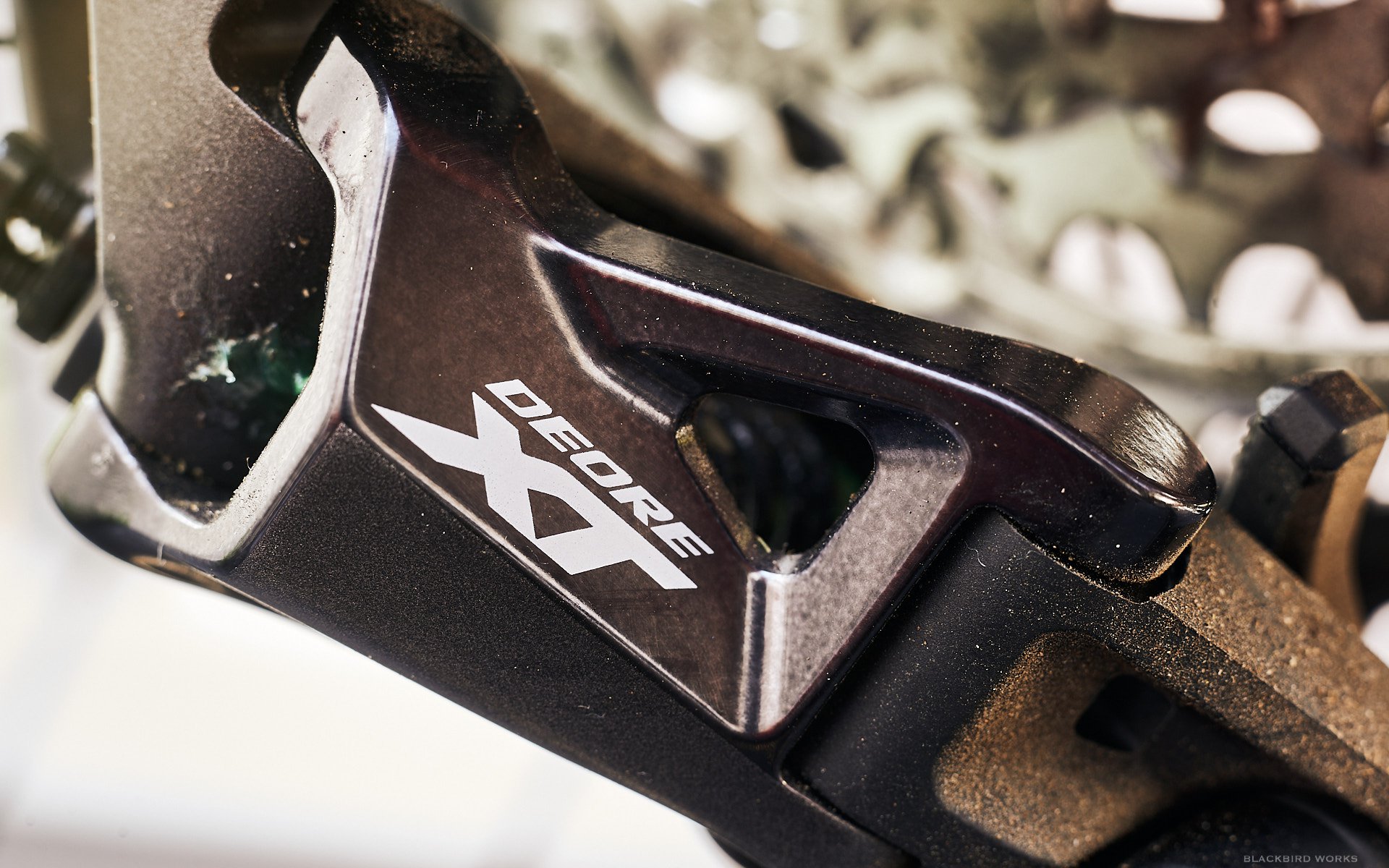 1,000 KMs of TESTING
6 Months with the 12sp Shimano XT Group
The Birth of XT
There must have been significantly more rejoicing across the land in 1983 with the birth of a high-end off-road drivetrain from Shimano than my arrival on to this flat-earth.
Shimano XT had 6 speeds and a Stag for a logo. The Stag should have stayed in my opinion. They squeezed in 6 more gears over the next 38 years for a total of 12 onto a rear hub for the much-anticipated system. That's a new gear every 6 years or so.
It took 8 years to make the move to 8 speeds in 1995. Four more years for 9 speed and another eight years for 10. What was holding shimano back to rack up the gears ? It was likely a lack of competition. Until Sram's big push to ditch the front derailleur with the Eagle, Shimano has been content with the most excellent 11sp drivetrains.
Shimano has made big leaps in features and implemented smart technology with the new M8100 XT series.
Microspline freehub body to accommodate a 10-tooth cog
51 tooth granny gear
Hyperglide+ shift ramps in the cassette for excellent shifting under load
Externally adjustable and servicable derailleur clutch
Smoother shifter-brake mount integration with I-Spec EV
Stiffer brake lever with wider blades and flex brace
Setting up XT
Lining up with the build of the Forbidden Druid, I was excited to rip into Shimano-labeled boxes. It is an industry legend that there is a guy, sitting in the dark designing XTR packaging somewhere in Japan. XTR packaging is often so beautiful that women around the world keep their jewelry in it.
XT packaging is more utilitarian and less tactile, however the packaging may represent the philosophy the gruppo embodies: Function over Form.

It may be the whole philosophy the gruppo is representative of: Function over Form
The test kit consisted of 170mm cranks with a threaded XT bottom bracket and a 30-tooth direct mount chainring Shimano calls "Dynamic Chain Engagement+.' Shimano chains now include a 'single use' master link. I'm not sure why these would be single use as chains always break at other links, but these do snap into place with an encouraging CLICK. Speaking of links, there are 126 of them and for my medium-sized Druid, I used the complete, uncut chain.
Shifter and the brake lever were joined in a seamless I-Spec EV interface that makes the bars look tidy. Also, not having another clamp choking carbon bars is a plus. Shimano does still offer a front derailleur as an option and a 10-46 cassette to go with it. I can see it being an option for some gravel grinders or off-road tourers but it had no place on my trail bike. The 4-piston brakes with 203mm rotors front and rear supply all the stopping power the trails demand.
SL-M8100 Shifter
It was February when all of this came together. Rides were wet and not unusually the trails are just about at their best in the wet. As I shifted up and down the cassette in their freshest forms, I was welcomed with minimal paddle break away friction. In fact, I would label it as effortless. Shimano promised 35% less shifting resistance compared to the previous generation shifter and they delivered. Shifting became so easy I shifted up and down the range more often to stay in an optimum cadence. My riding got smoother and wear on the gears more even.
The beauty of being able to drop 2 gears at once has been a real treat when I reached the top of a punchy climb and the paddle feel of the shifter was perfect for my size large glove hands.
I-spec EV mount is slick but it isn't without its shortcomings. The bolt came loose a few times on rides but never fell out. A dab of loctite made it problem-free.
RD-M8100-SGS Rear Derailleur
Probably the most anticipated guest of the party, it arrived in a carriage wearing glass heels. The design of the XT Derailleur has gotten more and more beautiful over the years. Gone are the years of 50s hot-rod looks with polished shiny surfaces. This new piece is more like a Swiss watch with many complications. The angles and façades are just right. The anodizing on the metal surfaces is the perfect shade of 18% middle grey*.
The derailleur is a noble servant. It does what the shifter asks it to. It can't question decisions and hesitate. It works in sync with the chain and takes blame for the shifter's mistakes. "The Butler Did It" idiom is rather appropriate as death of many parts are inevitable if the derailleur messes up.
*Photographic term for 18% light reflectance colour tone.
The Clutch Story
The clutch mechanism on Shimano's MTB line up arrived in the 10-speed days and the company wanted the system to be serviceable, unlike SRAM's sealed clutch. It was interesting to see an on/off lever on derailleurs as many people struggled to remove their rear wheels with the clutch activated. The premise makes sense as the derailleur bouncing around a thousand times a ride would eventually wear the mechanism out or at the least knock it out of adjustment. If you make something adjustable and accessible to the consumer, you must also educate them as to how and when.
The weather west of the Rockies has not been easy on bikes this year. Mid-trail creek crossings and post-ride hose downs have been very common and the XT derailleur seized while trying to shift down from the 51-tooth cog - causing it to lose all chain tension during the 6th ride. It was a puzzling issue as I checked for impact marks and bent derailleur hangers and everything seemed normal. When I opened up the clutch access cover, I was greeted with a greasy brown layer of rust. How could it be? Was the adjustment port grommet not closed properly, or was there another source of entry for the moisture? Was there enough Shimano Shadow+ clutch grease to begin with on the clutch parts?
However the moisture found its way in, I've concluded that every new Shimano rear derailleur needs to be opened up, lubed with the proper grease and backed off slightly in clutch tension before the first ride, especially in wet weather or if you are a heavy washer. Thankfully, the clutch is an $8 part that can be replaced by just about anyone if you have issues. The price to pay for this amount of accessibility and serviceability is minor in my opinion. Since that time, the derailleur has been trouble free for 800 kms.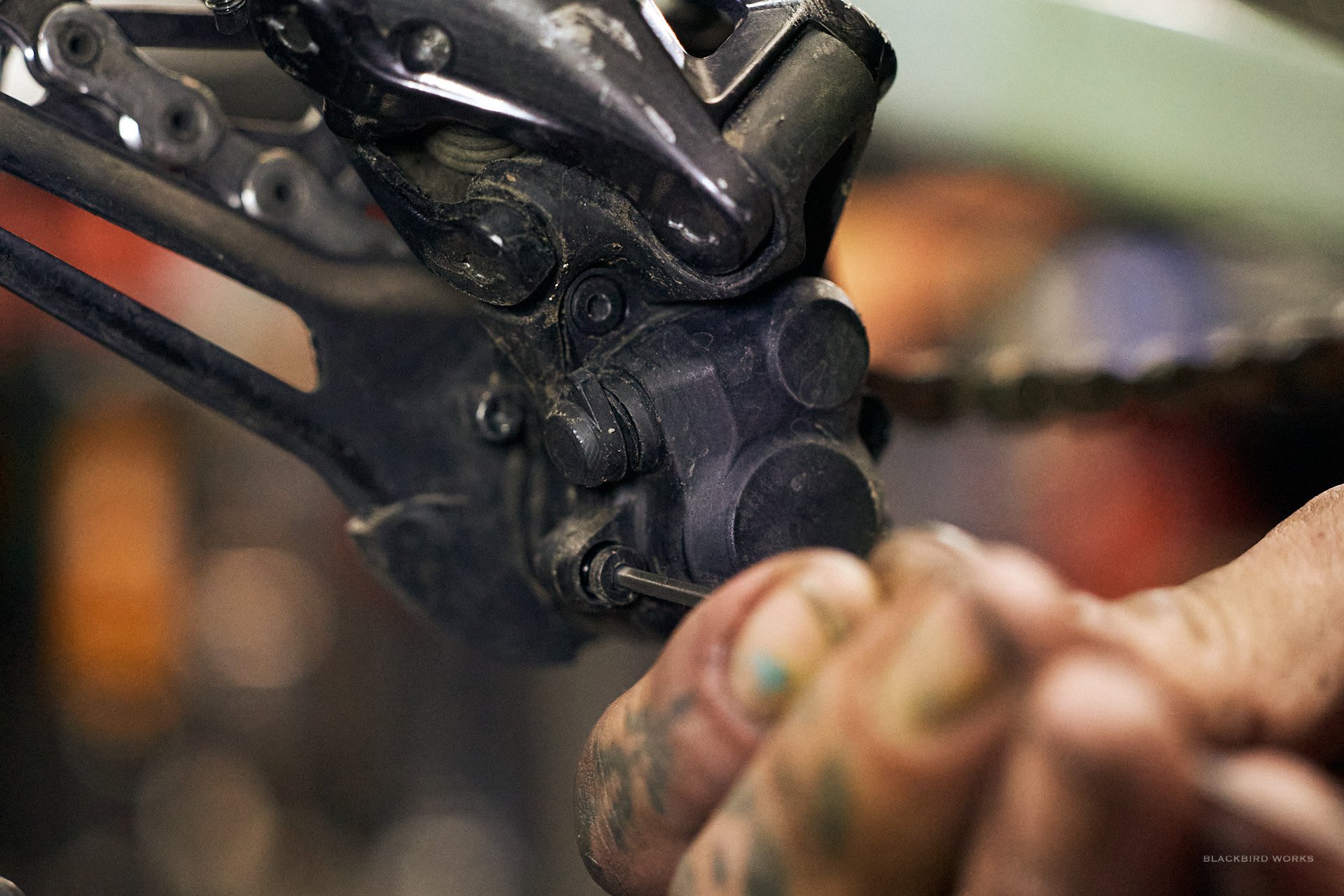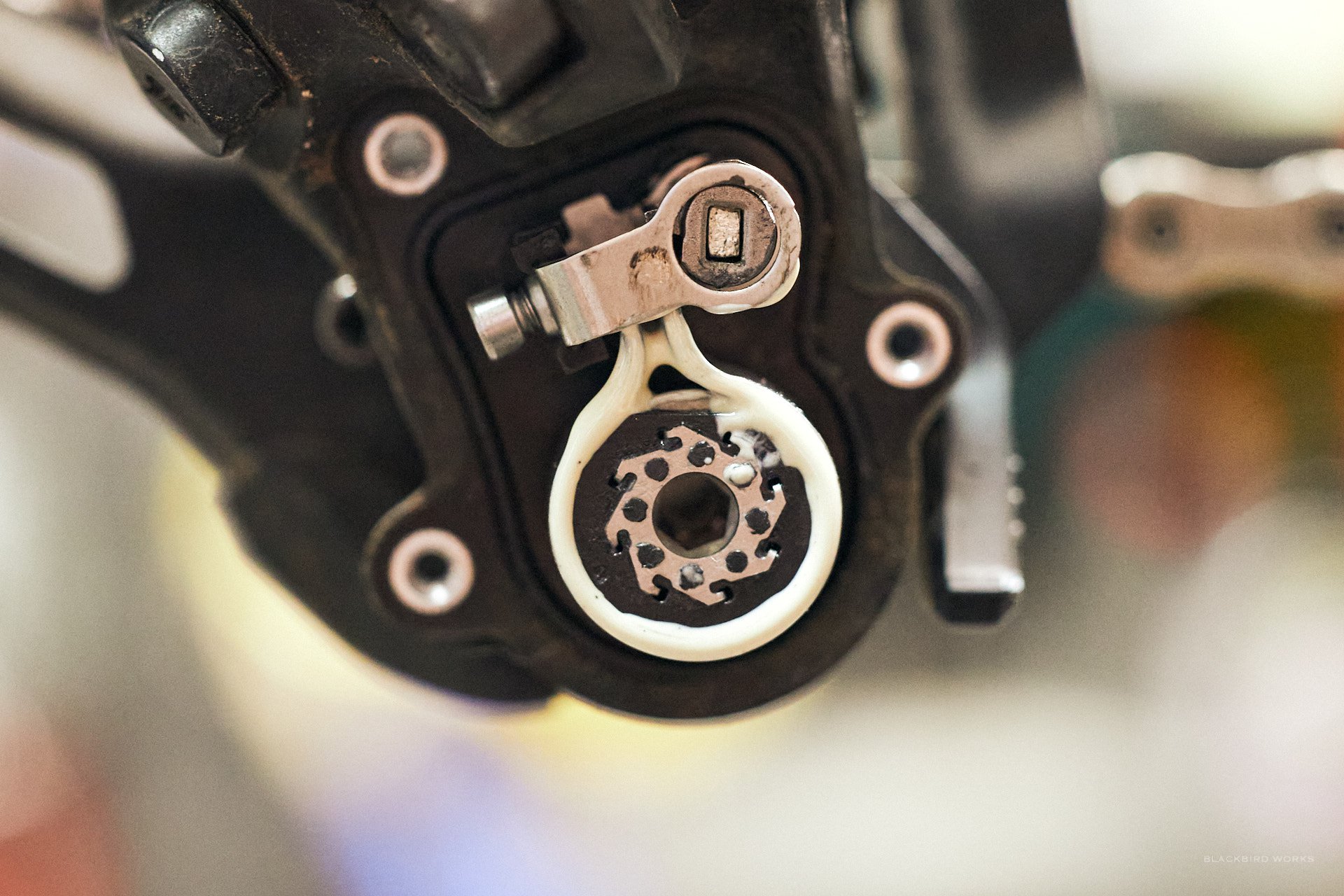 Cassette and Chain relationship
We all knew that Shimano was going to come banging on the 12-speed door. We didn't, however, know how the cassette would look and what the gear spread would be. Shimano spent a lot of time with their test athletes. Tonnes of info has been digested and put into the excellent mechanical construction of the 10-51 tooth cassette.
I was on a trip to Peru with Joe Murray and Elladee Brown two years ago when the 12-speed XTR secret was cladding their yet to be released bikes. The XTR group was more than just functional and I was excited to see them take it into the depths of the Peruvian Andes with such confidence.
If Shimano is good at anything, it is waiting for the right amount of time for the development stew to mature before trickling the tech down to the XT, SLX and DEORE Levels. I'm not going to lie and tell you that the 470g XT cassette is light. It's a tank. It is not a single machined piece like the higher end competition is.
XT CS-M8100-12 has a Beam Spider that holds the 7 bigger cogs together. The other 5 are lone rangers that sit on the splines of the microspline freehub body. The 10-tooth cog has a keyed interface to lock itself to the 12-tooth cog that is fitting for an Indiana Jones Movie. 10-12-14-16-18-21-24-28-33-39-45-51T gears are spaced better than SRAM's new cassette and this makes the jump from the 45 to 51 tooth cogs a tolerable one under load.
Shifting Performance
Uneventful.
That's the highest compliment I can give to this new Hyperglide+ and SIL-TEC mashup with the new cassette and chain design. Under load, the system waits for just the right moment to propel the chain to a bigger cog with such elegance and poise that you want to do it over and over again. Combined with my preferred dry lube (Finish Line Dry) the drivetrain is noiseless and frictionless.
For experiment's sake, I've tried the XT, XTR and a XX1 chains on the XT drivetrain. The XT and XTR chains were nearly identical in shifting. The XTR chain had slightly crisper performance under load and overall noise was lower due to the additional hard coating on the links. It is my preferred chain for this group.
The XX1 Chain was a rather surprising match. It offered near XTR-like performance and it is well known that the XX1 Chains last a good 1,500 off-road kms before reaching a "replace me" state.
Made me wonder "what if I threw an eagle cassette on there, too".. a 10-50 would work on but not sure about the 10-52t series cassette.
Crankset
The crankset, chainring and the bottom bracket have been trouble and creak-free all through the winter/spring/summer carnage. It's the least exciting part of the review by far. The 30-tooth Chainring is still holding on to the chain as well as on the first day and 1000 kms in, there is no reason to change it. It has an aluminium spider mated to a steel ring. It will be still alive when rest of the group is due for replacement. I love this spec decision by Shimano.
While not the lightest crankset out there, the visual aesthetics are dialed and cold forged Hollowtech-II construction is proven to be failure-free under heaviest and most aggressive of riders. If I could, I would put an XT Crankset on all the bikes.More and more companies are producing chainrings for the direct mount interface and every crankset comes with a nice metal tool to install and remove the chainrings. I'm sold!
Value Proposition
This is a confusing one. What would be the driving force for an individual to choose an XT derailleur over SLX when the time comes to replace it, assuming your new bike came with an XT changer? We know that XTR is only for people with deep pockets and the taste for the best and the lightest. Most $10,000 bikes will come with the XTR group and you'd probably want to keep it that way.
Is there a tangible separation between the XT and SLX derailleurs? It is pretty much down to where they are manufactured and the kind of warranty you get. While XT and XTR products carry 2-year warranties, SLX and DEORE only carry a 1-year warranty. All XT and XTR products are manufactured in JAPAN at the Shimano factories while SLX and DEORE are made in Malaysia, China and Singapore. Same goes for Dura-Ace and Ultegra groups.
There is a $100 price difference between an XT and SLX Cassette, shifter and derailleurs, and only a $10 difference between the Brake Sets.
The more I think about it my ideal drivetrain would definitely be a mix between XTR, XT and SLX:
XTR: Shifter, Chain
XT: Cranks, Cassette
SLX: Derailleur (such a great value)
Conclusion
Shimano's XT group has lost little of the status it carved for itself 30+ years ago. There is no redundancy in the whole group. Every piece has an engineered purpose and feel. The technological gap between XT and XTR are the smallest they have ever been.