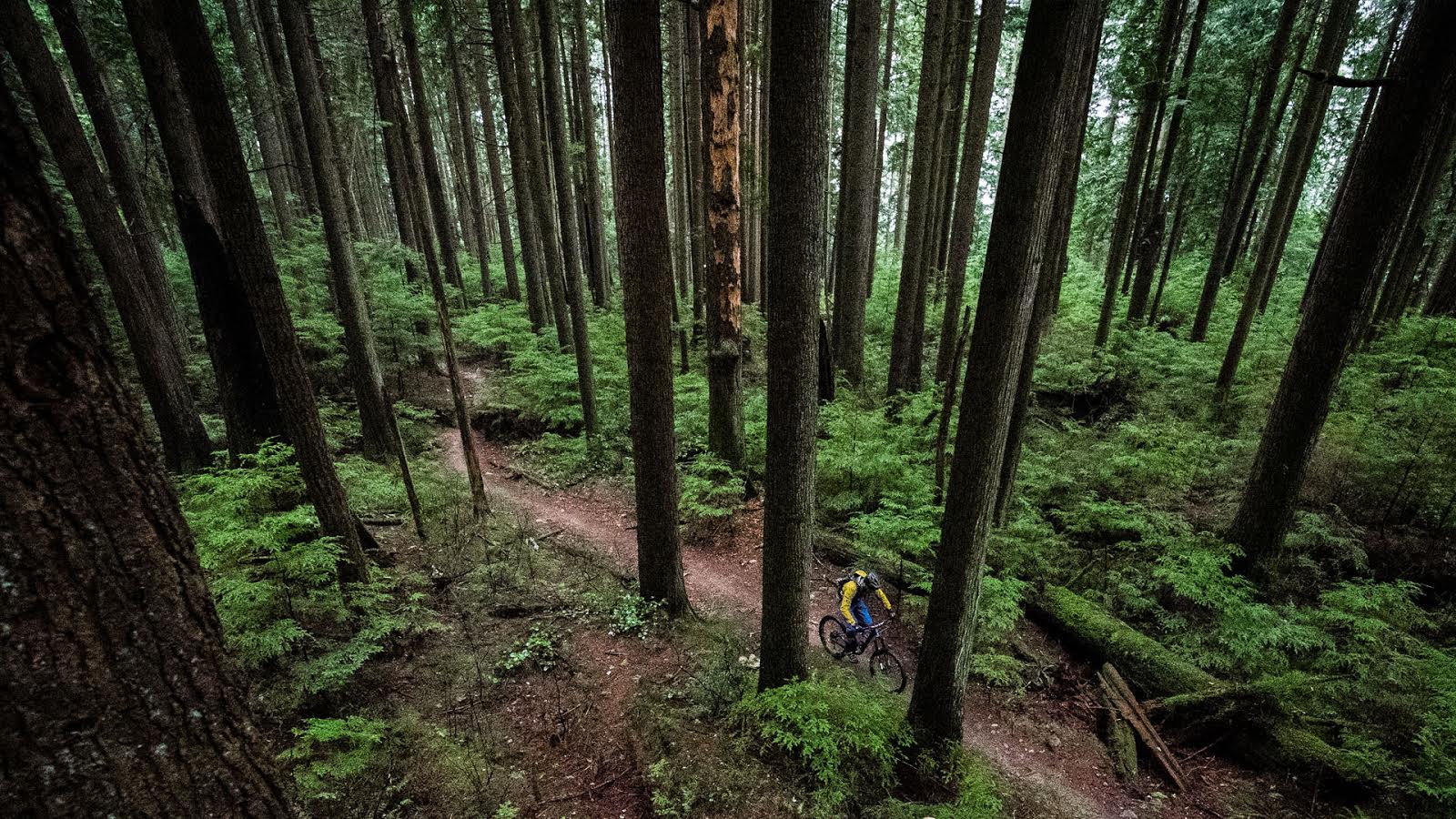 River Rats, Thirsty Beavers, and Riding Fools

  Vancouver Island loam.
Cumberland could very well be British Columbia's new riding mecca. While still an unknown region for many, the level of familiarity with this area can easily be broken down in three categories.
1. Those that have ridden this Vancouver Island gem. These lucky folks already know that it is a mecca, and are probably dismayed at the thought of more riders visiting their secret singletrack stash.
2. Those that have not traveled to Cumberland. These people should be warned: the riding there is most likely better than where you currently live, and it may cause you to pull up all stakes and move out to the Island.
3. Those that live, work and play in Cumberland. They are waiting with open arms to greet new faces to the riding scene and show them around their great trail network and funky town.

  Good times planning a day's adventures.

  Suited up.
NSMB.com team riders Paul Stevens and Stephen Matthews and I road-tripped out to the Island to experience the Cumberland scene for ourselves and to get away from a rapidly descending snowline on the Mainland. We sampled a wide variety of Cumberland offerings, from technical climbs to wide open downhills. We rode these trails with locals, guys who built and maintain this overwhelming network of singletrack. Riders like Martin Ready and Jeremy Grasby, both of whom build trails not only to sustain their need for adventure, but also to develop their local businesses, and to grow their community. Out on the trails we met the legendary River Rats, two hard-as-nails old fellas who spend half their year out in the woods putting in new lines, just for the satisfaction of contributing to the Cumberland bike scene, and to have some new trails to ride (Thirsty Beaver being one of their projects that we thoroughly enjoyed). 
The Cumberland experience is not solely thanks to the epic trails that are there. The town seems re-designed into a tailor-made mountain bike destination, a far reach from the rough-and-tumble coal mining town it was not so long ago. Local businesses have sprung up to cater to mountain bikers, and other adventurous types, and really go the distance to creating an unforgettable visit.

  That Island moss.

  Stephen Matthews in little bike heaven.
Island Mountain Rides: Owned by long-time Islander Martin Ready, this guiding and shuttle service will take you to where you need to go, in fine style. Martin has his finger on the pulse of not only Cumberland's bike scene, but of Vancouver Island's. He offers anything from half-day packages all the way to week-long singletrack shredfests.
The Riding Fool Hostel: Do not look any further, this is the place to stay if you are in Cumberland. The Hostel is warm and inviting, with options ranging from private rooms to bunk rooms. Pool tables, lounge areas, a BBQ, bike storage, and a location that is literally fifteen seconds from the trailhead makes the Riding Fool the ultimate mountain bike accommodations.
Dodge City Cycles: This very well stocked bike shop is your Cumberland resource for everything two-wheeled, and is conveniently located in the same building as the Riding Fool.
Tarbell's: Everything made fresh, in house. We had sandwiches featuring house-roasted meats, and made-from-scratch toppings, plus freshly baked treats. My mouth waters as I write this.
Riders Pizza: A completely bike-themed pizza joint, right down to the tables made from bike wheels to the beer list featuring all bike related brews. The pizza is amazing, with the good ol' classics and some interesting specialties as well. The best, in my opinion, is the gluten-free crust made from grated potato and polenta. It must be tried to be understood.
The Waverly Hotel: A historic building, a great beer list, and awesome pub food. What more do you need? Well, the night we went there we were treated to some unreal live music. Unexpectedly good for such a small town, we were not complaining as the drinks flowed and the dance floor shook.

  Necessary post-ride stop.

  Lucky is the local brew, you'd best recognize.

  Inside the Riding Fool.
Paul and Stephen, riders who get to explore their fair share of cool riding zones, were equally impressed with Cumberland, and a short side trip we did to Hornby Island. I asked them a couple questions:
NSMB: Highlight of the trip?
Paul: I think for me, it was our first descent on Hornby Island. At the top of the climb, just before dropping through the mist into "4 Dead Aliens", Martin said to us "You boys will remember this moment for the rest of your lives". And the next ten minutes was as unforgettable as he had predicted. A beautiful ribbon of singletrack led us through the moss, corner after corner of perfect, tacky dirt, on the ultimate trail bike gradient, pedalling to keep the flow, but still absolutely flying. So much fun!
NSMB: We rode with some real unassuming shredders. What makes them so good?
Paul: There must be something in the water over there or the beer, or the whiskey, or the cigarettes! Seriously though, as hard as those guys can party, they shred even harder on the trails. I think what makes them so good is a true passion for mountain biking. They live in a town that has embraced the sport, and all the guys we rode with own businesses that accommodate mountain bikers, and promote riding in the area. They build what they ride, and they live and breathe bikes. Jeremy (Grasby, owner of the Riding Fool Hostel: ed.) also obviously has a masochistic streak, as does anyone who rides a single speed hardtail, in my opinion. So I think enjoying the pain must help him push that little bit harder!
NSMB: Highlight of trip?
Stephen: With a lot of trips, the highlight for me is riding new areas and seeing the differences in trail style that each network has. We rode for 3 days and the differences between the Cumberland network, Forbidden Plateau, and Hornby Island made it an exciting and fulfilling trip. The trails we rode in Cumberland had everything from flowy singletrack to tight and technical descending. Over on Forbidden Plateau it felt that we really let it all hang out and got up to speed on the bigger descents. After taking 2 short ferry rides to Hornby Island, I got to see what drives people to this island; perfect singletrack . Each area offered completely different styles of riding despite being only kilometres apart, and it's those variances that keep mountain biking exciting.
NSMB: What is the secret ingredient that makes Cumberland such a great mountain bike destination?
Stephen: The town itself is set up perfectly for mountain biking on multiple fronts. From the rolling mountain geography to the cycling focused hospitality, Cumberland as a bike destination proves perfection. Anyone who has travelled with bikes knows the importance of bike friendly accommodation. Being able to roll into The Riding Fool Hostel after a day of riding and having a safe place to put your bike, warm up, and have large common area to converse about the day is worth so much to group dynamics. Then to further the positive experience, on the way out the door in the morning it's literally less than 2 blocks until you reach the trailhead for access to endless riding. We were only there long enough to scratch the surface of the trail systems, but it's that taste of an area that made our group hungry for more. With the town being at the base access for the Cumberland trails, it made it super easy to roll in and out of town for meals which kept our packs light. Once we sat down for lunch, the owners of the restaurants were all welcoming to cyclists, and came off genuinely interest in our daily adventures. The secret ingredient to Cumberland, is the entire town's genuine interest in cycling. Everyone is on board with how much fun there's to be had in the town's backyard.

  Man train.

  Paul Stevens.

  Stephen Matthews.
2013 Cumberland BroCard Package
We are excited to announce a BroCard partnership with the Cumberland mountain bike scene! Next season visit Cumberland, and use your 2013 BroCard to unlock deals all over town, from accommodation to food, from bike parts to guiding services. Go HERE for more details.
We are now taking online Christmas preorders for the 2013 BroCard! It makes a great stocking stuffer, and offers great discounts on bike park lift tickets, accommodations, restaurants, bike shops, guiding services and more, all over BC. You will also be automatically entered into weekly draws for great prizes courtesy of the BroCard partners. Get yours now for only $19.95 online: nsmb.com/brocard.
---
Have you sampled the goods in Cumberland? Any recommendations?