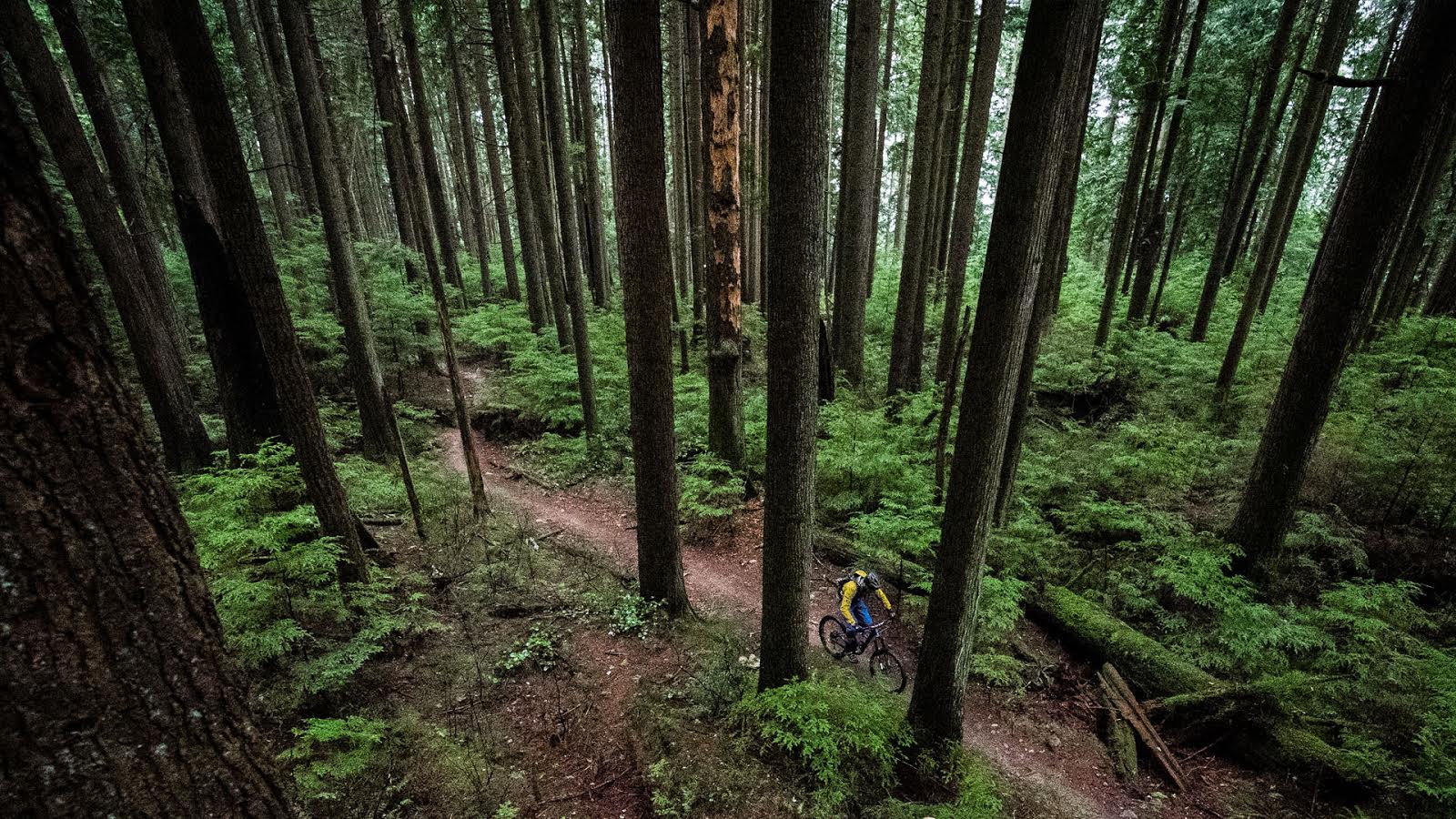 Hope For Cypress Trails
"It's all going to be bulldozed anyway."
That phrase keeps coming up when talk turns to trail building on Cypress. People take it as gospel that the entire mountainside is going to end up as houses and highrises. The truth is that the future is looking bright for bike trails on Cypress. Plans are in the works that include a strong recreational component for the area, including mountain bikes. Cypress trail builders are invited to meet and learn more on Tuesday, November 20th.
British Pacific Properties Ltd is the major land owner in the area. While the Rodgers Creek area is slowly being developed, BPP will be working with the District of West Vancouver and the community to plan the next phase, Cypress Village. This is the phase that will have the greatest impact on existing mountain bike trails, including Sex Boy, Tall Cans, the Roaches and S&M, potentially reaching as high as 5th Horseman. 

  Cypress Village will be located in and around the first switchback. Image ~ British Pacific Properties
The focal point of the development is going to be Cypress Village itself, a mixed residential, commercial and retail centre located in and around the first switchback, likely including the area used as the DWV Operations Yard. The concept is to have local shopping and services so that residents don't have to hop in a car and drive down to Marine Drive to get a loaf of bread. This will be a natural staging area for mountain bikers and hikers. Having a local coffee shop is no-brainer. The most common question asked is whether there will be a pub. Bikers need to ask if the pub patio will face the parking lot so they can keep an eye on their bikes!
There will be other sport amenities in the area, including McGavin Field which could be used for rugby, soccer or other field sports. The transportation needs are obvious, so public transit and plenty of parking are being considered.

  Does this 2006 illustration from BPP show a space east of Godman Creek for bikes to enter the Village area?
Here is where it gets interesting for mountain bikers. BPP wants Cypress Village to have a strong recreational character. They've seen how successful Whistler Village is in the summer. This appears to be a major factor in why BPP is so open to working with trail builders. For the commercial part of the village to be successful, it needs to attract recreational users such as mountain bikers, hikers and skiers. There needs to be a variety of well-designed and well-built sustainable trails that integrate into the village and future development. BPP wants the mountain biking community to have an active role in the planning, design and building of the trail network.
None of this will happen quickly. DWV has yet to decide how much of Cypress will be developed. Options being considered include allowing BPP to develop above the 1,200′ contour in exchange for protecting land with high recreational and environmental values elsewhere in the Upper Lands. The Upper Lands Study is underway and will propose options for public review over the next 2 years. Mountain bikers will be paying close attention throughout the ULS.
The first task of the ULS will be drafting options for the Regional Context Statement that DWV must pass by July 2013 in order to comply with the Metro Vancouver Regional Growth Strategy. The RCS must put the Special Study Area above 1,200′ in one of the standard Land Use Designations, either Urban or Conservation & Recreation. It's expected that in order to maximize flexibility, the area will largely be designated as Urban. This does NOT mean that the entire area will be developed. It DOES mean that there is not enough time for the ULS to finish its work before July 2013. Once the ULS is complete there will be intense pressure to pass an amendment to the RGS to have undeveloped upper lands changed to Conservation & Recreation. With this shared goal, you can expect mountain bikers and conservationists to work together to ensure that DWV follows up with the amendment. People prefer trees over condos, so good support from the other Metro Vancouver municipalities is expected.

  The Upper Land Study may require 2 years to decide on a 1200′ variation. Image ~ District of West Vancouver
Despite relations between mountain bikers and BPP being more positive than ever, there are still areas of concern, chief of which is unauthorized trail building on Cypress.
Rightly or wrongly, structures continue to draw unwanted attention to trail building activity. The hope is that eventually the liability for the trails will no longer fall under BPP's jurisdiction, but until that time it is best to avoid raising concerns. An important step is meeting with builders and letting them know what's planned for the mountainside plus what is and isn't acceptable to the land owner. After being informed of the situation, some builders have voluntarily committed to removing their structures. BPP has expressed appreciation for this.
We need to keep in mind that housing development is expected to be concentrated in pods with substantial green space in between, similar to Rodgers Creek. Any unauthorized trails could end up as disconnected disturbances in an otherwise natural forested area. The whole mountainside is not going to be bulldozed. In fact over 55% of the area will be protected as green space!
If you've seen the water tanks placed at various locations on Cypress this summer, you know that the threat of forest fires is something that BPP takes seriously. They take a dim view of barbecues and camp fires, especially when the woods are dry. Fortunately forest fires are something mountain bikers want to avoid too.
A meeting for Cypress trail builders will be held in West Vancouver the evening of Tuesday, November 20th. Spread the word to any builders you know. PM AlanB or Sharon for more details. There's lots to discuss about the future of Cypress.
Cypress will also be discussed at the NSMBA AGM on Thursday, November 29th at Jaycee House.
---
Do you ride Cypress? Time to let your voice be heard…