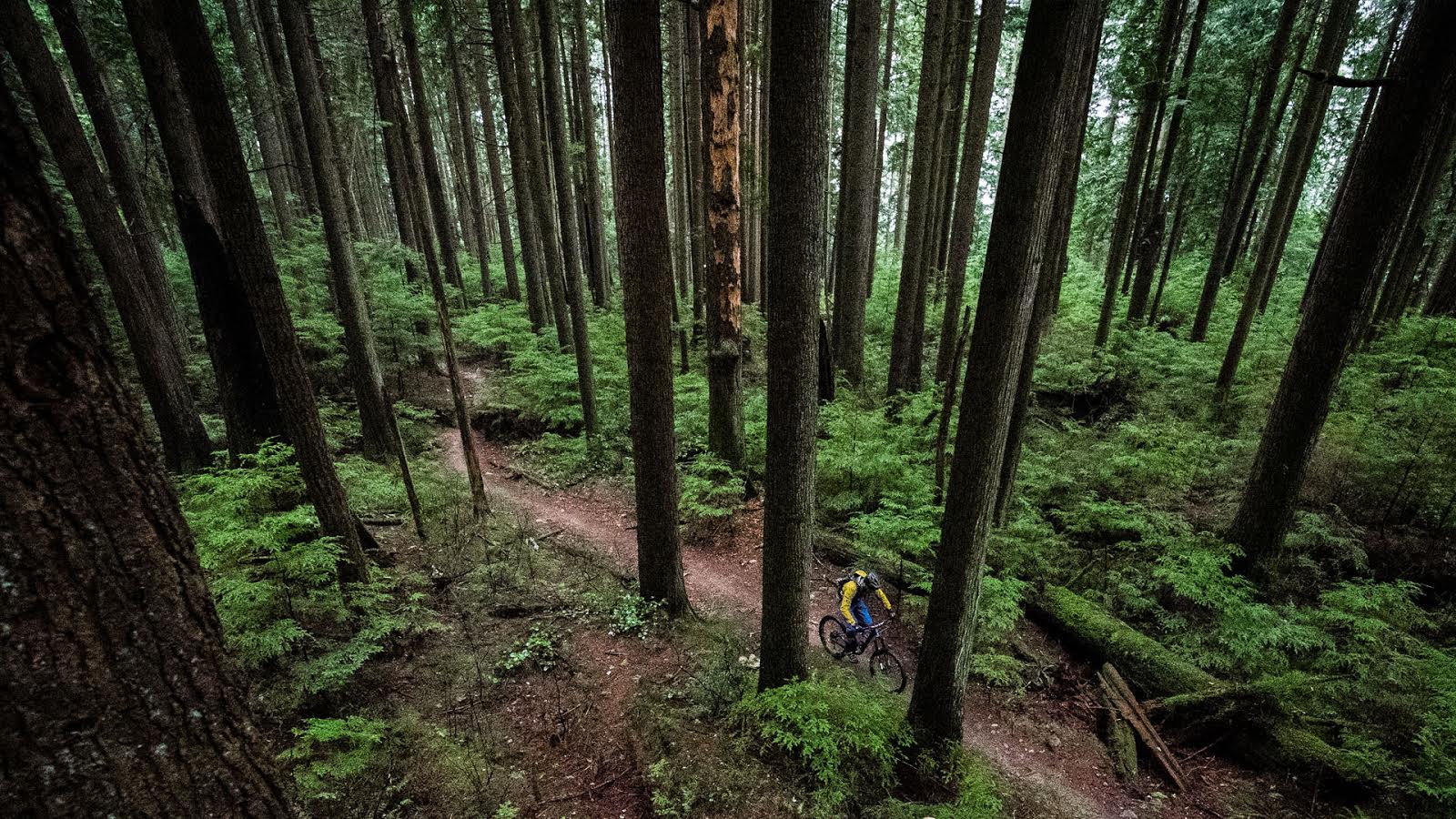 A New Breed of Shore Hardtail
Yes it's 2012, and I bought a hardtail. Not just any hardtail, but a fairly tricked out one at that. SRAM XX Shifters, Fox 34 Float 29, yup those kinds of parts. Why, when I could have a carbon, dual-suspension bike, with about 7 levers on the handlebar "command center" for various adjustments, would I choose to buy a hardtail to ride the North Shore?

  Long travel 29ers are becoming the new standard for hardtails here on the Shore. Chromag's DeKerf-built Surface is the cream of the local crop.
I started mountain biking in 1998, on guess what – a hardtail. It was a Prestige Chromoly Norco Nitro and Ladies Only was the first trail I rode on the Shore. Since then I've had other hardtails building up to my first dual-susser (I love that term), and a few of those to follow. My riding has changed from mostly DH and Freeride trails to road, XC, AM, DH, and commuting. For the longest time after getting onto my first dual-suspension bike, I never found myself feeling more confident or able than on my hardtail. Hardtails to me were always solid and predictable.

  Scott had his Surface custom painted to pay homage… name that classic auto racing colour scheme…

  Chromag Fubar matching the Kashima gold all too well, and a Stans Arch EX wheelset with Specialized tires.
After the last couple years riding XC on 5 and 5 bikes I found that when a model may change promising lighter, stiffer, better, that that didn't necessarily ring true for me. I decided at once! Maybe it took more time than that… I wanted to go back to my "roots" and ride a hardtail again.

  Beauty in the details.
For me there were two fairly easy decisions. One, I would buy a Chromag. I have lusted after their steel stallions from years, but always thought it would be one more bike that I just couldn't manage to add to the quiver. But this changed. What better hardtail to buy than one made and designed locally, by a rad collective of core shredders that only build hardtail frames. They know their recipe well!

  Gettin' some of that.
Two, it would be a wagon-wheeler. Not only do I want a trendy material, by a Haute-couture frame builder, but also an uber-trendy wheel size… It just makes sense for me. I've ridden a solid slew of big-wheeled bikes to know that I like them, and in certain instances they excel. There is more climbing grip, they roll over technical terrain, and hold momentum better than smaller wheels. Not long after seeing the first of the Chromag Surface frames, I knew that was the frame for me. Designed by Chromag, and welded by the renowned Chris DeKerf, it sounded like a great combination.

  Pilecki is a tall man, so the big 29er looks quite normal under him.
I've spec'd my bike with metal parts, no carbon. It just doesn't seem right on a chromoly frame. Okay, the brake levers are carbon…
Some highlights of the build are Sram XX shifters, Chromag where they make it: Handlebar, Stem, Seat QR, Rear wheel QR, and soon to be saddle., Race Face Turbine SL cranks, and Hope Pro II EVO hubs, Sram Type II derailleur to come, and King Cage Ti bottle cage. The weight rounds out at about 27 lbs. I wanted to build the bike with parts that have done me well in the past, and where I could I used local brands. ie. Chromag and Race Face.

  B-roll like whoa.
Since building the bike I have about 30-40 hours of riding on it. I've ridden it in Squamish, on the Shore, and just completed a 2 day, 16 hour mission in the Chilcotins! Its took some getting used to initially, but in no way to I regret my decision. The bike has great ride quality and geometry and is trusty, and predictable. I am probably most impressed with its agility and climbing ability over technical terrain. It's exactly the bike I wanted, and I plan to keep it that way to years to come.

  The seductress awaits.
Big Up to the boys at Chromag with all the help with getting the custom colour and decals, answering all my questions, entertaining me with rap freestyles, and designing a great frame. The cost of a locally made Chromag hardtail might seem steep for some but the value is in the details.
---
Scott's Surface is but a dropper post and a clutched derailleur away from being my ideal Shore hardtail. Would you change anything? Drop in with your own hardtails below…