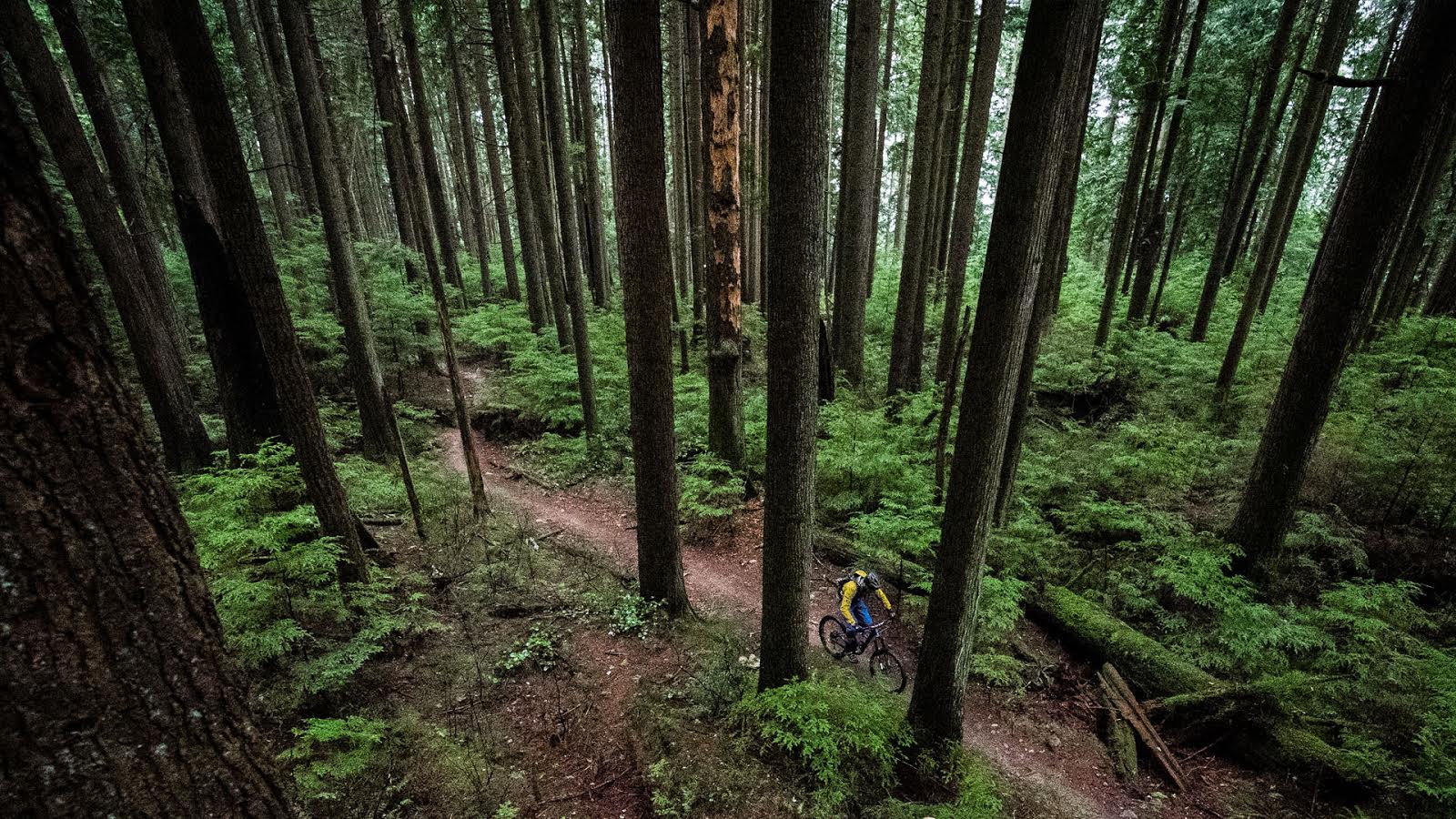 Tailgate America: The South-East
It is still dark when a car horn honks in rapid secession as an amplified voice repeats "30 minutes to post". I turn to Em, wrapped in her sleeping bag, "are you riding today?" "No" comes the answer. Three days ago Em was hammered down by Giardia, and while she managed to ride for 12 hours yesterday, we missed the cut off by 13 minutes, disqualifying our efforts. I un-zip the tent and start my own prep for stage two of the Double Dare, a mountain biking based Adventure Race which takes place within the Pisgah National Forest. 4 hours after I had closed my eyes, I've plotted day two's waypoints on the map and my tires crunch through the leaves as I pedal off through the pre-dawn darkness.
  Gotta get up early to get views like these.
Leaves have defined our time here. Both of us were born and raised in B.C. and have never experienced an autumn in the deciduous forests of the east. When we first arrived, the leaves were still clinging to the trees in pastels of reds, oranges and yellows. As they fell, they piled up on the ground like snow, hiding roots and fist sized rocks. Crunching under tires, causing wheels to drift into corners, to slide when brakes are applied, roosting off rear wheels and vibrating in spokes like the Ray Bourque rookie card of our youth.
  They smell like earth and roost like snow, Autumn in the east all about the leaves.
The Pisgah National Forest is the epicenter for riding in the Mountain States of the south east. The name is derived from Hebrew, meaning high place, though it also has biblical connotations related to Moses climbing Mt. Nebo on command from God to look over the promised land, not yet within his peoples grasp.
  The promised land?
A part of the Appalachian Mountains which run 2400km north to south, the Pisgah National forest is contained in the Blue Ridge Mountains. Mountains once stood here as high as the Rockies, but time wore them flat till the earth was once again forced towards the heavens and again rounded by glaciers. This latest rendition of mountains contains no alpine, yet offers over 4000 feet of vertical relief.
  Pisgah gnar.
  Tunnel vision.
The Pisgah National Forest was the first National Forest created in the SE. In an effort to replenish the resources of the area and reduce erosion, Roosevelt's government purchased vast tracts of land off private owners who had stripped it bare of timber. Another one of Roosevelt's initiatives, his 'New Deal' created the Civilian Conservation Corps (CCC).  In order to give work to the mass of unemployed young men in the country at the time, the CCC men were paid $30 a day, $25 of which was sent home. Amongst many tasks of the short lived program, these 18 – 25 year olds planted over a billion trees and built over 13,000 miles of trails nationwide. The Pisgah National Forest of today is a result of these two programmes. The mountains around the city of Asheville host over 500km of singletrack open to bikes, and many more which are off limits to two wheels.

  Traction, not so much.
Near the end of our two weeks here, we are in the Pisgah Tavern, a 4 meters square space within The Hub bike shop. A selection of 29r hardtail frames hang above the bar, a door opens to a covered deck where locals drink cans of domestic beer still wearing riding clothes. The employees of The Hub, who split duties wrenching, selling goods and slinging local craft beer, exude that smug certainty that comes from people who know they live some place with the goods. As the bar-keep slides beer towards our group, he casually asks what we rode today. I look at, Chris, who along with his girlfriend Beth, had played trail host to us for the last couple days, before I reply, "up and over". The bar keep raises an eye brow before replying "oh yeah, one of those".
  One of those.
  A rest day to take in a cross race – free beer, good entertainment.
As hurricane Sandy slammed into the north east coast, we found ourselves camped out at Mulberry Gap in northern Georgia. NPR is feeding us the play by play. We cook dinner over the two burner stove while planning the next day's ride. The brunt of the storm missed us but for a mix of high winds and cold temperatures, snapping trees and tossing branches 40 meters through the air.  Earlier in the day, over the mountains, en route to Georgia we hit a snow storm. Pulling over, we walked around the streets of a mountain town populated with second homes, happy to be out in the wind and the snow, our first since last spring.
  Turkey?
Centered around the Pinhoti Trail, Mulberry Gap opened its doors six years ago catering to mountain bikers. Offering cabins for rent as well as camping and with the option of meals and shuttles included if you chose. They stay busy throughout the year with regular groups coming from the south eastern states and as far away as eastern Canada.
The Pinhoti trail is a 540 km extension of the Appalachian Trail between Georgia and Alabama. Conceived in 1970 and completed in 2008. Some parts of the trail makes up a part of the Trail Of Tears, where the government of Andrew Jacksons removed the Native Americans of the south to what was termed Indian Territory in Oklahoma. We rode a few short sections near Mulberry Gap, a mix of reclaimed logging roads and bench cut single track. Speaking with Andrew, one of the folks who make Mulberry gap tick, we could have filled up most of a week riding the trails within a short drive of here, if we had the time.
  Only in America! Beyond this sign at Racoon Mt near Chattanooga Tennessee we found one (1) three foot drop.
We did find some fun lines on our own!
Em dips her toe into the thigh deep pool I had just waded across. "Better hurry up" I say "I think there might be leeches in there" Ewwww she says as she charges across with her bike on her shoulder. After checking for leeches, a downed tree forces us to bushwack through a thicket of bamboo. The highway is no more than 200 meters away. We are four hours into our ride and just over half way according to the map, I can't help but wondering how a ride in the Ozarks of Arkansas turned into an epic!
Em looks at me as we gain a short climb, "this trail is all pain and no gain". While there have been some fun climbs, I can't remember a single descent. The Syllamo trail system outside of the town of Mountain View contains 80km of stacked loops, which seem to be a "build it and they will come" scheme. We have seen few signs of other mountain bikers on trails that would draw a crowd in most of the parts of the country. This is our last ride in the south, before we hit highway 40 and head west. We have spent just over three weeks exploring on our bikes, plans are incubating in my mind to return.

  That is one big sign.
  The stair way to heaven or the road to?
---
Have you ever experienced fall in the south-east? Sounds like a pretty great place to be. Adrian and Emily are headed back west… we hear life is peaceful there. Stay tuned for another installment from the road.