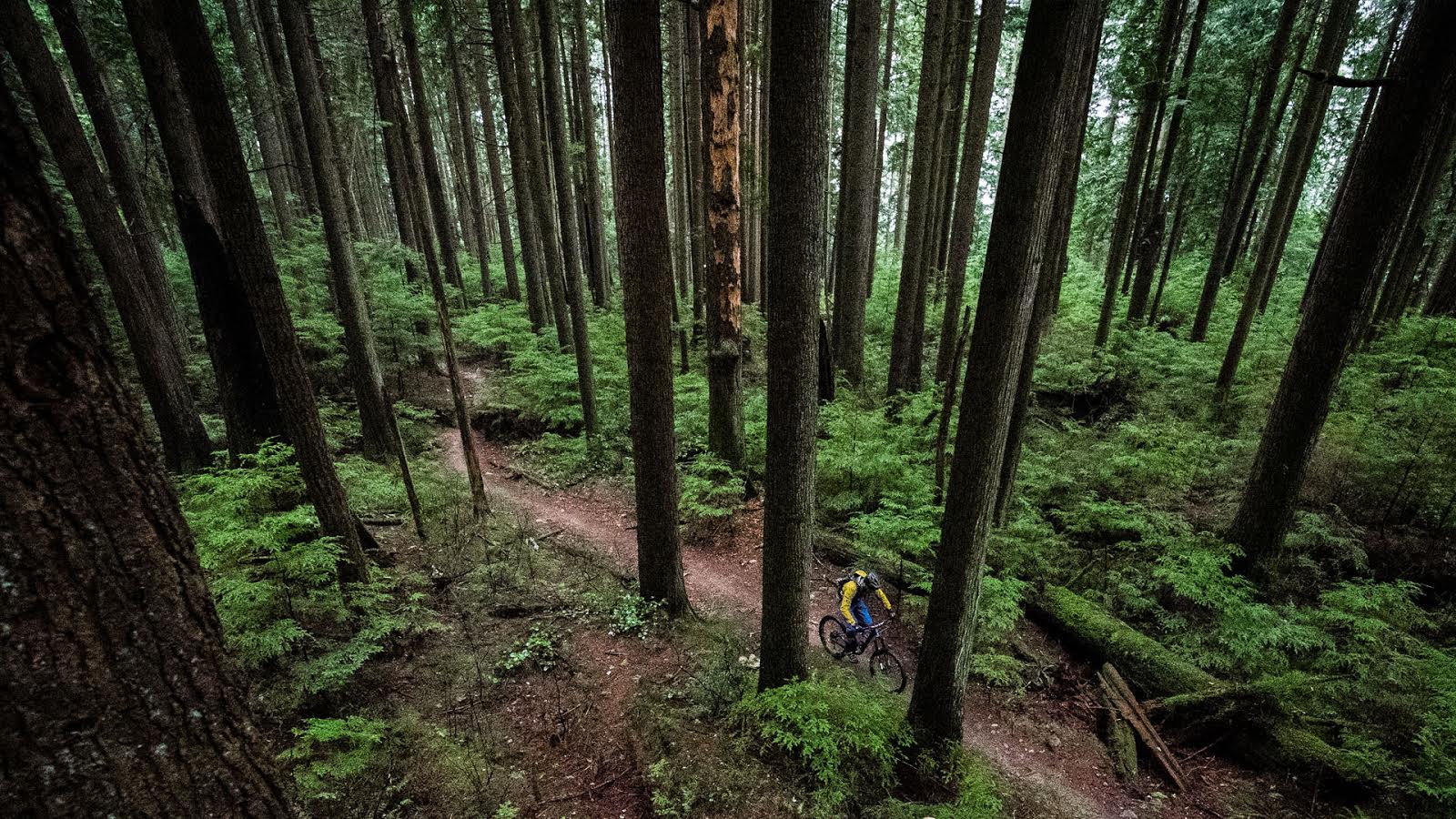 2013 SCOTT Gambler 10
Mike Brothers was a finalist in this year's AIRprentice competition, and while he didn't land a spot on the NSMB Team up at Silver Star he has stayed in touch. We knew Mike was an absolute shredder on his Demo, so his thoughts on the Gambler are well-grounded… if you want to keep up with Mike and his Cowtown bros, roll on over to Cyclemob.

---

  If new bikes and loam sound unappealing to you, leave now. Photo – Lindsay Donovan
When I visited the SCOTT tent at Crankworx to catch up The Dude – SCOTT Bikes guru Kelly Servinski – I didn't think I would be spending the next two days on board Scott's 2013 Gambler 10. Kelly introduced me to Ben Walker, product manager for the Gambler.
I could tell right away that Ben was passionate about his job. He lives in Switzerland designing and building trails with the goal of destroying the bikes he designs. Within minutes of our conversation starting he was disassembling the test bike to help explain their technology and the reasoning behind the changes made to the Gambler. 
The Gambler 10 is SCOTT's top tier model, with a Fox 40 RC2 FIT, DHX RC2 shock, a Shimano Saint/Zee mix, DT Swiss wheels, Schwalbe tires, an E.Thirteen guide, and a smattering of Syncros bits. Claimed weight is a hair over 39 pounds.

  My Gambler setup: 62º head angle, Low BB, and 425mm chain stays. Your geometry is up to you! Photo – Lindsay Donovan
Suspension Changes:
SCOTT raised the position of the main pivot from the previous Gambler platform. They say this improves small bump sensitivity and absorption of square edge hits. My experience: Whether I was riding steep root/rock gardens, braking bumps, or weaving single track the rear tire was planted.  Want to further improve traction and stability? The chain stays can be lengthened to 440mm.
SCOTT has introduced a "floating link" to the linkage, adding one more point of manipulation of the suspension curve. They worked with Fox, custom tuning shocks for the bike: the curve is linear for the first half of the travel and becomes progressive through the last half. There is a sensation of "bottomless" travel on the Gambler: the harder I pushed, the more it seemed to take. I felt the overwhelming urge to land flatter and flatter every run.

  Un-weighted and squeaking past a relic. Down tube protector prevents any stray twigs from interfering. Photo – Lindsay Donovan
Adjustable Geometry:
SCOTT spec'd the Gambler with a 62 degree head angle and a Syncros DH headset. The Gambler 10 comes with different headset cups:
62 degree straight cups
+/- 1 degree cups
+/- 2 degree cups
Riders can run 60-64 degree head angle. I had the headset at 62º, a far cry from my Specialized Demo 8 II at 64º. Keeping in mind the average rider will not be swapping headset cups in between laps, I like that they spec the Gambler 10 with all three options. Slack attack!
Adjustable BB position. You can set the BB height 0mm offset or +10mm offset. I tested both settings over the two days I had the bike. I liked the low BB setting for corners and high speed. The high BB worked well for riding slower, pedaling intensive trails.

  Rotor deep. Heaps of traction on this off-camber landing. Photo – Lindsay Donovan
Upper Crown height adjustment. The new Gambler has a short head tube that riders can adjust crown height within 3cm. SCOTT's website says it adds an "extra degree of adjustment by raising or lowering the crowns of the fork. Three centimetres of additional fork height equals one degree of head angle adjustment."
IDS-X Dropouts and adjustable chain stay Length. 425mm – 440mm (low BB) or 421.5mm – 436.5mm (high BB). If I was going to pick one thing about the bike that I liked the most this would be it. IDS-X is an eccentric axle bolt position with a conical head that keys into the frame. In moving to the short setting, I found a difference in performance compared to a normal configuration. My experience When I was sliding around corners was a chattering rear tire being replaced by a smooth, gradual, transition from traction to drift.

  In the woods, in the air, at home. Photo – Lindsay Donovan
Final Thoughts:
I really liked the new Gambler. Lots of small changes to different parts of the bike add up to a big difference overall. I like having all the traction and stability I want without giving up the ability to pick the bike up, wheelie and have some fun.
Some will say the Gambler is too adjustable. The way I see it riders can set it and forget it. If understanding geometry isn't your bag, leave the bike alone, you are not going to notice the difference. Besides, the bike feels great in the stock settings.
Riders who see the benefits of adjustability welcome these features. As geometry and tuning become a more important aspect of consumer level products, access to the technology world cup mechanics use becomes an increasingly attractive offer.
Kelly and I agreed the best word to describe the Gambler is PLANTED. It is a race bike with a big mountain alter ego that begs you to let go of the brakes.

  A big change. What is next for the Gambler? Scott has a long history with carbon fiber. I would expect them to follow suit to make a carbon DH bike in the next few years. Photo – Lindsay Donovan
Go here for more info on the 2013 SCOTT Gambler models.
---
The new Gambler does indeed look slack even at 62º… and the linkage looks less odd in person than it did in the spy shots. What do you think? Willing to take a chance on the new Gambler?