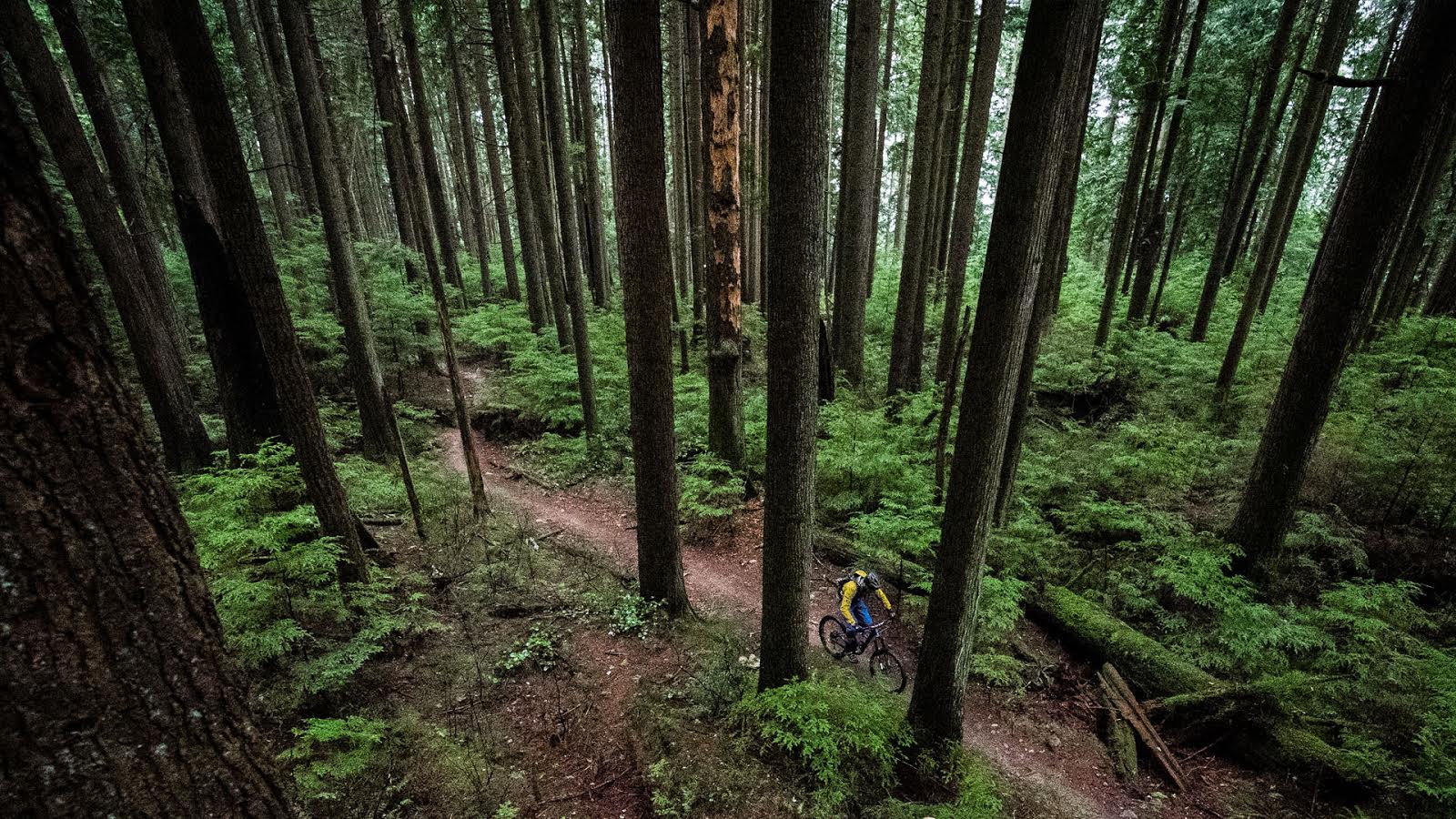 Tailgate America
We have left the west behind in a series of irrelevant snap shots. Idaho was burning; 360,000 acres of forest fire being contained by the army. Haze filled the air as we drove past an army encampment complete with humvee guarded check points adding to the feeling that we truly are shoulder season refugees, heading south in search of good dirt. A night ride in Coeur D'Alene delivered us our first taste. Climbing bench cut single track under a canopy of coniferous trees, we watched the sun set from a mid trail view point before turning on our lights.

  Our home for the next two months.

  Nothing better than an autumn night ride.
Hating the cliché of comparison, it's hard not to compare the riding so early in this trip, to what you know. The two rides we did in Ketchum seems to be what the uninitiated think the South Chilcotin is. Fast, buff, lose single track; hammerhead trails as Em calls them, begging to be pinned in a big gear. Ketchum feels like someone dropped the opulent setting of Whistler Village into the landscape of the Okanogan.

  Big ring territory.
The land around Ketchum is largely national forest, public lands with the balanced mandate of recreation and industry. The difference between Canadian and American public lands might be pure surface appearance to the new comer, but America's wild lands seem pristine in comparison to our home land. The historic 'free for all' of Canada's lack of formal public management shows in the ways we use our land. If Ketchum were in Canada, moto and 4×4 tracks would highlight every ridge line, cut blocks would dominate the view in every direction. Instead this managed public land has created an abundance of low angle trails through un "View-scaped" forest.
The trails originally maintained by the motorcycle groups, which have been adopted by mountain bikers. To further the contrast, in the northern most of America's national forest campgrounds, one typically pays a nominal fee to camp at a camp site with limited services such as an outhouse and a designated camp site. In return the camp sites are kept in immaculate condition. Outhouses in the middle of nowhere are clean and stocked with toilet paper… ever seen that in a BC rec site?
We were a day behind the Cumberland crew as they raced for Moab, and a Facebook status hinted that they had found great riding in Ketchum. We were keen to sink our teeth in. While the vertical relief of the area might not compare to some of my favorite riding areas back home, the elevation kicked our asses for two days. Most rides start at 2400m. Two days of riding only scratched the surface of the Ketchum front country. The maps we bought showed hundreds of kms of maintained trails, but it was time to move on. Later on we would lose most of our Idaho snap shots to a dropped iPhone.
A day and a half's drive and we were in Moab, mountain biking's first Mecca. Historically Moab was a crossing place of the Colorado River. Outside an ill fated Mormon settlement and a hand full of ranchers, settlement was slow coming to the fertile valley which is lodged below the high walls of the Colorado River. The repeated boom and bust of Uranium mining sustained the town till the end of the Cold War, after which, the natural beauty and harsh landscape became the area's meal ticket via tourism.

  Riding through a Jim Henson production.
Happenstance found us there during the busiest weekend of the year with both the 24h of Moab and Outerbike taking place. Arriving early Friday we were able to scoop a campsite down the Colorado River, before an afternoon ride of the Slick Rock trail. This is the original must do trail in the area. Built in 1969 by motorcycle riders, this ride is as unique as they come. Road riding for mountain bikes.
On a tip from the Cumberland crew we headed to Outerbike on day two to see if we could finangle our way onto a shuttle up to Mag 7. Acquaintances, who we dubbed the boys from Squamish, though only one of them lives in Squamish, had the same idea. Looking a little lost, trying to figure out the logistics behind a 5 person, 5 bikes shuttle via two compact wagons. Lucky for us, six degrees of the B.C. Bike Race kicked in, when one of the guides from Western Spirit, who were running the Outerbike shuttles, offered us a ride. We were on our way. Em and I played keep up as the boys took off from the shuttle in full sprint and outside the odd regroup, pinned it the entire ride. No photos and no memory outside a lot of fast down country.

  The girls of hazard country. Photo ~ Pat Mulrooney

  Anxiety lookout. Photo ~ Pat Mulrooney
Continuing the theme of this weird B.C. powwow, day three had us on the same shuttle to the Whole Enchilada with Pat and Danielle. What can one say about this ride that has not already been said? Shuttle to 3600m, a short climb over Burrow pass and descend over 2000m back to Moab. A handful of distinct ecological zones and more huck to flats then the entire North Shore Extreme video series combined. Fun and unreal.

  Huck Du Jour. Photo ~ Pat Mulrooney

   Stop motion in the notch. Mouseover for the OTB moment.

  I can smell the beer from here. Photo ~ Pat Mulrooney

  Tailgating Moab. Photo ~ Pat Mulrooney
A short drive to Fruita, much touted in so many travel logs and IMBA happy trail reviews. For some reason it did nothing for us. Maybe it was the 12 days of riding in a row, the completely sanitised feel of the "trail centers" or that we were just sick of the dust grinding our drive trains? Who know, but three quick rides in and we were ready to leave. We must though thank the boys from Squamish for recommending a sunset ride of the Zippity Doo Dah trail. 

  Zippity Doo Dah, blah…
From Fruita, rain drenched our plans to ride mid west single track as headed to North Carolina, we are more then ready to settle into an area for an extended period of time…
---
Have you ever set out on a trip and left it all behind? Whether or not you have the wanderlust, you can get down with Adrian's story… we're looking forward to the next update!