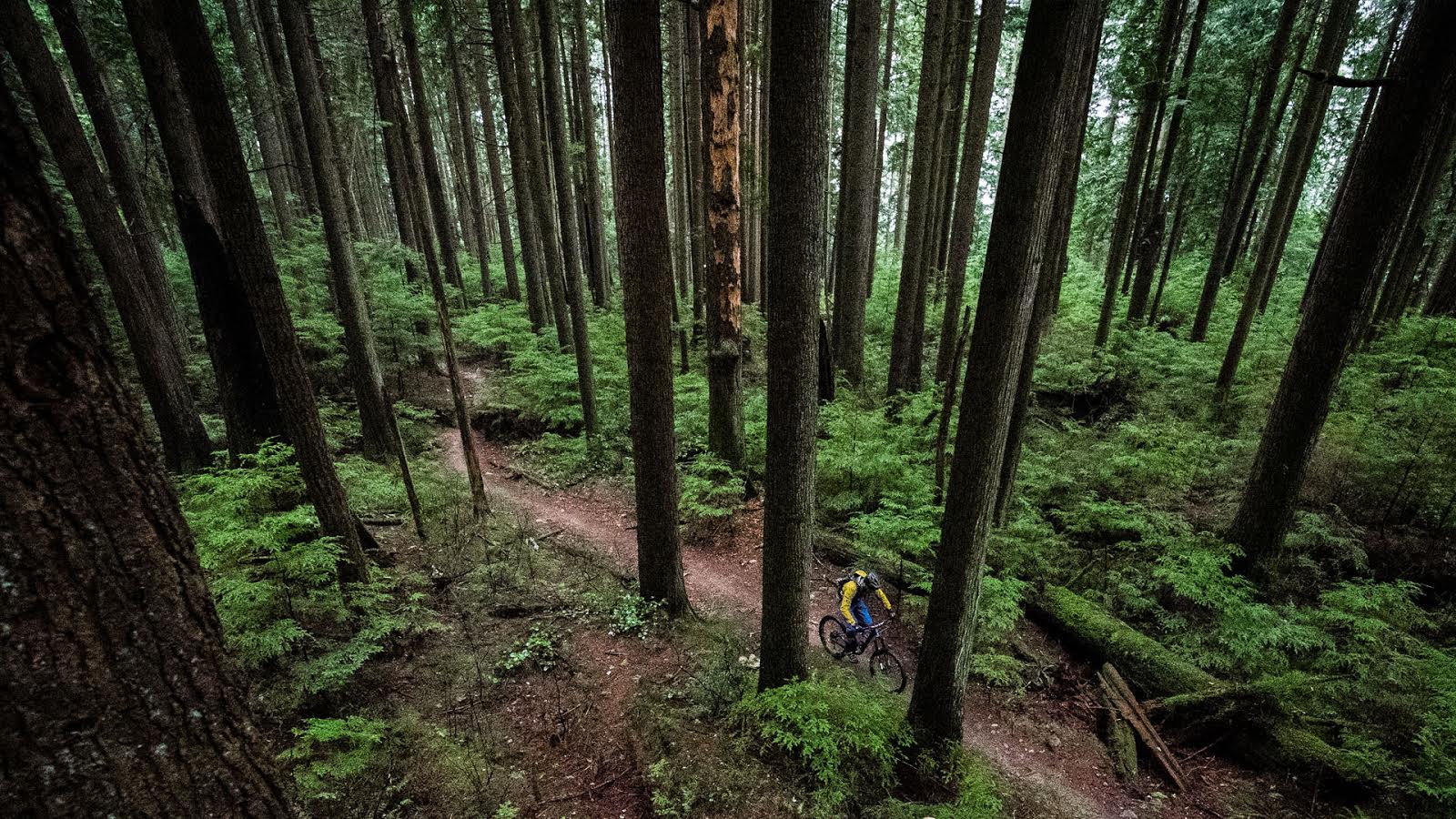 The Most Badass of Bikes?

  Is the Kona Honzo the most badass of bikes? Riley seems to think so… Photo ~ Dave Silver
I'm sure most people who regularly use the internet have witnessed the ridiculous Honey Badger video on Youtube.
This video really caught my attention because it proposed that the Honey Badger just may be the most badass of all animals. When I was a kid we would often play the game of 'If you could be any animal what would you be?' And although we often referenced Tigers, Dinosaurs, Sharks, and Wolverines, nobody ever mentioned the Honey Badger.
In the video we see the Honey Badger tearing around the landscape like a true Bat out of Hell, with the video culminating in the Badger attempting to eat a venomous snake, being bitten, essentially 'dying' for awhile, coming back to life, and finishing its meal. It doesn't get much more badass then that.
Now, Last Christmas I moved to Vancouver Island for a fresh start. I was quite clear with myself on my goals and intentions: work full time, live simple, and ride as much as possible – before work, night rides after work, weekends, whatever it took.
I needed a bike that was up to the job. A bike that didn't have much in the way of fancy gadgets, complex linkages, or bushings regularly in need of upkeep.

  The back-to-basics rear end of the steel Kona Honzo. Photo ~ Riley McIntosh
Here is what Kona has to say about their 2012 Honzo Bike:
"New for 2012 we introduce the Honzo, a balls-out, aggressive all-mountain 29er Cromoly hardtail. Featuring a beyond-vogue slack 68-degree headtube angle, low bottom bracket and short chainstays, the Honzo is all about getting radical on technical singletrack near you. Featuring a zero-stack internal headset with tapered steertube, Kona continues to lead the way when it comes to the evolution of steel. A single front chainring with chain guide, 9-speed 36-tooth cassette, 31.6 seatpost with dropper post cable routing, and ISCG 05 tabs, the Honzo goes up, down, and all the way around."
What I saw in this bike was a relatively indestructible frame, the promise of a little 'bump help' from the 29er wheels, geometric angles with shredding in mind, and a simple but effective drivetrain.
My first ride on the Honzo was good. I rode Mt. Tzouhalem, which is the local 'Go To' mountain here in the Cowichan Valley. The major thing I noticed was that the bike felt like it fit really well. I think if you are a tall person a 29er bike is going to feel good.
I rode the Honzo from early January all the way until early September. This bike is super super durable. I can actually say that the wheels on it are the strongest wheels I have ever had on any bike. I thought it was going to be the opposite: bigger wheels, longer spokes = less torsional rigidity and stuff like that? Hell no, I only trued these big old WTB wheels up twice in 8 months, which is additionally impressive considering there is no rear suspension helping the wheels smack stuff a little softer.

  Your BC bred front end setup: Chromag, good brakes, and meaty tires. Photo ~ Riley McIntosh
I'm not completely sold on the 29er 'roll faster' theory, but I am super, super sold on the 29er's ability to roll over rubble and right over depressions in the ground instead of getting caught up in every little undulation in the earth. This 29er thing is not a fad and especially when it comes to a hardtail there is a true advantage. With the Honzo's ride damping steel frame and 29″ wheels, there is a definite 'better than the old hardtail' thing going on.
I found myself thumping through some rough stuff and feeling pretty damn good about it. Still, a hardtail requires the rider to get more involved in the actual control of the bike, and requires the upper body to do more – but in many ways this is a good thing. For example, I wanted to ride a ton and 'get back to my roots of riding.' On the Honzo, you are riding a traditional BC Bred Hardtail that has been 'Honey Badgerized' with 3 major upgrades: 29er wheels, serious hydraulic brakes, and a dropper post.
Some notes on dropper posts: If I am comparing the Kona Honzo to the Honey Badger, then the dropper post (of any brand) is the Salmon. Salmon are so bloody amazing in that they are hatched in a river, travel around the ocean for years and years, and then no matter where they are, are able to navigate precisely back to the river they originated from. I don't know if they have weird sensors embedded in their brains and are able to compute their home river's location based on the Earth's Magnetic Field or what.
So the dropper post is like the Salmon. It goes where you need, when the time is right. The trail goes up, it goes up. The trails become influenced by gravity, and it takes a dive. Dropper posts have changed mountain biking for me, and I can't believe how much they make riding more fun. Especially in a place like Vancouver Island where there aren't many true downhills. The trails demand that you are able to climb, descend, repeat, repeat, repeat. Seb Kemp christened Mt. Tzouhalem the 'Downhill of a Thousand Climbs' and he is certainly correct. The Honzo digs that the most. Please excuse my ridiculous metaphor. The dropper post, which has relatively little in common with a Salmon, is a game changer for us riders of the Bicyclette de Montana.

  Necessarily complicating the hardtail is a dropper post. Even the purists are caving to this one. Photo ~ Riley McIntosh
Now, I will tell you about my favorite experience I had on the Honzo, and please take note that I am going to shamelessly do some bragging.
Mt. Prevost, in the Cowichan Valley, is sort of the opposite of the other riding areas nearby. It is a 'Shuttle Mountain' and plays host to a large crew of Troy Lee panted, neck braced, 8 inch travel riding kitted riders who shred the crap out of the hill over and over every chance they get. I first rode Mt. Prevost when I was 12 years old and remember thinking it had to be the longest climb in the world. Since I have grown up a little I know that there are much, much longer and harder climbs out there. However, Prevost is still a grunt. Due to my lack of a DH bike, and the relative dumbness of shuttling Prevost with the Honzo, I climbed the sucker a fair amount. And, always, trucks would drive by my slow suffering self full of amped up downhill shredders. In my mind's eye I saw them leaning out of their trucks to throw Red Bull cans at me and thumb their noses at the snotty, winded, grunting individual, but there was none of that in reality.
On one certain Sunday, the logging road to the top of Prevost was slathered in about an inch of goo. As I pedaled up, I kept looking down expecting to see my rear tire flat. But noooooooooo, it was just the slimy surface I was riding on. My legs burned, the rain fell, and my pedal stomping seemed to have little effect on my forward movement.
About ¾ of the way to the top, a large truck carrying about 8 fancy bikes blazed past me and sprayed me with a thick layer of chocolate milky mud that turned my bare hands gripping my handlebars into butter fingers. I gritted my teeth, and muttered profanities regarding having no DH bike and a truck too shitty to shuttle Prevost in even If I had the bike for it. I was cold, I was wet, and the Shuttle Boys were sitting in a heated truck being delivered to the trail head like spoiled brats. In my mind I was the old dog rider sputtering curses about the new wave of riders not knowing what it's like to really get out and do a proper mountain bike ride. However, being only 28 years old I can't really justifiably mutter things like that.

  Shredding the Honzo on Vancouver Island. Photo ~ Dave Silver
Anyway, as I neared the top of the climb the truck sprayed me with mud again, this time headed back down, having dropped off its cargo of downhillers. When I arrived at the top, I was soaked, and realized I'd forgotten to bring any gloves. So as the rain pounded down, I resorted to digging into the soil beneath a large Fir tree to try and find some dry dirt I could rub between my hands to suck up some of the moisture and give me some grip on the handlebars. I felt pride at being up there under my own power, but was also deeply jealous of the 8 riders who'd just dropped in ahead of me, who were probably going to do 6 or more runs today while I was just doing one. I was feeling a little Honey Badgerish up there, a bit of disgruntled fellow about to drop into some primo Vancouver Island singletrack.
A quick bit of Wikipedia info on the Honey Badger:
"Next to the Wolverine, the Honey Badger has the least specialized diet of the weasel family. They may hunt at any time of the day. When hunting they trot with their foretoes turned in, moving at high speed. They are carnivorous and will eat insects, frogs, tortoises, rodents, lizards, eggs, and birds. They have been known to chase away lions and take their kills. They may hunt rodents by digging them out of their burrows. They are able to feed on tortoises without difficulty, due to their powerful jaws. They have been known to dig up human corpses in India, and will often hunt venomous and large snakes such as Cobras. They devour all parts of their prey, including skin, hair, feathers, and flesh and bones."
This run down Mt. Prevost was where the Honzo earned its nickname the 'Honey Badger' for me. The Honzo wanted blood. Never mind the rain, the icy dirt, the time deficit we had behind the 8 downhill riders below us – the Honzo wanted blood.
The bumps were molehills. The tires hooked up where they shouldn't have. The Honzo just didn't care. I was a passenger on a bike bred from Kona's 20+ years of BC singletrack knowledge. The Honzo loved the mud, the carnage of rain sodden downhill turmoil. The Honzo just wanted to shred.

  Some well-deserved airtime. Photo ~ Dave Silver
And I caught those fancy dressed pajama pant wearing suckers. I came sliding around a corner and bam, there they were, and I hooked onto the guy's wheel and just thought to myself, damn does this guy have a mechanical problem or something? Could we ride any slower? The Honzo wanted blood, and that blue piece of steel with wagon wheels transferred it's voracious attitude right into the guy riding it, me. I passed those guys and carried on my merry way, spraying mud, doing little jumps and smacking back down into the ground, forearms pumped, rain soaked hands hanging onto the bars by little more than a prayer.
So, dramatic story and bragging aside, the point of this article is that the Kona Honzo is a really cool bike. It has some new fangled technology but in it's elemental state is a born and bred to shred BC bike made for anything. It is truly the Honey Badger of bikes. A little uncommon, difficult to classify, like the Honey Badger, who is just kind of some weird bloodthirsty by-product of evolution.
If you want to ride a bike that will climb, will descend, will take a brutal beating and come out of the maelstrom thirsty for more, the Kona Honzo is a bike that will make you more of a badass.
It is a man bike. It only has nine gears. It has no rear suspension. It is made to do one thing: get out there and crush trails and take names. If you want to feel like a Soldier from Hell, if you want to ride a bike that is one of a kind, then get this bike.

  Turns out even the Honzo gets in the truck sometimes. Photo ~ Dave Silver
Rough terrain? The Honzo doesn't care. Jumps? Long Climbs? The Honzo doesn't give a fuck. It just takes what it wants. Looks how fast it's going! It's raining? The trails are slippery? Everyone else is driving a truck up to the trailhead? Oh, there's bumpy parts on this trail? Who cares, the Honzo just does what it wants. The Honzo doesn't give a shit.
Kona | SRAM | Chromag | IceBreaker | Retallack | EVOC | NRG | Experience

---
This is not exactly a bike review. But Riley's adamant that the Honzo is the most badass of bikes. Do you agree with his sentiments? Or do you just not give a shit?