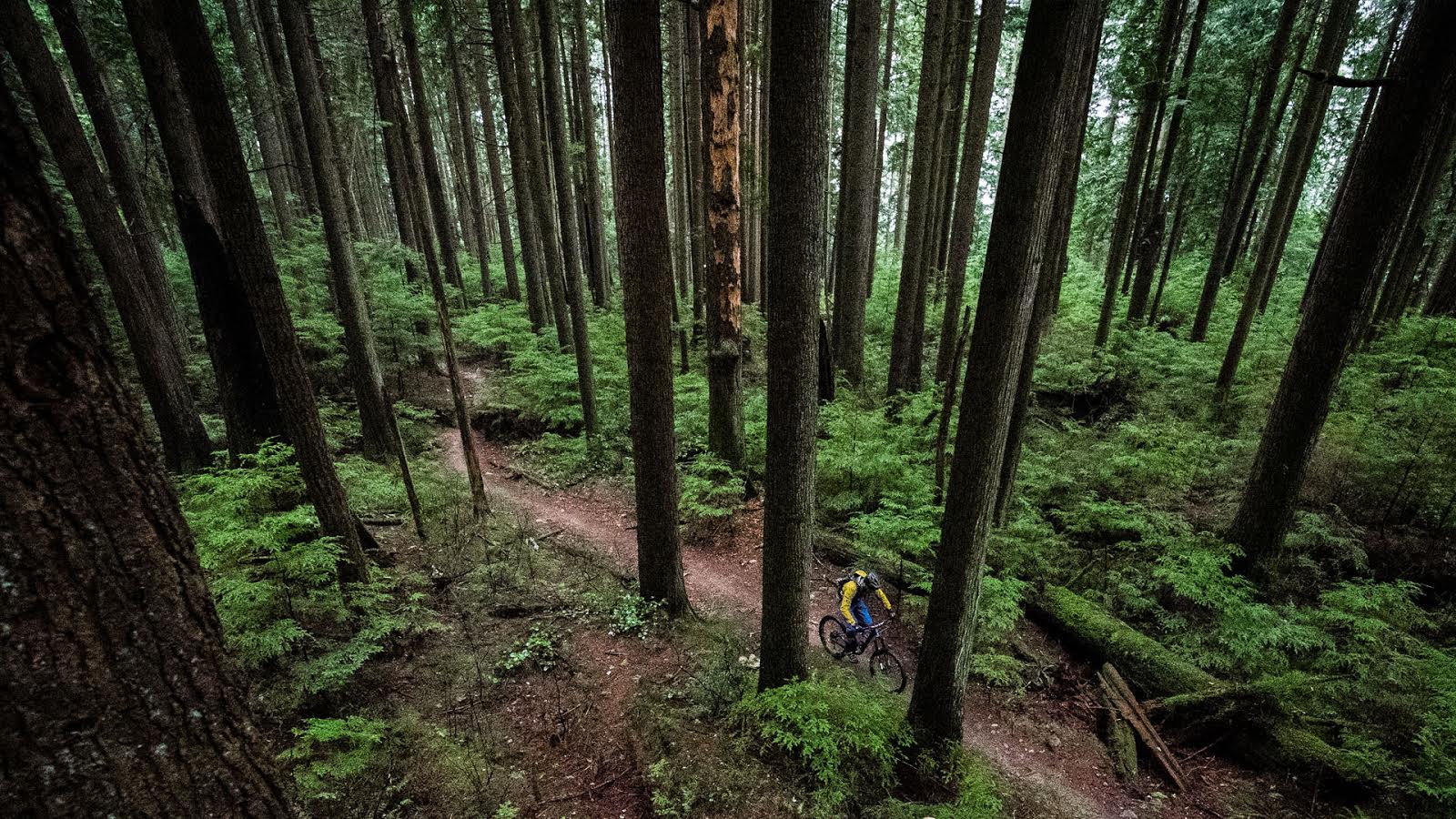 Red Bull Rampage 2012 Finals Recap
Every two years in October, thousands of people descend on south-west Utah – most popular as a destination where tourists tread lightly in Zion National Park – to witness a few dozen crazed freeriders sculpt and subsequently smash the hills outside Virgin, just a few kilometres south of the park boundary. The idea behind Red Bull Rampage is a far cry from the pristine and sterile canyons of Zion; the competition site has evolved, becoming more and more sculpted over three runnings at the current location, yet it retains its rugged and unpredictable underpinnings.
Dozens of competitors, their friends and entourages, support crews and industry types, hundreds of media, and 1500 lucky spectators have made their way from all around the world to come here. The base area off Hwy 9 is a mix of campers and pickup trucks, Subaru wagons with roof boxes and Mini Coopers with giant cans of energy drink strapped to their backs. From here everyone treks four miles up into the hills to the Rampage site, and then scrambles up the steep and loose slopes to catch the action.

  Cam McCaul hit the canyon gap yet again, but surprisingly his run wasn't quite impressive enough to the judges. Photos ~ Morgan Taylor
While Friday's Rampage Qualifier was a spectacle in itself, the stakes were raised Sunday for the Finals, where pre-qualified riders would join those who secured their spot two days previous. When the dust settled from pre-existing injuries and those sustained in Saturday's practice day, only 20 riders actually put their tires to the dirt in the Final round. BC riders represented big time, with 8 of the 20 hailing from our province – more than any other country even supplied. Along with that coastal Canadian contingent came a train of supporters, giving the riders an extra boost knowing their home town was with them.
The course at Rampage is absolutely mind-blowing. The ridge that Red Bull has used for the contest since 2008 has infinite possibilities, and the riders took full advantage of it. This created a challenge for photographers on a scale much larger than that of Crankworx, compounded by NBC's moratorium on publishing video from the entire event. The majority of the riders rode to looker's right or straight down the middle; the judges positioned themselves in a place they could see most of the course. In fact, only Cam McCaul's canyon gap, on the far left, necessitated a move for the judges.

  Judges used all technology available, including video replay, to make their decisions. Photo ~ Matt Dennison
While there seems to be some amount of controversy and speculation about judging bias at this contest, one fairly obvious trend stuck out in the finals: in order for a rider to receive a competitive score, they had to ride some burly lines on the slope immediately under the start gate, hit some big tricks as well as smaller ones along the way, and keep it all together right to the bottom. As a side note, I also heard some chirping in weeks previous about too many slopestyle features on the course – on the ground, this just wasn't the case. The ramps and booters were eclipsed by natural terraintm, and riders who stuck to the easy stuff weren't rewarded for it.
The huge geographic space and judging-slash-live broadcasting at Rampage means that riders run in the same order on both runs; this contrasts other competitions where riders take their second run based on how they placed in the first – often resulting in riders skipping out on the second run because they know they've already won. Because of this, competition at Rampage is kept healthy and spectators happy right to the end… no anticlimactic endings here. I'll let the photos tell the rest of this story…

  Bearclaw built the gnar-est line off the top, and shredded it clean on both runs. Unfortunately he wasn't able to hold it together down below. Photo ~ Morgan Taylor

  Brandon Semenuk and his crew built a sweet stepdown transfer, which he nailed on both runs. He was, however, not to be a repeat Rampage winner, crashing out of both runs. Still, finishing ahead of Martin Soderstrom meant Brandon came away with the FMB World Tour overall win. Nug Sequence ~ Matt Dennison

  Semenuk's second run, things were going well until… Photo ~ Toby Cowley

  "You overrotated." "No shit." Name the movie, get a cookie. Photo ~ Toby Cowley

  That's it for the 2012 FMB season. Brandon still took the title. Photo ~ Toby Cowley
  Brendan Howey squeaked in to ride the first run of the day and laid down a clean run. Happy just to have made the finals, Howey called his day after the first run. Photo ~ Toby Cowley


  Thomas Vanderham had a techy line through the top section. Always a pleasure to watch him shred. Photo ~ Morgan Taylor

  Vanderham suicide with style. A respectable 8th for TV. Photo ~ Matt Dennison

  Geoff Gulevich wins the "ballsiest entrance into the Oakley sender" with a man sized drop into the roll in. 11th place for Gully. Photo ~ Matt Dennison

  Norbz, heckling Curtis Robinson, who was hiking Kyle's bike up across the canyon. Photo ~ Morgan Taylor

  Norbz rocketing down the ridgeline chasing… a rocket. Photo ~ Morgan Taylor

  The Rocketeer. Photo ~ Toby Cowley

  Two 360s in his run, smooth and dialed as you might expect. We aren't alone in thinking Kyle Norbraten should have placed higher. Photo ~ Toby Cowley

  James Doerfling is becoming a legend in BC big mountain shredding, and looked right at home at Rampage. Sick lines up top. Photo ~ Toby Cowley

  Doerfling dropping in to the last bowl before approaching the Oakley sender. Gnar lines in the middle section scored well, and Doerfling came out in 6th. Photo ~ Morgan Taylor

  Send'er! Doerfling looking good. Photo ~ Morgan Taylor

  Brett Rheeder didn't have the best of luck; crashes on both runs took him out of contention. Photo ~ Morgan Taylor

  Rheeder on the upper ridge. Photos ~ Toby Cowley

  Kyle Strait dropped in early off the far right ridge and hooked in to Bearclaw's zone. Photo ~ Morgan Taylor

  Strait shoulder buzzin'. Photo ~ Matt Dennison

  Huge suicide on the final booter. But it wasn't meant to be… Photo ~ Toby Cowley

  ONE NUG. Kyle Strait, rotor deep. Nug ~ Toby Cowley

  Tyler McCaul had a rad high speed line down the middle, tossing this suicide no hander right in front of the judges. A solid 5th for T-Mac. Photo ~ Morgan Taylor

  Same jump, different run. T-Mac, suicide at speed. Photo ~ Morgan Taylor

  Cam McCaul ridge blasting. Photo ~ Toby Cowley

  Cam McCaul backflipped this huge stepdown. Surprised to see him come in 7th with two solid runs, but the judges just weren't liking that far left line. Photo ~ Toby Cowley

  Ramon Hunziker of Switzerland going appropriately fast. Photo ~ Toby Cowley

  Pierre Edouard Ferry also blasting. Photo ~ Morgan Taylor

  Ferry. Photo ~ Toby Cowley

  Soderstrom could have unseated Semenuk from the top of the FMB World Tour points list, but came in one spot short. 15th, one behind Semenuk, with crashes in both runs. Photo ~ Toby Cowley

  Andreu Lacondeguy is a small man who goes big. Photo ~ Morgan Taylor

  Lacondeguy from the bottom. 4th place, again. Photo ~ Toby Cowley

  St. George, Utah local Logan Binggeli surprised the crowd with a podium finish. Home turf advantage? Photo ~ Morgan Taylor

  Antoine Bizet was the only rider to lose it on the steep upper section, and ended up with a zero on his first run as he didn't make it down within the 4 minute maximum. Photo ~ Matt Dennison

  Bizet came storming through on his second run to nail four backflips down the course. We almost saw Bizet displace Sorge's first round score. Photo ~ Toby Cowley

  Kurt Sorge had it all. Big lines up top, big tricks through the middle, and a clean run that the judges liked. And then he did it again.

  It seems quite appropriate that the rider with the top two runs on the day would win the contest. Congrats Sorge!
Red Bull Rampage 2012 Final Results
1.  Kurt Sorge
2.  Antoine Bizet
3.  Logan Binggeli
4.  Andreu Lacondeguy
5.  Tyler McCaul
6.  James Doerfling
7.  Cameron McCaul
8.  Thomas Vanderham
9.  Kyle Strait
10. Kyle Norbraten
11. Geoff Gulevich
12. Wil White
13. Nico Vink
14. Brandon Semenuk
15. Martin Söderström
16. Ramon Hunziker
17. Brett Rheeder
18. Pierre Edouard Ferry
19. Darren Berrecloth
20. Brendan Howey

  "Who wants to BIG See a ASS STUNT!" – Would the person responsible for this placard please consider the children next time. Photo ~ Matt Dennison

  McCaul's canyon gap from below. Sick of seeing the biggest air in the contest yet? We hope not… Photo ~ Toby Cowley

  Brett Rheeder, barspin off a ledge on the upper ridge. Art Photo ~ Matt Dennison
---
Did you watch Rampage this year? Stoked on the BC contingent's placing, or do you have something to beef about? Rage or applaud below…