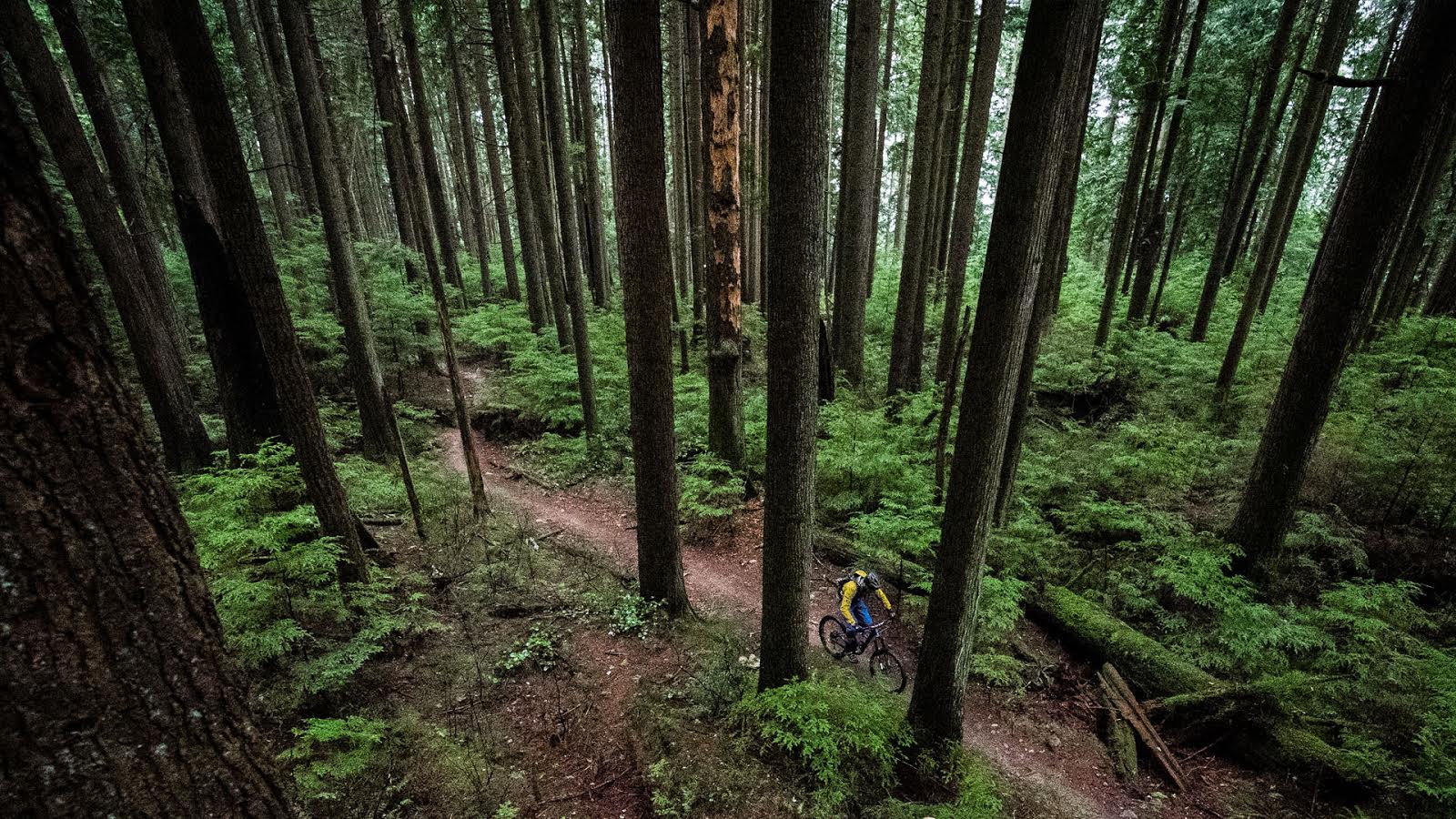 Banshee for 2013
Amongst all the fun of the fair of Crankworx, there was real work to be done. I had managed to make a date with Jon Hadfield of Banshee bikes early one morning to have a little look at some of the changes to their bikes that are coming down the pipeline.
Hiding away in Jon's van were a number of Legends, the slightly modified downhill bike that doesn't get as much love as it should, a day-glo coloured and highly revised Rune all-mountain bike, and a prototype Spitfire trail bike.
Time was short and we tried to get as much in as time would allow. In this case that meant getting some hot laps on a refined Legend.
LEGEND

  Matte black badness. Michael Jackson bad that is. Actually, not MJ bad, Bad the album. Anyway, moving on.
Unlike the Rune and Spitfire (which we will get around to in good time) the Legend hasn't had huge changes; instead Banshee opted to not mess with a good thing. There have been obvious cosmetic changes like graphics and colours, the addition of a titanium rear axle as standard instead of Maxle, and, often overlooked, is that all pivot hardware is titanium. However, some of the more major developments have been in the rear shock department. A bike's rear shock is its heart and without a finely tuned ticker many bikes do tend to croak. Banshee have been working closely with Cane Creek to test and tune the Double Barrel Air shock for the exact demands of the Legend and the kinds of riders that may look towards riding one. 
The DB Air is the most radically adjustable rear shock on the market, something that is as daunting as it is exciting. The engineers at both Banshee and Cane Creek have spent plenty of time looking over the numbers in the kinematics and riding different set-ups in order to find, what they believe, is the optimum setting.
Putting my trust in those with far more experience and grey matter than myself, I simply spun a pair of pedals into the cranks, adjusted the angles of the brake levers and set out for the top of Garbanzo. I must admit to not spending much time on the Legend in the past, and after just two minutes of lightning fast Freight Train and Old Joke I immediately regretted all the years I have spurned the Legend.

  Cane Creek and Banshee did all the hard work so you don't have to. Unless you really want to, in which case you have all the homework you'll ever need. So much that you might never be satisfied.
Right away I felt comfortable within the four corners of the bike. It felt stable and planted enough for me to want to put the whip to the horses. Perhaps this was the effect of the relatively long wheelbase but also it was due to the taut chassis that gave no hint of bending to my affections. Instead it is resolute and staunch to movement within the trail and movement of the rider. Press into an edge for cornering and the Legend digs in and carves. Charge into the fury of root and rock and the frame is unyielding against this external noise, staying stubbornly on the line you give it.
I've often felt that certain riders match their bikes better than most, and when you step aboard a bike that has a matching rider you take on the characteristics of that jockey. In this case I felt like bonkers Banshee bruiser, Adam "Gas To Flat" Brayton, as I held off from the brakes approaching rollers and natural terrain jumps, sending the Legend far past any hint of transition, pushing the rear wheel down and then gassing out of the flat in search of the next sender. An exhilarating, if exhausting, riding style but it suits the Legend.
The length and stiffness give it a surprising playfulness. Not in the sense of some bikes that feel so very nimble and sprightly, but instead in a way that you feel very at ease putting yourself on edge. The great span between the wheels feels like it could be from more upfront and not having too much out back. However, after a lap I began to tune my riding stance for the bike, settling rearward several inches more than I would normally do so. This change makes a radical difference, as like the Specialized Demo, the more you weight back on the bike the more it lights up, lifting the front and accelerating through trail detritus. This may very well be due to the bikes rearward axle path.

  If you like bright colours then Banshee has you covered. The new colour and graphics package look tasty but personally, I'd go black every time.
The downside was that I found myself having to shift fore and aft more than I am used to, stepping back to accelerate but then swinging forwards in order to keep weight distributed to the front wheels for traction in turns. Although a comfortable and familiar feeling bike, where all the contact points seem to line up, some riders might feel it necessary to experiment a little with their pressure control.
The air shock provides a solid platform from which to stand and deliver. Again, aiding in giving the bike an degree of lively grace where perhaps it may become more muddled if set too numbly.
Another interesting find was that how well the bike would jump. The bike loves to go fast and just soar past the transition, but take it down a notch or two by approaching taller lipped jumps (Dirt Merchant tombstones) much much slower and drive your heels into the bike causes the bike to lift off. This bike has a boost button, all you have to do is stamp on it with the points of your stilettos to get it to really work.
After a few fast and furious hours aboard the Legend it was time to hand it back before I got too cocky and hurt myself. It is certainly not the nimblest bike but it is planted, solid, with lots of room in the cockpit and secret go-faster, jump-higher gears if you want them.
RUNE

  Up front there is a 44/56mm tapered head tube, which allows the use of a zero stack lower headset cup, even with a tapered fork steerer for reduced stack height. We have ISCG05 chainguide mounts, a low direct mount front derailleur, it takes a 30.9mm seatpost and has cable guides for dropper posts. Chain and seat stays are internally ribbed for increased stiffness & 7005 T6 aluminum is used throughout with custom hydroformed tubes and forgings. Oh, and this one is even brighter in person.
The Rune is the 160mm all-mountain capable, slack and aggressive Banshee. It has been totally overhauled from previous Rune models, this time getting the new KS Link suspension platform that was first seen on the 29" Prime.
The KS Link is named after Banshee's designer and engineer, Keith Scott. It is a short link, virtual pivot suspension platform that builds upon Banshee's previous VF4B design, yet in a stiffer, lighter, and more compact package with low pivot loads. KS Link features oversized and fully sealed bearings throughout for increased durability and low maintenance. Gone are the bushings, which although light on weight, were light on longevity. 

  Why is it better to have less DU bushing rotation? Rotation leads to accelerated wear & more friction in the system, which makes it harder for the shock to do its job.
KS Link suspension is a lot more supple than the VF4B design due to zero pivot resistance and very little DU bushing rotation as a result of direct shock actuation. KS Link gives the rider better traction thanks to the suspension's ability to react faster to changes in the riding surface and also results in a smoother overall ride. The Rune is extremely stiff and responsive due to the short one-piece forged linkages used and has a low centre of gravity for superior cornering and control. The fully sealed oversized bearings, combined with the low pivot loads that the KS link achieves result in a very low maintenance system.
The KS Link axle path is still rearward to ensure good square edge hit performance and makes for a generally faster bike over rough terrain. Pedal feedback has been significantly reduced to give a more neutral pedaling experience.

  Highly adjustable and simple dropout system. It even allows you to accomodate 'tweener' wheels.
The Rune also possesses highly adjustable geometry, by way of a modular dropout system which offers three positions that change BB height and headangle in .5-degree increments, as well as allowing different axle configurations (142 x 12mm bolt thru, 135 quick release & 150 x 12mm bolt thru) to be used. More so, 650b optimized dropouts are available for the new Rune in order to maintain necessary clearance while retaining the handling feel that the Rune's low BB height gives it.
At 65-degrees in the slackest setting and a BB height of 13.4 inches, the Rune has the necessary numbers to feel capable and attacking for a 160mm travel bike, and the 74-degree seat angle should help the bike's engine get it back up the hill for more speed metal thrills.
Unfortuntely, time was short and our test ride on the Rune has been postponed till later. Keep tuned for some personal time with the Rune later in the fall.
SPITFIRE

  The great just got greater? We can't wait to find out.
The original Spitfire broke the mold. It offered many riders a short travel bike that could still replicate the trail thrills of their bigger travel brothers. Something which we are seeing more and more, with bikes like the Specialized Stumpy Evos, Santa Cruz Blur TRc and perhaps even the Rocky Mountain Element.
However, the bushings in the suspension design were not durable and led to play of the kind which is spent in the workshop not the trails. Also, the rear end could get a little flexible, especially when the bike was dropping behind enemy lines and told to keep up.

  All the bells and wolf whistles. Cane Creek DB Air and Fox Kashima 34 do the hard work and the geometry has remained the same so you can get the pay off.
The next generation of Spitfires will feature the KS Link suspension configuration which should help stiffen up the frame and lower maintainence cycles. It will come with 44/56 headtube which responds to many different headsets (including flush cups) and tapered steerers, and a low, direct front derailleur. Unfortunately, it still doesn't come with a bottle cage so trail terrorists that will wish to pilot the Spitfire will have to keep on the old hucksack or go with pocket water.
As soon as we get the go ahead from Banshee to take the Spitfire on a testflight we will, as we are excited about seeing one of our most favourite bikes get a loving and appropriate makeover.
---
Are you as excited as Seb to try out the new KS-Link Banshees? Intrigued by the 650B dropout option? And what are your thoughts on the day-glo colours?