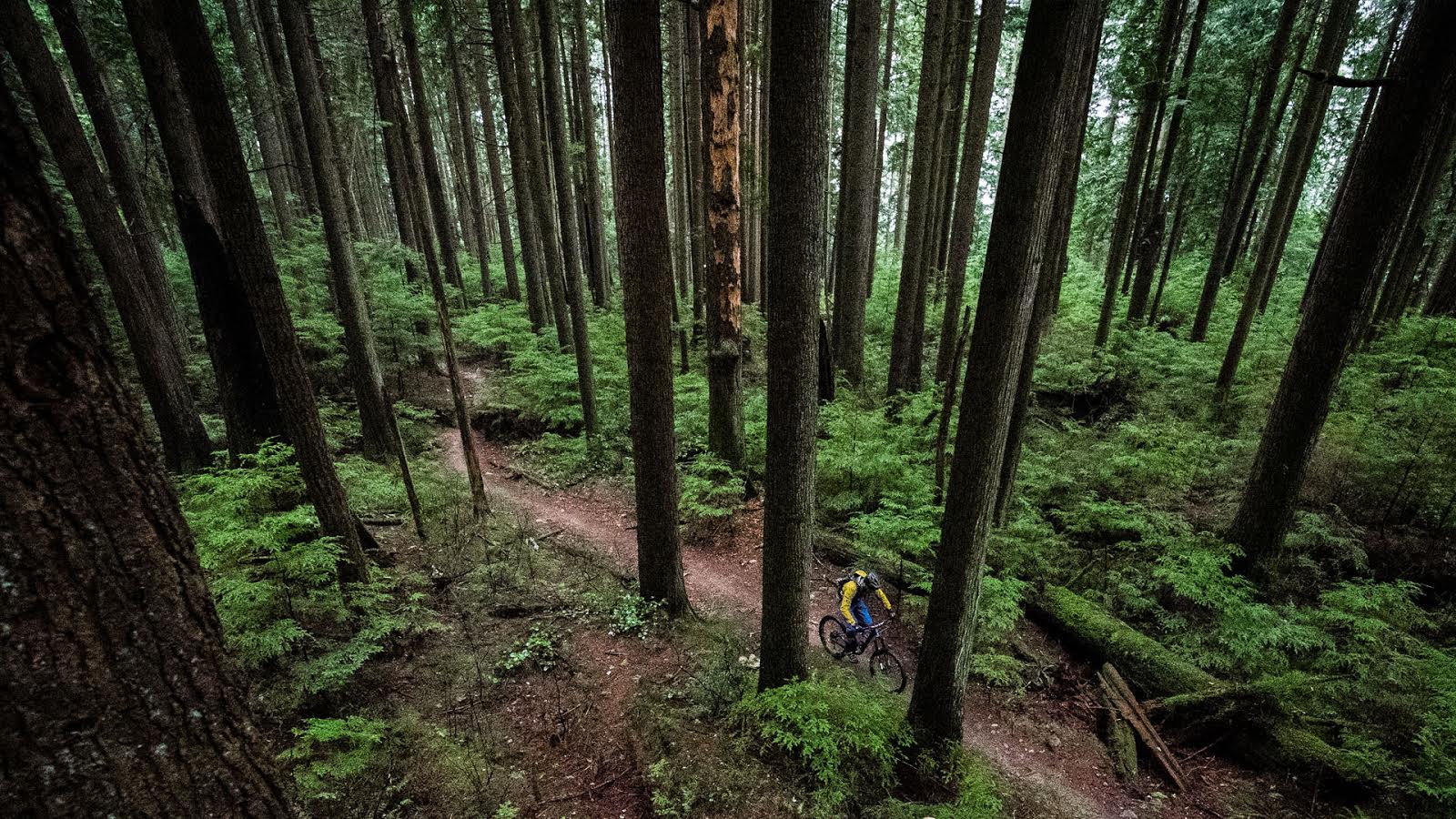 Yeti Ridden at Dirt Demo
Dirt Demo. In its early days it was hot and dusty and shitty, the shuttle vehicle was driven like there should have been a red 'L' slapped on the back of it, and so many ridiculous contraptions – some guy from Indiana would ignore your pleas that you only cared about covering freeride bikes, and would pin you in a booth while telling you about his new three-wheeled invention and why it was the future of the sport. And recumbents.
There definitely weren't air-conditioned tents, a media center with wireless internet and a trough full of drinks on ice, and dozens of sports drink companies giving out samples like family docs on a Viagra incentive. But it was still awesome – we got to preface three days of indoor madness and confusion with time spent riding fresh bikes on fun trails, and laugh at the gapers riding stuff way above their heads.
That stuff still applies, and dirt demo in Bootleg Canyon is still hot, dusty, exhausting, and sketchy, but now there are no excuses for not staying hydrated and if you time it right, you can get a shuttle to the top in a race-tuned Fox Racing edition Ford Raptor.

  Moooooooooo.
There aren't as many brands demo'ing bikes this year as in past years. Back then the only trade show that really mattered was Interbike and when the Dirt Demo began, it wasn't immediately embraced by all of the exhibitors. Within a few short years it became a great place to get a jump on the indoor show and you were hard-pressed to find a major company that didn't set up at the outdoor and indoor show. Now there are companies attending Eurobike that would never have even bothered with European distributorships, there is Outerbike, Frostbike, Press Camp, and Crankworx, and more races and events on the schedule every year. Consequently, the Dirt Demo isn't just a place to try bikes and accessories – now it has evolved into a smaller, scorchier, outdoor Interbike – like a fluffer before the main event that starts today in the Sands Convention Center.
In between sampling recovery drinks (survival requirement) and respecting our Canadian reputation by not turning down the free beer being doled out at every second booth (without letting ourselves get too shitfaced to ride), we carved out some saddle time with a Yeti SB-66 Carbon, Turner 5-spot, Giant Glory, Santa Cruz V-10, and Devinci Carbon Wilson. Mostly not brand new bikes that no one has seen or heard of yet, but then, bike launches seldom happen at trade shows anymore. Nnow companies plan their own launch events and use the shows to book retail business and show off new colourways. Still, it's always a treat to ride several different bikes in a day on unique terrain.
0. Tretta 2 Wheel Drive Bikes
Solving yet another problem the bike industry doesn't have, Tretta is producing bikes with both fat and skinny tires that feature four chains per bike.

  Fat tire specimen. Chains-a-plenty.

  The wheels on the bus go round and round.

  Front freewheel.

  Serious business.
1. Turner 5 Spot (Morgan)

The 140mm Turner 5 Spot, debuted in 2003 and in its fourth generation, may not be the youngest or most attractive girl at the bar – but that's no reason to give her a pass. The DW Link rear suspension is of good pedigree and, as with other Dave Weagle designs, feels like it might have more in the can than its numbers indicate. Paired with a 150mm the 5 Spot is "trail bike plus". Be aware that Turner's sizing is a bit on the small side; my Large tester had a 23.6″ effective top tube.

  Turner 5 Spot, 4th generation. Orange ano frame and Industry Nine wheels might float your boat?

  DW Link with elevated chainstays.

  Free air at Bootleg Canyon, unfortunately not for those demoing fat bikes, which seemed to be getting flats left right and center. Photo ~ Pete Roggeman
2. Yeti SB66 Carbon (Pete)
The cult brand from Colorado's 6 inch all-mountain bike rides like it was designed and built by people who shred to and from work, and on their lunch break. The SB-66 (66 = 26″ wheel, 6″ of travel, in the case of the carbon version it also happens to be a 6 lb frame) uses Yeti's Switch Technology suspension system, which employs an eccentric main pivot that rotates in one direction in the first third of its 6″ of travel (countering the chain growth's input with a rearward wheel path), stays neutral in the middle of the stroke, and then rotates in the opposite direction in the final third of its travel (with a forward rear wheel path). Its falling rate suspension curve is designed to smooth out any unexpected sag or harshness, and counteracts the effects of chain growth in order to reduce bobbing.

  Climbing the SB-66 C.
They know what they're on about because it pedals like a champ but what really stood out was its ability to go left, right, left, with some up and down thrown in the mix. Forget the jack of all trades, Swiss army knife of bikes expressions and bullshit – this is a mountain bike plain and simple and it does what we all want our mountain bikes to do – and it does those things well. If you're in the market for all-mountain and were considering Slayer, Mojo, Enduro, Slash, or Range, but want something a bit unique, the SB-66C (or its less expensive aluminum brother) is also a good option – and none of your riding buddies are likely to already have one.

  The SB-66 C in profile. Svelte.
Want to learn more about SB-66? We're all used to seeing bike product videos, but this one is worth your time. Nicely made, and a good job of hitting the main details without going into laborious depth.

  Linkage drive.

  The SB66's eccentric main pivot.
3. Santa Cruz V10C (Morgan)
8 inches not quite enough for you? The Santa Cruz V10 Carbon has you covered. With countless World Cup podiums under Greg Minnaar and Steve Peat – as well as the 2012 Leogang World Championships for Minnaar, his fourth in 12 years – you already know the V10 is fast. Running this puppy through rock gardens is a point-and-shoot affair. Obviously 10 inches of travel out back indicates a plush feel, but power transfer is suprisingly good with the VPP frame. A proven platform with lots of build options

  Santa Cruz V10, home office for multiple World Champs.

  Rockshox Vivid Air. It was kind of a pain to get air into this shock on the V10, but the performance made up for it.

  8.5 or 10 inches of travel, your choice.

  Blasting that DH rig. The desert terrain in Bootleg Canyon is not as flat or smooth as it appears. Photo ~ Pete Roggeman
4. Giant Glory 0 (Pete)
All of Giant's demo bikes were named. My Glory was named 'Gloria' which wasn't too original, but there were other better ones, like Chester and Butch. I think. Gloria was easy to get to know, and like a good concierge, she was happy to oblige once pointed in the right direction. The Dirt Demo format is not conducive to much more than a first impression unless you keep a bike for multiple laps and piss off the others waiting to get their turn. It's like speed dating except you spend half the time sussing out your date's specs – good etiquette for bikes, but not for babes. Five or ten quick minutes followed by a 'yes' or 'no' vote when given the option of a second date. I'd take Gloria out again in a heartbeat, and I wouldn't even wait three days to call her up.

  2011 World Championship winning bike under Danny Hart.
The notable spec highlight was the Schwalbe Muddy Mary rubber which was surprisingly stable in the loose stuff. I got them unhooked several times only to have them grab hold again, except that one time when they just spat me right to the ground – but that was rider error combined with some nutty halfpipe surfing through a flash-flood wash. Fun bike, better rubber than expected, excellent suspension from Rock Shox (Boxxer World Cup, Vivid R2C) powerful but squeaky Avid XO Trail brakes. Minor quibble was the Giant house brand Contact AM bar which felt like it needed more sweep, but once we got rolling it wasn't that noticeable. Still, that would be the one thing we would swap out if given the chance.

  And the stripes to celebrate.

  Giant's Maestro linkage.

  Pete Dropping in.
5. Devinci Wilson Carbon (Morgan)

Devinci's recently-announced carbon Wilson was a hot ticket at Interbike's 2012 Dirt Demo. If you were hoping to swing a leg over a carbon copy of Steve Smith's winning frame, you had to keep your wits about you: demo models were snapped up faster than you could slam a Brown Pow. When I finally got my chance with the bike, I took my time. The new carbon front triangle is absolutely stunning in person, with an almost-retro visible carbon weave and simple graphics.

  More rocks. Photo ~ Random Guy With a Flat
The Wilson is a thoroughbred DH race bike. It likes to be opened up, and rewards its rider for letting go of the brakes. Just like Stevie, you'll be skipping through rock gardens and chasing down your riding mates. While the Wilson sports 430mm chainstays – not especially long in the DH race world – it feels stable and confident. The carbon version may not be for everyone, but Devinci's lifetime warranty may help sway a few more in that direction.

  Wilson carbon. Looks even better with a World Cup win and a bunch of podium spots under its belt.

  Dat carbon weave.
---
Are any of these bikes on your list? If not what are you hankering for?