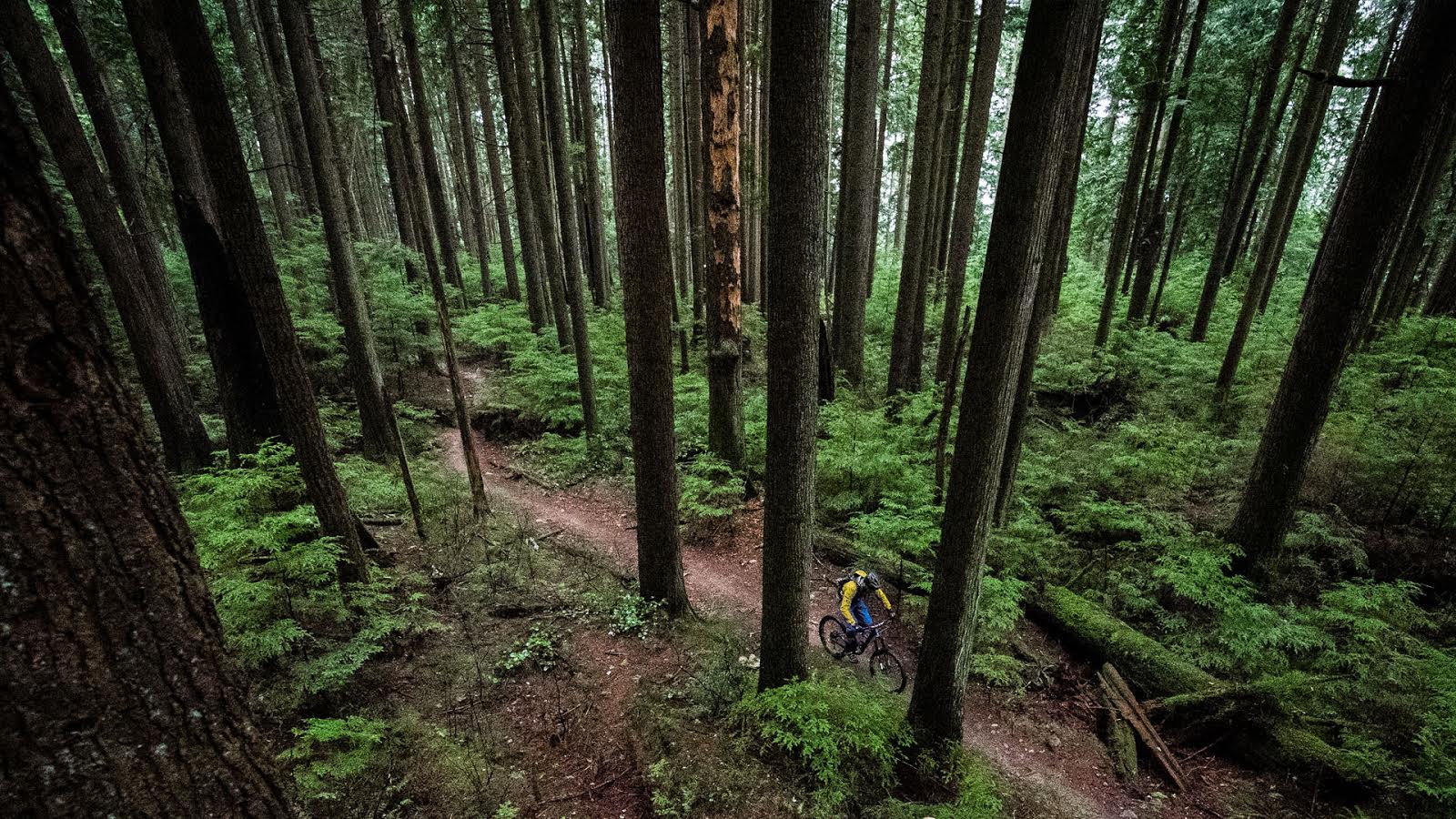 Steve Smith for Prime Minister!

  Steve Smith for Prime Minister. Photo ~ Sven Martin
The Second Canadian to Win a World Cup DH Race…
The final round of the 2012 DH World Cup represented a number of firsts: Steve Smith's first ever win in a WC race; Devinci sharing that first win, and putting three riders – Smith, George Brannigan, and Nick Beer – on the podium; and the first time a Canadian has won a World Cup DH race in two decades.
During the Red Bull webcast, Rob Warner wondered aloud about the last time a Canadian won a World Cup DH race. We were wondering as well about the exact date – but I was pretty sure it was at the hands of Andrew Shandro. Unfortunately Andrew doesn't remember the exact dates either, "I think it was '90, '91 or '92" he told me. The dates are murky for Andrew because he won twice on the same course (Mont Ste. Anne) in consecutive years. So let's call it twenty years.
One was more memorable than the other however: "I remember the second one more because the second one was Tomac. He was second. I always looked up to him as being 'the guy' so that was special." There was a time when Andrew rode for the now defunct Ford Devinci team so I wondered if he was on a Devinci for his wins, but alas no. "I think I was on Koga Miyata, the Dutch brand." It's probably for the best because back then, like many teams, Ford Devinci used re-painted and disguised Intense frames.
Andrew was chuffed at Stevie's results. "I'm really proud of him. The last few years he's taken it all really seriously, diet, exercise, training, and it's all paid off." And what does this mean for downhill racing in Canada? "I've been really disappointed at the lack of support for DH in Canada and I hope this gets people fired up and inspires the next generation."

     – Cam McRae
---

  The fans in Hafjell were a great finish to the 2012 season. Marc Beaumont on the track. Photo ~ DirtTV / Orpheus Productions
Commentary from Hafjell: Steve Smith Closes the Season with a Bang while Gabe Fox Unlocks the Devinci Code…
Words by Seb Kemp; Photos by DirtTV / Orpheus Productions
The six months since the World Cup opening round in Pietermaritzburg have passed in the blink of an eye. While the racers have followed the circuit to courses in South Africa, Italy, Scotland, Canada, the USA, France, and Norway, we have been lucky enough to watch the drama unfold from the comfort of our own homes.
The World Cup season must seem like life on fast forward for the world's fastest racers. It must be exhausting for the racers to be constantly on the move, fatigued by the challenges of travel, constantly looking forward to prepare for the next race, learning each course, tinkering with bike set-ups, and dealing with incidents and accidents. All this while trying to find their own piece of mental space from which to create a state of peace.

  Marcelo Gutierrez kicks up some dust. Photo ~ DirtTV / Orpheus Productions
By the last round there must be some tired minds, battered bodies, and weary spirits. However, it seems that Hafjell, Norway – a new stop of the schedule – brought a much needed lift to the riders as many commented that it was one of the best downhill courses they had ridden. Early on in the proceedings Stevie Smith tweeted "my mind was blown today. Everything you want in a dh track. What an amazing day of bikes in Norway."
I feel exhausted from just watching the season's racing from the glow of my monitor, usually in the pre-dawn light of a Sunday morning. Getting up to watch the final round wasn't as exhilarating an experience as it has been earlier in the year; knowing the men's overall had been sewn up before this round made me complacent. More so, the location of the cameras didn't seem to show the course to be as fun as it obviously was from a racer's perspective. However, I stayed on track as the women came down the hill.

  Canadian Casey Brown took 4th in Pro women, her first podium. Photo ~ DirtTV / Orpheus Productions
Casey Brown, a flash of bright colour and brighter potential, made the opening jumps look like fun and really showed she is head and shoulders above the women when the track sends them airborne. She had had a few bobbles in qualifying but held it together for her final run and secured the fourth step (or flat ground) of the podium. Now if she can get as fit and strong as some of the other girls she will be a regular visitor to the podium and a real contender for the crown.
Morgane Charre went about proving the stripes she earned two weeks ago at the World Champs. She looks strong and relaxed on her bike, something many of the women fail to achieve in years of trying. Third place is solid but what will next season bring? Will a rehabbed full field of women nudge her back out or will she rise to the occasion once more?

  Women's podium. Photo ~ DirtTV / Orpheus Productions
Ragged and reckless, Emmeline Ragot has had a nightmare of a season with mechanicals and crashes that has had her playing second or third string most of the time. Her run in Norway looked like it was a statement of intent for what could have been because if she could have gained a first place here and Rachel Atherton had failed to finish in the top five then she could have taken the women's overall title.
However, Atherton was on it and took the victory on the day and the overall title. Despite missing the first round in Pietermaritzburg, Atherton has done well enough each race to secure the title. A clean season of first and second places (with qualifying results included: even when she lost at Fort William she won the weekend by points) has her finally winning the World Cup overall for the first time since 2008. Perhaps her luck has turned for the better at last, but we have all hoped that before.

  Brendan Fairclough in 10th. Solid season. Photo ~ DirtTV / Orpheus Productions
In the men's field it seemed that some peoples' misfortunes will not let up. Sam Blenkinsop has had disaster after disappointment after downright bad luck this year. In Norway it was business as usual for Murphy and his bastard Law as Blenki took another puncture. Many riders were puncturing and the aggressive rock gardens of Hafjell claimed more air than a Boeing 747.
Brendan Fairclough's tenth place might fly under the radar but it is clear indication that he isn't washed up yet. Look out for him at the Red Bull Rampage. Sam Hill has eleven victories on his record but in the end, no more were to come this year. Instead, seventh position at Norway and plenty to think about and fuel him for next season. As a sports fan I'd love to see him take a victory again, but seeing the Aussie boiling and frothing for a top spot is still exciting.

  Loic Bruni, Junior Men's overall champ. Photo ~ DirtTV / Orpheus Productions
Brook Macdonald and the whole Kiwi crew were really trying to put a good one together in memorial of James "Dodzy" Dodds, a guy that every New Zealand racer will feel forever indebted to for one reason or another. The Bulldog couldn't go higher than 14th but he has had a season to remember and next year will bring more fighting fury from the friendly fellow. Cole had a great early season but faltered for various reasons throughout the season. A 6th place had him narrowly off a much needed podium but will give him something to feel proud of as the off-season looms.
George Brannigan was the fastest Kiwi on the day, backing up his strong qualifying result with a second place. He is young, obviously talented, very strong, and has had a taste of the podium now. Team mate Nick Beer (Smith's doppelgänger when in full kit) took fifth place making it look like a great day for Gabe Fox's Devinci Global Racing team already, but there was more to come…

  Steve Smith through the trees. Sneaky lines. Photo ~ DirtTV / Orpheus Productions
Gwin, who had already tied up the overall by the French round, had an incident in practice that had him roll out of the start gate and DNF in qualifying and then totally sit out the finals. Clever thinking from the most professional man in racing who had nothing to prove but everything to lose. On the live stream it was great that when interviewed by the Scandinavian top totty on the sidelines he was very humble and full of praise for the racers still in with a chance. When his top pick for the win (Brook MacDonald) failed to go green at the line Gwin changed his prediction to Steve Smith. Of course, I don't really need to tell you again, Steve Smith did win.

  Comin' in hot. Photo ~ DirtTV / Orpheus Productions

  Stooooooked! Photo ~ DirtTV / Orpheus Productions
I think everyone, no matter which flag they fly under, is happy to see Smith take this victory. Next year is a long way off but his next victory shouldn't be much longer.
More so, Canada's own Devinci bikes won in dramatic fashion. Three bikes on the podium is outstanding and I can only imagine how that must feel for the whole team to achieve such a huge result.

  Stevie's creeper moustache took him through the season and netted a win. Photo ~ DirtTV / Orpheus Productions

  Devinci Global Racing team manager Gabe Fox, sharing Stevie's moustache look, and super happy to have three guys on the podium. Photo ~ DirtTV / Orpheus Productions
With the World Cup season wrapped up I'll be missing the race weekends. The only thing to slightly fill that void is that the silly season of team rumours is upon us. Now the riders go back to the drawing board, build on successes or failures, and start to put in the hidden hard work. The off-season is even longer this year, with a nine month gap until the first round at Fort William on June 8-9, 2013. There will be some old faces returning to the schedule next year (Valnord, Andorra as well as Willingen, Germany – which Rob Warner famously dubbed "Willingen? World's worst downhill) as well as the classics and the latest additions that proved their worth (Hafjell, Norway).
  Men's podium: Steve Smith 1st, George Brannigan 2nd, Greg Minnaar 3rd, Gee Atheron 4th, Nick Beer 5th. Photo ~ DirtTV / Orpheus Productions
The World Cup coverage provided by Red Bull as well as the behind the scenes glimpses that the photographers and videographers like Sven Martin, Duncan Philpott, Bowman, Reynolds, Lawlor, Lucas, Schieck, etc. have provided for our free viewing has been exemplary. Thank you to everyone who brings the World Cup to our laptops.

  It's been a long time coming. Congrats Stevie! Photo ~ DirtTV / Orpheus Productions
---
Stevie's win was a long time coming. Show your love below…