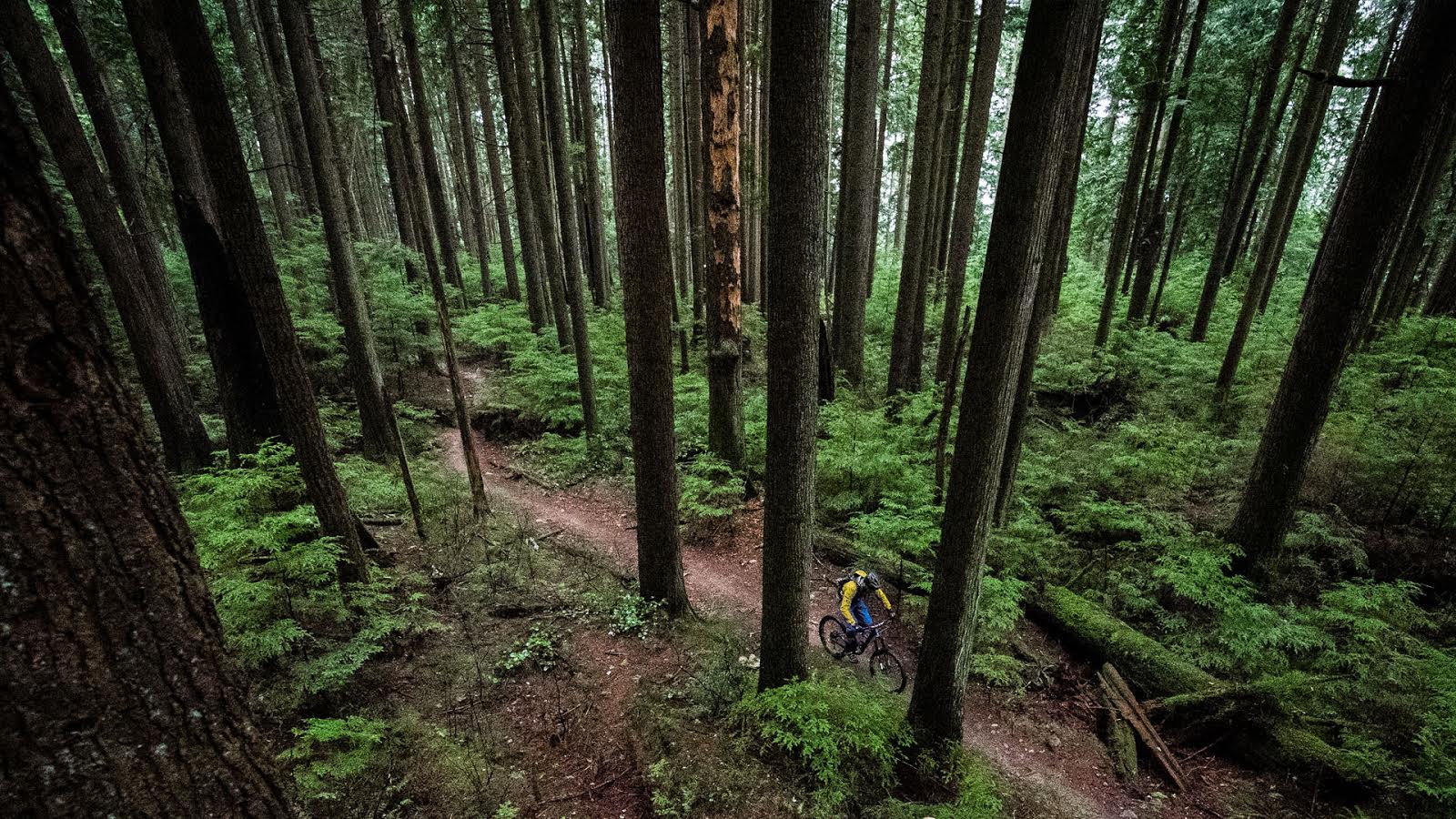 THAT BIKE…

  2013 S-Works Enduro. The cream of the crop.
SRAM always chooses nice bikes to drape their offerings in. At the XX1 First Contact ride days at Crankworx SRAM chose possibly one of the nicest bikes to wear the 11-speed drivetrain.
The history of the Specialized Enduro is perhaps one of the most notable stories of a bike that has redefined what we thought we knew a bike could do. Ten years ago the Enduro was a bulky little XC bike that had a mish-mash of monocoque forms and the four-bar FSR rigged onto the back. It certainly had an eye on rallying trails more than many other bikes in the category, however, when in 2005 Specialized unveiled the radically reworked Enduro it made a clear statement that they knew there were riders in the world who shortened their stem and lowered their seats in order to aggressively attack the trail that they pedaled to.
The hard-core knocks that these riders were subjecting "XC" bikes to was taking a toll on equipment so Specialized's answer was the 2005 Enduro, a bike for the rider who would ride all over the mountain, taking in the rarefied air of the climbs, but whose objective was making the most of the descents.
Soon, the 2005 Enduro was seen spinning off Utah rock hucks under Darren Berrecloth, being punished in bike parks and still doing long range bomber duties all over the world. It didn't just define it but practically invented the All-Mountain category.

  On Top of the World with the 2013 Enduro. Photo ~ Adrian Marcoux
Through the years the Enduro has been refined and modified, but as engineers have managed to get more and more out of less and less in other bike categories, the Enduro also continued looking too beastly for all but the most demanding. These days there are a number of highly capable and aggressive shorter travel bikes, and for many pundits the 160mm category is dead. However, Specialized wasn't ready to hand in the Enduro's towel just yet and have revamped it once more – again making it not only a category leader, but also perhaps most deserving of the simple moniker: mountain bike.
To bring the Enduro back to the masses, Specialized designed the latest incarnation to "climb higher and descend further". To do this there have been subtle yet perceptible changes to the FSR layout and suspension kinematics. Now the bike is more responsive when hammering into the pedals, erasing the wallow that previous versions could suffer from. This makes the bike lightning quick while on the gas, much more acrobatic on the trail, and feel like it is a much lighter and efficient bike at times, all while keeping the heavy artillery of the slightly increased (5mm up from 160mm) 165mm travel rear end.

  SRAM's take on the dream bike with a no-compromise build using almost entirely their own components.
The shock mount configuration is now similar to that of the Stumpjumper FSR, using the shock block that mounts directly to the base of the shock at the lower mount. Now the shock pivots on cartridge bearings rather than DU bushings, making it more sensitive to movement and more durable.
Visually, the frame remains roughly the same, using the X-Wing design, short 419mm chainstays, a 350mm bottom bracket height and suitably slack 66.5-degree head angle. There's still the tapered head tube, ISCG 05 mounts and a 142x12mm rear axle, plus a new PF30 BB. Other changes include a shorter head tube, new graphics and internal routing to accept a dropper post. The rest of the geometry stays the same.
So that's the theory but what about the practice?

  There was a time – quite recently, in fact – that I thought 160mm bikes were only for big mountain terrain. In the last week I have been thankful for the big mountains of BC and a bike that makes them feel even bigger. It remains to be seen what would happen to the Enduro if it spent more time on shallower and slacker trails. Photo ~ Adrian Marcoux
In short, it's all there. Everything about this bike is spot on. The lengths and breadths all add up to an extremely capable jack-of-all-trades bike. It climbs in a much more lithe manner than one would expect from a 165mm bike –often making me feel that I had accidentally swapped the Enduro out for its smaller cousin, the Stumpjumper. This is probably due to low weight (I've not weighed this one but Specialized claim their S-Works complete comes in at 25.9lbs), responsive chassis and much tauter suspension.
When faced downward the bike really does show you all that it is capable of. I don't think I have ever hit certain sections of my favorite loops that fast or with as much confidence as I have with this Enduro.
I had all but given up on 160mm travel bikes, thinking that that much squish was overkill now that 140 and 150mm bikes (even some 120mm bikes) were so very capable; the Enduro manages to feel almost as lively, energy saving and trail friendly as these bikes, but when faced down there is absolutely no place on the trail where you question having this much travel.

  Feeling on Top Of The World. Photo ~ Adrian Marcoux
The bike turns as every good bike should: exceptionally well. So well it makes you feel like you are better than you are. It also bunnyhops higher than any trail bike I've ever ridden. So many times I've set-up to hop trail gaps and found myself soaring higher and further than I would expect a bike to be able to. The big travel and solid frame means this opens up a whole new realm of opportunity when it comes to line choice. Something that even the most capable shorter travel bikes don't have.
Of course, the bike I've been riding is a dream build. Draped in SRAM's XX1, 2-Step Lyrik 35mm stanchion forks, Monarch Plus rear shock, four pot Avid XO Trail brakes, DT Swiss 1750 wheels and Reverb Stealth dropper post, this bike would turn heads even if the frame was just average. However, I have not fallen so in love with a bike for a long time. So much so that I begged and pleaded with Tyler Morland of SRAM to let me use it for the recent 4Kings race in Whistler. I knew that this bike had the perfect balance of all round capabilities that was necessary to do well at the event. It proved itself to be the perfect dance partner on both the XC and DH stages and now I really don't want to give it back. 

  Getting back on a regular sized wheel bike after rehabbing from injury has made my riding feel smoother than it appears. The ability to pop, play and dance down trails aboard the Enduro is perhaps its most endearing trait. Photo ~ Adrian Marcoux
Like a good girlfriend/partner/spouse this bike makes you feel complete. It makes you feel better than you are and offers a future of fun and happiness, opportunity and possibilities beyond what you thought you could achieve.
This is the bike that reignited my love with 26" wheels and 160mm of travel. 
---
The Enduro is a Shore-proven AM bike, but Seb's recent experience – and competition exploits – prove that it's up to more than its predecessor. Do you lust for the ever-evolving FSR platform?