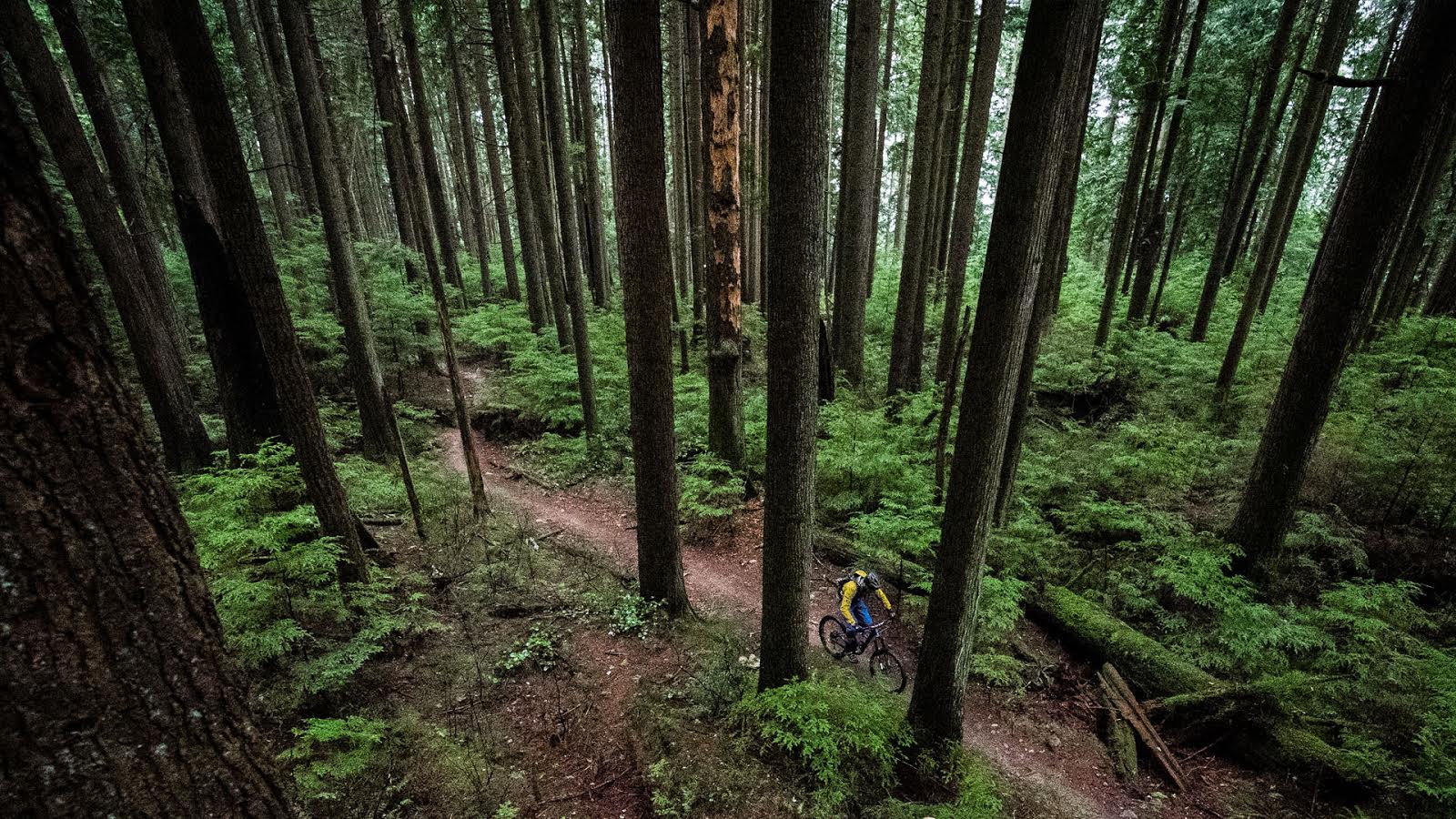 2013 Giant Trance X 29er
Giant Bicycles has put a lot of time and effort into its full mountain bike line, giving riders a choice of bikes with everything from 4" of travel all the way up to 8". These bikes were all 26" wheel rides, up 'til the introduction of the Anthem X 29er back in 2010. That bike was well received, and Giant learned some good lessons with the project.
The industry / bike engineer / internet guru consensus seems to be that 29" wheels work well with shorter-travel bikes, so Giant decided to roll out wagon wheels to the next logical platform in its mountain bike line: the 5" travel Trance X.
I had a chance to test out the 26″ Trance X shortly after it was unveiled and liked the bike so much that I bought one for myself. I raced it last summer at the BC Bike Race, and had a great time on it. It's an incredibly capable ride that climbs well, rips up the downhills and tackles just about any terrain – especially when it had the right tires for the trails. The foundation for a great new bike was certainly there.
Rather than just stuffing bigger wheels onto the existing 26″ wheeled frame, however, Giant started from scratch and designed a new bike. That meant some fairly radical changes to the frame in order to accommodate big wheels but still keep the bike "fast and flickable", as Giant puts it, and have it actually appeal to the enduro, Super D and epic trail rider market.

  The 2013 Giant Trance X 29er 0, chilling by Tyaughton Lake in the Chilcotins, waiting to jump on a float plane and hit the trails. There's not a lot that I would change about this build kit.
Tale of the Tape
The first major change to the Trance platform is a new single-spar swingarm instead of the Y-shaped spar that's found on other Giant full suspension bikes, including the 26″ Trance X. The second is a radically sloping seat tube to bring the rear wheel in under the rider and keep the chainstays short – 17.8", to be precise. The effective seat angle is 73°, but it doesn't exactly feel like that. More on that below.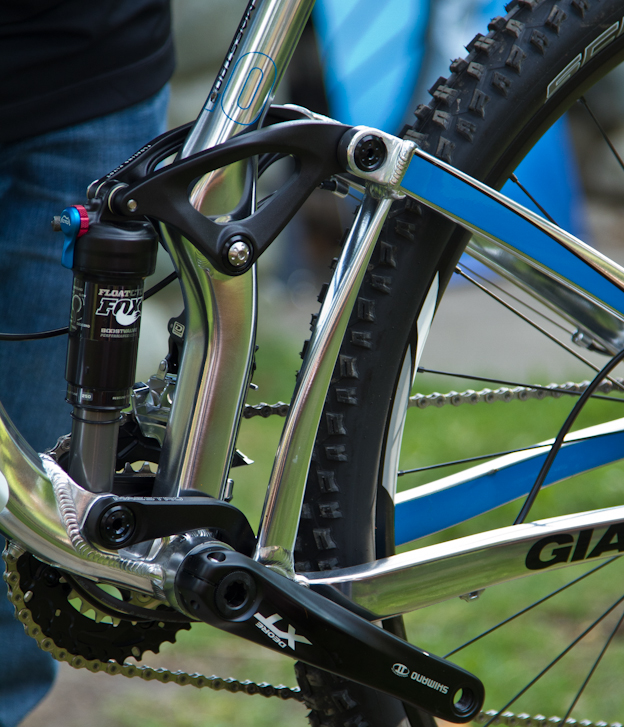 A clear illustration of the single spar, which starts just behind the top-most pivot and goes down to the pivot behind the bottom bracket. 26″ full suspension Giant bikes have a Y-shaped spar with a flat side that runs roughly parallel to the tire tread; the top parts of the Y also connect further back from the top pivot on those bikes.
Other key numbers – the bike has a 69° head angle, frame weight for a size medium with shock and hardware is 5.89 lbs. and a 13.25" bottom bracket height. Like Giant's other new gen full suspension bikes, the Trance X 29er gets the OverDrive 2 fork / headset / stem, Megadrive down tube and top tube and the PowerCore bottom bracket – and of course the Trance X 29er uses the proprietary Maestro floating pivot rear suspension design.

  You know it, you love it… Maestro. It ain't broke, so it ain't getting tweaked.
Something else interesting about the Trance X 29er is that it comes with optional internal cable routing for the height-adjustable post, front and rear derailleur and rear brake. The bikes ship from the factory with cables mounted externally to the frame, but can be switched over at either the shop level or by consumers. The bikes come with rubber stoppers to put in the internal routing ports if you choose not to go that route.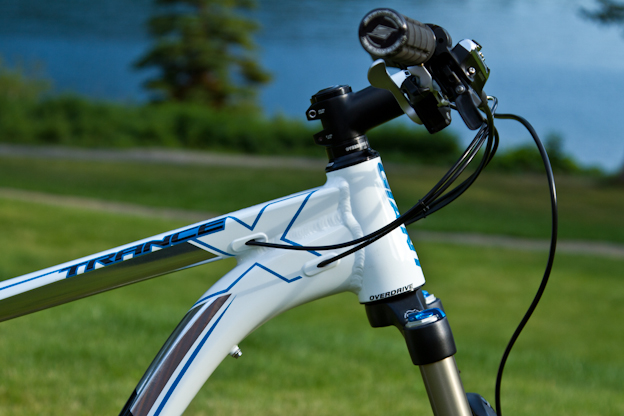 The driveside integrated cable ports. Internal routing cleans up the overall aesthetcs and it's a nice touch. I have to wonder, though, if it's really the best option when you have to build externally-routed cable guides into the frame as well because they can't ship from the factory already routed internally.

  This is what you're left with once the cables are routed internally – three very noticeable cable attachment points on the downtube. Which, in my opinion, kind of defeats the aesthetics argument for internal routing. But that's just me.
There are three different Trance X 29er models to choose from. Spec starting at the top-end 0, include a Fox 32 Float 29 FIT CTD fork and Fox Float CTD rear shock, Shimano XT 2 x 10 drivetrain and brakes, Giant's new P-TRX 29er wheels and a Giant Contact height-adjustable post; weight is listed at 28.2 lbs. for a size medium without pedals.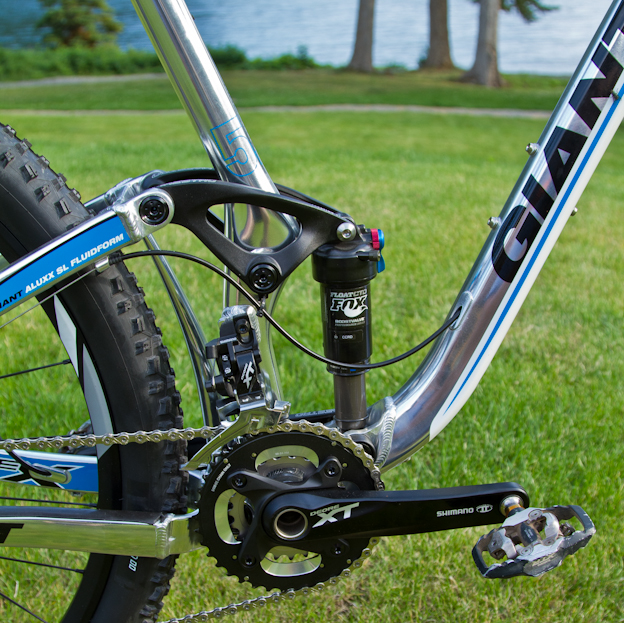 Here's a drivetrain and suspension close-up, as well as a shot of the spar on the left side of the rear triangle. 2×10 drive without bash guard in this configuration.

The 1 gets the same suspension hardware as the 0, SRAM X.7 / X.9 drivetrain and Avid Elixir 3 brakes, Giant's P-XC29er tubeless compatible wheels and a Contact post; the 1 comes in at 29.6 lbs. The Trance X 29er 2 has a RockShox Recon Silver fork, SRAM X.5 / X.7 2 x 10 drivetrain and Shimano M395 brakes, and hits the scales at a very reasonable 30.8 lbs.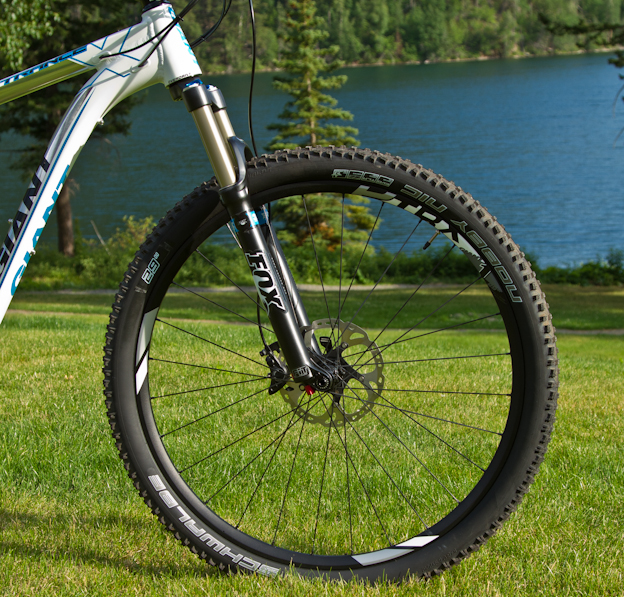 Giant spec'd the Trance X 29er 0 with its own tubeless compatible wheelset, which is good to see. (Tubeless compatible meaning that the spoke bed isn't sealed so you have to add a rim strip, as opposed to tubeless ready where you just add sealant and go.) I switched to tubeless a year or so ago, and I don't plan on going back.
There were a few features that aren't present on the Trance X 29er, the most obvious of which is a rear thru axle. Many new bikes being rolled out these days are sporting some sort of rear thru axle, whether it's a Maxle or Syntace's 142mm system, but the Trance X doesn't.
I asked Andrew Juskaitis, Giant's global marketing manager, why they didn't include one on the bike and his response was simple: it doesn't need it. The rear end on this bike (and other Giants) is two large, one-piece triangles, without any pivots near the rear axle that need a thru axle to compensate for the flex that comes with those pivots. He did say, however, that Giant may end up going that route some time in the future to satisfy consumers.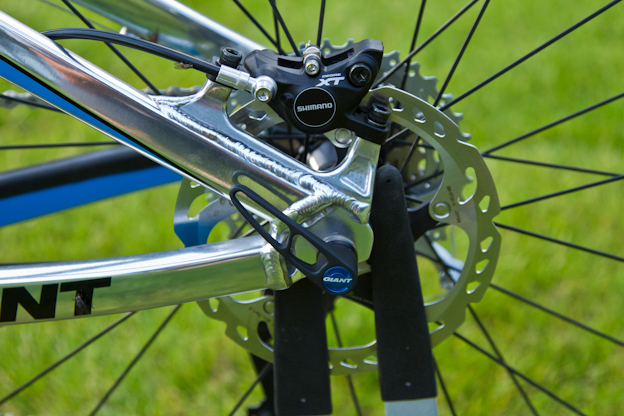 Direct post-mount brakes are great, and make rear brake set-up simple. You get a standard QR with the Trance X 29er, which Giant says is plenty stiff due to the one piece rear triangle.
Something else you don't get on the Trance X 29er is any sort of chain guide mount. Some riders have been calling for ISCG mounts on mid-travel Giants for a while now, but it didn't make it on this bike. The press fit bottom bracket also rules out the option of using a bottom bracket-mounted guide. Whether a guide is necessary on this bike is debatable, but it would be nice to have that option.
The other spec decision that may raise a few eyebrows is the choice of a 32mm stanchion fork instead of a 34mm fork. Juskaitis says this was done solely as a weight-saving measure.
I also asked him about the alleged silver bullet of the bike world: 650b wheels. Juskaitis said that they're always experiementing with different options and testing new technology, but it doesn't seem like Giant will be jumping on that bandwagon just yet.
Giant's usual development cycle for new bikes starts with an alloy version and then a carbon version of the bike either the next model year or the one after that. Don't be surprised if there's a carbon Trance X 29er for 2014.
Ride Impressions
We were fortunate enough to get to ride out of Tyax Lodge in the Chilcotins, about 2 ½ hours north of Whistler. Tyax Air Service runs a float plane shuttle service, and they took four loads of journalists, guides, pro shooter Sterling Lorence and Giant people to Spruce Lake for the ride out. To paraphrase Ferris Bueller, if you have the means, I highly recommend you do this. So much fun.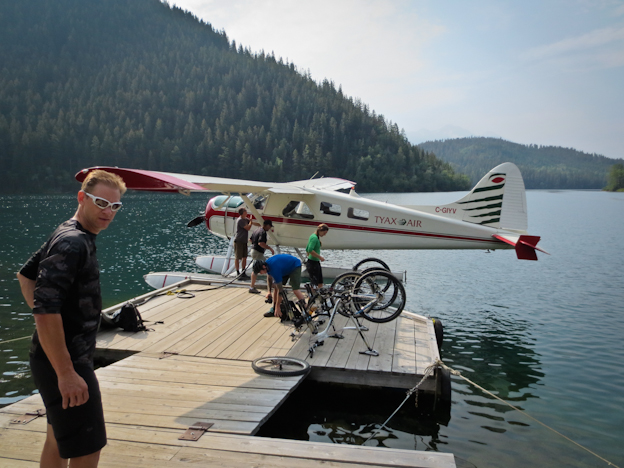 Giant's global marketing manager Andrew Juskaitis (left), waits for certain media riff-raff to get their shit together and hop on our shuttle so we can get down to the serious business of bike riding.
I made a few few tweaks to the XL Trance X that had my name on it. The first was a shorter stem. This bike is long throught the top tube and the 120mm stem that was on it might have been fine for buff Colorado singletrack but it was excessive for BC. The shortest OverDrive stem that I was able to lay my hand on was 90mm, which still felt long in the parking lot test but you work with what you've got. Make sure you get the right length before you leave the store with your Giant bike. Other than a bit of suspension pressure, the bike was ready to ride right away.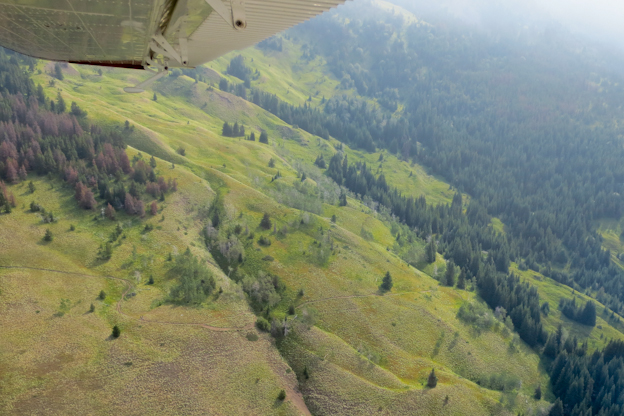 See that ribbon of singletrack? Yeah, that's what we rode. The smoke is from fires in Siberia. Seriously.
Unloading from the plane and hopping on the bike for the first real pedal wasn't exactly revolutionary, but it was a fairly natural process – possibly because I've been riding a 29er for most of the spring and summer. Some bikes have a learning curve to them, but the Trance X had absolutely no bad habits. Fortunately, there was a bit of flat singletrack and sidehilling to start so we had a chance to get used to the bike before things started heading down. I wasn't wild about the stock bar – the sweep felt odd – but everything else was good.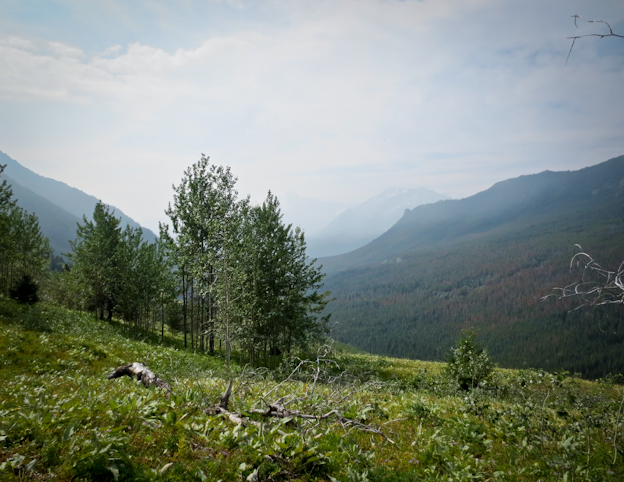 Normally, you get a hell of a view when you're riding out of Spruce Lake. This particular day, not so much. Still, not a bad way to spend a Monday.
Once the trail started heading down and speeds picked up, it was apparently that Giant did in fact crank out a bike that was fun and flickable. The wheelbase is sufficiently short enough to make switchbacks a piece of cake, and the head angle was well suited to cruising technical sections with speed and confidence.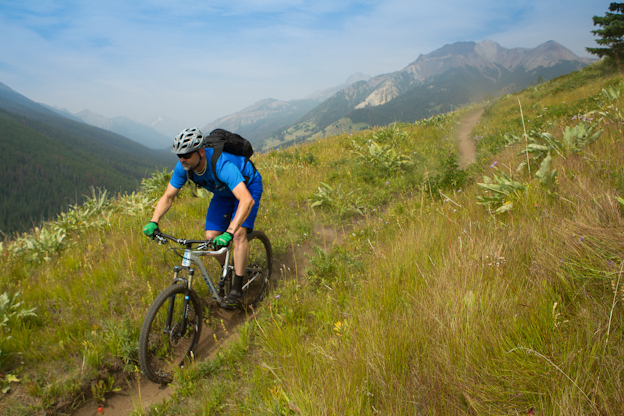 The author, heading down some sweet Chilcotin singletrack. Big bikes are great for big guys. Photo: Sterling Lorence
The Fox 32 Float 29 fork is definitely stiffer than some RockShox 32mm forks I've ridden, and the front end seemed adequately stiff on this particular trail, but I'd have to spend more time on the bike to say whether it was a smart choice over a 34mm fork.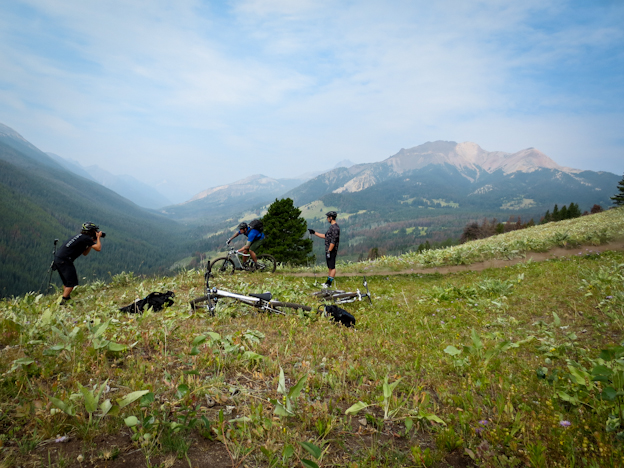 Shooting the shooter. Sterling Lorence (left) captures Brad Walton while being assisted by human tripod Nate from Giant. Photo conditions weren't great due to the smoke, but Sterling still managed to pull off some great shots.
The Trance X 29er 0 bikes that we test rode came with Giant's Contact height-adjustable mechanical seatpost. This was my first time riding the Contact, and while it worked as advertised, I wasn't wowed. The lever shape isn't particularly ergonomic, but more than that, the 100mm of travel comes up short. That much travel might be fine in some areas, but the 125mm of travel that you get on most other dropper posts would definitely be an advantage when things get steep.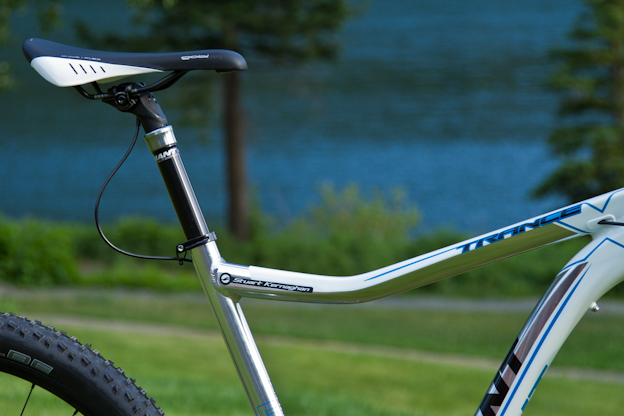 The Contact seatpost worked well enough, but more travel would have been handy in the gnar. 
The rest of the spec worked well enough, but there were a few parts that I'm not a big fan of. I have big hands and find that the Shimano XT brake levers are too small for me. I also don't love the lack of adjustability in the brakes: FreeStroke doesn't do anything for pad contact feel, and I find that the brakes themselves tend to feel somewhat indistinct.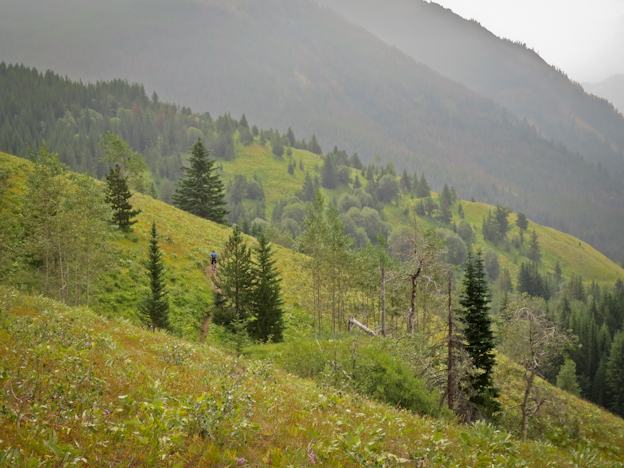 Spot the rider. Walton climbs up to the top of the next ridge. Short out-of-the-saddle hammers on the Trance X 29er were fine, but steeper, seated climbs proved to be a bit of a challenge.
I do love the XT shifters, though, and the drivetrain worked well but I really dislike running a crankset without a bashguard. I got hung up on a big log rollover on this ride and took a big chunk out of my shin, and I find that I either get hung up or grind the big ring on rocks and logs when I'm running this configuration on my day-to-day rides. I'd much rather give up a few gears – the 38T is too big for many climbs for me, anyway – in exchange for a 34T crankset and a bashguard. But that may just be me.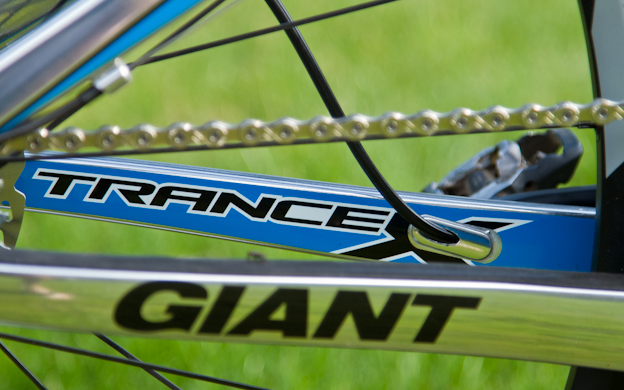 The root of some evil: the internally routed rear brake line. Internal brake lines mean a bleed, which would slow down bike assembly in the factory. Routing the shifter and seatpost cables internally and leaving the brakes external would have addressed that issue neatly, and eliminated the need for downtube cable mounts. 
Unfortunately, the Trance X 29er wasn't quite as sweet on the uphill as it was heading down. The relatively light overall weight of the bike was a bonus, but I found that the front end tended to wander and lift when the trail turned up. It simply didn't seem to want to stay on the ground on steep, seated climbs. It was also difficult to slide forward on the saddle as I normally do on these types of climbs. I almost had to pull myself forward on the saddle using the bars.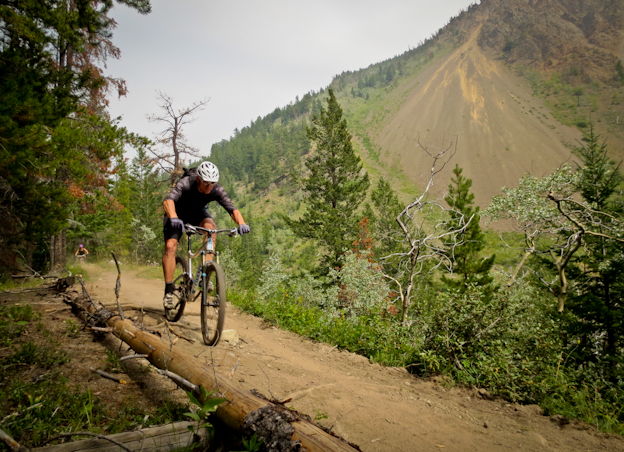 Andrew Juskaitis ripping it up in the Chilcotins, followed in the distance by Tyax guide Emily. 
I couldn't exactly put my finger on what was causing the wandering – stem too long? Not being able to get my body in the right position? The slack seat tube angle, orienting everything further back? A tall front end? Some combination of all of them? I don't know. I've been riding XL bikes with tall front ends for some time, so I doubt that was it. I would definitely run the bike with a shorter stem if I had the option, and I suspect that would make a difference. Whether that would eliminate the wandering is hard to say.

  When you're riding with a group of about 15 people, frequent re-grouping stops are a given. Plus, you also get to hang out with horses and enjoy the scenery.
Final Thoughts
The new Giant Trance X 29er is a solid ride with a number of positive attributes. It's a tight bike that likes to rip technical singletrack, thanks to the short chainstays and relatively slack head angle. Although this particular bike didn't excel at climbs, I'm not ready to write it off based on what could have been a setup issue. Hopefully I'll be able to spend more time on this bike in the future so I can better sense of what it's really capable of doing.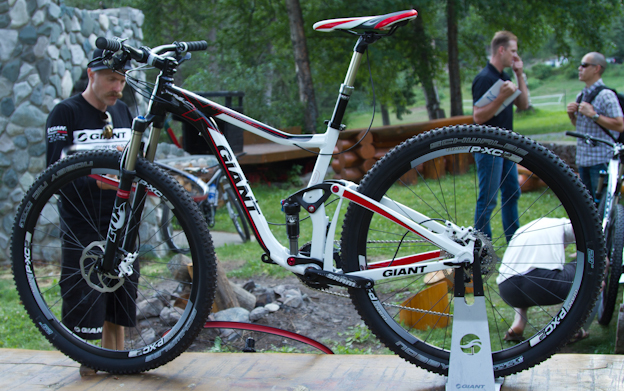 The Trance X 29er 1, which is the best looking of the three models in my eyes. It gets the same fork and rear shock as the 0, as well as the Contact post, with a minor step down in component spec.
Two closing notes. First, Giant is technically not eliminating the 26" version of the Trance X, but it's going to be VERY difficult to find. Regional sales networks will be able to bring in the bike from Giant HQ in Taiwan if they feel that it will be better suited to consumers in that area, but don't assume that you'll be able to walk into any Giant dealer and pick one up.
Second, Giant doesn't anticipate that there will be Trance X 29er frames for sale any time soon. You're buying a stock bike and tweaking if you want a custom ride.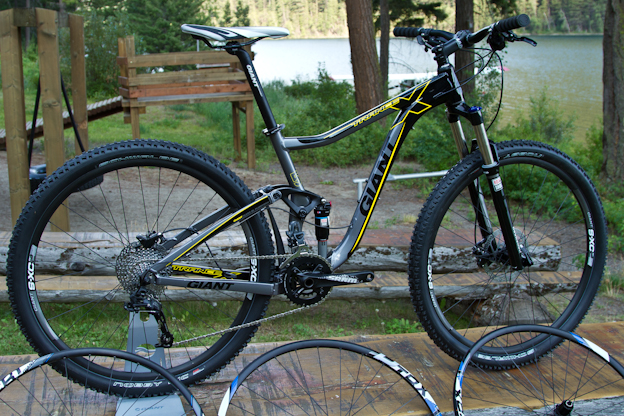 The Trance X 29er 2 kind of has a Silk Spectre from Watchmen thing going on…
And the important stuff: how much are you shelling out? US pricing for the new bikes is as follows: Trance X 29er 0 – $4,250; Trance X 29er 1 – $2,775; Trance X 29er 2 – $1,925.
Canadian pricing is as follows: Trance X 29er 0 – $3,999; Trance X 29er 1 – $2,699; Trance X 29er 2 – $1,899. 

Expect to see the 2013 Trance X in Giant dealers starting in September 2012.
---
The big wheel with big travel is a surprisingly capable combination – does Giant's new offering put you in a trance? Sound off below…