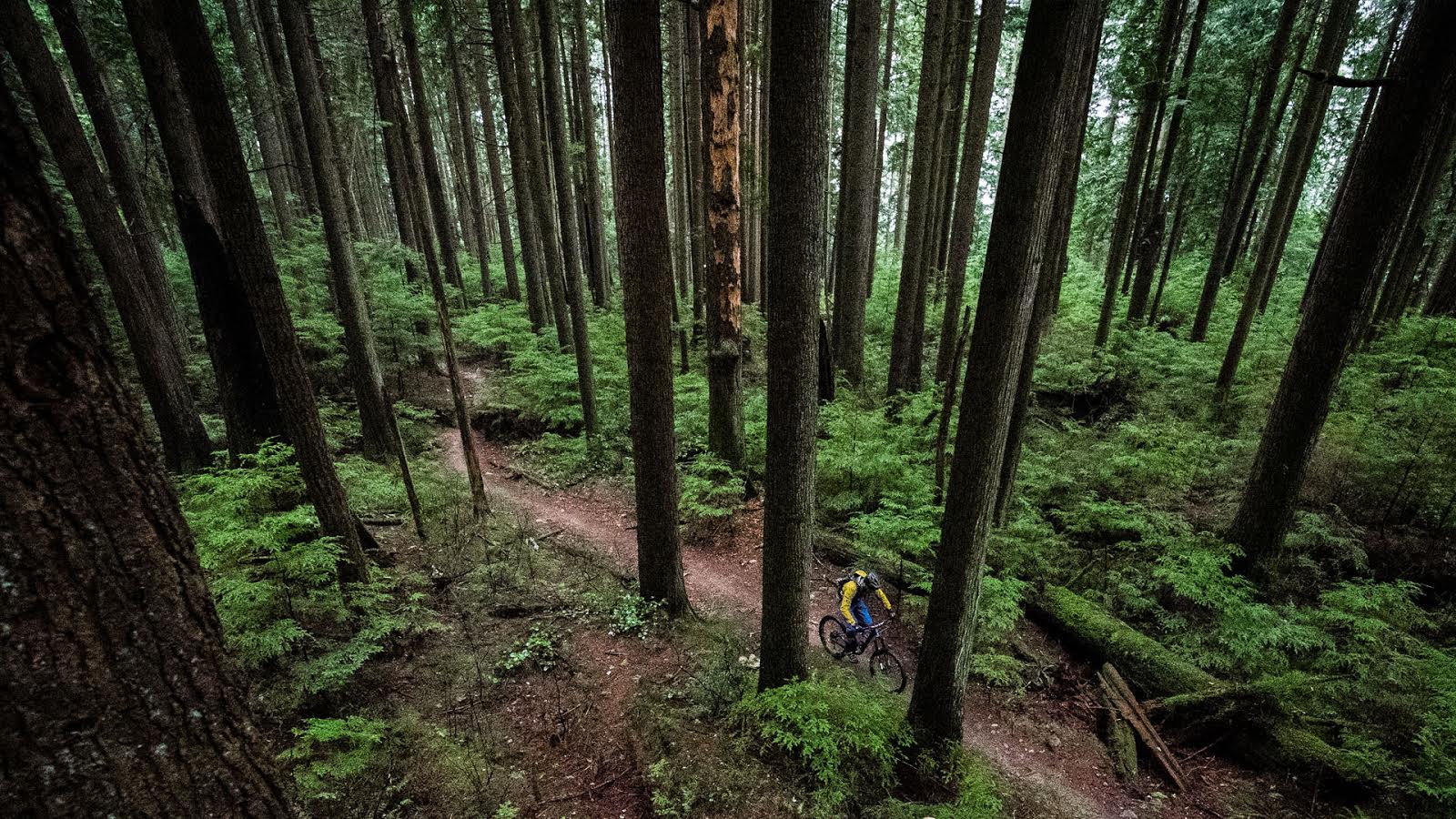 BC Bike Race Reflections
When was the last time you let out a spontaneous "Yahoo" while racing your bike? Sure, it happens to all of us every now and then when you stumble across the perfect section of trail, with the perfect group of riders, and the stars all align. But how about multiple spontaneous "Yahoos", every day for a week? Sound too good to be true? No way. Just sign up for next year's BC Bike Race and you'll find out for yourself.
This year I had the privilege to do just that, racing in a two-man team called "Retro Rocky '95" with my brother-in-law, Wade Simmons. We've ridden together for 20 years, but have never done a week-long event as a team, so the 2012 BCBR was going to be an interesting experience.
We met back in the early 90's when everybody was into XC racing, even Wade. When I first started racing in 1993, Wade was the man to beat in the local Sport Class. By '95 Wade had established himself as a DH racer, and the two of us managed to find our way onto Rocky Mountain's Pro Team, and spent 6 months travelling between North American races in our Team Rocky, red and yellow Volkswagen van. It was Mike and Wade's Excellent Adventure, Part 1.

  The 1995 Rocky Team poster. A few local legends, including Bruce Spicer, Elladee Brown, Keith Stark, and a bearded Simmons.
Wade, of course, eventually ditched the racing scene to become the "Godfather of Freeride," and I grudgingly got a so-called "real job" and became a full-time desk jockey/part-time racer. We did stay connected, however, through living and riding on the North Shore, and also because we each ended up with lovely ladies from the same family. Fast forward 15 years, and our road trips are now family vacations that still include bikes, but now also include wives and kids. And during those vacations we've done some amazing rides in incredible places, but nothing as extensive or intensive as a 7-day stage race.
Wade and I agreed that the week should be free from suffering, so that we could enjoy the ride. But that didn't mean that we took it easy; we rode a solid pace all week, but wanted to avoid the need for too many anaerobic efforts that make your lungs feel like they're bleeding, and your stomach ready to blow chunks. That stuff is still going on at the front of the race with the top pros, but that wasn't our goal for this new most excellent adventure.
But make no mistake, the BCBR is a bike race, and as Dre Hestler says, as soon as you strap a number to your handlebars, you're a bike racer. But the seven day event is so much more than just a race, and when you show up at Centennial Theatre in North Vancouver for the Day Zero rider's meeting, you start to realize that you're part of something special, and something bigger than anything you can see in the post-race results.
You enter the meeting with 500 other riders from 33 different countries, all nervous with anticipation. Then leave an hour later pumped up after listening to the BCBR crew's pep talks and laughing your ass off at the stand-up comedy routine that is Brooks the Safety Guy's pre-race safety talk. He tells the euros how to fend off black and grizzly bear attacks, as well as strategies for identifying and escaping both types of local cougars (wink, wink)… Yahoo!
So what were some highlights, you ask? Well I'm sure you would get 100 different answers from asking 100 different participants, but here's a few from my personal perspective.

  Mike and Wade at the finish of Day 1 in Cumberland. So far, so good. This stage racing stuff is easy!
The trails around Cumberland are a blast, and one of the highlights of the week was finishing the grueling 12km climb up Forbidden Plateau, and then ripping down the big decent called Screamin' Demon. It was the first of the Gravity Enduro sections, and featured some spectacular exposed granite sections connected by tight, twisty, high-speed connections. Yahoo!
While super wet and muddy, Day 2 in Campbell River was also a personal favourite. The slippery roots, and short punchy climbs and descents were a hoot, despite the weather.

  There was plenty of mud on Day 2 in Campbell River.
Day 3 in Powell River also had no shortage of great trails and muddy conditions, but was significant for another reason: Simmons in lycra. Yes, after two-days of staying true to the baggies, even the Godfather of Freeride finally made the switch to the dark side, much to the chagrin of the rest of the Rocky Team. Apparently Chris Sheppard had a bet going on how long Wade would last before giving in and pulling on the spandies.
Day 4 was the Queen Stage (and hump day) of the race, with a ton of climbing over 65km, as we rode from Egmont south along the Sunshine Coast Trail down to Sechelt. Fortunately for us the rain had stopped, but it wasn't smoking hot either, as there were some long exposed climbs under the power-lines. I remember looking up ahead and seeing a long snake of riders extending way off into the distance, and disappearing over the next ridge. It was truly an epic day, and you really had to focus on eating and drinking to keep the motor running.

  The "Queen Stage" from Egmont to Sechelt. 2110M of climbing over 65km of trail.
Day 5 was a tour through some of best trails above Roberts Creek, and ended with a 12km descent down to the ferry terminal in Langdale. How can you not love that? Yahoo!
On to Squamish for Day 6, with an eclectic mix of trails that featured some of the best of the Test of Metal and Gearjammer courses, with a little Half Nelson and Hoods in the Woods thrown in for good measure. The best part was that some dude had fired up his old Coleman camp stove at the entrance to Hoods, and was handing out hot crispy bacon to all the passing riders. How perfectly Canadian, eh?

  How can it possibly get any better than this? Fresh singletrack and crispy bacon!
Finally, there was Whistler. The maze of trails around Lost Lake are always fun, but ripping through them as fast as you can on a closed course was wicked. True XC racing, and a big, big, Yahoo!
Of course the riding is incredible, after all, that's what we signed up for. But the BCBR experience is also about the people that you get to live and ride with for the week. And while everyone comes from different places, we were all there for the same reason: riding our bikes on the sweetest singletrack. And that common bond means it's easy to strike up a conversation with anybody.
On most days the starts are a little frantic, as you roll out of town behind the lead motos, and people start jockeying for position and preparing for the first section of singletrack. But once the dust settles, and you start to set into your day's ride, you tend to find yourself amongst roughly the same group of 20 at any given point. Sure, sometimes you're passing them, and sometimes they're passing you, but groups start to form based on similar pace.

  Roll out.
Our crew consisted of a number of interesting folks. There was Erik Keniston from Arizona, who has done the BCBR for the last 4 years.  As it doesn't rain much in AZ, and it traditionally has been dry for the BCBR, he hadn't spent much time riding in the wet, and had a great time learning how to climb and descend on the slippery roots of the Campbell River and Powell River stages. Wade is an excellent teacher, and he was riding along coaching the out-of-towners, and keeping them smiling as we all slipped and slid along through the lush green rainforest.

  Pedaling through the West Coast rainforest.
Then there were the crazy Belgian guys from Sandman Bikes. They piloted their titanium hardtails with super fat 3.8" tires at an incredible pace. I'm not so sure those bikes are the ideal weapon for a week-long race, but it was impressive to see them ride nonetheless.
Another interesting character I met was Chad Forrest, an American who lives in Beijing, China. He ended up 3rd overall for the Solo 40+ men, so he's no slouch on a bike, but he was absolutely blown away by the number and diversity of trails that we were treated to. And no wonder, because where he lives there is only one mountain bike trail, which based on his fitness and skills, he must ride almost every day. Can you imagine having only one trail where you live? Makes you realize how lucky we are here in BC, and thankful to the hundreds of volunteers who have spent thousands of hours carving out the trails that we all get to enjoy.
Another interesting addition to our motley crew was none other than Olympic gold medal-winning rower, Jake Wetzel. Now Jake is a big man, and an incredible athlete, but it was still impressive to see him power his way through technical singletrack. Of course, what most people don't know is that before Jake became an Olympic rower, he was a pro XC racer back in the golden years of the Canada Cup circuit in the mid-90's.
So here we are now, one month post-BCBR, and I'm still reflecting on what was truly a spectacular week. I got the opportunity to spend a week riding with great people on amazing trails, and eating delicious food. What could be better?
Registration for the 2013 BCBR opened the day after we finished in Whistler, and within days, it was already 70% sold out. A lot of repeat customers, and I can see why. So, if you love to ride, aren't afraid of a little work to earn your turns, and are looking for an incredible week of spontaneous "Yahoo's" on your bike, consider adding the BC Bike Race to your 2013 ride plans.
You won't regret it.
Thanks to Dean, Dave, and Dre for providing the opportunity to be part of the BCBR, Peter, Ruben and Hugh at Rocky Mountain for keeping the bikes running smooth, and Craig at Different Bikes North Van for all of the support through the year.
---
Bacon handups! Yahoo!