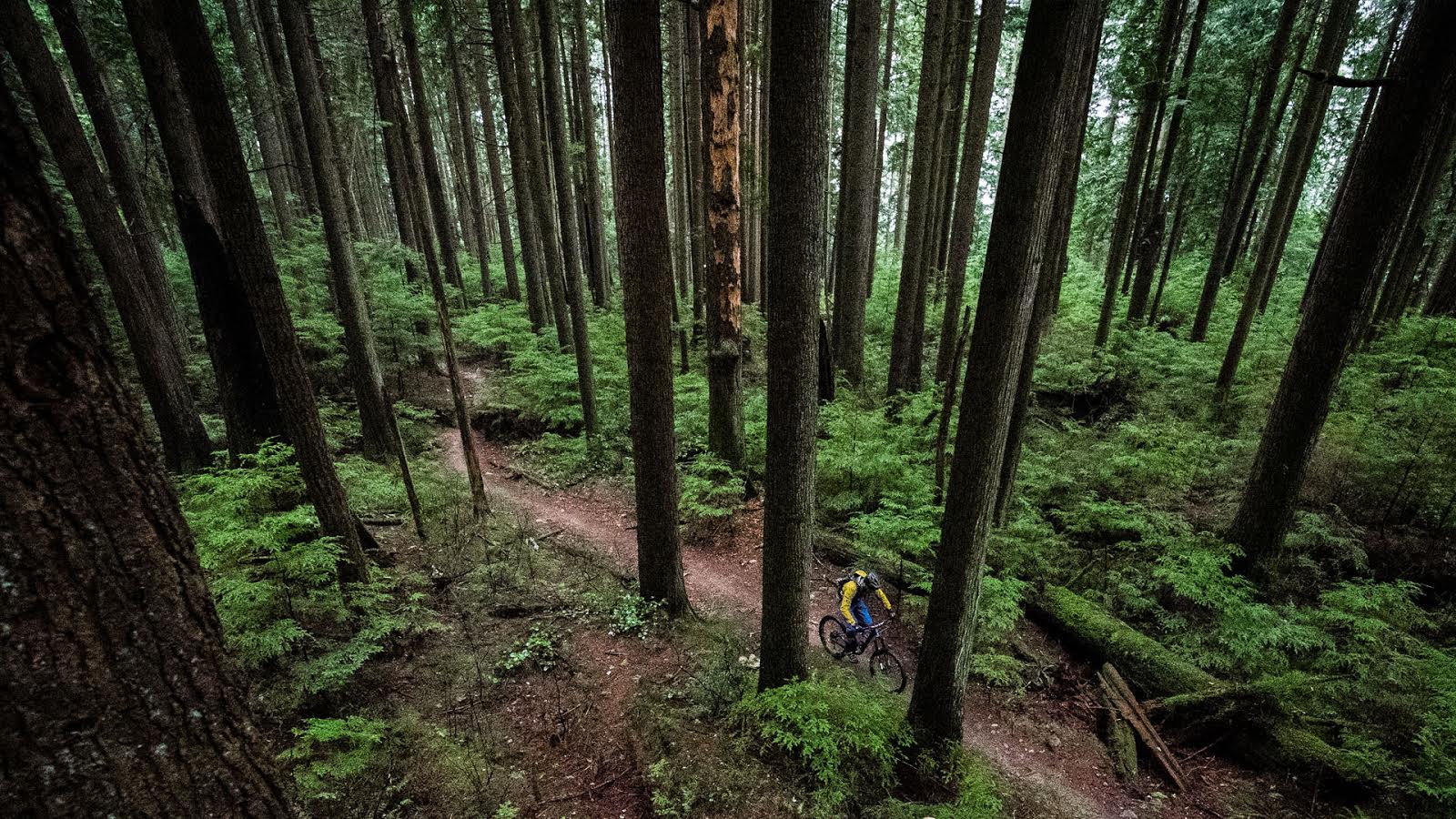 Above The Noise
I've been fortunate enough to grow up with Crankworx and watch it become the world's premiere event in freeride mountain biking. It's an event that's turned athletes into legends amongst our sport, and to the contrary, the seemingly perfect village into a pitiful mess. Regardless, I really do love the festival, and reuniting with friends from travels around the world is truly unbeatable. By the second weekend, everyone's running low on sleep and enthusiasm, so it can be nice to escape the pandemonium, especially by helicopter.

  The anticipation was at an all-time high, and Mike Goldstein was there to capture every minute of it. Photo ~ Stephen Matthews

  On top of Mount Barbour, Goldstein sets up the epic shots for our Heli-drop. Photo ~ Stephen Matthews
I'm fortunate enough to guide for Big Mountain Bike Adventures, a company owned by Whistler local Chris Winter. Chris played a key part in the creation of the Joyride Festival that has since then blossomed into Crankworx and his history in the industry doesn't stop there. Winter is an instigator to adventure travel, and thrives off of presenting memorable experiences to riders around the world.
In collaboration with Sombrio, one of Big Mountain's sponsors, he helped set up a Heli-trip on Mount Barbour for their internet video contest, entitled "Why I Ride". The lucky winner and his friend travelled up from Colorado for a VIP Crankworx weekend, and were set up for a 2020m vertical Heli-drop, amongst other celebrity status motions over the festival. Beyond being in awe from the glamour of Whistler's village, they were given an opportunity to see the Sea to Sky from a local's perspective, on what is often felt to be the most chaotic weekend of the summer.

  Navigating the varied conditions, the winning applicants from Colorado got fresh with some snow sliding mid-August. Photo ~ Stephen Matthews
For me, being around helicopters is an experience that will never get old. Everything from the first time you see the machine crest a ridge a thousand metres above, to the thumbs up as you hold down the unloaded bags. The entire experience produces a sensory overload, and in conjunction with the anticipation of a 2020m descent, I can sum it up to be nothing short of feeling mentally and physically on top of the world.
The trip's guide work was co-piloted by Jordie Lunn, a familiar face who was keen to take a Crankworx siesta, to go for an alpine ride. The diversity and confidence of Jordie's riding is pretty unbeatable. I thought so when I first watched Ride to the Hills, and I've yet to question it. After placing first on the trick jump in the Teva Best Trick contest with a Backflip 360 earlier this week, Jordie was now writing the book on how to ride alpine scree and basins.

  Endless singletrack as we entered into treeline. Photo ~ Stephen Matthews

  Jordie Lunn picked out a nice picnic spot for lunch. Photo ~ Stephen Matthews
Mount Barbour's heli-drop is an all-time adventure, as it begins with an open basin that lets you ride where you please, and route-find for thousands of feet before you ever hit a singletrack trail. Stream crossings, snow patches, and soft lumpy grass knolls offer the trail variety we crave, and kept us entertained as we charged through different terrain. Once at the mouth of the basin the trail became a traversing, tight sidehill that had a certain Swiss feel to it. Winding it's way around the mountain side, it was a quick push that brought us up to Tenquille Lake.

  Jordie cruising through the burned out section, that was lush with tall grass and flowers. Photo ~ Stephen Matthews
Tenquille Trail was fairly overgrown, which offered up the exciting element of surprise to the adventure. Derailleur-hungry stumps and pedal scraping rocks hid deviantly in the tall grass, and kept us on our toes until we had reached sections of greater visibility. As many locals know, the descent out of Tenquille Lake down to the Pemberton Meadows is a super fast and seemingly endless singletrack. It's the kind of trail that allows the mind to flow between conscious thought and mindless bliss. The main traverse allows a confident rider to enter a zen like state of mind during the descent. Where all of a sudden the reactions to the trail are done without thought, and a connection with the trail becomes familiar and comfortable.

  All the way to the meadows! The relief is neverending down from Tenquille Lake. Photo ~ Stephen Matthews
The day trip offered a lifetime of memories, and was nicely slotted in to fit so we could shower up and still catch the full evening of the Joyride Slopestyle Finals. What's your favourite way to spend a day at Crankworx? Mine was up above the noise and crowd on the descent of a lifetime and followed by aprés drinks with my friends enjoying a brilliant show from the competitors.
---
Have you been to Tenquille Lake, or any of the other remote access zones in the Sea to Sky? Tell your adventure story below…