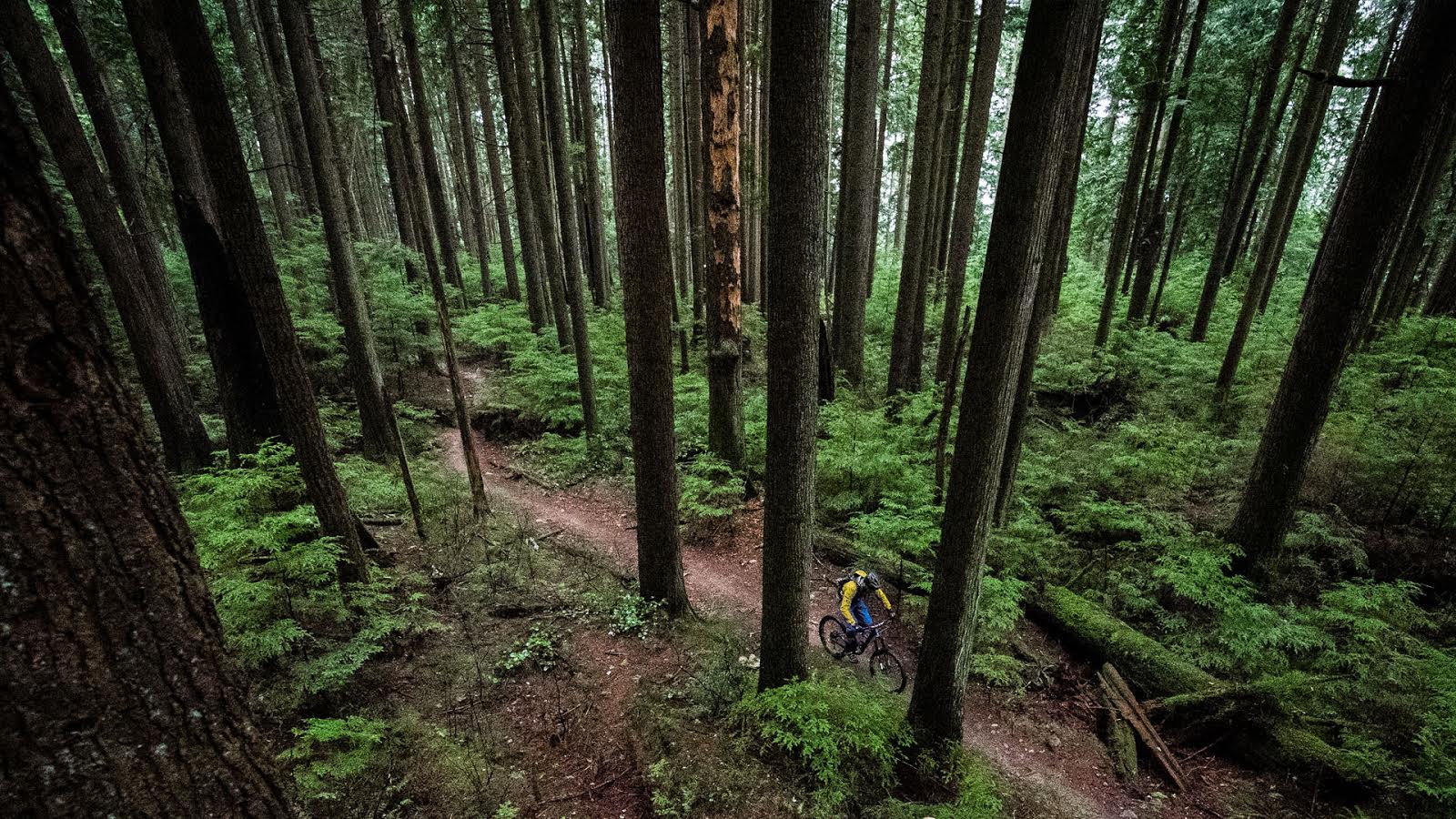 AIR DH Photos + Vid
WHISTLER, BC August 15, 2012 – The Air DH took over the Whistler Mountain Bike Park with a sold out field of competitors ripping down the most famous DH course in the world, A-Line. Elite racers from all over the globe tested their skills to try to take home one of the most coveted medals of Crankworx.

  Emmeline Ragot on her way to posting the fastest women's time of the day.

  NSMB rider Mason Mashon getting loose.

  Lopes scopes the line. After winning an astonishing 5 years in a row Lopes had to settle for second last year, ceding the title to Andrew Neethling. This year he found himself on the second step again thanks to a course record by Stevie Smith.
Steve Smith (CAN), claimed first with a time of 4:07.79; Brian Lopes (USA) took second place +3.75; and Mick Hannah (AUS) took third place +5.01. In the Pro Women category, Emmeline Ragot (FRA), claimed first with a time of 4:35.25; Micayla Gatto (CAN) took second place +.86; and Claire Buchar (CAN) took third place +1.00.

  Whips and Trains excite me.

  Sick Mick Hannah pleasing the fans and the clock. But did he get a passing grade?

"It was fast and dusty but I prefer it that way," said Steve Smith. "It's pretty exciting to win both the Garbanzo Downhill and the Air Downhill as I haven't won either of these events before."
The Men's Pro category consisted of an amazingly talented field full of UCI World Cup racers including Steve Smith, Mick Hannah, Marc Beaumont, Jared Graves, Andrew Neethling, and more. The Air DH course runs the entire length of A-Line, finishing at the base of the Whistler Mountain Bike Park with the legendary GLC Drop.  A-Line is arguably the most celebrated DH course in mountain biking, with nearly 50 jumps on the course.  A-Line is the benchmark all DH courses strive to emulate. 

  This is how the fans showed their appreciation for straight airs. Lopes gets slowed down by Canadian back bacon.

"The course was very dry and fast this year," said Tristan Merrick, event announcer and racer.  "Incredibly Steve Smith was able to shave more than five seconds off last year's winning time and now holds the Crankworx Air DH record."

  Stevie hurtling in low orbit.
 Tomorrow is a huge day at Crankworx Whistler with the Teva Best Trick Showdown followed by Ultimate Pump Track Challenge presented by Rock Shox.  The live webcast for the Teva Best Trick Showdown will be at 4:00pm-6:00pm and for the first time the pump track will be located down in the village in Whistler Olympic Plaza and a live webcast powered by Red Bull Media House will be from 8:00pm-9:00pm.

  If Don Cherry did colour for Crankworx, Stevie Smith would be his favourite. Gold number two for the week.
 The village-wide expo and demo zone will be hopping and make sure to check out the Jeep® Rocks and Roads course where visitors will be able to experience the vehicle's unparalleled capabilities while manipulating obstacles that demonstrate the wild ride that only Jeep® can deliver. The course and on-road test drive includes a stability ramp, a boulder crawl, a log pile and a 16-foot dirt mountain to demonstrate traction. The test drive area will run until August 19, 2012.
Day 6 Crankworx Whistler – Air DH Sport Highlights from Crankworx on Vimeo.
---
Did Stevie put that on Strava? Did Lopes? What's your fastest time down A Line?