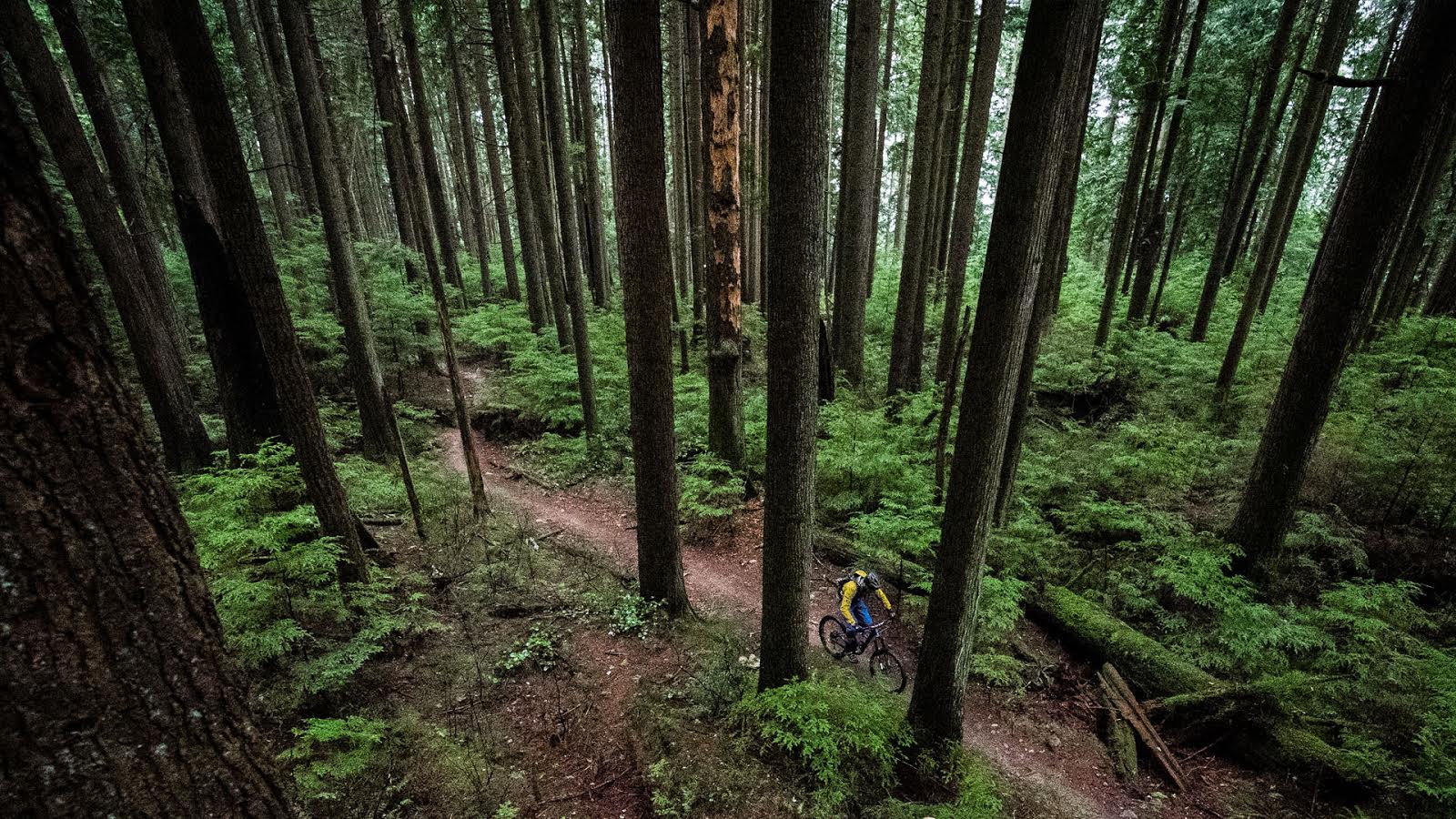 Prime Numbers
As was revealed in the 2011 Innovation Project Highlights issue, I am now, more or less, working as a design consultant for Banshee Bikes. In reality, I provide some post-production feedback with respect to quality control, industrial design, and bike performance after most of the design work is done. But still, I do benefit from this arrangement. As such, this article isn't so much a review of the new Prime as it would be very difficult for me not to appear biased. Instead, I will offer an exploration of the work that Banshee puts into developing a new bike; specifically how the Prime – their new 29er all mountain, full suspension bike – came into existence.
It has been a bit of a journey to my receiving this bike. Most of it involves Keith, Banshee's design engineer. I asked him what is involved in the development of a bike at Banshee, and it doesn't involve picking a frame from a catalog. What follows is paraphrased from what Keith told me.

  Banshee's Jon Hadfield takes the Prime down a classic section of Mt. Seymour. Photos ~ Derek Dix
#1 Concept:
Pretty much as you'd expect, the process starts with deciding what type of bike you want to design and developing an optimal linkage design to suit the bike's purpose. This stage also includes determining the geometry to an extent, as the linkage has to fit the bike without adversely affecting the geometry.
#2 Linkage Development:
This stage takes a lot of time to get right. Any armchair engineer can design a linkage that functions, but the devil is in the details. Designing a suspension system that is effective and efficient, with the desired ride characteristics, and optimally compatible with shocks and components is the tricky part. This is what takes time. Linkage design is all about optimization, as there is no such thing as a no compromise linkage, no matter what other companies' marketing teams tell you. For example, a very rearward axle path will help a DH racer carry speed through rough sections, but this will also result in a lot of pedal kickback unless using pulleys or gearboxes, etc. The trick is to dial each suspension attribute to vary as you want it to, across the full range of travel.

  The Prime uses a new linkage design, cheekily dubbed KS Link. We should expect to see this linkage appearing on other Banshee designs in the coming months.
#3 Frame Geometry and Structure:
This stage is much as it sounds, but also has to potentially be worked around the linkage design to an extent. The Prime, for example, has a bend at the base of the seat tube to give clearance for optimal linkage movement throughout the range of travel. This bend results in having to adjust the effective seat angle due to the true seat angle being more slack than a traditional frame. For Keith, the frame stiffness characteristics are as important as suspension linkages and geometry. Nobody wants to ride a wet noodle, so they all carry equal importance with him.
#4 Design Iterations:
Often stages 2 and 3 have to be repeated a number of times to get everything to work harmoniously, and have as wide a range of component compatibility as possible.

  Meanwhile, at the factory…
#5 Prototype:
When Keith is finally confident in a design, Banshee will prototype it to find the flaws – which are generally compatibility issues that are not always obvious on a computer. A prototype is a one-off custom made version of the new bike. Typically, three prototypes are produced, one in each size. Each frame is tested for ergonomic fit, although this really gets refined in further testing stages. The largest is machine tested to destruction, the medium is ridden by Keith and or Jon Hadfield as well as pro riders if possible. The small is tested by other people, with the additional purpose of checking component compatibility, as small frames tend to be the tightest for things like fork to down tube clearance and shock clearance within the front triangle.

  Welding up prototypes…
#6 Testing and Pre-Production:
This stage is as you'd expect. Once prototyping is complete to work out major manufacturing issues, pre-production frames are often produced to increase the number of frames that can be tested. Ideally testing will involve riding the bike in all sorts of terrain that cover the full range of the intended purpose of the bike, to get the 'feel' of the bike. For significantly new designs like the Prime, Banshee will have as many testers covering as wide a range of riders and terrain as possible, to gain comprehensive feedback. Banshee will also test shock tunes at this stage to dial in the custom tunes that will come with the production bike.
With the Prime, there is even a Facebook group including all of the pre-production testers. This group spans a good part of the world, and includes riders from a very diverse background. Keith monitors it regularly and responds to tester questions and feedback, which makes being a Prime pre-production tester a very interactive experience.

  Keith Scott checks tolerances on a Legend rear end.
#7 Refinement and Tuning:
Results of testing and feedback are then put back into the design. At this point Banshee may go back to prototyping and refine the design if needed, and repeat steps 2-7 as necessary. Once designs are 100% confirmed, Banshee will have forging, extrusion and hydro forming molds made. This is necessary as nearly all of the parts on Banshee's frames are forged, or use advanced manufacturing processes for production to offer extra strength and stiffness, and to save weight.
#8 Production!
For most designs, Banshee will spend at least a couple of years in development to ensure that the frames are dialed for the customer from the day of release. The total time this process takes varies from design to design, and can take longer, as it did for the Legend.
   More Legend QC. Prime pre-production prototypes have been in testing for quite a while now, ensuring the production models are dialed.
That's the rough outline of how Banshee develops bike designs. Obviously every bike's journey is different, so I asked Keith some questions about the Prime specifically.
Andrew Gower: "How long ago did the idea first go 'bing' in your head?"
Keith Scott: "The initial Prime concept process happened at end of the summer of 2010, and it took me about two months to decide on new linkage design that would work best with the big wheels. One that would allow shorter chain stays, but still keep a virtual pivot platform. The concept of a 29er with 120-140mm travel was not really a 'bing' moment. It was considered an opportunity based on what we saw happening in the industry, and a niche that wasn't really filled well. The KS link concept however was a bit more of a 'bing' moment, which is a very simple and incredibly efficient and effective solution, which made me wonder why I hadn't thought of it sooner."
AG: "How long did working drawings take?"
KS: "To get from concept to 3D model of working prototype stage with all engineering drawings took me three to four months to get through. There were a number of complications due to wanting to use large forged sections, and to chain FD clearance when FDs really are not designed with 29er geometry in mind. Plus I went through a number of iterations for individual parts like interchangeable dropout configuration, and the same for wider ranging overall designs like linkage arm arrangement. I believe in spending a lot of time and effort early on in my designs to get the core of a design right before prototyping, as I feel it saves a lot of time and costs later on."

  Hadfield with a little Pinch Flat Alley action. Photo ~ Derek Dix
AG: "When did the first prototype get done?"
KS: "We got the first Prime prototypes, three in total, one of each size, built in February 2011. I was at the factory to oversee the process to see if it came together easily as I had planned, and learn of anything I could change to make the manufacture process easier and to ensure better quality.
AG: "What were some of the issues with pre-production, if you want to share?"
KS: "The biggest issue was one of the ones I had to fight through the whole design process, which was front derailleur clearance. I've solved it now, but for prototypes we still had some clearance issues throughout the range of the suspensions travel in certain gears with certain derailleurs. With low direct mount down pull front derailleurs, SRAM and Shimano do not offer the same standard. The protos were only compatible with SRAM offerings due to the alignment of the cable past the bottom link. Again this has been addressed for production so that both SRAM and Shimano will be compatible."
"The most common criticism from pre-production testers was the one I expected of weight. But prototypes are often significantly heavier than final production frames, because I want to test everything before I open expensive hydroforming and forging molds. For production, frame and shock weight will drop by around 700g without sacrificing any strength or stiffness, whilst also improving a number of characteristics based on all the testers combined feedback, and our own times on our bikes. These weight saving will be achieved by using optimised hydroformed tubes in the front triangle and refined designs and new forgings to save weight in a whole range of locations."

  Dank rock roll. Photo ~ Derek Dix
My Role:
As briefly described in the introduction, I provide post-production feedback. What does this really mean? Essentially, as a result of a varied career as an engineer, I have a rather unique blend of experience with structural design, welding and fabrication quality control and quality assurance, and a dash of mountain biking skills. This enables me to look at a bike in a slightly different light than most people, and I am able to tell from the finished results if there are quality control issues along the way from the designs to the shop floor.
I spend my time with a fresh frame looking at two things in particular, the welds and the finish. It is amazing what you can deduce from even small issues with a finished frame. Some paint spots on the head tube means the spray guns at the factory aren't being cleaned often enough. A very small gouge or extra bit of cutting into the base metal at a fillet weld means the welder is set too hot and moving a little too slow. Some may argue that I only look at one frame out of a production run, but this adds further value. The fabricator is not informed that I am on the receiving end, and thus doesn't know to make an "extra special" frame for me. The randomness of the frames I receive helps to identify typical production issues with impressive accuracy and precision.
For Banshee, I typically write two reports. The first will be after I have received a frame and built it up. I will report on any fabrication issues I have observed, and any part fit issues with the build. The second report will be after riding the bike for several months, and will include a detailed log of every ride I take, overall impressions of how the bike functioned, and any industrial design issues that could be improved on later models or revisions.

  Splish splash… Photo ~ Derek Dix
Prime Numbers?
After its long journey from 'bing' to pre-production frame, the Prime will be launched as a 2013 model. Will it sell like hot cakes? Only time, and how good the feedback from the army of pre-production testers is, will tell. Will it be a well built, thoroughly designed machine in line with the re-launched Banshee production? Most definitely.
---
Banshee is set to unleash the Prime to its dealers in September. Expect a release soon with more information specific to the bike.