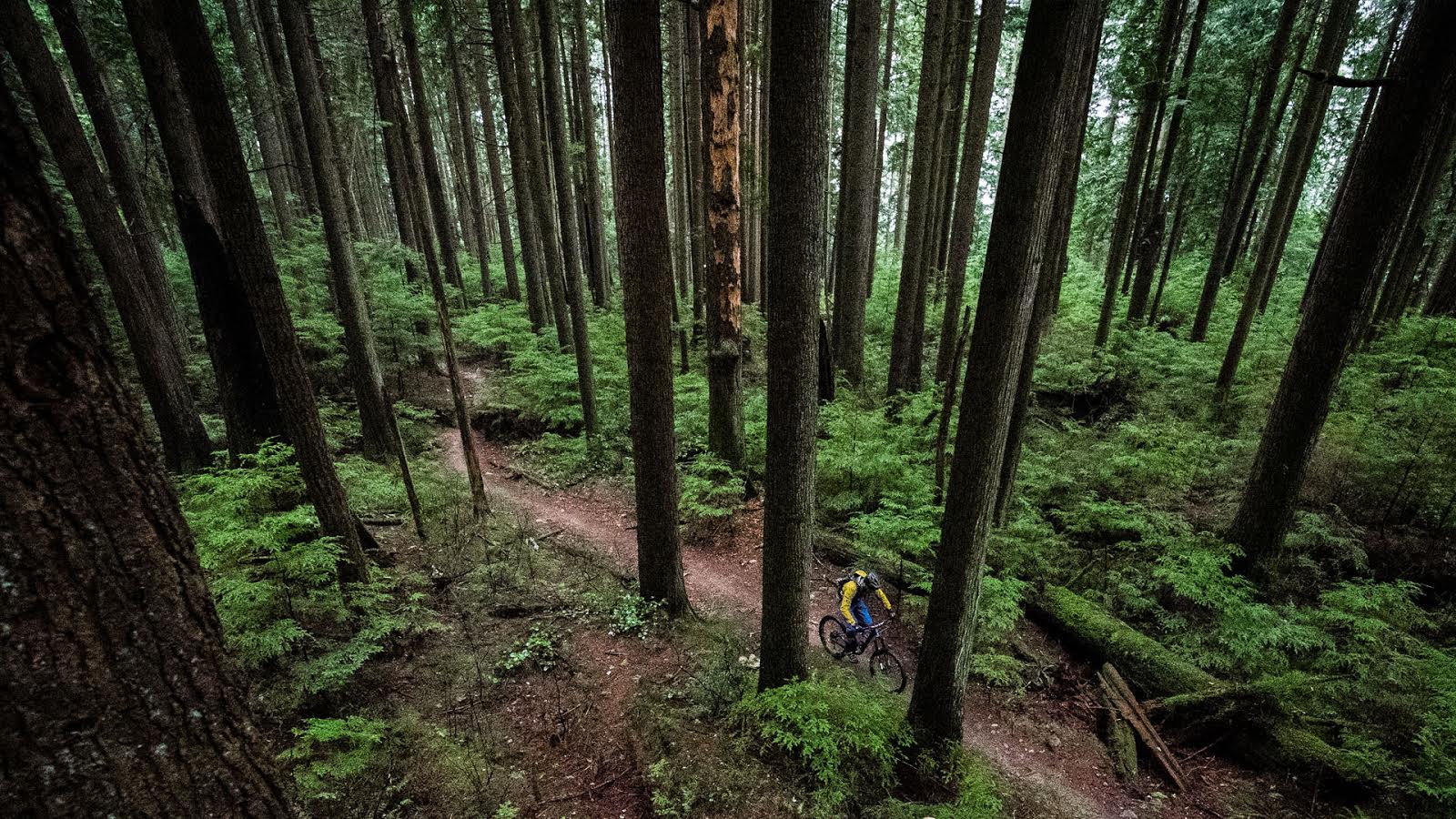 Fork in the Road – Part 2
Despite having a long day of travel and riding, it was back into the usual NSMB campsite routine. Everyone had sleeping arrangements of different fashions, but improvements were made, and all were more sensible than the previous night. Reuben was in the tent with me (it had rained on him Friday evening), Matt reclined in the front seat of the Tacoma, and Mason had given up on his hammock, and settled into his personal tent. When morning light shone through, I saw that Mason had somehow managed to find the most epic camp site of us all in the dark, and was perched a top a seemingly endless scree slope, just meters from the infamous "Della DH" trail we were all here to ride.

  Mason Mashon getting the view of a lifetime out his front door. Photo ~ Mason Mashon
Scarfing down breakfast – not that we had much to devour – was done eagerly as anticipation for the descent grew steadily. Even Reuben was excited for us, as he had his first trip down this trail a few months prior, and could not stop raving about it. Everyone's heard stories, and now we were here to confirm them. Confirmed. Della has a unique flow because it's one of those trails that can be enjoyed with the throttle wide open, or ridden in a conservative and reserved manner. The corners are solid, the trail is wide, and the sensational singletrack seems almost to good to be true. Mason Mashon crossed off Della Creek from his "bucket list" this weekend.

  Matt and I rounded this dusty corner and got a little too loose. Limited injuries, and another story added to the list! Photo ~ Mason Mashon

  Stephen Matthews rounds an exceptionally interesting tree on Della DH. Photo ~ Mason Mashon
Mason led the three of us into the trailhead, with myself in the middle, and Matt running tail gunner. It wasn't long before we all began to connect with the trail, feel out the corners, and welcome the inevitable slide of our tires in the dry Della dirt. It would be my rear view of Mason that would confirm the unity of Man and Nature this very morning on Della DH. Rounding a bend at full speed, we crossed a group of wild horses that erupted with surprise and terror. They tore off down the trail rather than safely into the woods, so instead of slowing down or stopping, Mason charged on. We didn't break stride, but rather got into the fluidity of the trail, and picked up speed taking notes from the wild animals cornering skills. As I watched the stallion's mane flap rhythmically with each charging step, my peripherals blurred, and my focal point became clear. By this point I had noticed the similarities between Mason's flapping locks and the mane of this horse. His dark black hair bounced on his shoulders like a proud Mustang, and as we all gained confidence behind these mighty beasts, there was close to a minute of uninterrupted riding bliss. As we were all "neighing" in attempt to maintain bonding connection, the horses claimed to be finished with us and veered off down the ridge, leaving us in awe and dumbfounded.

  Stephen Matthews tries to take in the scenery, but can't take his eyes off the trail ahead. Photo ~ Mason Mashon
The laps to follow were high speed and loose, and offered all the excitement you can dream of whilst on a mountain bike. Coming in hot, we concluded our day in Della at noon, as the conditions reached the mid 30's. To cool down, a quick dip in Seton Lake was of necessity, and we set our course for Whistler. Having to unload my accomplices before the remainder of the 99, I took the opportunity to go smash a few Park laps before calling it for the weekend. As I reached the base of the Fitzsimmons lift, I linked up with Mark Wood of the NSMBA, and him and I got some legendary laps in. Being able to upload to kilometres of buffed lips and park runs was the icing on the cake after a weekend of hiking chutes, shuttle coordination, and highway time. Mark and I caught perfect light, as we found Whistler's Bike Park flow in some of the best conditions of the season.

  Stephen Matthews sliding the token corner on lower Della. Photo ~ Mason Mashon
To have a successful weekend in Spences Bridge, Cache Creek, Savona, Lillooet, and Whistler with your team mates and friends felt nothing short of victorious. Summer's a chance to use the integrity to make these ideas into realities, and make opportunities happen. Riding this many zones in a weekend isn't just plain luck. Luck is getting mixed up in a pack of horses, and having it play out to an unforgettable time!

  Matt Montandon looking epic. Photo ~ Mason Mashon
Matt Montandon and Stephen Matthews managed to capture some of the riding moments with a Contour POV camera. Enjoy the quick and dirty edit!
---
Part 1 of this NSMB Team trip can be found HERE. Is Della on your bucket list? If not, what is?