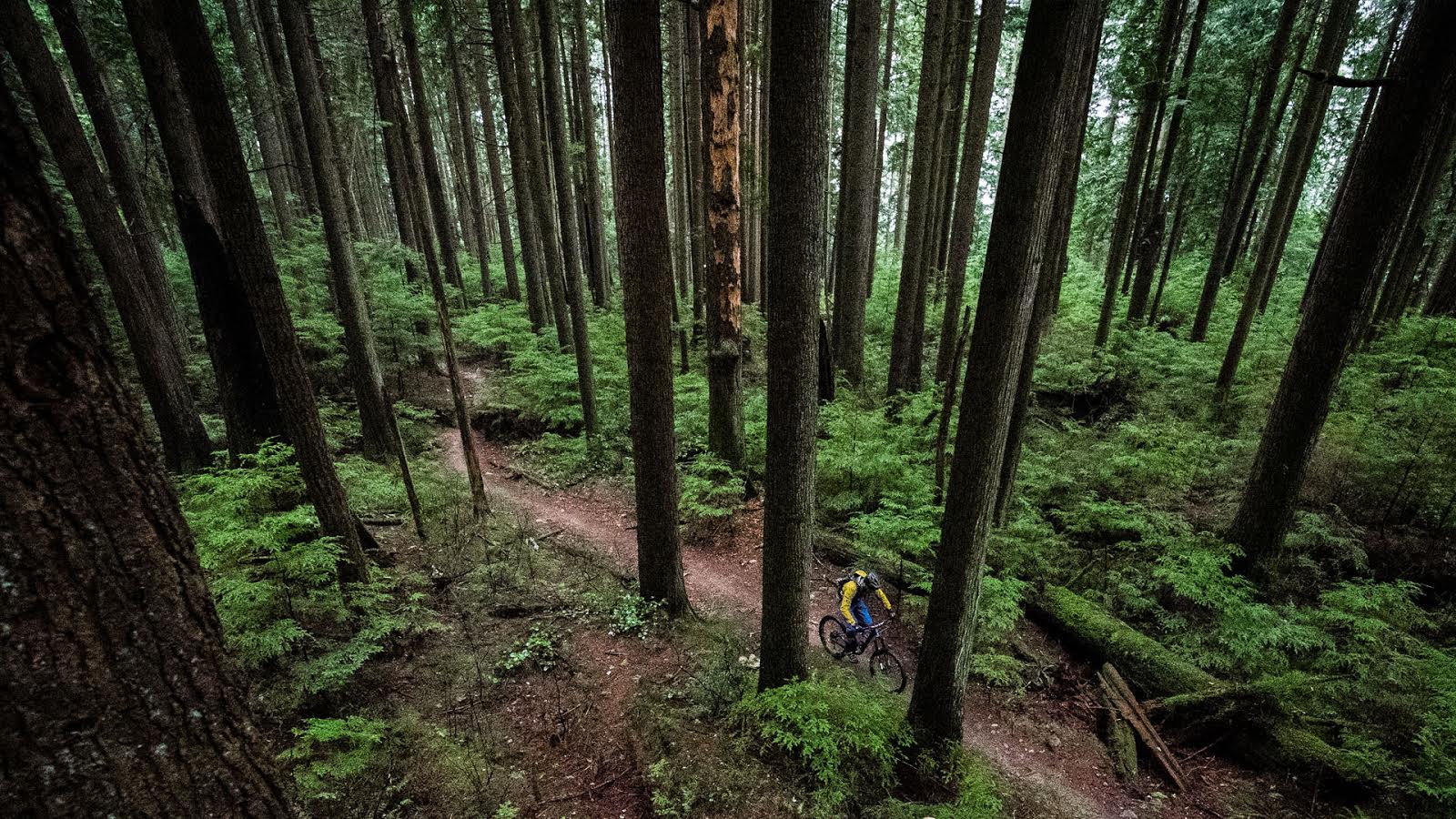 Fork in the Road
To start a story under the theme of "by the seat of our pants" would seem all to familiar for NSMB. Paul Stevens wrote of a trip last year that was just that, and here we are next summer… in repetition. The team we have now is a group of like-minded individuals who strive for new experiences and to live summer on two wheels. This trip came together with a simple idea that often comes hand in hand with wrong turns and ambiguous moments. That idea is to explore, and to quote Yogi Berra, "when you come to a fork in the road, take it".
Confined to a classic 9-5, I'm out to make the most of my 64-hour weekend. Coordinating with the Team, I set my course North on the 99, picking up Mason Mashon, Matt Montandon, and photographer Reuben Krabbe (www.reubenkrabbe.com) along the way. Tonight's goal was Spences Bridge – an area Mason had explored multiple times  – but to the rest of us this was uncharted territory. Reuben came along in good character, and was there accumulating Karma points through weekend shuttle duty. Just off of knee surgery, he was determined to capture our big mountain riding plans from his lens and have some time on the road. To make it interesting, we all chose our own sleeping arrangements. I chose a tent, Matt chose the front seat of the team Tacoma, Reuben chose under the stars, and Mason set up an elaborate hammock system in the bed of the truck. Mason's hammock zone was a clear winner for the ingenuity award.

  Mason and Stephen are stoked for the day, while Matt could've had "just 5 more minutes". Photo ~ Reuben Krabbe
Our Saturday morning shoot began with some face-melting desert lines at sunrise, a march governed by a shot-craving Krabbe. Matt woke seemingly missing the skip in his step, but quickly came to as he charted the most serious line of the morning. I think it even surprised him a little when he had to hop a sage brush mid-chute at what I'm sure seemed nothing short of terminal velocity.

  Carving through the desert, Stephen Matthews kicks it up in the early morning. Photo – Reuben Krabbe

  Mason Mashon must have just snuck by as a landmine exploded behind him. Photo – Reuben Krabbe
A quaint little breakfast in Spences brought our "fly by the se…", I mean our open for interpretation tour of the Interior to the particular question of, "Where next?" We fired out the drive of the best breakfast in town, and it wasn't soon after that all eyes were fixed on the exposure ahead. Upon first inspection, we all racked our brains for what movie these lines were in, and then we found the token chute. One line that is unmistakable, as Berrecloth rides it in not only NWD 10, but also in an older segment from Kranked 5. From that moment on, it had become clear that this is where we would spend the majority of our day.

  Mason Mashon lays it down after the commiting bottleneck chute. Photo – Reuben Krabbe
I had the pleasure of dropping in first, and it was a feeling we all can relate to. The feeling when your inner drive bickers against your sanity, back and forth until a resolution is found. Then just as you've gained the upper hand of confidence, you're body revolts as your hands won't stop shaking. My first run down was exactly what we'd all been looking for on this trip; a chance to go foolishly fast, while carving desert valley rifts and straight lining chutes. This was our opportunity.
From the moment the countdown is up, you are immediately locked and committed. The starting point had a mandatory maneuver up one side of the chute's wall to get through the nearly too narrow opening. Once past the bottleneck, the opportunities of the slope were limited only to your imagination. Matt took first tracks on another entrance, laying down an off-camber traverse that made his wheels shudder as they grasped desperately for traction. As Mason came off photo duty and approached the line I had charted, he had prepared himself to unleash the slash of a lifetime. From below, Mason's first corner had the rooster tale of skiing a powder day. It was literally over his head as he counter steered at full speed down the desert couloirs. We tired ourselves out hiking this line, and pushed it for Reuben's lens, Matt's helmet cam, and our own personal glory.

  Matt Montandon came blasting down these ridgelines, styling it out at all opportunities. Photo – Reuben Krabbe
After kicking in lines and riding on the razor's edge, we figured it was time for reward. A quick stop at Juniper Beach for a dip, and then it was up the Savona shuttle road for some easy access leisure laps. Savona's shuttle trails can be defined as super fast and rugged lines, that exhibit little room for error as the sides are strewn with rocks and cacti. It was lush and full of vegetation, a side of these trails I had never seen before. My time in the area is usually early season or late summer, but the area has seen so much rain this year that there are full sections of trail overgrown. Multiple laps in the 30°C heat brought our shuttles to a satisfied close. It had been Mason and Matt's first time in this trail network, and as we were ready to move on we did only what we knew best; we made a snap decision to drive to Della Creek in Lillooet and spend the night.

  What a day. Photo – Reuben Krabbe
---
A summer wouldn't be complete for the NSMB Team without a crazy adventure – and bringing Reuben along was a great idea! What's in store in Della Creek? We'll have to wait for Part 2 to come down the chute…