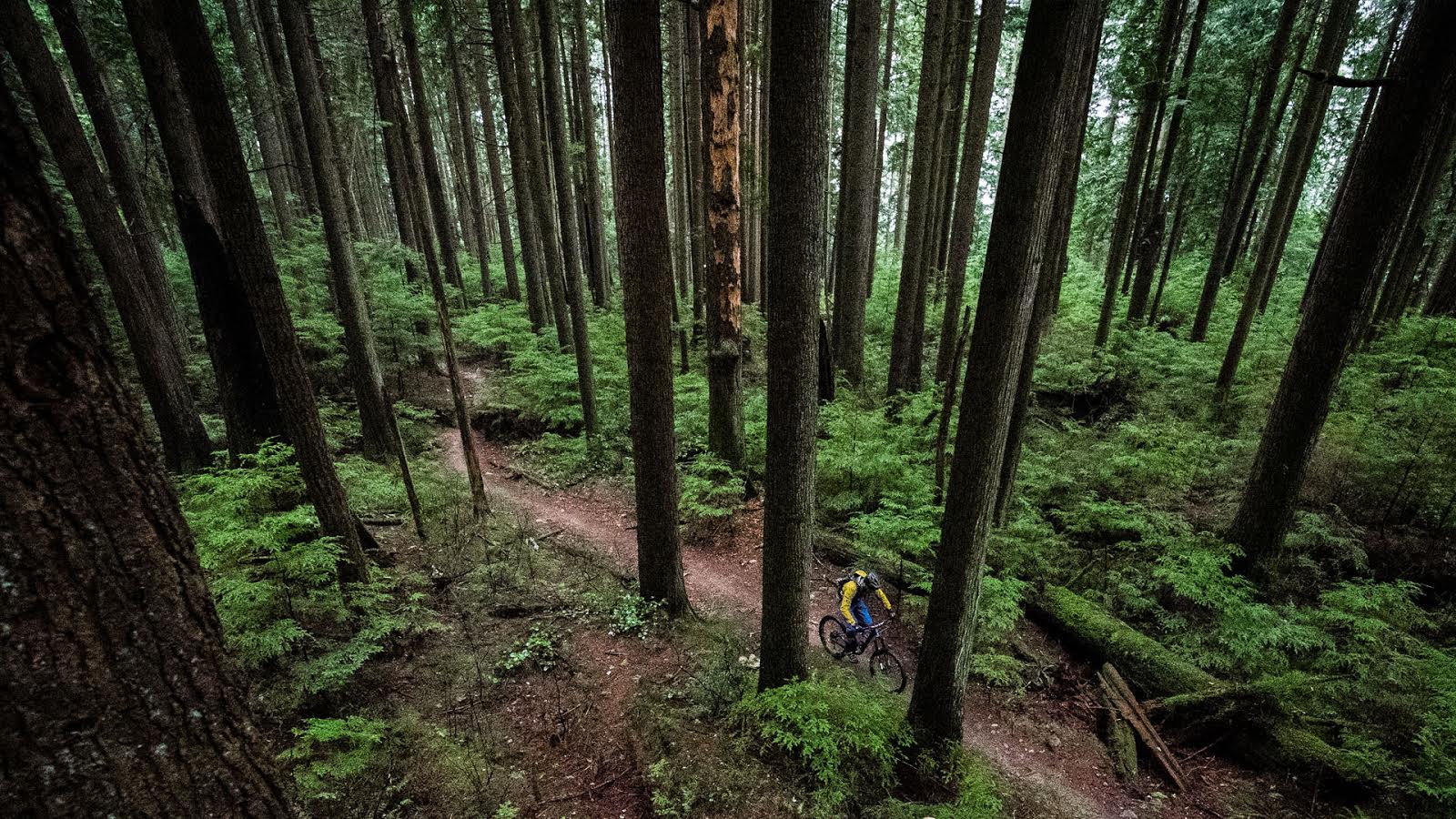 Stumpjumper EVO Head to Head Test
In Part 1 of this feature, we introduced the parameters of our head-to-head Specialized Stumpjumper EVO test: twin bikes in both 26″ and 29″ flavour, four test riders, a lap of a carefully chosen singletrack loop on each bike, and a questionnaire after each ride. The result is somewhat monstrous. Yes, some of the results are predictable – but most of our testers' comments are thoughtful and insightful. Seb Kemp coordinated the testing and occasionally interjects with his own commentary in italics, while Morgan Taylor took care of the action photos. 

  Paul Stevens follows Matt Sipple into a corner on the jumps and berms section of the test track. Photo ~ Morgan Taylor
After each lap of the North Shore loop our testers filled out a form that asked them to give feedback on climbing, descending, and other qualitative factors. We didn't want our testers to give a score out of ten but rather speak a language that other riders might relate to. 

  Dat gif MOUSEOVER. Paul Stevens smashing a huge gap on the Stumpy EVO 29. Photos ~ Morgan Taylor
This article is split into two sections. The first half focuses on the Stumpy EVO 26, while the second half covers our test riders' time on the Stumpy EVO 29. Enjoy.
---
The Specialized Stumpjumper FSR Comp EVO 26


  The Stumpy EVO 26. Photo ~ Seb Kemp
SPEC
Paul Stevens: "Excellent Spec. I would like to see a height adjust fork as standard, and I'm not to impressed with the Command Post. Rear Elixir not super consistent as they often tend to be."
Bethany Parsons: No response
Carlos Zavarce: "Bang on."
Matt Sipple: "Chainguide was bent so it kept wanting to shift to big ring when back pedaling. I had trouble with the Command Post a few times; could have been gunky cables. Really happy Specialized has changed the saddles on this year's mountain bike line. The saddle I have on my Specialized MTB is way too wide and too long. If this saddle can be bought off the peg, I would entertain the idea of buying one."

  Matt takes the 26″ EVO into the rocks. Photo ~ Morgan Taylor
FIT AND FEEL
Paul: "Quite long for a medium, but good stand-over."
Beth: "Bit big. Felt Awesome."
Carlos: "Felt like my old Trance but with good angles."
Matt: "Felt like it fit much better than 29er [Both bikes were Mediums -ed.]. Felt normal, felt like a toy after riding the big bike. A toy that can totally shred."

  Paul climbing the 26″ EVO. Photo ~ Morgan Taylor
CLIMBING
Paul: "Great platform. Seems to climb better in small ring. As I said before, would like to lower fork but otherwise great."
Beth: "Better than expected."
Carlos: "Good position. A bit more all-mountain and I had to make sure I got over the front end. Rear tire slipped noticeably more than the 29er."
Matt: "Don't know if it was because I was warmed up but 26 climbed much better than the 29er. Easier to pick up and put over big obstacles. It climbed so fast. I could hop up and over most obstacles that stopped the 29'er. I instantly noticed how much more nimble it was getting up, over, around, down everything."
The Stumpy EVO really is a fantastic trail bike and despite some of its EVO tweaks being orientated towards DH performance, it still climbs like a rat up a drainpipe.

  Finding hidden lips and blasting off, Paul Stevens. Photo ~ Morgan Taylor
DESCENDING
Paul: "So good. Awesome angles. Feels really solid for such a light bike"
Beth: "Felt like a DH bike. Rolled over everything smooth."
Carlos: "Fun, light, agile. It descended great, I was definitely more conscious of the travel limitations of this bike, but it was fun, it was easy to throw around, I hit doubles and drifted more on this bike, it just felt playful."

  Matt drops in to the chunderous bit on Bobsled. Photo ~ Morgan Taylor
Matt: "The 26" did get snagged a few times where the 29er did not. Still descended like a boss. Very fast, easy to push through berms and drops. The 26″ and the 29'er were 50/50 on descending. Some spots where I had trouble with the 26, the 29'er prevailed, and vice versa. Again, more nimble around tight turns, and felt much better, more stable in the air."
Playful, nimble, great angles – again this echoes exactly Specialized were trying to make this bike feel like a very capable descender that punches above its weight. Matt also points out that the 26vs.29 match up isn't exactly clear cut because both bikes will have areas of trails were they excel.

  Paul shralping a berm on the 26. Our Australian friends would say he really runched the shit out of that corner. Photo ~ Morgan Taylor
CORNERING
Paul: "Slack and low = great for faster corners. Still light and short enough for the tight stuff too."
Beth: "It was a bit tall for cornering, but pretty good. Might have felt that way because it is a little big [for me]."
Carlos: "Felt like I was on rails. Easy to get into good position. Backend was playful."
Matt: "Quick and Easy. The 26 much more nimble in tight turns. The smaller diameter [wheels] was easier to navigate and push through turns."
Stumpjumpers really do turn like they were made to be laid over and have your laser pointed all over them.

  More master blasting with the 26″ EVO. Paul's pretty comfortable on this bike. Photo ~ Morgan Taylor
HANDLING
Paul: "Just how I like it with a sensible bar and stem size. Also, 20mm axle up front keeps things stiff and responsive."
Beth: No Response
Carlos: "Perfect Sea-To-Sky bike but maybe not perfect for the Shore…"
Matt: "Nimble. Went where I wanted it to go. Accelerated quickly and responded perfectly."

  The 20mm axle is a welcome addition to the Revelation's 32mm stanchions. Photo ~ Seb Kemp
OVERALL
Paul: "Yeah, I'm biased but I still think this is an awesome bike. Super light and well specced for the money. Nice attention to detail. A solid package."
Beth: "Fun bike! Love the clearance. Climbed better than I expected. I thought it was maybe a size too big, but actually I didn't notice it once I got going."
Carlos: "What an AM bike should feel like. More playful than the 29er but I was aware I was on a 5×5 bike."

  Givin'er on the speedy singletrack. Photo ~ Morgan Taylor
Matt: "Felt right at home. I've ridden BMX since I was 12 and I am used to a smaller bike. Very nimble. The wheels went where I wanted them to go. I felt at home on the 26″. It was quick, snappy, went where I wanted it to go, climbed like a beast on speed, felt good in the air, and descended like an avalanche, fast and over everything. If I had the money, I'd go out and grab one of these. The fork travel is what I'm looking for, it didn't really need much in the way of swapping parts out, except maybe the tires. I've never been a fan of Specialized tires."
I think it is fair to say that the testers were pretty unanimous about this bike. It is a solid gold example of a great trail bike that is just so much fun. And isn't that all we really need from a bike?
---
The Specialized Stumpjumper FSR Expert EVO 29

  The Stumpy EVO 29er. Photo ~ Seb Kemp
SPEC
Paul: "Nothing to complain about. Stoked with everything (except Command Post again). Wheels are really flexy but I think that is because they are HUGE. The rest of the bike wants to go faster than the wheels do."
Beth: No response
Carlos: "Usually I climb fire road in the middle ring and top of the cassette, however, this  felt a little too hard on the 29er."

  The Specialized Command Post is at the same time a huge positive and a bit of a bear. That said, a dropper post that works as expected most of the time is better than none. Photo ~ Seb Kemp
Matt: "Specialized grips are garbage. Mixed up Command Post lever and shifter numerous times. Same goes as the Stumpy 26 in regards to awesome saddle. I was not stoked to see the proprietary Specialized version of the PressFit 30 bottom bracket and crank. I can be a bit of a retro grouch when it comes to bottom brackets and I am not a big fan of the PF30. I understand that it makes the bike a lot stiffer, but for amateur riding and since I'm a thinner guy, it's not necessary for me. If you are racing the Stumpy 29'er, you are much faster than I am and you will need that increased stiffness of the bigger BB.
The Command Post was the 1st dropper post I have ridden, and it functioned, but when the seat was in the down position, the excess cable would get caught in my shorts, and I had to adjust that a few times, not awesome. Also, the fact that the dropper post lever is part of the grip lock-on ring annoyed the crap out of me. I tried to move the lever in so I wouldn't mix up the shifter and the dropper post lever, but it just pulled the whole grip in."
It is great to see bikes coming fitted with dropper posts as in many cases this maybe peoples first experience with one. The Command Post is a good entry level post and if you live with the downsides and failings of this particular model then you will be dropper post addicted for life.

  Climbing is one of the 29er EVO's many strong suits. Photo ~ Morgan Taylor
FIT AND FEEL
Paul: "Front end (top tube length, cockpit, bar and stem) are perfect. It is quite hard to get right back over the rear wheel when you have short legs."
Beth: No response
Carlos: "Tighter cockpit than I had imagined. Very aggressive (downhill) body position."
Matt: "Fits similar to my Camber. At first I felt a little cramped, but got used to it once we got on the trail. Fast and Light."
One man's tight is another man's loose.

  A particularly rooty tech climb section that doesn't look nearly as bad here. Photo ~ Morgan Taylor
CLIMBING
Paul: "Straight line traction is awesome. Rear wheel grips so well you can shift weight forward over the front without worrying about breaking traction. Also, climbs better in small ring."
Beth: "I find it super high. It was heavier. I found it harder to pop up the front end but if I just pedaled at the obstacle I didn't have to. The tires would roll up over stuff."
Carlos: "I would come up to stuff lazily knowing full well I shouldn't make it and it seemed to smooth out the roots. Often I still didn't make it. Overall, it was not too noticeable that I was on a 29er. It was very difficult to pedal kick the front wheel up over things, instead I kind of just charged into things and more often than not it worked."

  Matt climbing the 29er. He found traction on roots to be a problem. Photo ~ Morgan Taylor
Matt: "I was sucking at climbing but at slow speed the front wheel wants to ditch at any sight of a root system. I couldn't get the 29'er in a rhythm climbing up into King of the Shore. This is where the 26″ prevailed for me. With the 29er, I couldn't get it around sharp turns and through dense root systems with out having the wheel go where it wanted to go, not where I wanted it to go. A number of times, I would get it up over a large root or rock and the front wheel would want to go one way or another. Due to the extra 3 inches of wheel, I wasn't used to pulling that extra wheel up and over larger obstacles. "
Strangely, Matt felt that the wheels didn't track over stuff, while the other testers felt it would charge over trail detritus and hold a line.

  Airing out the 29er feels good even with only 130mm up front. Photo ~ Morgan Taylor
DESCENDING
Paul: "Everything else wants to go faster than the wheels do. Very odd to jump, pump and manual. Maybe something I would master given another 15 years."
Beth: "Pros: Rolls over things like a DH bike. Stiffer, less hopping about, taller. More like a stiff ski/snowboard where it just wants to go real fast and strait. I didn't like it as much at first, but if might have potential. I'd like to try it again."
Carlos: "It definitely felt different. I noticed the bigger wheels but it didn't feel bad. It seemed to smooth out the trail. It descended really well and gave me a confidence inspiring feel, but it was a straight line machine. I felt that to go off jumps I needed to be a couple gears higher in speed to go off and not get bucked forward."
Matt: "Rad. Still felt like the wheel wanted to get stuck in big roots and ditch. I still did have problems cornering around tight turns and putting my wheel where I wanted it to go."
We are not quite sure what Matt is getting at here. Most people comment that the larger wheels track extremely well and feel very planted, letting people feel like they can trust the bikes position in the trail. Certainly, the bigger wheels take a little getting used to (more for some people) because of the timing change and how it becomes much more necessary to aggressively lay the bike over for optimum turning. This is why we can not decide whether 29ers are better for beginner riders (ability to plow) or more advanced riders (those who can maneuver bikes more efficiently).

  Matt pushing a corner on the EVO 29. Photo ~ Morgan Taylor
CORNERING
Paul: "Still very foreign feel trying to pump berms and ruts. Long for tight switchbacks, but good cornering traction."
Beth: "I was cautious because I thought it would go wide. I'd have to give this more time though."
Carlos: "It was different, but not bad. I just had to change my body position to get over the front more."
Matt: "Can't hit the apex of turns. Not very nimble in tighter turns."
As we can see from these answers, 29ers aren't instinctive bikes and can take a little getting used to. Skilled and experienced riders were able to adapt quicker, whereas more novice riders were not prepared for the physical workout of riding a 29er aggressively.

  Paul Stevens is proof that under the right rider, any bike can go right sideways. Photo ~ Morgan Taylor
HANDLING
Paul: "It is a long bike, no doubt about it. Hard to know how to weight it with such limited experience. Front end and cockpit felt good though."
Beth: "Really felt heavy, was much harder to lift/pop- even if you need to less, you still need to- and girls will have a hard time man-handling the bike."
Carlos: "Maybe I'm tripping out but it felt like the wheels flexed a little."
Matt: "29ers roll over "most stuff", not everything. When having to go up big stuff the front wheel gets caught because I can't lift it high enough. When on Bobsled, I did notice that the wheel was very close to my face when in the air. It's an odd feeling to have when you come from a BMX background with your wheel so far away. The 3 inch difference is translated from wheel to fork to bar, so overall the wheel is generally closer to your head, which made me second guess a few things when I was in the air."
Interesting comments throughout. Matt seems to expect more from the bike and really had a hard time with maneuvering the bike.

  Paul Stevens plowing the air when not plowing the chunder. Photo ~ Morgan Taylor
OVERALL
Paul: "This bike is a lot of fun! It feels like you can plough through stuff easier than the 26" and definitely feels like more travel than it is. I want one, but I wouldn't swap my 26" for it. I think it would take a while to get totally used to it."
Beth: "Weird, fun, it felt like a monster truck. I felt safer, like things were smaller. I guess it gave me more confidence when approaching bumps uphill. I think 29ers would be good for a beginner XC rider who wants and easier time pedaling up hill. I liked that when say, approaching a raised skinny (with rocks, or a step up to it) you don't have to lift your front end up like you would on a 26". This is good because often popping up on a feature/root etc. can make me loose my composure and balance. With the 29rs I found if I just kept the wheels turning it would, like Carlos said, "monster truck" over everything."

  Again, the 20mm Revelation chassis is solid. Photo ~ Seb Kemp
Carlos: "A pretty darn fun monster truck. I envy the climbing ability of the bike, with that combination of downhill performance. If I was all about technical climbs, I would have regretted not buying a 29er over my current ride. I would also consider the 29er over the 26" because you can keep it light and still feel like a plow bike. However, because it didn't feel as playful (which  could be because I'm not used to it) I'm okay with my decision.
Matt: "Too much wheel. Performs well otherwise. Not the best bike for Bobsled. I can see it being very awesome for my hometown flat trails. I don't think I would go out and buy a 29'er today. It's too much wheel for me. Some people ( like Paul) can totally shred on whatever bike you put under him, but for me, I feel like I'm a little kid on his dad's bike when I ride them."

  Big wheels look big. But do they ride big? Not always. Photo ~ Morgan Taylor
It is rather strange that Matt comes out with a totally different impression than our other testers. Whereas they commented on its ability to storm over trail obstacles, Matt felt that's where the 29er fell down. More so, he goes on to say it would be good for flat trails, but what makes a 29er good for flat trails? The extra rotational weight? Its ability to smooth out the rough trail – which most of the testers commented on – seems to be made irrelevant if 29ers are ridden on buff trail.
In the end, there is no conclusive winner. Both bikes are winners in many ways. The 26" Stumpy Evo was universally loved so perhaps it is the winner. However, the 29er has some very powerful assets to its credit which can't be overlooked – climbing traction, monster truck, feeling like a bigger bike than it was.
In the end you have to be honest with what kind of rider you are and how you like riding the trails you most often ride. Try bikes out before you make bold statements and pigeon hole them. Most big companies have traveling demo fleets so track down where they are visiting and give them a whirl of your own.
I think perhaps the only real conclusion could be that there is no definitive conclusion. Our testers all felt a little different about the bikes. This could be put down to their skill level, their familiarity with the bikes on test or just their level of experience rising different models of bikes. It could be because of biases and beliefs they came to the test with. This test is not the gospel, nor does it attempt to be. However, it should highlight the complexities of bike tests and how to read between the lines properly.

  It's difficult to come to absolute conclusions about the Stumpjumper EVOs. Both bikes excel in their own ways, and neither is a bad bike by any means. We'd be happy to have either in the stable, but unfortunately they've headed off on their way… Photo ~ Seb Kemp
---
So there you have it. Four people (plus Seb) to argue with about the nuances between twin bikes with different wheel sizes. Duke it out in the comments below…