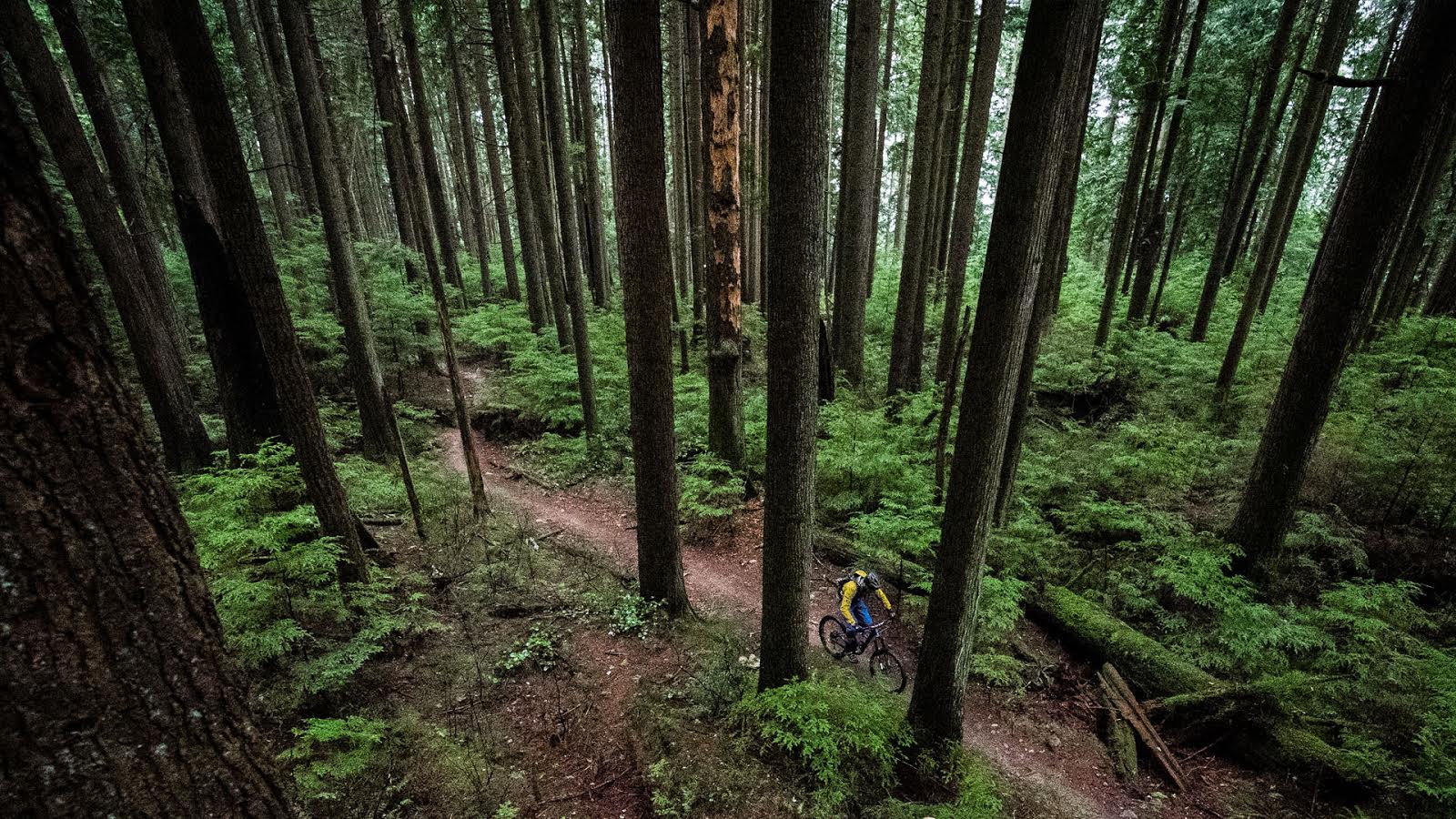 AIRprentice 2012 – Part 2
As seen in Part 1 of our AIRprentice recap, the competition was heating up on both sides of the lens, compounded by sweltering temperatures and increasingly dusty conditions. After dinner on Saturday night, a few of the Money Shot shooters decided to get up on the hill for a bit of a creative twist on the usual shots. 

  Mike Gamble shot video at night. We're hoping for Life Cycles Vanderham quality, Mike! Photo ~ Lindsay Donovan

  Toby Cowley joined the fun at night. Mike Brothers on the wheels and lights. Photo ~ Toby Cowley
And while some riders were busy running more laps in the dark, others were busy smashing keys and crafting up their best words and photos for the blog post portion of the competition. The winner of AIRprentice needs to be well-versed in more than just riding bikes, and at the end of the day, producing content is a very important way our Team riders pay their dues.

  Silver Star's Comet Express. 1568 vertical feet of shreddable goodness. Photo ~ Toby Cowley
We woke up to another bluebird day at Silver Star. With the traditional downhill race on Dag's scheduled for 11 am, we fired it up as soon as the lift opened and sessioned the upper section of Pipe Dream. This would be the Team's last chance to see the AIRprenti strut their stuff on the hill before we closed up the weekend's riding with the DH race. 

  2010 AIRprentice Matt Montandon leading the charge on Pipe Dream. Does his bike ever go straight? Photo ~ Morgan Taylor

  Montandon giving Connor MacDougall a bit of encouragement. Photo ~ Lindsay Donovan

  Ben Byers sending it fast. Photo ~ Morgan Taylor

  Up for another… Photo ~ Morgan Taylor

  And training back down. Photo ~ Morgan Taylor

  Ben Friesen goes long and straight while Brock Anderson shoots from behind. Photo ~ Morgan Taylor

  Mark Matthews coming in hot on the unofficial NSMB Team "drop to flat to manual" contest. Photo ~ Mike Kirk

  Ace Hayden blasting. Photo ~ Mike Kirk

  Stephane Pelletier is from Calgary, so flat landings and manuals are in his blood. Photo ~ Mike Kirk

  The clock ticked on and we moved down to the step up before the road. Photo ~ Lindsay Donovan
The session was going strong and the riders were amped on the next step up. There was talk of sending it large to a short transition way past the landing, but for the most part people were stoked to hip it into the bank. One rider was fixated on that gap, though: Ace Hayden. Ace regularly goes large with the Kamloops crew and he was mentioning that even the biggest jumps at Silver Star leave him hoping for more. Ace sent the step up big, but it wasn't enough. He landed flat, caught a sign post with his pedal, and catapulted into the ditch below.

  Our first serious crash in 9 years of AIRprentice. Fortunately we had the right people on hand to make sure Ace was well taken care of. Photo ~ Lindsay Donovan
Jason Martin of the Silver Star trail crew sprung into action, and immediately stabilized Ace. It was a big spill and precautionary measures were going to need to be taken. The session was immediately shut down and patrol was called. Jason and his colleagues went through standard first aid procedures checking Ace's movements. Hands and feet still moving, signs were good but not enough to prevent an ambulance ride.

  Best to stay still when you take a good smack, and usually you'll need help with that. Photo ~ Mike Kirk

  Into the neck brace and down the hill for some x-rays. We are happy to report that Ace's injuries were limited to scrapes and bruises and a concussion. Heal up, Ace! Photo ~ Toby Cowley
Once Ace was on his way to Vernon for x-rays, the group headed down the hill to start the last event of the weekend, the downhill race on the treacherously rocky Dag's DH. The downhill race is a tradition of AIRprentice, though it holds less bearing on our decision than the other events. Case in point: our winner this year was the slowest down the track.

  Jason Martin back on the bike and running a test lap for the timing system. Photo ~ Toby Cowley

  Local decoration on the side of Dag's while Mike Brothers rips through. Photo ~ Toby Cowley

  Racers were given one timed practice run, and one race run. Ben Friesen had some tough luck on run one and crashed right in front of my camera. Oops. Photo ~ Morgan Taylor

  The triumph of the day was #9, our wildcard rider Garrett Thibault, winning the DH race on his single speed. Garrett had come up for some practice laps two weeks earlier and it ended up paying off. Photo ~ Mike Kirk

  Garrett mashing through one of the flatter sections. Keeping the pedals spinning was likely the difference in his race run. For the record, Stephen Matthews and Mason Mashon had first and second-fastest runs of the day. Photo ~ Morgan Taylor

  One last look at the spindly trees and green pastures of Silver Star Bike Park. Thanks so much for having us, it was a blast! Photo ~ Morgan Taylor
With the DH race behind us, we moved on to the most challenging part of the weekend for the NSMB crew: choosing a winner. This began by deciding who would make up the panel of the top 4 riders for one last series of questions from the HAIRprentice, Mason Mashon. Over lunch we deliberated over our top 4, each recounting stories from the weekend that tipped us in a direction. 

  We all piled back into the Saloon to cap off a great weekend with swag for everyone who participated and a buzz about who might be the next AIRprentice… Photo ~ Lindsay Donovan

  Pete Roggeman, Trevor Hansen, and Cam McRae address the group before the final 4 announcement was made. Photo ~ Morgan Taylor

  The 2012 AIRprentice swag haul. All of this stuff goes to the winner: a 2012 Specialized Demo hooked up with goods from Rock Shox, SRAM, Avid, Truvativ, Maxxis, DT Swiss, Chromag and Spank. The winner will also receives a similarly-pimped Specialized P3, shorts and gloves from Dakine, helmets from Urge, packs from Camelbak, Race Face protection, Michelin Tires (yep – we have two tires sponsors!), Pedros tools, Muc Off cleaning and protection products as well clothing and additional support from Mountain Equipment Coop. Photo ~ Morgan Taylor
The crew was unanimous in deciding on the top 4, with one exception. Ace Hayden, who was currently in hospital in Vernon, was to receive an honourary seat in the question period. Oddly enough, we decided on two pairs of riders from either side of mainland BC: Ben Byers and Mark Matthews, both hailing from Victoria, BC; and Stephane Pelletier and Mike Brothers, from Calgary AB.

  On the left our Vancouver Island contingent, Ben Byers and Mark Matthews. On the right the Alberta crew, Stephane Pelletier and Mike Brothers. Photos ~ Morgan Taylor

  Mason Mashon took care of grilling the final 4. With a well-rounded bunch of questions ranging from the weekend's events to the riders' future plans, we dug into the minds of the AIRprenti. We had our favourites, but this last challenge has been known to change those feelings at the last minute. Photo ~ Morgan Taylor


  With question period over, it was crunch time. Stephen Matthews, Pete Roggeman, Cam McRae, and Matt Montandon sorted through the most challenging decision of all, with the help of the rest of the team. Photos ~ Morgan Taylor

Our decision was guided by the weekend's events, but also by our knowledge of the riders' positions within their riding careers and their history with us. In the end, it was decided that Mark Matthews would be the best fit for the Team. Mark was here for his third AIRprentice, and that persistence paid off.

  Passing the torch… 2011 AIRprentice Stephen Matthews congratulates Mark on his win. Photo ~ Mike Kirk

  9 years running, the bike lift tradition. Congrats Mark! Photo ~ Morgan Taylor

  Rounding up the Team for a portrait with the new recruit. Photo ~ Morgan Taylor

  That Demo is all yours, buddy. Photo ~ Morgan Taylor

  Just as we were wrapping up photos and saying goodbyes, none other than Ace Hayden rolled up. It was a triumphant moment to see our fallen brother on his feet again. The precautionary measures hours earlier turned out to be just that, as Ace luckily came away with a concussion and a fat lip. Photos ~ Morgan Taylor

  Your 2012 AIRprentice, Mark Matthews. We're stoked to have Mark on the Team and can't wait to start producing content with him. Photo ~ Mike Kirk
---
While that's a wrap on the story of AIRprentice 2012, we look forward to the pleasure of seeing what the Money Shot shooters have come up with. We've asked both the photographers and videographers to come up with a visual masterpiece and those are now live on our Vimeo page. We'll be slow-releasing them on the front page, but you can head on over and watch all six creations now…