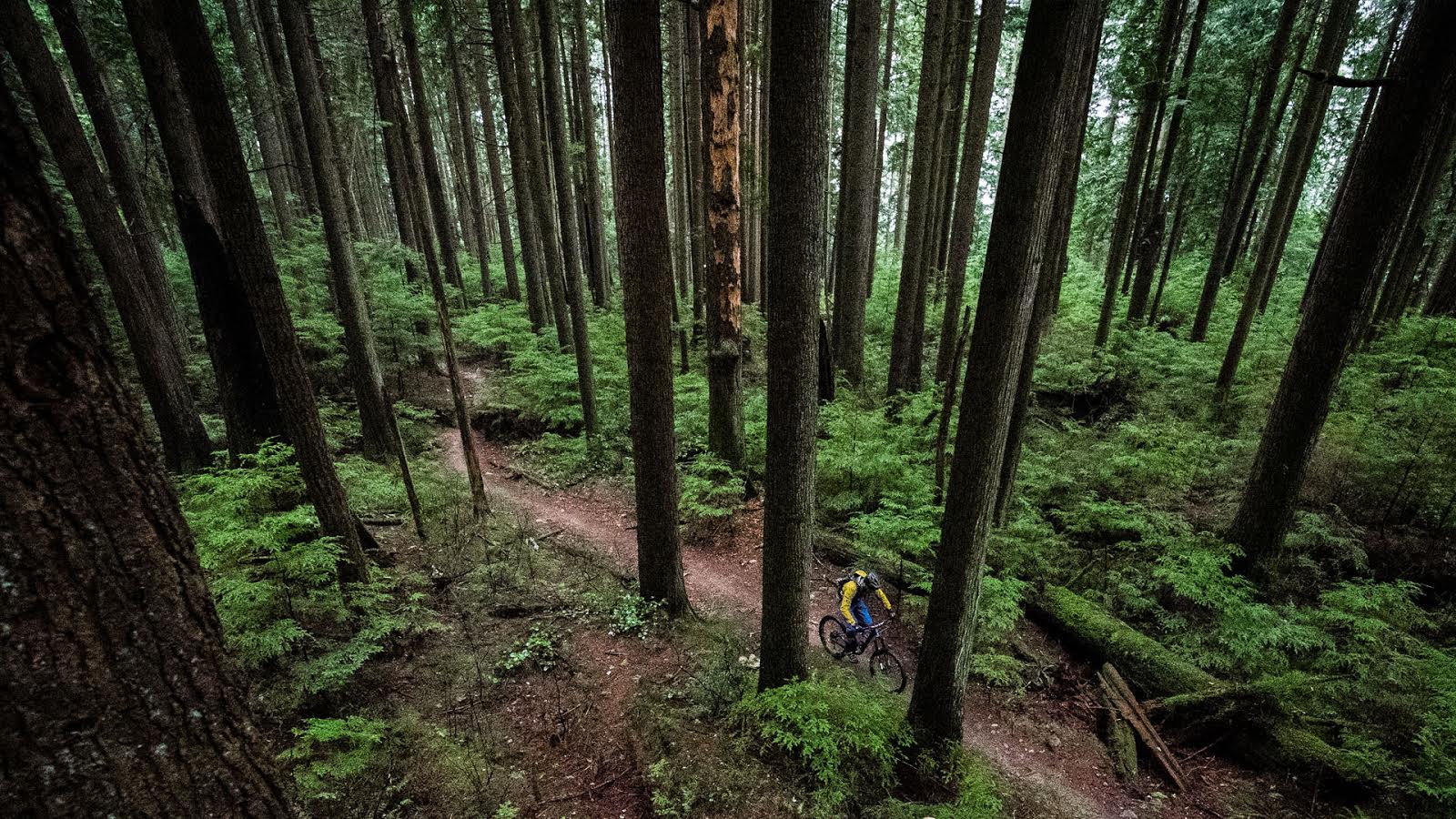 2013 Specialized Demo S-Works Carbon
Day 2 at the Specialized 2013 product launch was a little less hectic than the first day, so I took advantage of the opportunity to shoot some additional product photos. Today's dispatch from Snowbird, UT features the latest version of Specialized's venerable Demo DH bike. Enjoy.
(And before anyone gets their panties in a knot, prices, complete spec and availability are not available at this time. I'll post a follow-up article once I get the details.)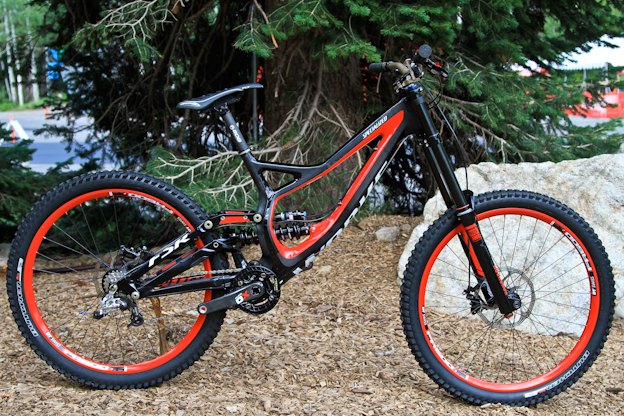 The 2013 Specialized S-Works Demo 8 Carbon Team Replica bike. This is one seriously pimped out ride. The bike is as close as you can get to a Monster Energy / Specialized Factory Racing bike without stealing Sam Hill's bike. These bikes have 12 x 135mm rear spacing for added clearance, while all of the other Demos have 150mm rears. It also runs a seven-speed cassette; the actual team bikes have six-speed cassettes. Weight for this bike is 35.8 lbs.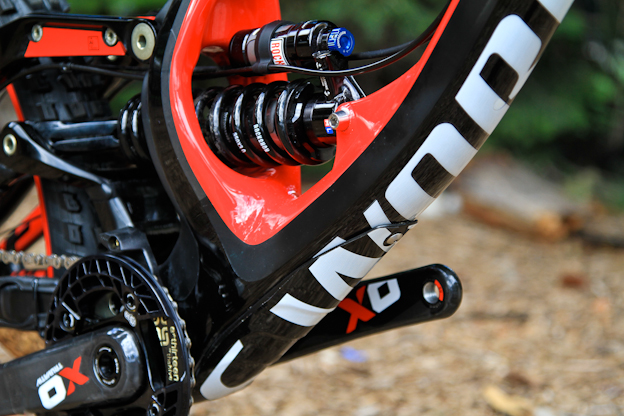 The downtube protector starts just below the front shock mount and runs underneath the bottom bracket. It's more than just a piece of plastic on top of the carbon frame, though. There's a soft plastic material on the back of the protector, between it and the frame, to absorb impacts like the crumple zones on a car.

  No detail has been overlooked on the S-Works Demo, including the 780mm Renthal bars and integrated stem, or the custom Avid XO World Cup brakes.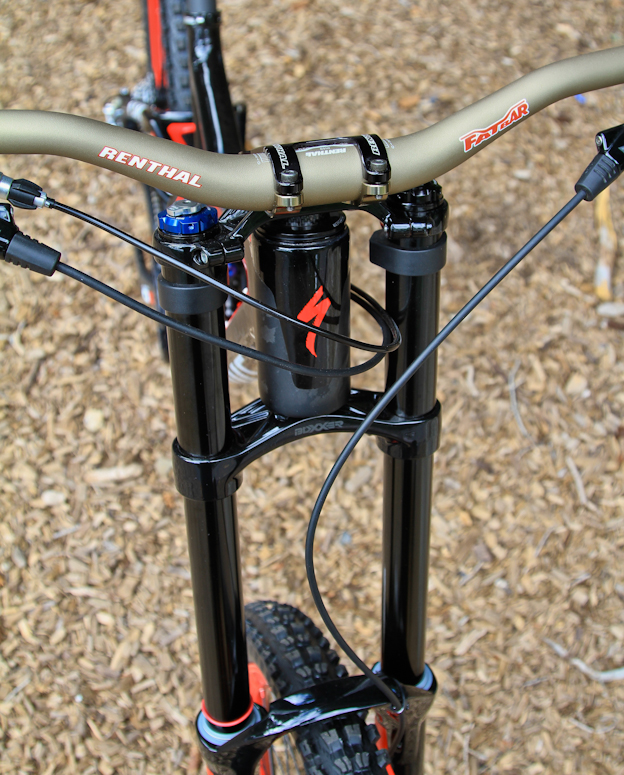 No tapered head tubes here. This is a 1.5″ head tube, integrated for a 1.125″ steerer. Check out the Black Gold stanchions on the RockShox Boxxer forks.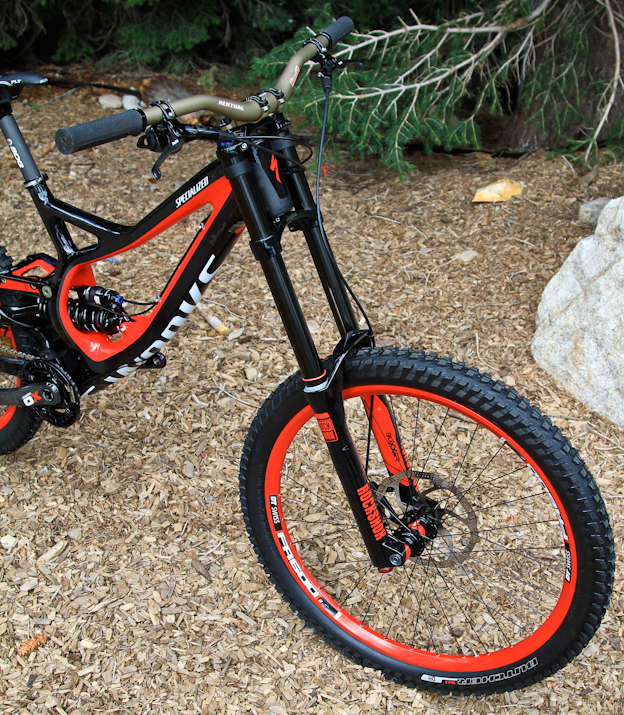 There's no mistaking that this is an S-Works bike. The black and red colour scheme carries over from the frame to the DT Swiss wheels and graphics on the custom forks.


  The non-drive side of the S-Works Demo. People are either going to love or hate the look of the bike. If you do like it and have to have this bike, you'd better get down to your local Specialized dealer soon – they're only making 250 of these bikes worldwide.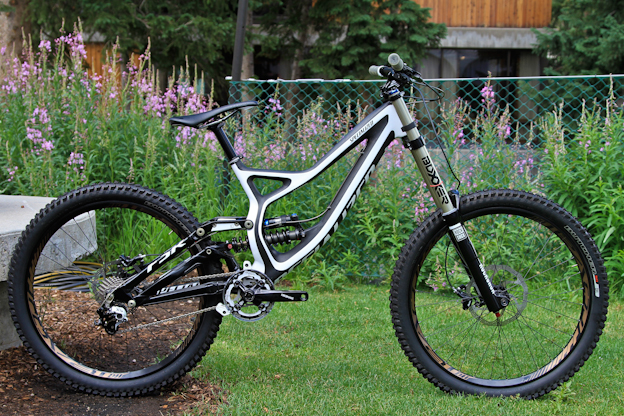 There's also a carbon Demo that won't destroy your bank balance quite as thoroughly as the S-Works but is still damn fine looking. This is the Demo I Carbon, which weighs in at 38.1 lbs.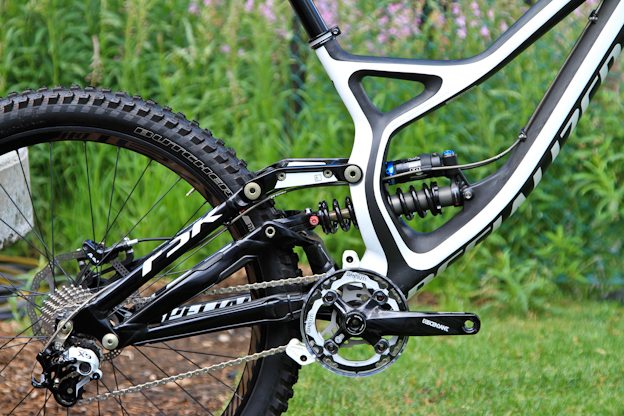 The rear end of the Demo I Carbon uses an aluminum upper linkage, rather than the magnesium of the S-Works version, but has the same rear end.

  This particular model gets a Specialized-brand direct mount stem and bar. Like the new carbon Enduro, the lines on this bike are amazing.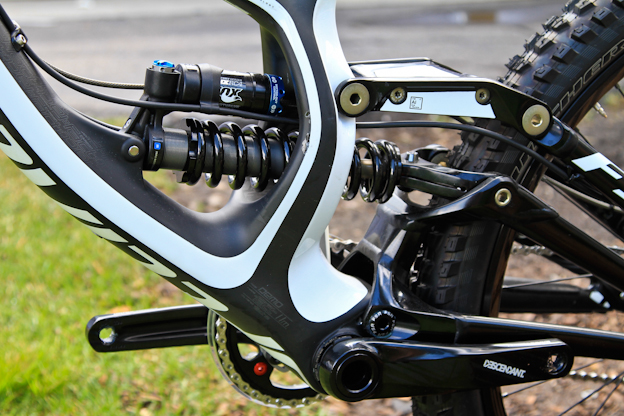 A close-up of the non-drive side of the Demo I Carbon linkage. That is one seriously beefy bottom bracket region. 

  There's also an aluminum Demo I. Weight on this bike is 39.3 lbs. It comes in this excellent lime green colour, as well as a gloss black and the same black-and-white colour scheme as the carbon Demo above.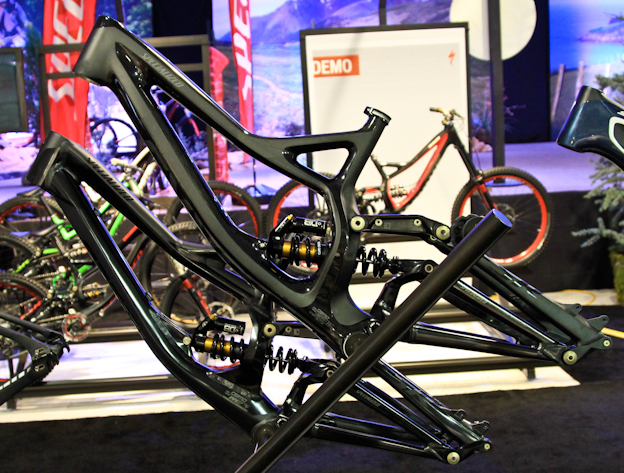 Those of you who want to build a fully custom Demo will be happy to hear that frames are available in both carbon (front) and aluminum (behind) flavours.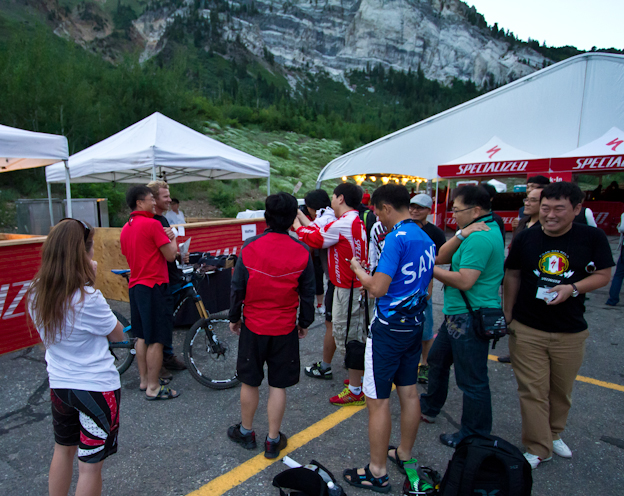 Sometimes funny shit happens at these media camps. Case in point – Specialized pro rider Matt Hunter gets mobbed by the Korean cycling press corps, who wanted autographs and photos with Matt. Who knew a good Canadian kid from Kamloops was so popular in Southeast Asia? Matt certainly didn't.
---
Now there's some eye candy. Signing up for an S-Works Demo? Or will the lowly Demo I carbon do it for you?