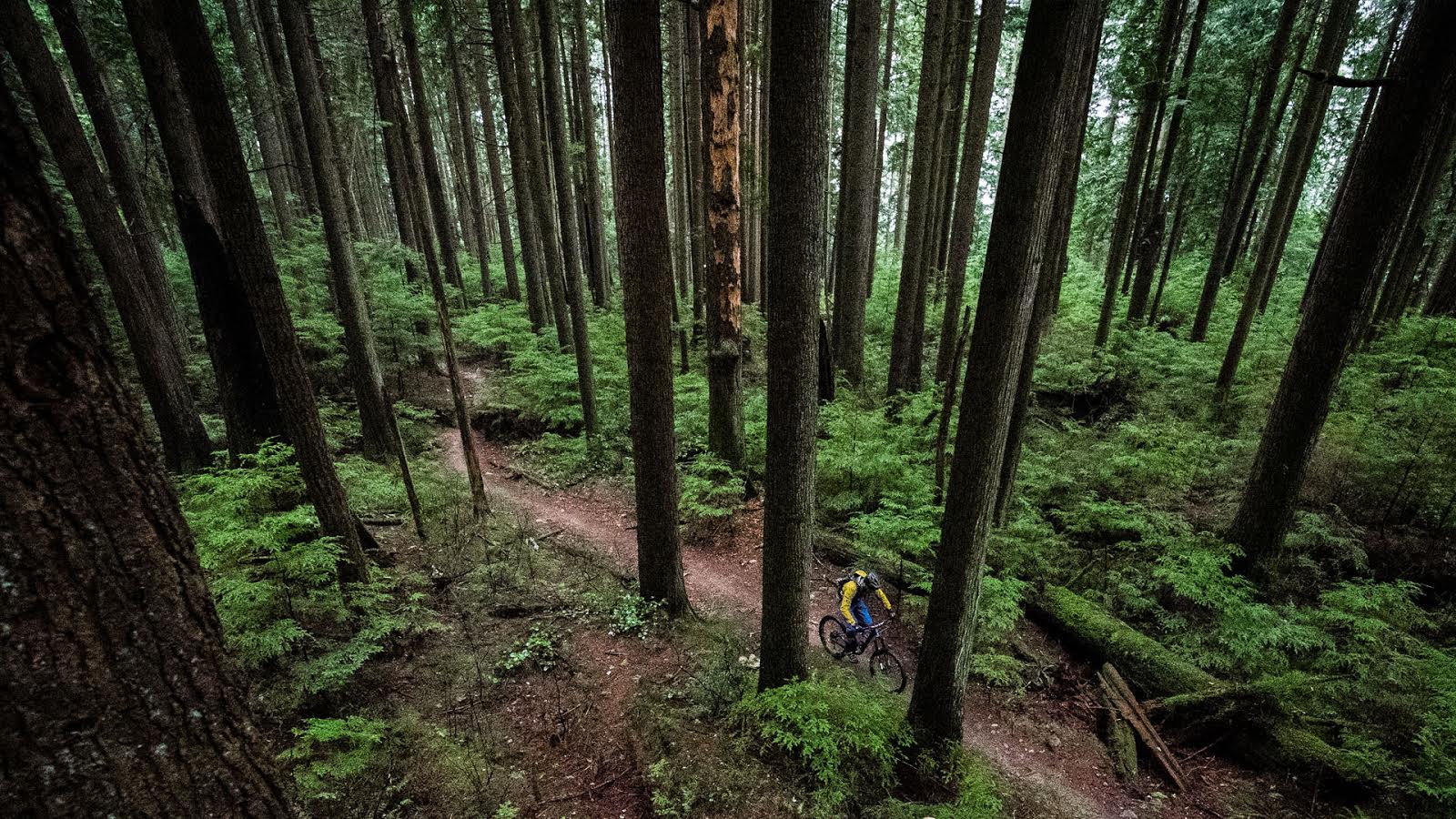 AIRprentice 2012 – Part 1
AIRprentice is about more than simply finding a new rider for the NSMB Team. A tradition in its 9th year, we have come to know that this weekend is about getting together with a great group of people, having fun riding bikes with friends old and new, and pushing each other to dig up new skills both on and off the bike. Just as AIRprentice has in the past been a stepping stone for riders on the way to being pro – such as Mitch Chubey, Curtis Robinson, and Justin Wyper, to name a few – it is also the first time some riders are engrossed in this type of event and a great way to learn the ropes.

  Our 2012 AIRprenti, from left to right: Stephane Pelletier, Mike Brothers, Garrett Thibault, Ace Hayden's hair, Connor MacDougall, Jordan Cook, Mark Matthews, Ben Byers, Ben Friesen. Photo ~ Lindsay Donovan
Most of our nine riders arrived at Silver Star early on Friday to get some practice laps in and take advantage of some great conditions. Matt Hunter, Thomas Vanderham, and Kenny Smith had just finished coaching their ELEVATE bike camp and coerced many tired bodies back on to the hill for a few trains. A lap down Double Dog with those three and a gang of ten more, and my riding weekend was essentially complete. For the AIRprenti, however, things were just getting started.

  Mason Mashon was relieved of his usual SLR duties for the weekend and went around shooting Instagram instead. Mark Matthews Day 0 corner shred on Shazam. Photo ~ Mason Mashon
We closed down the park and headed over to the Bulldog to mingle with some great eats, drinks, and a new NSMB Team vid that Matt Dennison had been working on (which we will be releasing very soon). Some familiar faces and some new ones, but the general vibe was that of extreme stoke; after a long road to AIRprentice – both literally and figuratively – we were finally all up at Silver Star and ready to get down to business.

  Cam McRae took the liberty to buster hymen on the AIRprentice winner's P3 on the way to the Bulldog. Photo ~ Morgan Taylor

  The biggest trophy at AIRprentice, a 2012 Specialized Demo hooked up with goods from Rock Shox, SRAM, Avid, Truvativ, Maxxis, DT Swiss, Chromag and Spank. The winner will also receives a similarly-pimped Specialized P3, shorts and gloves from Dakine, helmets from Urge, packs from Camelbak, Race Face protection, Michelin Tires (yep – we have two tires sponsors!), Pedros tools, Muc Off cleaning and protection products as well clothing and additional support from Mountain Equipment Coop. Photo ~ Morgan Taylor
We're super excited about adding a new element to the AIRprentice mix this year: a media contest within the contest. The Money Shot competition brought three photographers and three videographers to cover AIRprentice, vying for a chance to join the NSMB editorial crew at Crankworx Whistler and Red Bull Rampage. On the photo side we invited Lindsay Donovan, Toby Cowley, Mike Kirk, while for video we invited Mike Gamble, Brock Anderson, and Andrij Chubaty.

  Silver Star is a quaint little mountain but don't let that fool you… the bike park kicks ass! Photo ~ Toby Cowley
Just as within the AIRprentice competition, the Money Shot shooters have varying levels of experience in the industry and each brings their own perspective to the weekend. We've given the six shooters until the end of this week to finish up their respective slideshow or video edit, and can't wait to see what they've come up with.

  Toby Cowley and Lindsay Donovan shoot the AIRprenti on Walk The Line. Photo ~ Morgan Taylor
Full of stoke, we looked forward to Day 1. We had three AIRprenti each hook up with a photographer and a videographer to work with for some photo sessions, the first of which was an optional one…

  Stephane Pelletier leads Ben Byers and Mike Brothers into some sunrise bermage. Photo ~ Lindsay Donovan
The sunrise photoshoot has become somewhat of a tradition at AIRprentice, possibly because Dan Barham has been involved in years past, but more likely because the riders and photographers want to get the best shots possible – something the scorching mid-day sun makes difficult. For those on both sides of the lens, AIRprentice is a great opportunity to get some exposure and meet new people within the industry – and what better way to do that than to hike up a mountain at dawn.

  Ben Byers exhibits proper form, already turning his hips into the next berm. Photo ~ Lindsay Donovan

  Shots like this one of Garrett Thibault make the sunrise shoot worthwhile. Photo ~ Toby Cowley
After a bleary-eyed breakfast we snapped photos of the AIRprenti and made our way down for the first lift of the day. We split into groups for a couple of warmup laps led by the NSMB Team – Mason Mashon treated our group to Double Dog – and then on to ProStar for the first jump session of the weekend. Last year we learned that the Vault jumps didn't cater to all riding styles, so we decided to skip it and head straight for ProStar. At 11 am it already seemed hotter than on Friday afternoon, as the Money Shot shooters were attacked by bugs and the AIRprenti – and NSMB Team – started going off.

  Ben Byers hucking the step up while Matt Montandon gets flat off the stepdown. Photo ~ Toby Cowley

  Mason Mashon, the HAIRprentice, envisioning his next trick. Photo ~ Morgan Taylor

  Mason and 2010 AIRprentice Matt Montandon push up for another lap on the beginning of ProStar. Note Montandon's lack of front brake, which doesn't seem to hold him back whatsoever. Photo ~ Morgan Taylor

  Montandon jumps really high. So high, in fact, that he is in the air for longer than the person following him. Last year Paul Stevens landed on Matt's wheel on this jump; this year Jason Lucas almost suffered the same fate. Photo ~ Lindsay Donovan

  Moving on to the "Mother" step up. Meat was being hucked farther and farther. Photo ~ Lindsay Donovan

  Cam Sorensen is Silver Star's trail boss. His crew worked hard getting Walk The Line open for us this weekend, and the whole park was running sweet! Photo ~ Pete Roggeman

  2011 AIRprentice Stephen "Sizzler" Matthews.

  Stephen leads a train of Calgary rippers through the Mother. Photo ~ Toby Cowley

  Green Demo guys. Stephen Matthews still flat well past the top of the landing, while Stephane Pelletier continues up, and up, and up… Photo ~ Morgan Taylor

  Ace Hayden nacs the Mother. This shot is a good indicator of the scale of ProStar. Photo ~ Lindsay Donovan
After lunch at the Saloon, we were given the green light on Silver Star's newest jump trail, Walk The Line. This is essentially a continuation of ProStar, and while Walk The Line's jumps aren't quite as big, it retains the "Pro" designation due to the technical nature of the senders through the woods. Walk The Line features 20+ hips and booters that require a clean run to make it through to the bottom. The crew had a blast sending train after train down the techy track; I overheard on more than one occasion that this was the funnest trail they'd ever ridden at a bike park. Thanks, Silver Star trail crew!

  PS stands for ProStar, as Walk The Line starts just below the existing Pro line. We were given the afternoon to session the new jump trail. Photo ~ Morgan Taylor

  Ben Friesen follows Garrett Thibault into the techy hips and jumps of Walk The Line. Photo ~ Morgan Taylor

  Mark Matthews on Walk The Line. You might have heard of the guy. Photo ~ Morgan Taylor

  Stephen Matthews getting styled out on one of Walk The Line's 20+ jumps. Photo ~ Morgan Taylor

  Ben Byers with a cranked suicide no hander on one of Walk The Line's biggest tables. Photo ~ Morgan Taylor

  Stephane Pelletier, goofy no footer, Toby Cowley and Lindsay Donovan hopefully entertained. Photo ~ Morgan Taylor

  Garrett Thibault and Ben Friesen ripping it up in the afternoon for Toby Cowley's lens. Photo ~ Toby Cowley
For the NSMB Team our purpose at AIRprentice is to select a rider, and that has always come by noting our top 4 on and off the trail. As we came off the mountain and headed into dinner and drinks at the Saloon on Saturday night, this list was already coming together – but with the rider blogs, sessions on Pipe Dream, and the DH race on Dag's yet to come, we knew there was a chance for that list to shuffle…

  2011 AIRprentice Stephen Matthews was so fast in the tire change contest last year that he was blindfolded. He still won this year. Two pink bills for the Sizzler. Photo ~ Morgan Taylor
---
Both the riders and the shooters worked hard on Day 1 of AIRprentice to gather media and show off their stuff. Stay tuned for Day 2, where we continue to recommend staying far away from Matt Montandon's wheel…