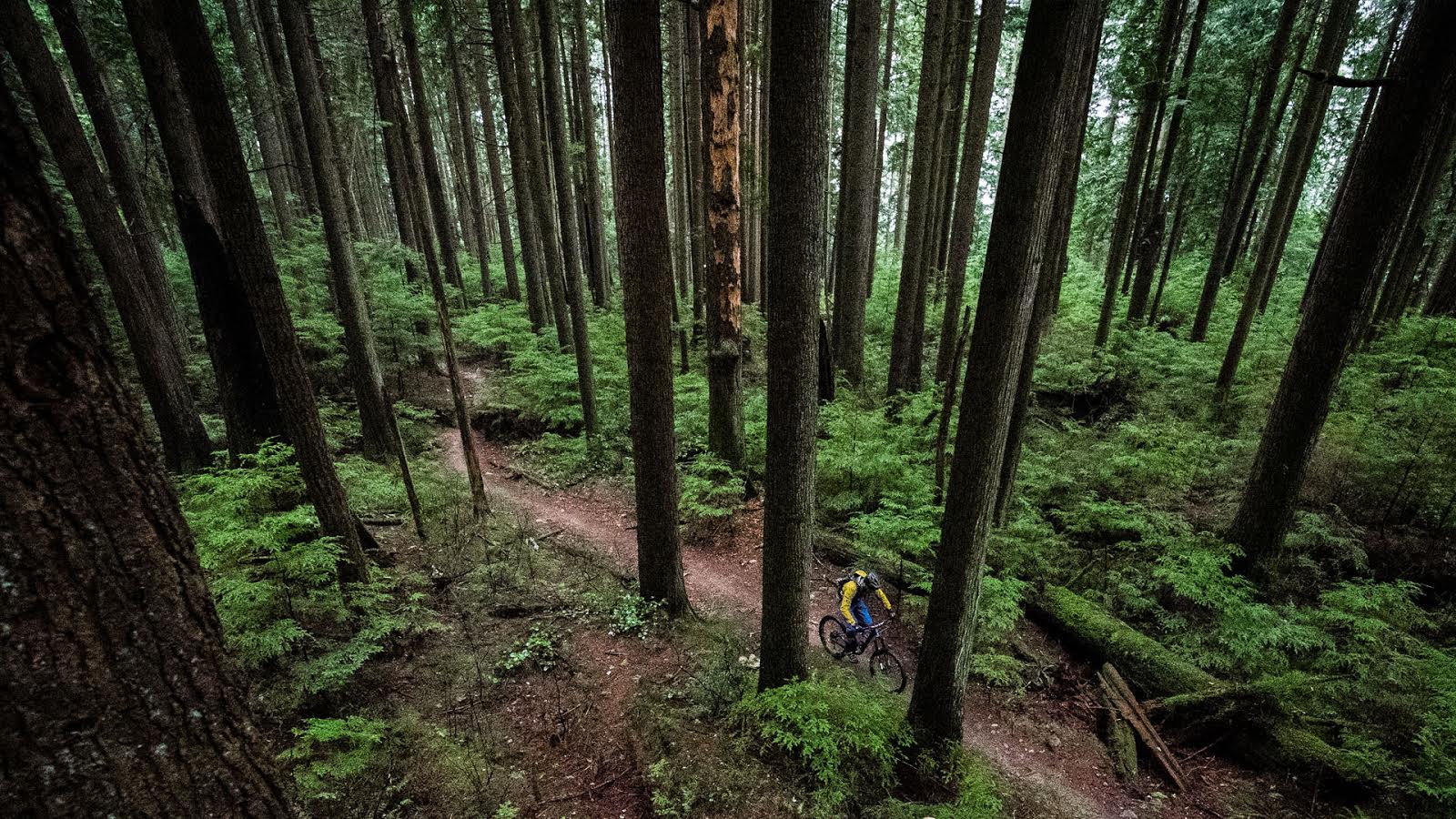 Stumpjumper EVO Head to Head Test

  Paul Stevens follows Matt Sipple during one of our head to head testing sessions. Photo ~ Morgan Taylor
Specialized Stumpjumper EVO 26 and 29 Go Head to Head
The question of where a 29er excels and what conditions a 26" bike rules is something that has been shrouded in e-hype, malicious lies, mistruths, and confusion. Some say 29ers are supposed to be best at flat, buff singletrack, whereas other people claim they rule at carrying momentum and gathering traction on rough trails. While part of both of these statements are true, it doesn't really cover the whole story.
Problem 1: Not all bikes are equal
Problem 2: Not all riders are equal
Problem 3: Not all terrains and conditions are equal

  The EVO 29. Could this be your quiver killer? Photo ~ Morgan Taylor

There are simply too many factors involved to make proclamations about one bike being the best without qualifying it somewhat. Sure, Bike A might be better than Bike B for me, but perhaps I could take that bike to a whole different trail area and find that I prefer Bike B after all. Perhaps Trail Area 1 is buff and fast and Trail Area 2 is slow and tech. Perhaps another rider would prefer Bike A in Trail Area 2 because of how they ride or what their preferences are.
Bikes are all very good these days. There are no bad bikes, just difficult consumer choices. It is surely a harder job to find a "bad" bike than it ever has been, however, it is harder than ever to find the one that is just right for you. There are so many to choose from, marketeers bamboozle us with glittering pronouncements of what confusing technology is best, and the bikes are 'improved, revised and upgraded' faster and with more regularity than our Facebook status updates are.
Finding the right bike is a case of that rider being honest with who they are, how they ride and where they ride.

  The 26″ Stumpjumper EVO feels nimble and light… Photo ~ Morgan Taylor


  The 29er Stumpjumper EVO feels bigger, but is not short on capability… Photo ~ Morgan Taylor
The 29er vs. 26" debate is something which has intrigued us on the North Shore. It has taken a while for riders to begin to adopt the big wheel and those that have are often paid pros with contractual obligations, free bikes to ride, and spadefuls of skill above and beyond what the regular Joe possesses. We have seen that Wade Simmons can shred the Shore classics on a 29er but Wade could rip a trail on a pogostick if need be. In fact, he used to.
Our objective was to find out if 29ers have a place on the Shore – what conditions do they excel at and where are their limitations, entirely within the Shore context. To do so we enlisted the help of two nearly identical mountain bikes whose only variable was the size of their wheels, a group of riders from a variety of skill levels and backgrounds, and a selection of North Shore trails which somewhat represent the area.

  Standardized tests were performed by having riders take each bike out on a carefully chosen loop of North Shore singletrack, back-to-back. Photo ~ Seb Kemp
Test Parameters
Our test parameters were quite simple: for testers to ride a carefully chosen loop of singletrack, back-to-back, on the same day, on both bicycles. This would allow the testers to directly compare and contrast their trail experience between both bicycles about as accurately as we could let them.
The Bikes
We have given a close look at the two bikes in a previous First Date and the Stumpy Evo 29 has been reviewed here too.
Both the Stumpy EVO Expert 29er and Comp 26 have M5 alloy frames with EVO geometry – which means they sport the slacker head angle and slightly lower BB than non-EVO Stumpys. Both bikes have tapered headtubes, 142mm through axles, PF30 BB, and sealed bearing pivots in the long-proven FSR suspension platform which is sprung by Fox rear shocks with the Adaptive AUTOSAG. However, the 29er Expert has a Kashima coated RP23 as opposed to the RP2 on the 26 Comp.
Overall, these are two of the most closely related bikes you can have from the 29 and 26 stables. Our goal is to try and compare and contrast the two bikes, highlight what we feel are the relative gains to each bike when thrown into the North Shore octagon, and ultimately extract as much real qualitative data from the clouds of e-engineering rhetoric, armchair commentary, and misunderstandings.

  The Specialized Stumpjumper FSR Comp EVO in old fashioned 26" flavour. Sort of like Classic Coke. This bike is one of the first large scale production bikes to really come spec'd and designed towards the fun side of mountain biking: the side fed by gravity. Its bigger, more expensive brother, the FSR Expert Carbon EVO, is perhaps the best bike of its kind currently on the market, whereas this is the more affordable version. Photo ~ Morgan Taylor

  The Specialized Stumpjumper FSR Expert EVO 29er. Specialized turned heads when they introduced the EVO line of bikes. The geometry was ever so slightly adjusted to make them fun and playful bikes – not for everyone, but offering everyman thrills nonetheless. Specialized has worked hard to get their 29er geometry spot on and this EVO tune makes their already surprisingly agile 29ers even more game for a good time. Photo ~ Morgan Taylor

What do we mean by the Shore?
The Shore style means different things to different people. As we are testing bikes that are enjoyable to pedal we kept away from the harshest, steepest, and ugliest trails – the trails which are the stomping ground of eight-inch travel freeride rigs and full-faced warriors. Instead, we tested our two bikes on Fromme using a selection of the lower trails.
Our test loop began on McNair Road, entered at Mountain View Park, climbed Lower Griffin, King Of The Shore, Roadside Attraction, Mountain Highway, descended Floppy Bunny (Bobsled was used for later test sessions), climbed the road then descended Upper and Lower Griffin back to McNair Road.
The route begins with a technical and grunty little climb, which at the time of both our test days was very wet and greasy, making it hard to keep traction and momentum. The trail then weaves upwards on moderate switchbacks and low roots, including short sections of technical humpers. The gravel road was straightforward but allowed riders to spin the pedals a bit and get a feel for the bike's poise. Floppy Bunny includes small drops and jumps, some bermed corners and root sections which is a hoot and a holler, allowing the bike to get up to speed a little. The second group of testers chose Bobsled for their test loop because we wanted to get a handle on how the bikes compared on a new school, machine built, flow-country trail. The final descent for all laps was a mix of slick roots, polished bedrock armour, tight turns and romping singletrack.
We used this lap, firstly, for ease of replication, and secondly, because these trails contain a mixture of climbing and descending of various styles (fire road and singletrack climbs; fast buff descents and tricky, slow singletrack). Shorter loops allowed the testers to be fresh in body and mind when it came to directly comparing the performance of each bike.

  MOUSEOVER for that gif. You know you wanna. Paul Stevens smashing a huge gap on the Stumpy EVO 29. Photos ~ Morgan Taylor
The Testers
We wanted four riders that represented a spread of abilities and riding history.
We deliberately avoided choosing people that were going to get too technical or hyperbolic. We didn't want to know about the rearward-facing-anti-squat-collet-spring-ratio or such like. Too much tech is too much guff. We wanted real world appreciation of the differences between 26 and 29 by real world riders.
Paul Stevens, NSMB team rider, is British by birth but rides like he was born in BC. As happy whether hucking his meat on his Specialized Demo as he is pedaling into the wilds on his personal Stumpy Evo 26. Paulo only rides the Shore maybe four or five times a year but his skill means he seems very much at home when he does.
Carlos Zavarce is originally from Ontario but moved West several years ago. He has more of a DH background but recently discovered the joys of all-mountaineering. He rides a Giant Reign XO, a Devinci Wilson, a Masi fixie, and now a Giant TCR road bike. Carlos has spent many years in the Whistler Bike Park but has been exploring the North Shore since moving here two years ago.
Bethany Parsons is a patroller in the Whistler Bike Park but is currently studying in North Vancouver. She has been riding for 6 years, predominately downhill. However, with a Scott Genius in her quiver and living on the Shore doorstep she has been learning to love the climbing.
Matt Sipple has been riding mountain bikes for seven years but only one on the Shore. Originally from the midwest, his riding background includes BMX, cyclocross, and XC. With a few key mods to his Specialized Camber, he has recently gotten over that absolutely necessary hump of riding the Shore, and now feels comfortable riding just about any trail here.

  If looks could kill the Stumpy Twins would have a lot of notches on their belts. Photo ~ Morgan Taylor
After each lap our testers filled out a form that asked them to give feedback on climbing, descending, and other qualitative factors. We didn't want our testers to give a score out of ten but rather speak a language that other riders might relate to. Those results will be seen in Part II next week.
---
The stage is set for a solid amount of test data… stay tuned for that next week. In the meantime, what do you think of the test idea?