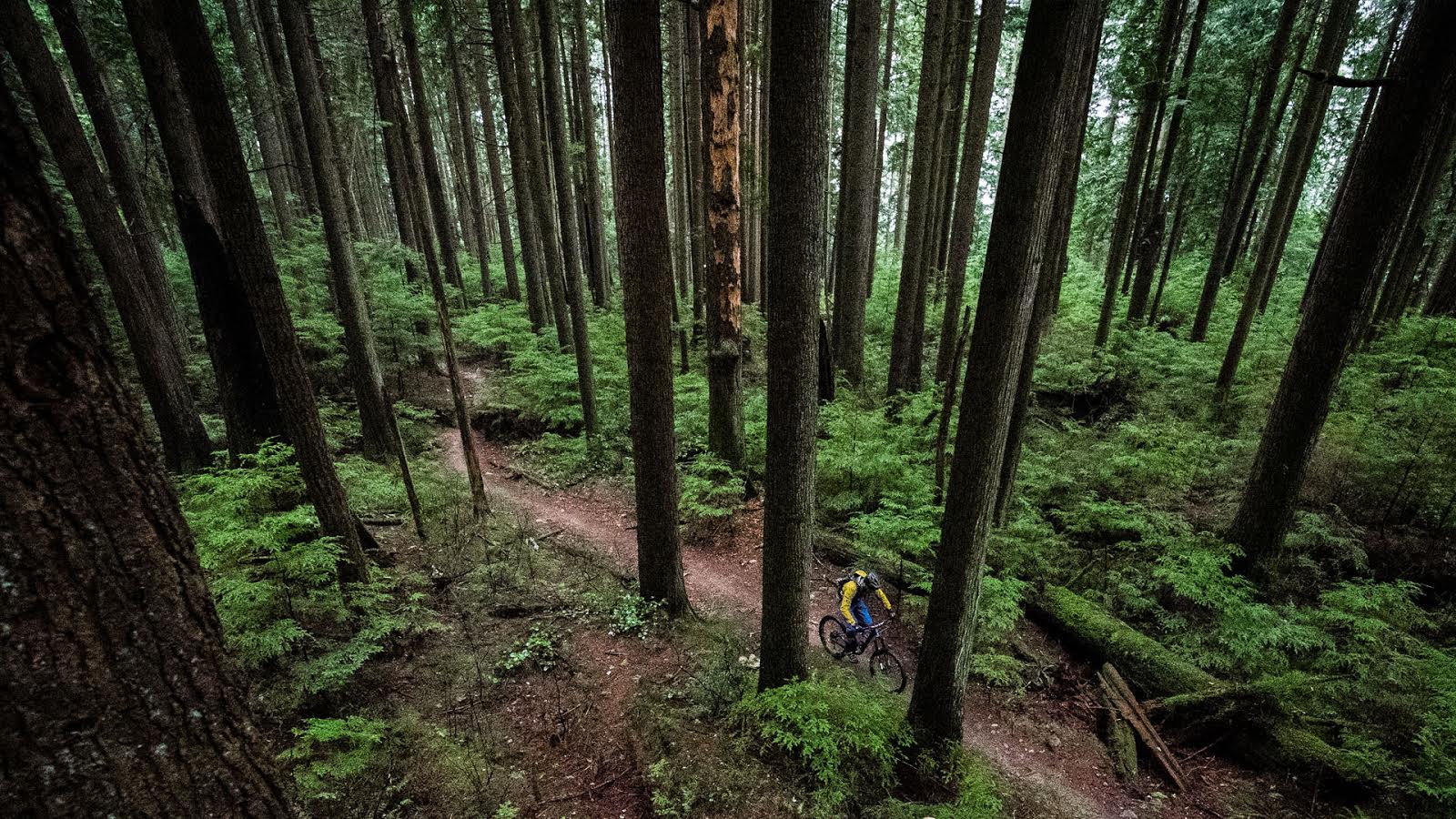 2013 Specialized Camber and Stumpjumper EVO
I will happily admit I was a skeptic. The 29er hype grew to a frenzy faster than tweens at a Bieber concert. It didn't seem like my cup of tea at all but slowly my interest began to pique. Riders I know and respect started to come out of the closet as converts. They were going fast and having fun, and many were neglecting the small-hooped members of their harem. I tried to ride the big wheel in the early spring but first snow and then injury thwarted me.

   Ned Overend riding at media speed so we mortals could see him.
Thankfully Specialized came calling with an invitation to ride the new Camber in Bend Oregon back in April. Note – it's no longer necessary to say Camber 29er. The 26 inch version has been made redundant. Specialized is betting it all on 29er rather than hedging on 650b like some companies – and they're cutting 26″ models like 140lb hockey players.

  Despite feeling like a midget on a Harley on day one, the trails in Bend made me smile.
On day one I was pointed in the direction of a 2013 Stumpy Evo 29er. The basics haven't changed but for 2013 you can get a carbon version in both wheel sizes of Stumpy Evo. Having heard of the buttery, root-free suede track in Bend I opted to go back to my clipped in roots with some nice Shimano XT Trail pedals. Our first section of the day was a technical climb up Horse Ridge. Is this actually Bend? What's with these rocks and roots? Nevermind. I'm a fan of the tech climb so I dug in and postponed judgement. The Evo 29er climbed extremely well and I found myself besting sections that I thought would beat me down. And then we pointed it downhill.

  Both sizes of Stumpy EVO Carbon. Little has changed to this successful Stumpy aside from the addition of a carbon 29er version. After a few days in Bend, surrounded by big wheels, 26″ bikes started to look strange to me.
The Sand Canyon descent was a high speed show with rocky sections that would pop up unexpectedly and make you soil your chamois. It was great fun but the climb/descent ratio was poor.

  A closer look at the 2013 Stumpjumper FSR Expert Carbon Evo 26 carbon.To get even closer click the image above.

  Alan Muldoon riding Phil's Trail like a boss.
Our afternoon ride on Phil's Trail was the Bend of which I'd heard; swoopy, silky and bermy with tables punctuating the straights. Unfortunately I found myself too far back on the bike and unable to rein things in. Like I was riding my dh bike for the first time after months on tri bars. I had fun but I didn't manage to put things together. Part of the issue was pedal choice. I used to be able to switch back and forth but I'll need more time to get re-acquainted with the joys of SPDs. Unlike the pilot the pedals and the bike performed flawlessly.

  Sterling Lorence crushing Smith Rocks with a smile, despite a pack that weighs more than you did in Kindergarten. Photo ~ Cam McRae
On day two we headed out of town toward Smith Rocks, my trusty Five Tens laced and my flats threaded into a Camber Comp. I knew Smith Rocks as a world class cliimbing area but I had no idea there were legal mountain bike trails. And these were great trails. We dropped in toward the river on singletrack perfection. The builder managed to administer the vertical in doses of varying sizes to preserve the flow as long as possible. We'd drop down a steep switchback and then swoop up the other way, all on dirt so perfect it would make you cry. Immediately I felt more comfortable on the bike and happy to have swapped pedals.

  This descent exceeded my expectations by a wide margin.

  The Aluminum Cambers are all new for 2013 so they get this new link which is very tidy indeed. Specialized also claims it's lighter (the stays are said to be subject to less stress and were lightened as a result) and much stiffer than the mechanism it replaced. The carbon Camber frames have the older link. I love it when a smaller budget gets you a bonus. The aluminum version also has a new hydroformed tubeset that reduces standover and is said to contribute to lower weight and increased overall stiffness. We weren't provided with any production weight numbers.


  The message from Specialized about the 2013 Camber are that this is a capable balanced trail bike with enough travel (110mm) to be versatile, capable and fun. Because it's available in 6 trim levels it's available to suit most budgets. I can attest to the capability of the Comp version – second from bottom of the line. I swapped in a shorter stem but otherwise I didn't find anything about the spec wanting. Notice the internal cable routing for the Specialized Command Post. Click image for larger version.
We meandered along the river, crossed over, and then we began to climb the side of a huge mesa. It was loose and rocky but our guides informed us this was the best grip they'd seen here. At the top our group split in two. Some of us opted for a longer ride while others began to descend for Sterling Lorence's lens. We meandered along a ridge, through a saddle for some downhill and then climbed again. We arrived at a meadow and I was done but the Specialized staff riders, all annoyingly talented, kept climbing. After a quick lunch I turned the bike around and rode the mellow trail back to where the group had split. I wasn't expecting much from the descent but it was a blast, if you like steep loose corners with lots of opportunity to get rowdy. A talented mtb trail builder had maximized the potential of the ridge line and put perfect arcs right where they needed to be. I was loving the bike. It inspired confidence and responded quickly and predictably to my inputs. Despite the more technical terrain I was enjoying the shorter travel Camber more than I had the 29er Stumpy Evo.

  The Camber Comp I was riding devoured this downhill.

  This is the Camber Expert Comp Carbon EVO R 29. I didn't see this bike in Bend, nor did I realize it existed. Maybe this was talked about the morning after our tour of the Deschutes Brewery? Click image to see full spec.
Alan Muldoon from MBR explained that crossing over from 26 to 29 is less challenging on a shorter travel machine. Longer travel 29ers (the Stumpy has 135 in the rear, the Camber 110) take some manhandling and getting used to while shorter travel versions respond better to 26er inputs. The pedals were part of my returning mojo as well and I was really feeling I could shred (in my own mind) on the Camber. The last section of the descent put my feelings about the bike to the test. This nasty business was unlike anything we'd ridden on the trip. I watched a couple of guides walk down the exposed off-camber collection of sharp ledges but I had a good feeling. This little trail bike was egging me on and I managed to clean this DH bike-worthy test with confidence.

  I love this sort of attention to detail, which I have come to expect from Specialized.
I expected much less from a bike with 110mm of travel. I guess that makes me a believer? I still find 26″ wheeled bikes to be more playful and fun on the trail while 29ers seem to be more stuck to the ground. I've also had some great rides

  Don't ride at Smith Rocks unless you like great trails and stunning vistas.
On our last day we did an out and back trail near town. We wandered up some fun switchbacks with technical sections before arriving at low grade climb. The trail almost never went straight and each perfect corner carved through widely spaced pines. The climb was fast enough that you had to be on your toes and then on the way home you could twist the throttle and go as fast as your cajones would allow. If you ride bikes you'll want to get to Bend. Based on my experience you'll be better off with less than 6″ of travel. We were shuttled by the excellent folks at Cog Wild Shuttles.

---
I've compiled some images detailing the minutiae of some of the 2013 Stumpjumper and Camber models. Click the links below to view. We are still waiting on pricing.
2013 Camber Comp 29
2013 Camber Expert Carbon Evo R 29
2013 Camber Pro Carbon 29
2013 Camber Geometry
2013 Stumpjumper FSR Comp 29/26
2013 Stumpjumper FSR Comp EVO 29/26
2013 Stumpjumper FSR Comp Carbon 29/26
2013 Stumpjumper FSR Expert Carbon EVO 29/26
2013 Stumpjumper FSR Expert Carbon 29/26
2013 Stumpjumper Geometry
---
Do any of these bikes make you salivate? Are you a believer in the big wheel?